Shelf Awareness for Friday, June 14, 2013

News
In Celebration of Maurice Sendak
Tonight at the Society of Illustrators (63rd St. and Lexington Ave.) in New York City, an extraordinary exhibition of Maurice Sendak's work opens with a public reception at 7 p.m. ($15 donation suggested); the show will run through August 17. It's the basis for the catalogue Maurice Sendak: A Celebration of the Artist and His Work (Abrams, $45, 9781419708268), written by exhibit curators Justin G. Schiller and Dennis M.V. David, edited by Leonard S. Marcus, with 12 essays from the likes of Marcus, Iona Opie, Steven Heller and Paul O. Zelinsky.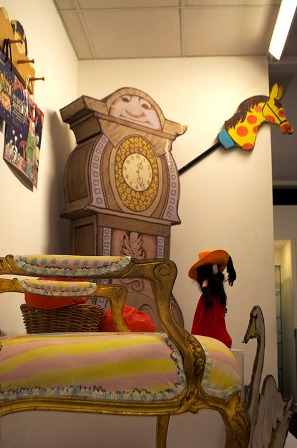 The catalogue is wonderful, but nothing can compare to standing before a 3-D cluster of furniture--a grandfather clock and an armchair--designed by this master draftsman; Sendak's notes scrawled on a study for an animated television presentation for the Really Rosie TV show (he writes, "Rosie should have look of exaggerated suffering--a deep, heavy, Jewish mother sigh... over-dramatic shrug"); or the stone etchings he created in preparation for the sets he designed for The Magic Flute. From the exhibition, we learn that Sendak contemplated illustrating Outside Over There entirely with etchings (a etched study and watercolor sketches of the same scene contrast the effect).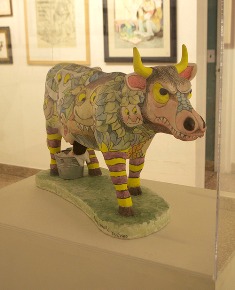 Do not miss the cow sculpture downstairs, the anchor amid a wonderland of Wild Things–themed drawings, posters, interior illustrations and American Express ads. The cow is imprinted with the faces of Bernard, Moishe and the other Wild Things, with Max beneath it in a tin pail, suckling the teats. The piece calls to mind Sendak's eight-vignette sequence in "Guile-Malicious" from I Saw Esau, edited by Iona and Peter Opie, ("I one my mother./ I two my mother./.../ I ate my mother"), in which a nursing baby devours its parent.
It's Sendak's world in three dimensions at the Society of Illustrators, and a reminder that, although he was not here on Monday to celebrate his 85th birthday with us, his life's work survives him--and helps us to survive this crazy world with the aid of his diabolical sense of humor, his eye for beauty, and his enduring appreciation and understanding of childhood. --Jennifer M. Brown
Photos courtesy of the Society of Illustrators.


BookCourt Stepping Up to the Bar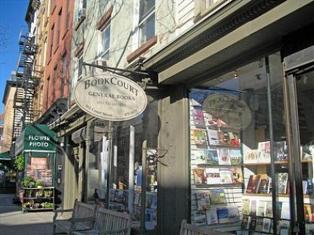 "Here's something even your Kindle can't do," DNAInfo New York observed in reporting that Brooklyn's BookCourt bookstore is planning to open an eight-foot bar overlooking "about five tables placed under a huge skylight at the back of the store." BookCourt has been in an expansive mood lately, having previously announced the potential for a second location, BookCourt North, in the Catskills.

"People have been telling us to do it for 20 years," Zack Zook, BookCourt's events and development manager, said of the bar. A bartender-bookseller will serve juices, snacks and a wide selection of local beers and wines from Brooklyn and Long Island.

The bar, which was approved for a wine and beer license by Community Board 2 last week, will be "an organic add-on," said Zook, noting that BookCourt is also hoping to create a "Reader's Garden," a 1,000-square-foot backyard space for customers. He hopes to open the bar next January and the garden in the spring or summer of 2014

"It's ultimately going to be a place where people can relax," he said. "I think it's going to take off pretty quickly."


Amazon Now Selling Kindles in India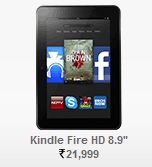 Amazon began selling Kindle and Kindle Paperwhite e-readers yesterday on its recently launched Amazon.in website, and plans to begin offering the Kindle Fire June 27, the Wall Street Journal reported, adding that "India is one of the fastest growing markets for smartphones. Industry experts forecast smartphone sales to reach 33 million units, up from about 20 million units, in 2013."

The Hindu noted that while Amazon "had initially tied up with Croma retail, a Tata group company, it has now expanded its retail partnerships to include Reliance Digital, E-Zone and Vijay Sales. The Kindle Fire range will be available at over 100 of these retail outlets."


CIA's New Deputy Director a Former Bookseller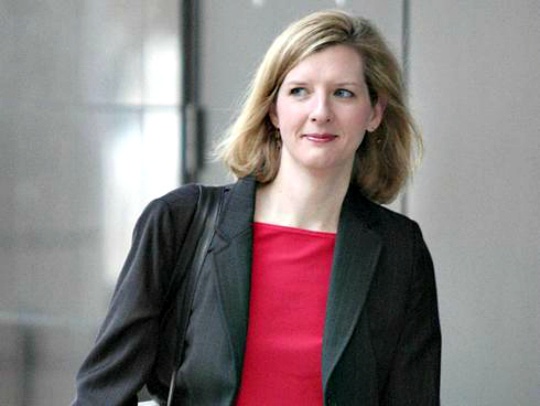 Two decades ago, Avril Danica Haines, who was appointed Wednesday by President Obama to be the next deputy director of the CIA, opened and co-owned Adrian's Book Café in Baltimore. The Daily Beast reported that one of the shop's regular events, "Erotica Nights," featured "dinner and a series of readings by guests of published work or their own prose," but the bookstore "was hardly defined by erotica (which was shelved between self-help and parenting), stocking titles from a variety of smaller publishing houses and local authors, and offering a café."

Steve Bunker, one of her former neighbors, recalled that Haines was well respected in the Fells Point neighborhood: "She's brilliant, has a genius IQ, is easy to work with, and reliable."

"At an agency recently rocked by revelations about then-Director David Petraeus's secret erotic emails while having an affair with his biographer, Haines's bookstore past seems considerably more appealing, and about as racy as what a reader might find in a Lewis Libby or Jim Webb novel," the Daily Beast observed.


ABA Introduces New Staff Members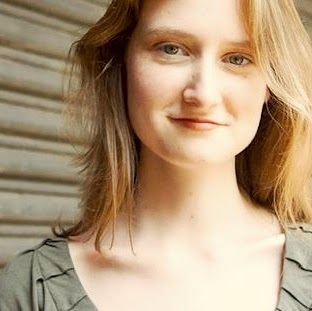 Cusick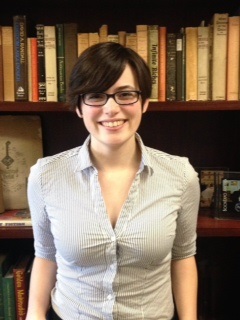 Azzato Stephens
In recent months, the American Booksellers Association has added four new staff members, "whose aim is to share their skills as well as their passion for independent bookselling with member stores," according to Bookselling This Week, which offered brief introductions to Catherine Cusick, member relationship manager for the NEIBA, NAIBA, MIBA and GLIBA regions; industry relations assistant Shannon Azzato Stephens, content coordinator Sydney Jarrard and system administrator Josh Harding.


Obituary Note: Peter Kane Dufault
Peter Kane Dufault, who died in April at the age of 89, was remembered in a New Yorker Page-Turner "Postscript" by author Brad Leithauser, who described his friend as "a marvelous poet whom you've probably never heard of" and observed: "On the face of it, his lack of renown is surprising, for he had some prominent supporters, including Marianne Moore and Richard Wilbur and Ted Hughes and Amy Clampitt. He was also embraced by Howard Moss, the poetry editor of the New Yorker from 1948 until 1987."


Notes
Image of the Day: Author Reads with Medieval Backup Music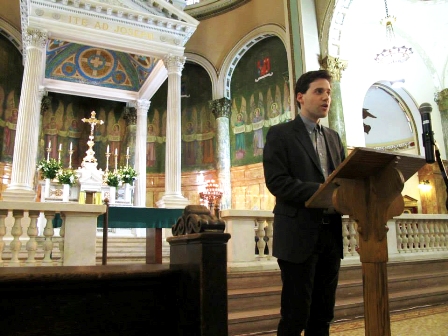 To celebrate the release of Nathan Schneider's book God in Proof: The Story of a Search from the Ancients to the Internet (University of California Press), the author was joined by the medieval music ensemble Resonanda at the magnificent Co-Cathedral of St. Joseph in Brooklyn, N.Y., where readings from the book intermingled with selections of medieval song.


'Books We're Giving Our Dads for Father's Day'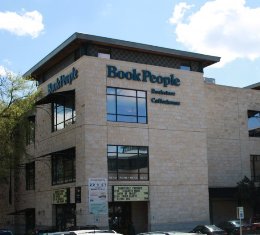 Some of the booksellers at BookPeople bookstore, Austin, Tex., offered a sneak peek on the shop's blog at the titles they're giving their dads for Father's Day, adding this cautionary note: "Attention fathers of Lauren, Flippo, Emily, Joe & Sarah: WARNING! SPOILER ALERT!"


Quirk Offers 'Looking for Love' Fiction Contest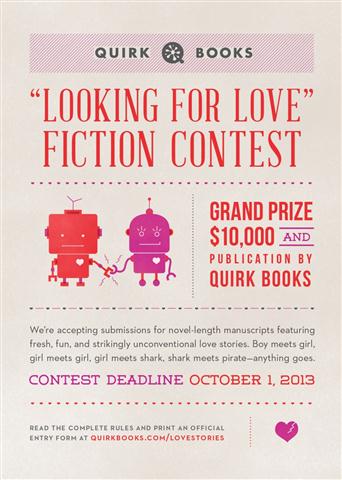 Quirk Books has announced its "Looking for Love" fiction contest, inviting writers to submit unpublished, novel-length manuscripts containing a love story. The prize is publication by Quirk Books and a $10,000 advance against royalties. Authors have until October 1 to submit manuscripts.

"We've had a lot of success with our fantasy and horror titles, but we're eager to explore new genres with our unique and off-beat sensibility," said Quirk publisher Jason Rekulak. "We don't want copycats. We're not looking for the next Twilight or the next Fifty Shades of Grey. Instead, we're hoping to find a story that's fresh, fun, and strikingly unconventional."


Covered Treasures Bookstore's 20th Birthday Month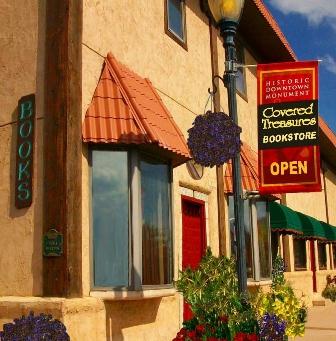 "We and our customers are very proud that we've made it to 20," said Tommie Plank, owner of the Covered Treasures Bookstore in Monument, Colo. "And the community is proud that it can support an independent bookstore."
Covered Treasures opened in 1993 in Monument's historic downtown. Although the store won't turn 20 until July 17, Plank intends to turn the whole month of July into one "big party month." Each week, a different type of book, from picture books to hardcovers to trade paperbacks, will be 20% off, and Plank and her employees will use old articles and photos of the store to create commemorative posters. The festivities will culminate on July 18, when Colorado author Peter Heller (The Dog Stars, Vintage) will appear for a combination birthday party and author event.
In addition to being an anniversary party, the Heller event is part of Monument's Art Hop series--from May through September, 20 local businesses stay open late on the third Thursday of each month, celebrating with drinks, food, live music and readings as people "stroll around town." This month, Covered Treasures will host Beth Groundwater, author of the Rocky Mountain Outdoor Adventures mystery series, for Art Hop.
Before opening the store in 1993, Plank and her then-co-owner pored over census data and other records, investigating whether a small community could support an independent bookstore. Said Plank: "It was a gamble, but we did it and we have had great support." --Alex Mutter


Book Trailer of the Day: A Secret History of Coffee, Coca & Cola
A Secret History of Coffee, Coca & Cola (Akashic Books) by Ricardo Cortés, illustrator of Go the F**k to Sleep.


Media and Movies
Media Heat: Hilary Mantel on Fresh Air
Today on NPR's Fresh Air: Hilary Mantel, author of Booker winners Wolf Hall (Picador, $16, 9780312429980) and Bring Up the Bodies (Picador, $16, 9781250024176).

---

Today on MSNBC's the Cycle: Lauren Sandler, author of One and Only: The Freedom of Having an Only Child, and the Joy of Being One (Simon & Schuster, $24.99, 9781451626957).

---

Today on Katie and 20/20: Steve Schrippa, author of Big Daddy's Rules: Raising Daughters Is Tougher Than I Look (Touchstone, $25, 9781476706344).

Also on Katie: Niecy Nash, author of It's Hard to Fight Naked (Gallery, $24, 9781451687729).

Also on 20/20: Rahna Reiko Rizzuto, author of Hiroshima in the Morning (Feminist Press at CUNY, $16.95, 9781558616677).
---

Tomorrow morning on CBS Saturday Morning: Lynda Obst, author of Sleepless in Hollywood: Tales from the New Abnormal in the Movie Business (Simon & Schuster, $26, 9781476727745).

---
Sunday on NPR's Weekend Edition: Sahar Delijani, author of Children of the Jacaranda Tree (Atria, $24.99, 97811476709093).

---

Sunday on Current's Viewpoint: Dan Savage, author of American Savage: Insights, Slights, and Fights on Faith, Sex, Love, and Politics (Dutton, $26.95, 9780525954101).

---

Sunday on OWN's Super Soul Sunday: Phil Jackson, author of Eleven Rings: The Soul of Success (Penguin Press, $27.95, 9781594205118).


TV: Someday, Someday, Maybe; Orange Is the New Black
A trailer has been released for Orange Is the New Black, a Netflix original series adapted from the memoir by Piper Kerman. Netflix debuts the entire 13-episode first season on July 11. The project was co-created by Jenji Kohan (Weeds) and the cast includes Taylor Schilling, Jason Biggs, Michelle Hurst and Kate Mulgrew.

---

Lauren Graham will adapt her first novel, Someday, Someday, Maybe, for a TV series produced by Ellen DeGeneres. Deadline.com reported that the actress (Parenthood, Gilmore Girls) is writing a script for the hourlong drama and will executive produce with Very Good Production's DeGeneres and Jeff Kleeman.


Books & Authors
Awards: New Military History Prize Launched
The Harry Frank Guggenheim Foundation unveiled the $50,000 Guggenheim-Lehrman Prize in Military History, which will be awarded annually in recognition of the best book in the field of military history published in English during the previous calendar year.

The inaugural award will be presented next February at the New-York Historical Society, with the winner selected from a shortlist of six finalists. Publishers may submit as many appropriate titles for consideration as they wish, according to organizers.

"It is our hope that the establishment of this prize will draw public attention to the field's continuing utility as an important staple of education in international politics, diplomacy, and conflict, and to assist in the restoration of military history to an important place in university curricula," said Josiah Bunting III, president of the foundation.


IndieBound: Other Indie Favorites
From last week's Indie bestseller lists, available at IndieBound.org, here are the recommended titles, which are also Indie Next Great Reads:

Hardcovers
Looking for Me: A Novel by Beth Hoffman (Pamela Dorman Books/Viking, $27.95, 9780670025831). "Looking for Me grabs the reader from the first paragraph as Hoffman weaves a magical tale of the love of family and nature, the loss of innocence, and the hope that in the future all will be revealed. Set in rural Kentucky and Charleston, South Carolina, this is the story of the gifted and determined Teddi Overman, a furniture restorer, and her missing brother. Teddi's courage and belief both in herself and in her vanished brother, Josh, inspire all who come in contact with her. Enter the world of the Overmans and emerge with a new perspective on hope and love!" --Lynne LeBlanc, The Fountainhead Bookstore, Hendersonville, N.C.

We Are All Completely Beside Ourselves by Karen Joy Fowler (Marian Wood Books/Putnam, $26.95, 9780399162091). "Rosemary is not yet six when her sister, Fern, is removed to a center for research. Fern and Rosemary were inseparable, and her family falls apart after the removal: Lowell, her brother, disappears when he discovers where Fern was sent; their father becomes a distant, brooding man; and their mother is a shell of her former self. Why a research facility? Because Fern is a chimpanzee. In this extraordinary novel written by a gifted author, Fowler opens our eyes to the inhumane treatment of animals by humans and helps us to identify what it truly means to be human." --Karen Briggs, Great Northern Books & Hobbies, Oscoda, Mich.

Paperback
The Innocents: A Novel by Francesca Segal (Voice, $14.99, 9781401341893). "Although the plot of The Innocents follows the 'man in love with his wife's cousin' formula, it is anything but stale and predictable. Caught in the loving web of his huge Jewish family, Adam Newman struggles to do the right thing while being true to himself and honest with others. Through wonderful, sometimes tragic and often quirky characters, Segal offers finely honed truths about humanity. I highly recommend this book--a wonderful summer read with some guts to it!" --Susan Tyler, the Book Bin, Onley, Va.

For Teen Readers
Gorgeous by Paul Rudnick (Scholastic Press, $18.99, 9780545464260). "Gorgeous is the laugh-out-loud, funny story of Becky Randle, a small-town girl swept up in a magical life of fame and glamour. With the help of mysterious advisors and her hilarious and clever friend Rocher, Becky learns about life, her past, and most importantly, what beauty really is." --Larissa Genschaw, Children's Bookshop, Kent, Wash.

[Many thanks to IndieBound and the ABA!]


Book Brahmin: Thomas Van Essen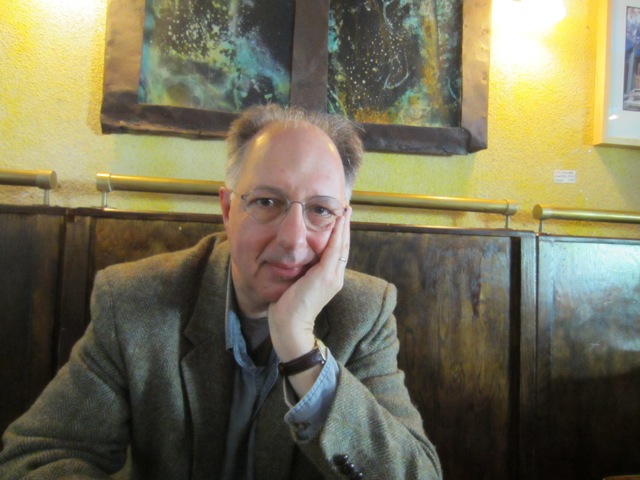 photo: B. Fishman
Thomas Van Essen is a graduate of Sarah Lawrence College and Rutgers University, where he earned a Ph.D. in English Literature, although he has not been making a living in the literature business since he stopped teaching 25 years ago. He and his wife live in New Jersey, where he works at a large not-for-profit. The Center of the World (Other Press, June 4, 2013) is his debut novel.
On your nightstand now:
Crime and Punishment by Fyodor Dostoevsky, in the 1992 Pevear and Volokhonsky translation. I am working my way through all the great 19th-century Russian novels I first read as an undergraduate in the new translations. Like most people I read all these great novels when I was too young to really understand them. (Or rather: I am giving the person I am now the opportunity to understand in a different way the books that meant a lot to me as a young man.) Also Soldaten: On Fighting, Killing, and Dying: The Secret WWII Transcripts of German POWs by Sönke Neitzel and Harald Welzer. This is a grim book about what the German POWs knew about the Holocaust and German wartime atrocities. My father was a German POW, and this book is part of the background reading for my next novel.
Favorite book when you were a child:
I was a huge fan of Jules Verne--both Twenty Thousand Leagues Under the Sea and Mysterious Island. It is sort of scary to me how much of how the world works that I learned from those two books.
Your top five authors:
Charles Dickens, Phillip Larkin, William Shakespeare (duh), W.G. Sebald and Julian Barnes--mostly for a Sense of an Ending and Nothing to Be Frightened Of.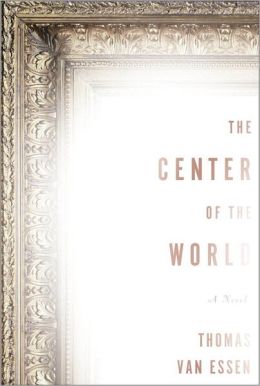 Book you've faked reading:
The Archeology of Knowledge by Michel Foucault. When I went to graduate school, my idea of literary criticism was Edmund Wilson, but it turned out that I was supposed to read all this French stuff (Foucault, Derrida, Lacan, etc.). I did an oral report on The Archeology of Knowledge, having read only the first 20 pages and a summary I found somewhere. I still feel sort of bad about that. But not that bad. I eventually went on to read and appreciate some of those writers, particularly Barthes, but it was a tough adjustment at first.
Books you're an evangelist for:
Austerliz by Sebald and A Month in the Country by J.L. Carr. Austerliz is perfectly sad and perfectly beautiful, with enough wisdom about the nature of truth to last a lifetime. Go read it, whoever you are. A Month in the Country is a different kind of perfect, but it is perfect in the way a small diamond is. I had never heard of it, until a friend gave me a copy a few years ago. No one seems to have heard of it--but it is really worth reading.
Book you've bought for the cover:
This is sort of embarrassing, but I really fell for the cover of Tom Swift and His Repelatron Skyway by Victor Appleton II. The Tom Swift Junior books were a series of badly written adventures about Tom Swift Jr., the boy scientist, published (thank you, Internet) between 1954 and 1971. It was actually my mother who bought it, but I certainly wanted it on the basis of the cover. I was nine or 10 years old.
Book that changed your life:
War and Peace, particularly the epilogue. It convinced me that it was okay to have children and to go on living.
Favorite line from a book:
"Don't sauce ME in the vicious pride of your youth; don't hit ME, because you see I'm down. You've no idea how small you'd come out if I had the articulating of you." This is what Mr. Venus says to the boy who comes in for the stuffed canary in Book I, Chapter 7, of Our Mutual Friend. This line has always stuck with me for some reason.
Book you most want to read again for the first time:
Our Mutual Friend by Charles Dickens
What book is your novel most like?
When I was working on it, I told people it was a bit like Possession by A.S. Byatt, a novel I admire very much. It's similar in the sense that the story goes back and forth between the past and the present and that both books are concerned with what art is and what it can mean to people. There is a big difference in tone; I think mine is a bit less earnest and, I hope, a bit more fun.


Book Review
Review: Return to Oakpine
Return to Oakpine by Ron Carlson (Viking, $25.95 hardcover, 9780670025077, July 11, 2013)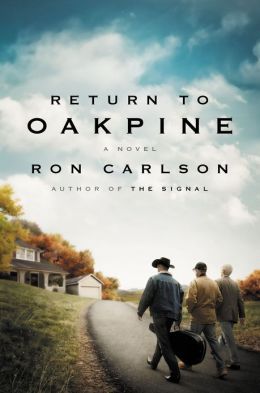 Ron Carlson's fourth novel, Return to Oakpine, is a lean, weathered and big-hearted tale that asserts, contra Thomas Wolfe, you can go home again--at least you can if you come from a place like (fictional) Oakpine, Wyo. Back in the day, Jimmy Brand, Mason Kirby, Craig Ralston and Frank Gunderson bonded as members of a high school garage band whose graduation celebrations were overcast by the tragic death of Jimmy's brother. The four bandmates dispersed: Craig to serve in Vietnam, Mason and Frank (briefly) to college and Jimmy to New York. Although Craig and Frank came back and settled in Oakpine, Mason, caught up in a Denver legal career, visited rarely. For 30 years Jimmy remained in exile, visiting Oakpine only in his fiction.
When Carlson's novel opens, in the fall of 1999, illness has forced Jimmy to move into his parents' garage at the same time Mason decides to spruce up and sell his childhood home. What happens next is not a rah-rah reunion, but a subtle regeneration of connections informed by the present as much the past. The stakes in these men's lives, and in their families', are as grand and prosaic as their band's name: Life on Earth.
Carlson shares his empathetic scope across three generations, from the elderly Mrs. Brand to 17-year-old Larry Ralston and his friends. Return to Oakpine's ensemble of voices is just as affecting as those of Winesburg, Ohio, but free of solemn gloom or perky piety. Among the characters who strive to live with grace and meaning are a philosophical football star who runs off his excess energy on dark streets ("each breath three gallons of September"); an adult novelist shut out by his father because it's too late to say the "five or six sentences" that needed to be said 30 years ago; a "together" mom whose second-phase career as a museum coordinator is quickened with adulterous possibility. In Carlson's expert prose, the adults' midlife reckonings are revelations and the teenagers' discovery of adult agency are both touching and raw.
Return to Oakpine is suffused with evocative landscapes and the practical yet lyrical details of work, whether a character is renovating a garage or editing a short story. The novel's emotional work shows that life on earth can yield enough fellow feeling to sustain us through great sadness, as long as we put our efforts in the right place. --Holloway McCandless, blogger at Litagogo: A Guide to Free Literary Podcasts
Shelf Talker: Carlson (The Signal; Room Service) delivers a moving novel about the importance of home, work and friendships forged in high school.


Deeper Understanding
Robert Gray: The Intriguing Case of 'International Crime Month'
If I were a private investigator, this case would have been too easy, the clues laid out like a road map: a number (1E07), a time (2 p.m.) and a shady, underground location (the depths of New York City's Javits Center during BEA). My sources said there was going to be a meeting at which several kingpins of the international crime in translation market would reveal their secrets.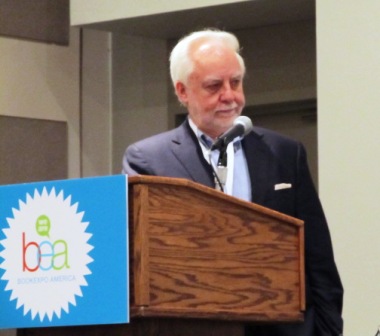 Otto Penzler
Once inside room 1E07, I ran their names through my computer, looking for priors: Otto Penzler (aka The Moderator), proprietor of the Mysterious Bookshop and founder of Mysterious Press, now a Grove/Atlantic imprint; Johnny Temple, publisher and editor-in-chief, Akashic Books; Dennis Johnson, publisher, Melville House Books; Michael Reynolds, editor-in-chief, Europa Editions; Morgan Entrekin, publisher, Grove/Atlantic.

They had gathered as part of International Crime Month, an "initiative featuring internationally acclaimed crime fiction authors, editors, critics, and publishers appearing together in a series of readings, panels, and discussions."

In the true spirit of the genre, Penzler opened with a confession: "I have to admit I have never published a book in translation."

Entrekin recalled that when he first took over Grove years ago, he knew the press had an "illustrious history" with translated works and he wanted to continue that tradition. "I am very committed to publishing literature in translation, and I'm committed to finding more crime fiction in translation."

Noting that "crime fiction has always been a part of what we've done at Europa," Reynolds observed that while initially publishing those novels as part of the general list had been a "noble ideal," more recently "we realized we needed to brand our crime fiction in some way. The result of that decision is the World Noir series. Because Europa considers crime fiction important, "we're engaged in an ongoing conversation with readers and booksellers," he said, adding that many novelists in the genre are exploring important world and regional issues in their work.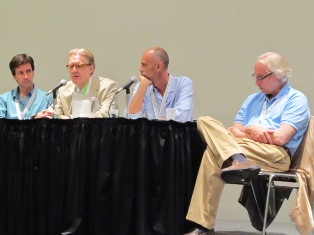 Johnny Temple, Dennis Johnson, Michael Reynolds and Morgan Entrekin discuss the "secrets of publishing crime in translation" during BEA.

Johnson agreed. Citing the influence of authors like Raymond Chandler and Dashiell Hammett--whose characters directly engaged post-Depression era issues as their detectives worked cases--he noted that many international crime writers today are "coming from a political point of view and considering socio-economic issues. At some point, the idea of a crime series seemed in keeping with our activist mission.... We're very proud of the International Crime Series list. These are people trying to make the world a better place."

Akashic's city-based Noir Series, featuring stops in Istanbul, Barcelona, Delhi, London, Moscow and many more locales worldwide, has been the "major vehicle" for the publisher's venture into international crime fiction. "It's very convenient for us that we have this series that forces us to publish works in translation," said Temple.

Citing the huge success of Scandavian crime fiction in recent years, Penzler asked whether the panelists had any predictions regarding which area of the world will produce "the next wave."

"You mean one that we're willing to share?" joked Reynolds, and Entrekin said he was looking "everywhere but Scandinavia." Johnson noted that "the success of Stieg Larsson may speak to how unpredictable it is. I think it's going to come down to a unique book lighting a new spark."

Johnson also noted that one of the marketing challenges Melville House faced with its International Crime Series was how mystery/suspense books are traditionally packaged in the U.S. Wanting to make their covers stand out, "We did something much more graphic. One of the chain buyers said they wouldn't buy our books because they didn't look like the others in the section."

Ultimately, marketing crime fiction written in any language must focus on the rewards inherent in just reading excellent books by gifted writers. As Reynolds observed, "I think it's important not to make it look like medicine for the masses."

Johnson credited Reynolds with conceiving the idea of International Crime Month and described it as "an outreach program to booksellers. Most of us would agree that we live or die with the indie booksellers." A series of events are currently being held at indies, including a crime panel last night at McNally Jackson in Manhattan.

"We'd like it to be annual event. We're in it for next year," Reynolds said, acknowledging that there had been "hiccups" in the 2013 launch, but the lessons learned will help next year. "We're in!" was the unanimous vote among the panelists at the end of the session.

In anticipation of International Crime Month 2014, I've accepted a new assignment that focuses on my key detecting skill: reading. The assignment: a long list of crime fiction in translation to be investigated, with pleasure, between now and next June. Case closed. --Robert Gray, contributing editor (column archives available at Fresh Eyes Now).