Shelf Awareness for Tuesday, June 25, 2013

Editors' Note
Gaiman Giveaway Contest: 10,000 and Counting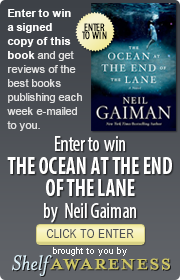 Shelf Awareness hosts book giveaways twice a month as a fun way to promote new books, and our current giveaway--10 signed copies of Neil Gaiman's new novel, The Ocean at the End of the Lane--is breaking records. More than 10,000 people have entered already, which is a testament to how much people adore Gaiman's work.
Take a look at the contest here and watch for future giveaways from DC Comics, Charlaine Harris and other writers. Bookstores, bloggers and others can join in by posting the contest button on their websites--the instructions are here.


News
B&N Fourth Quarter: Nook Drags Down Results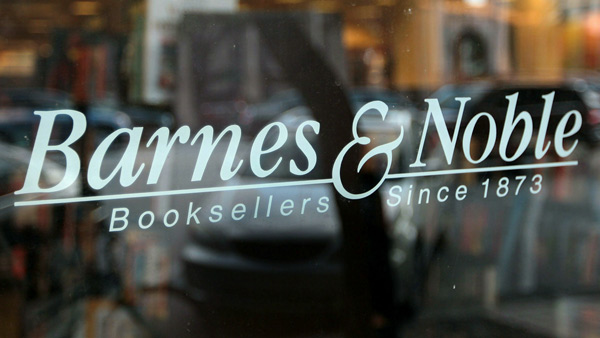 In the fourth quarter ended April 27, consolidated revenue at Barnes & Noble fell 7.4%, to $1.3 billion, and the net loss was $118.6 million, more than double the net loss of $56.9 million in the same quarter a year ago. For the full year, consolidated revenue at Barnes & Noble fell 4.1%, to $6.8 billion, and the net loss was $154.8 million, compared to the net loss of $65.6 million for the previous year. The figures were below analysts' estimates, and initial reactions on Wall Street were very negative.

B&N said that results were "adversely impacted by Nook inventory charges." Once the darling of the company, Nook sales in the quarter fell 34% to $108 million and for the year dropped 16.8% to $776 million.

The company said Nook device sales fell in the quarter "due to lower selling volume." For the full year, digital content sales rose 16.2%, but in the fourth quarter, they fell 8.9% in part because of "the device sales shortfall as well as the comparison to the the Hunger Games and Fifty Shades of Grey trilogies a year ago."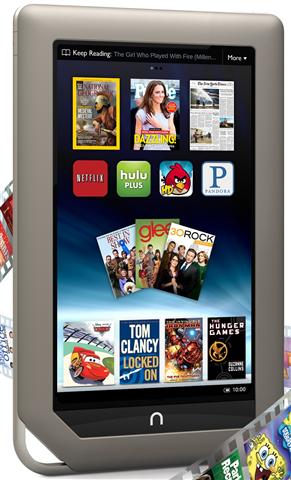 In a move aimed to "significantly reduce losses," B&N said that it plans to create "a partnership model for manufacturing in the competitive color tablet market. Thus, the widely popular lines of Simple Touch and Glowlight products will continue to be developed in house, and the company's tablet line will be co-branded with yet to be announced third party manufacturers of consumer electronics products."

At B&N's retail unit, consisting of B&N bookstores and BN.com, sales in the quarter fell 10%, to $948 million, and for the year were down 5.9%, to $4.6 billion. The company attributed the drops to "comparable store sales decreases of 8.8% for the quarter and 3.4% for the full year, store closures and lower online sales. Fourth quarter comparable bookstore sales decreased as a result of lower Nook unit volume and a stronger title lineup in the prior year period, including the Hunger Games and Fifty Shades of Grey trilogies."

Excluding Nook products, bookstore sales fell 5.8% in the quarter and were flat for the year. The company added that "the sales decline was mitigated by a higher sales mix of higher margin core products and lower expenses."

In one bit of bright news, revenues in B&N's college unit rose 10.7%, to $252 million, in the quarter and 1.1%, to $1.8 billion, for the year. The company said quarterly sales were "positively impacted by the back-to-school rush season, which extended into the fourth quarter. Comparable College store sales increased 7.5% for the quarter, while decreasing 1.2% for the full year."

For the current full year, B&N predicts sales of bookstores open at least a year "to decline in the high-single digits on a percentage basis" while sales at college stores should "decline in the low-single digits."


Happy Birthday: City Lights Turns 60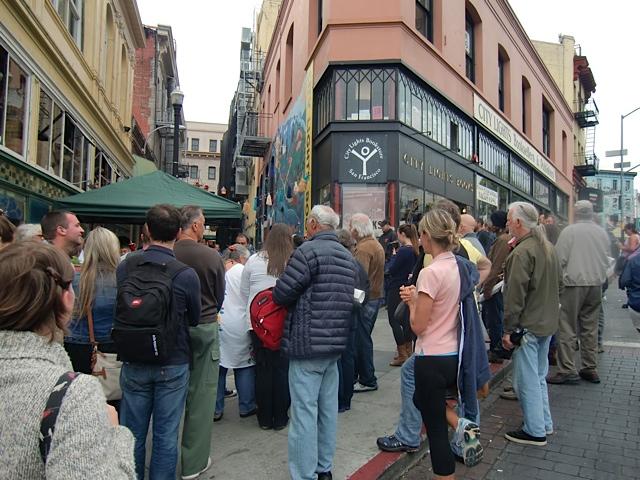 It's not every day that you see a crowd of people packed inside a bookstore and a line extending around the block--but that's how it looked for several hours on Sunday as City Lights Bookstore, San Francisco, Calif., hosted a party for its friends and fans to mark its 60th birthday. It seemed fitting that on a day to honor the place that snubbed the law and published Allen Ginsberg's Howl and became a home of the Beat poets, you could hear bongos played at the party all the way to downtown San Francisco.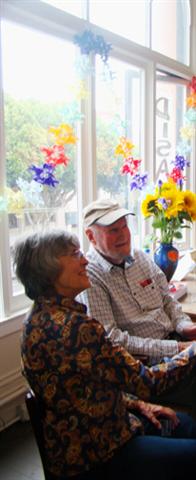 Nancy Peters and Lawrence Ferlinghetti
Ten years ago, celebrated founder Lawrence Ferlinghetti and his business partner Nancy Peters were planning for the long-term future of the store and its publishing company. Ten years later--and not looking even a day older--the 93-year-old Ferlinghetti marked the milestone surrounded by the kind of people he likes best: book lovers. His hand-printed signs that say "Sit down and read a book!" still adorn the walls in their own home-sweet-home kind of way.
On Sunday, City Lights once again filled the air with music and poetry, with simultaneous performances in the store and spilling out into the next-door alley named for Jack Kerouac.
As for the future, Peters and Ferlinghetti are pleased to give a nod to the store's staff, led by Elaine Katzenberger, publisher and executive director; Paul Yamazaki, head book buyer; Andy Bellows, store manager; and Peter Maravelis, events coordinator, who keep the business thriving. "I'm good at picking the right people to do all the work for me so that I can write and paint," Ferlinghetti has said.
Those who work with Ferlinghetti know how hard he toiled to keep City Lights a community center and make it a destination for locals and tourists alike. It was a novel idea back in 1953 to open a paperback-only bookstore, which Ferlinghetti did with $500 seed money. The store now sells all kinds of books and magazines--provocatively stacking left- and right-wing political publications side-by-side--the better to help open peoples' minds, which has always been the store's philosophy.
"I found it totally inspiring to see so many people who wanted to come out and celebrate the store," said Katzenberger.
New signs above the store give these instructions: "Open door. Open book. Open mind." As the several hundreds of friends and fans who came out to celebrate City Lights at 60 were happy to note, the signs might change, but the intention (really, an invitation) of City Lights remains the same. --Bridget Kinsella


Atlanta's Tall Tales Book Shop Changes Hands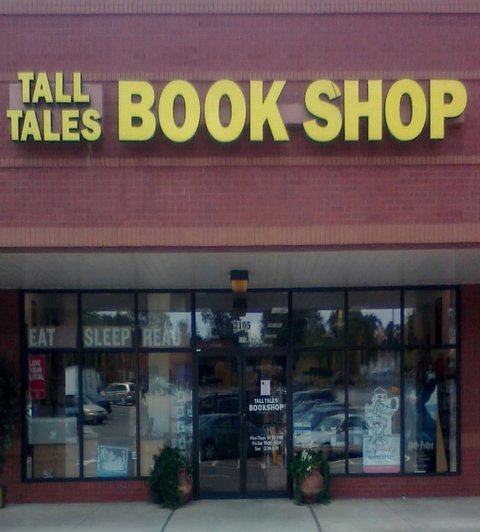 Marlene Zeiler, longtime owner of Tall Tales Book Shop in Atlanta, Ga., has sold the store to employee Rebekah Hagedorn.

The sale of the 34-year-old store officially went through on June 7; Zeiler plans to continue working at the store at least once a week for "Wonderful Wednesdays," when Hagedorn has the day off. Hagedorn, who has worked at Tall Tales for five years, has roughly 20 years of experience working in books and retail.

"All of the staff were stricken at the idea of the store closing," Hagedorn said. "I thought, I hoped, that I could make a go of it." At present, she has no plans to make any major changes. "It's been an institution in the neighborhood for the past 34 years. We want to keep it going strong."

In a letter to Tall Tales customers announcing the sale, Zeiler wrote that "it seemed to me that this was a good time to pass the torch. I did not want to close the store or sell to someone I didn't care about. Still, it is hard to think of giving it all up, but I know Rebekah will love Tall Tales as I do.... I have had a fantastic life with a really good family and this wonderful profession. I can't think of anything I would rather have done. I attribute my main source of pleasure to you who have become friends as well as customers.

"I believe the store is in good hands (all my wonderful people are staying on), and we can dish up the same good service, good books, and good conversation." --Alex Mutter


World's Ugliest Dog: Dream Monday Morning in New York City
In her own words, Vicki DeArmon, marketing and events director at Copperfield's Books and author of World's Ugliest Dogs, just out from Lyons Press ($12.95, 9780762792559), recounts her whirlwind morning yesterday in New York City in what was originally to be just an appearance on the Today Show by her, Walle, currently world's ugliest dog, and Tammie Barbie, Walle's owner.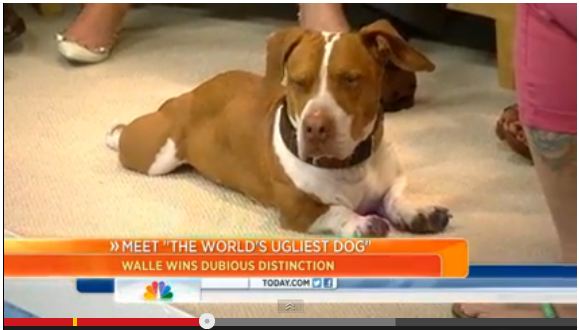 Well today was truly awesome. For a moment, I felt a flash of what it felt to be a star (or in the entourage of one anyway). We started out at 6:30 a.m. for an appearance on the Today Show. They loved the dog, but sadly no book coverage. I booked Fox at 8:30 a.m. so we ran over there, and they did a great segment on the dog, the contest, and the book (all three of us were in it). Then back to the Today Show because it seemed that Kathie Lee and Hoda wanted to see the dog. I gave the producer books for each of the women and when we walked into the show, they were both laughing hilariously and flipping through the book. That may be the pinnacle of existence, to have Kathie Lee holding your book AND enjoying it. So she continued to hold it and reference it in the spot where they talked up Tammie and looked over Walle and showed footage from the contest. Then as we're leaving, the View calls and asks if we can stop by. Whoopi and the gang? Of course, we could. Before their car arrived, a tmz reporter and cameraman saw us and asked Tammie some questions and got some footage of Walle signing the World's Ugliest Dog. Then the car from the View arrived. We went on at the end, Tammie on stage, with me positioned in the audience, ready to answer a question about the contest, which I did quickly as the show closed. As we drove to the airport, calls were still coming in. We begged off, wanting to make our plane back to California (now delayed). Ah well. A publicist's dream.


Brian Dauphin New CFO of Ingram Content Group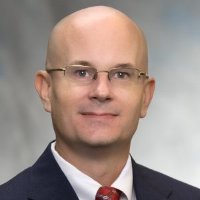 Effective July 1, Brian Dauphin is becoming chief financial officer of Ingram Content Group. He is currently senior v-p of Ingram's Lightning Source and senior v-p, finance, for Ingram Content Group. He joined Ingram in 1999 as controller for Lightning Source. Earlier, he was co-founder and CFO of Carelink Health Partners and worked at Ernst & Young and Cooper Industries.

Dauphin replaces Frank A. Kerrigan, who has served as Ingram's CFO since 1996 and is retiring next year. During a transition period, Kerrigan will be senior v-p. Before joining Ingram in 1994 as v-p and controller, Kerrigan worked in the automotive supply industry.

"Through all the challenges our industry has faced, Frank Kerrigan has been a steady constant in a swirl of change," Ingram Content Group CEO John Ingram said. "He is well respected throughout our organization and throughout our industry, and he deserves it. We will miss him, but we are very fortunate to have Brian Dauphin waiting in the wings. The transition period in the months ahead will be a luxury that we're fortunate to have."


Obituary Note: Richard Matheson
Richard Matheson, American author (I am Legend, The Shrinking Man, What Dreams May Come, Hell House) and screenwriter (Twilight Zone, Steven Spielberg's film Duel), died Sunday, Tor.com reported. He was 87. Matheson received a World Fantasy Award for Life Achievement, Bram Stoker Award for Lifetime Achievement and in 2010 was inducted into the Science Fiction Hall of Fame. Ray Bradbury called him "one of the most important writers of the 20th century," io9 noted, adding that Stephen King credited Matheson as "the author who influenced me most as a writer."


Notes
Image of the Day: Granada's Grand Grand Opening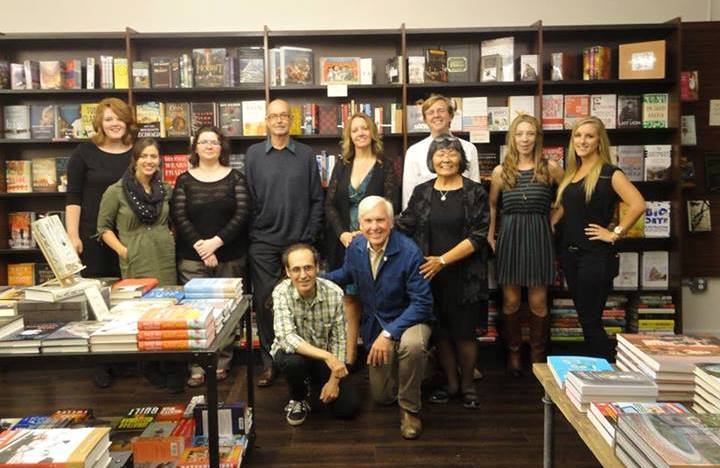 The grand opening of Granada Books, Santa Barbara, Calif., last Wednesday featured a ribbon cutting by Mayor Helene Schneider and greetings by owners Emmett McDonough and Sharon Hoshida. The Santa Barbara View observed that "cash registers were ringing up sales as the din from the crowd and a live band filled the store. Patrons spilled out onto the sidewalk where cake was served." Here the staff catches its breath after the big evening.


Elliott Bay: 'Beacon of Books & Literature' for 40 Years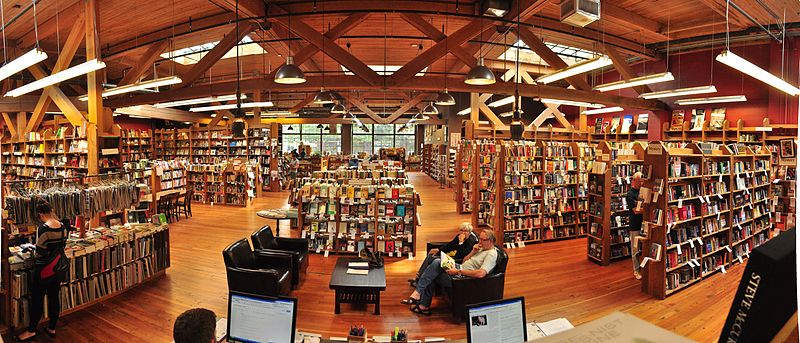 Seattle Times book editor Mary Ann Gwinn explored the "evolution of Elliott Bay Book Co.," which celebrates its 40th anniversary later this week.

"It was 1973, and Walter Carr had a dream," Gwinn wrote. "He wanted his own enterprise. He wanted to own a bookstore. He had grown up in San Francisco, and knew City Lights Bookstore in North Beach, a beacon of books and literature in a picturesque old neighborhood close to a bay.

"He considered Seattle, and like others eyeing opportunity here found that Seattle's population was just as educated as San Francisco's, similarly prosperous, but living in a less crowded and more accessible town. He had lunch at Ivar's with a friend, walked around the historic old Pioneer Square neighborhood, sat down in the Grand Central Bakery and looked across the street at the old Globe Building. He called the landlord. That is how the Elliott Bay Book Co., one of the country's most loved and revered bookstores, was born."

Among the amusing anecdotes was one from current owner Peter Aaron, who recalled the "watershed moment" when Rick Simonson, Elliott Bay's longtime head buyer and events coordinator, "turned up, holding onto a garbage can from the nearby restaurant where he worked. He had just finished high school, and he poked his head in and said, 'Oh, this is great, I love books.' "


Random House Publisher Services to Distribute Charlesbridge
Effective January 1, Random House Publisher Services will handle sales and distribution for Charlesbridge Publishing in the U.S. and internationally, except for Canada.
Charlesbridge, Watertown, Mass., publishes children's and adult books and celebrates its 25th anniversary next year. Among its best-known titles are First Day Jitters by Julie Danneberg, Bamboo People by Mitali Perkins, Bad Girls by Jane Yolen and Heidi E. Y. Stemple and Lola at the Library by Anna McQuinn. Its Peter Yarrow imprint has published The Night Before Christmas with a CD performance by Peter, Paul and Mary and Over the Rainbow with a CD performance by Judy Collins.
"We have been independent since our inception, including maintaining our own distribution," Charlesbridge president and publisher Brent Farmer said. "But the demands of technology and the increase in digital publishing have led us to seek a distribution partner. We're encouraged by RHPS's track record and look forward to strengthening relationships with our customers and broadening our distribution channels through this partnership."
RHPS president Jeff Abraham said in part that Charlesbridge's "fun and engaging lists are the perfect complement to the impressive work our children's sales team does both physically and digitally."


Paul Samuelson Joins Twelve as Publicity Manager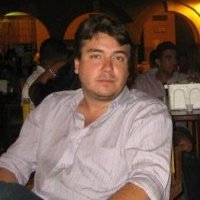 Paul Samuelson has joined Twelve as publicity manager. He was formerly a senior publicist at Random House Children's Books and earlier worked at Planned Television Arts (now Media Connect), Sourcebooks and Browne & Miller Literary Associates.


Book Trailer of the Day: Mind of the Demon
Mind of the Demon: A Memoir of Motocross, Madness, and the Metal Mulisha by Larry Linkogle with Joe Layden (Running Press), from the motocross racer who turned pro at age 15 and has had a wild ride since then.


Media and Movies
Media Heat: Jeanine Piro on the View
Tomorrow on NPR's Diane Rehm Show, readers review Woman at Point Zero by Nawal El Saadawi (Zed Books, $14.95, 9781842778739).

---

Tomorrow on the View: Jeanine Piro, author of Sly Fox: A Dani Fox Novel (Hyperion, $25.99, 9781401324575).

---

Tomorrow night on the Late Show with David Letterman: Marc Maron, author of Attempting Normal (Spiegel & Grau, $26, 9780812992878).


TV: Downton Abbey
Paul Giamatti will join the cast of Downton Abbey during the fourth season of the popular ITV/PBS series that has spawned many companion books. The Guardian reported that Giamatti is playing Cora's "maverick, playboy brother" in the season-ending Christmas special, with Shirley MacLaine returning as her mother.

"The casting of big-name U.S. talent is a canny move by Downton Abbey's producers with one eye on the American market, where the show is arguably an even bigger hit than in the U.K.," the Guardian wrote. Other new fourth season cast members include Dame Kiri Te Kanawa, Nigel Harman, Tom Cullen, Julian Ovenden, Joanna David and Gary Carr.


Movies: Divergent
Five new images from Divergent, directed by Neil Burger, have been released. Entertainment Weekly reported the pics offer "fresh looks at Shailene Woodley and Theo James from adaptation-in-progress of YA fave by Veronica Roth."


Book Review
Review: The Thinking Woman's Guide to Real Magic
The Thinking Woman's Guide to Real Magic by Emily Croy Barker ( Pamela Dorman/Penguin, $27.95 hardcover, 9780670023660, August 2013)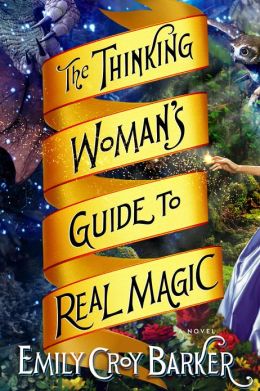 Nora Fischer is having a bad day: Her boyfriend has just announced his engagement to another woman, her Ph.D. thesis advisor expresses doubts about her academic career and her cat's been hit by a car. So when Nora wanders into the garden of an heiress, Ilissa, who invites her to a series of splendid parties, it seems like the perfect opportunity to take time for herself. Then she meets Ilissa's handsome son, Raclin, who initiates a whirlwind courtship. By the time Ilissa and Raclin are revealed to be magical beings with unsavory intentions, Nora is sunk too deep in the enchantment to escape.
Soon Nora finds herself in another world where the milieu is medieval, magic takes the place of technology and an amoral Faerie-like race called Faitoren--the same people who seduced Nora into their world--are perpetually at war with the human population. Once she escapes imprisonment, Nora must find her place in a world where her academic skills, and even the English language, are suddenly useless. She is alternately aided and thwarted by the magician Aruendiel, who can perhaps be best described as an Alan Rickman character when the Harry Potter films meet Love, Actually.
In The Thinking Woman's Guide to Real Magic, Emily Croy Barker presents an intelligent, no-nonsense heroine who never compromises on her dignity. Thrust into perilous situations, Nora always keeps her cool and her head for languages and numbers. Through persistence, even in the face of Aruendiel's initial discouragement, Nora learns the use of magic, a talent that will eventually be useful during the inevitable showdown between Aruendiel and the Faitoren.
Barker's lovingly developed main characters are the engine of the novel, and their relationship comprises its center. While these characters are the novel's strength, they are occasionally also its weakness, as the plot sometimes falters in the service of extended sections of dialogue. Much of the plot concerns the dark rumors (and facts) that swirl around Aruendiel and Nora's effort to reconcile them with the man she knows. As Nora journeys to various parts of the world, from the realm of the Faitoren to the human king's palace, she learns of Aruendiel's complicated role with regard to these two enemy kingdoms.
By the end of the novel, readers will feel at home in the alternate universe Barker has created, and their protagonists come to seem like old friends. --Ilana Teitelbaum
Shelf Talker: A debut novel about a smart young woman whose life is in shambles when she accidentally enters a different world--where magic, romance and battles await her.