Shelf Awareness for Monday, January 6, 2014

Quotation of the Day
'Book Weather' in Minnesota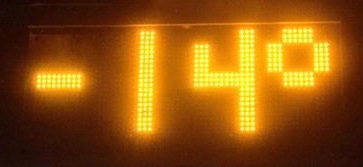 "Dear Rest of the World: In Minnesota we call this 'book weather.' Enjoy."
--
Post on Facebook
from Common Good Books, St. Paul, Minn., as the coldest weather in 20 years approached.


News
Bank Street Book Nook for Sale
The Bank Street Book Nook, New Milford, Conn., is for sale but will close if a purchaser is not found, the Danbury News Times reported. Owner Janet Olsen Ryan and her husband, Sean, have sold the building in which the store is located, and she said, "I have other passions I want to pursue."

A weekend Facebook post said that the store will be open through January but will close for good "sometime after that."

Ryan bought the store seven years ago, when Blanche Bailey decided to sell the building and close her store, called Baileywick Books. The Ryans initially were interested only in buying the building, but, as the paper wrote, the store's closing "tugged at Janet Ryan's heart and she agreed to take over the business."

She told the News Times that being a bookseller had been "a lot of fun, and I've liked being part of New Milford's downtown. But it's been a seven-day a week responsibility and I never really intended to do retail."

Ryan is a former psychotherapist who may reopen her practice and will focus for now on her children.


WBN U.S.: Giver Application Deadline Extended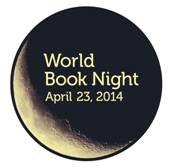 Because of "the weather and hectic holiday schedules," World Book Night U.S. is extending the deadline for giver applications to midnight, this Friday, January 10. The previous deadline was yesterday.
On Facebook, WBN U.S. executive director Carl Lennertz said, "About 2/3 of those who applied in Oct. and Nov. will get first choice of book, and 98% of all who have applied to date will be givers!" Givers will be notified February 1.


Amazon Chief Delivered on New Year's Day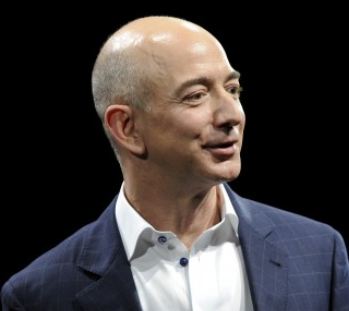 On New Year's Day, during a holiday visit to the Galapagos Islands, Amazon founder and CEO Jeff Bezos suffered a sudden kidney stone attack and was transported by an Ecuadoran navy helicopter to a Galapagos airport, where his private plane whisked him back to the U.S. An Amazon spokesperson quoted Bezos as saying, "Galapagos: five stars. Kidney stones: zero stars." (The Ecuadoran navy issued a release about the evacuation, which was widely quoted by U.S. media; Amazon confirmed the tale.)

Bezos's own Washington Post had a straight take on the painful story. By contrast, in an item headlined "Ecuadoran Navy Delivers for Amazon Chief," the New York Times had fun, writing: "The Ecuadorean Navy offered Jeff Bezos same-day shipping on an Amazon Prime package: Mr. Bezos himself.... Knowing Mr. Bezos' savvy use of promotional opportunities, it's surprising he did not say he fetched help by using the new 'Mayday' feature on Kindle tablets."
For its part, Gawker ended its account of the incident this way: "There's been no word if Charlie Rose was waiting holding a bedpan. If you can't immediately get a country's navy on the phone, it's not recommended that you contract a kidney stone on a remote island."
In a more serious vein, several papers commented that, as the Wall Street Journal put it, "Bezos's health mishap is a reminder to Amazon stockholders of the CEO's value to the company. Like many companies led by founder/CEOs (see: Google's Larry Page, Berkshire Hathaway's Warren Buffett, Apple's Steve Jobs and Oracle's Larry Ellison), Amazon is considered inseparable from Bezos."


Harper Expands WestBow Press to Zondervan

HarperCollins Christian Publishing is expanding its WestBow Press service with Author Solutions to the Zondervan publishing group, a service it already offers with Thomas Nelson. Since 2009, WestBow has published works by "emerging Christian authors," and some of them, including Marcia Moston, William Sirls, and Tony Townsley and Mark St. Germain, have signed contracts with Nelson.

"We regularly suggest top WestBow Press titles to the acquisition teams at Thomas Nelson and will now do the same for the teams at Zondervan," said Pete Nikolai, director of publishing services and manager of WestBow Press.


Obituary Note: George Goodman (Adam Smith)
George Goodman, "who demystified financial complexities in bestselling books and on a long-running public television program under the name of one of history's most famous economists, Adam Smith," died Friday, the New York Times reported. He was 83.


Notes
At King's English: Celebrating a Wedding Where It All Began
On December 14, authors Matthew Kirby and Jaime Richardson were married in Sugarhouse Park, just down the street from the King's English Bookshop, Salt Lake City, Utah, where they met last summer. On New Year's Day, the pair celebrated the wedding with a reception at the bookstore that drew some 100 guests, among them writers, booksellers, librarians and readers. Richardson prepared the food, using recipes from her cookbook, Celebrate Every Day: Recipes for Making the Most of Special Moments with Your Family, and her blog, sophistimom.com. Both Kirby and Richardson have been longtime friends and supporters of the King's English and owners Betsy Burton and Anne Holman.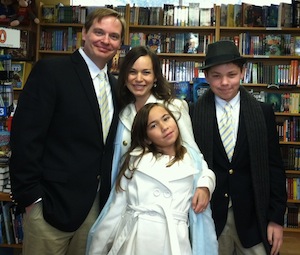 Kirby and Richardson with two of their children.
The pair met last summer after a multi-author event at the King's English, during which Richardson spoke about her cookbook. Kirby, who is the author of several middle grade fantasy novels (including The Clockwork Three, The Lost Kingdom and The Quantum League), had gone to see a friend speak on the panel. After the discussion, he decided to approach Richardson.

"I love food and I love to cook, so I went to chat with her more after the event," recounted Kirby. "She was articulate and interesting, not to mention beautiful, and after I'd left the event I found myself wishing I could get to know her better. So I e-mailed her and we started spending time together."

"When I got his e-mail the next day, I Googled him and discovered I had already bought one of his books for my son three Christmases earlier," Richardson said. "As we got to know each other, I discovered how genuine and talented he was, and everything went from there." --Alex Mutter


'Five Questions' for Northshire Bookstore's Gail King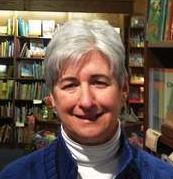 Bookseller Gail King, who works in the children's department at the Northshire Bookstore, Saratoga Springs, N.Y., was the focus recently of the Saratogian's "Five Questions" series. Our favorite responses:

Saratogians seem to have fallen in love with the store, what's the secret to its success?
We already had a base of readers when we moved here. People would drive to Manchester, Vt., to visit our store there and now they don't have to make the trip unless they want to. We are an independent bookstore and I think that makes a huge difference in Saratoga Springs. The location, beautiful interior space and the knowledgeable staff are all contributing factors to our success as well.

What do people not know about Northshire?
We consider ourselves very community friendly, and with that, we abide by the 'love me, love my dog,' policy. Stop by with your dog! We also accept gift cards from Barnes & Noble and Amazon.


Fayetteville Indies a 'Viable Alternative' for College Students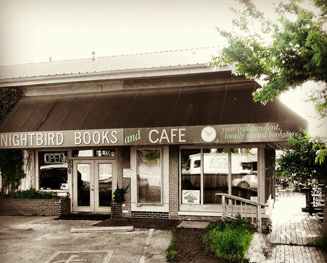 Fayetteville indie booksellers Nightbird Books and the Dickson Street Bookshop were recommended to University of Arkansas students by the Arkansas Traveler, which wrote:
"Other than the cozy, I'm-at-the-library feeling that you get only by going in a normal sized building locally as opposed to the giant, grocery-style shopping experience you get at a chain store, there are even more draws that a local shop can offer college students. For one thing, there is location, location, location."

Indie bookstores also "can have the benefit of direct relationships with regulars to their shops, which can come in handy when you know you need a book, but you just can't seem to find it. Independent local stores' employees likewise can sometimes be more educated in the field of titles to help out with the search," the Arkansas Traveler noted, adding that "independent book shops remain a viable alternative to chain stores if you're looking for a nearby, helpful hand in picking out something specific to read over break."


Vintage Posters Promoting American Libraries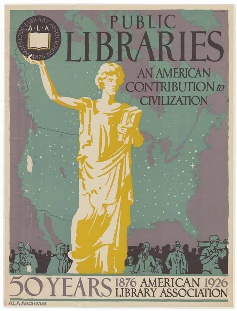 "Ever since the Internet came along, our relationship to libraries has changed dramatically. But recent studies show that these institutions--pillars of the OG sharing economy--are still viewed as essential to American communities," Gizmodo observed in showcasing 13 vintage posters promoting American libraries, found among the University of Illinois at Urbana-Champaign's collection of posters and propaganda from the American Library Association.


Media and Movies
Movies: A Promise Trailer
A new international trailer has been released for A Promise, based on Stefan Zweig's novel Journey into the Past, the Film Stage reported. The movie, directed by Patrice Leconte and starring Rebecca Hall (The Town, Transcendence), Alan Rickman and Richard Madden (Game of Thrones), does not have a U.S. distributor yet, but will open in France in April.


Media Heat: James Carville and Mary Matalin on the View
This morning on Good Morning America: Cameron Diaz, author of The Body Book: The Law of Hunger, the Science of Strength, and Other Ways to Love Your Amazing Body (HarperWave, $25.99, 9780062252746).

---

This morning on Morning Joe: Allen Salkin, author of From Scratch: Inside the Food Network (Putnam, $27.95, 9780399159329).

---

This morning on CBS This Morning: David B. Agus, author of A Short Guide to a Long Life (Simon & Schuster, $17.95, 9781476730950).

---

This morning on the Today Show: John Rizzo, author of Company Man: Thirty Years of Controversy and Crisis in the CIA (Scribner, $28, 9781451673937).

---

Today on NPR's Diane Rehm Show: Daniel Siegel, author of Brainstorm: The Power and Purpose of the Teenage Brain (Tarcher, $27.95, 9781585429356).

---

Today on Fresh Air: Scott Stossel, author of My Age of Anxiety: Fear, Hope, Dread, and the Search for Peace of Mind (Knopf, $27.95, 9780307269874).

---

Today on the View: Jim Cramer, author of Get Rich Carefully (Blue Rider, $29.95, 9780399168185).

---

Today on a repeat of Tavis Smiley: Linda Ronstadt, author of Simple Dreams: A Musical Memoir (Simon & Schuster, $26, 9781451668728).

---

Tonight on Nightline: Rebecca Kade, author of Call Girl Confidential: An Escort's Secret Life as an Undercover Agent (Gallery, $26, 9781476726816).

---

Tomorrow on Dr. Phil: Travis Stork, author of The Doctor's Diet: Dr. Travis Stork's STAT Program to Help You Lose Weight & Restore Your Health (Bird Street Books, $25.95, 9781939457035).

---

Tomorrow on MSNBC's the Cycle: Jessica Lamb-Shapiro, author of Promise Land: My Journey through America's Self-Help Culture (Simon & Schuster, $25, 9781439100196).
---

Tomorrow on NPR's Diane Rehm Show: Joel Greenberg, author of A Feathered River Across the Sky: The Passenger Pigeon's Flight to Extinction (Bloomsbury, $26, 9781620405345).

---

Tomorrow on the View: James Carville and Mary Matalin, authors of Love & War: Twenty Years, Three Presidents, Two Daughters and One Louisiana Home (Blue Rider, $28.95, 9780399167249).


Book Review
Review: I'll Take You There: Mavis Staples, the Staple Singers, and the March up Freedom's Highway
I'll Take You There: Mavis Staples, the Staple Singers, and the March Up Freedom's Highway by Greg Kot (Scribner, $26 hardcover, 9781451647853, January 21, 2014)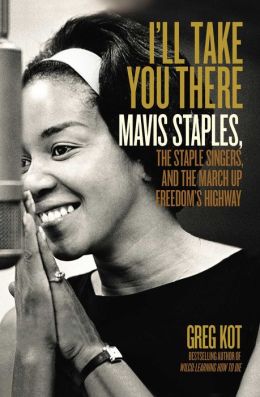 Among their many admirers, perhaps the Reverend Jesse Jackson best described the special place the Staple Singers and their music held in the history of African-Americans: "They were talking the relevant talk. You could demonstrate to their music. Or you could shout to their music." As Greg Kot, music critic for the Chicago Tribune, illustrates in I'll Take You There, this family created its own musical genre, transcending its roots in rural Mississippi gospel and blues to straddle the range of 20th-century popular music. Whether it was a Martin Luther King, Jr., march or the legendary Wattstax festival or accompanying The Band on "The Weight" in The Last Waltz, the Staple Singers were there.
Roebuck "Pops" Staples was working the same cotton fields that his slave grandfather did before he left for Chicago in 1936 at the age of 21. As a boy, he took up the guitar; although forbidden by his strict spiritual parents from playing the blues ("the music of sinners, boozers, and women-chasers"), he slipped out to hear neighbors Charley Patton and Howlin' Wolf growl at local juke joints. In his South Chicago neighborhood, he was lucky to find further musical influence from local talent like Lou Rawls, Sam Cooke and Mahalia Jackson.
Kot traces the unlikely path Pops and his children--Pervis, Cleotha, Yvonne and especially diminutive contralto lead singer Mavis--followed to stardom, beginning in the churches of South Chicago. For several years, they followed the gospel circuit; then Al Bell convinced Pops to sign with Stax and broaden their audience. It was an easy move for the straight-laced Pops to shift from spirituals to civil rights anthems--as Bell notes, hits like "Respect Yourself" and "I'll Take You There" were still "songs designed to inspire, inform and motivate people."
After the family group disbanded, Mavis went on to build her own career, singing with the likes of Wilco, jazz guitarist John Scofield and Bob Dylan. Musically versatile, Mavis is still faithful to her family's gospel roots. Kot's biography, drawing upon a range of first-hand sources--including dozens of musicians, producers and civil rights leaders--is a gem of a history of an overlooked anchor of 20th-century African-American music. --Bruce Jacobs
Shelf Talker: While telling the story of Mavis Staples and the Staple Singers, Kot also reveals how their blend of gospel, blues and R&B inspired the civil rights movement.


The Bestsellers
Top Book Club Picks in December
The following were the most popular book club books during December based on votes from more than 100,000 book club readers from more than 39,000 book clubs registered at Bookmovement.com:

1. The Husband's Secret by Liane Moriarty (Amy Einhorn Books/Putnam)
2. The Book Thief by Markus Zusak (Knopf)
3. The Light Between Oceans: A Novel by M.L. Stedman (Scribner)
4. And the Mountains Echoed: A Novel by (Riverhead)
5. The Goldfinch by Donna Tartt (Little, Brown)
6. Orphan Train by Christina Baker Kline (Morrow)
7. The Language of Flowers: A Novel by Vanessa Diffenbaugh (Ballantine)
8. Gone Girl by Gillian Flynn (Crown)
9. Where'd You Go, Bernadette: A Novel by Maria Semple (Little, Brown)
10. Me Before You: A Novel by Jojo Moyes (Viking)

Rising Stars:

The Rosie Project by Graeme Simsion (S&S)
The Good House by Ann Leary (Picador)

[Many thanks to Bookmovement.com!]