Shelf Awareness for Friday, January 31, 2014

Quotation of the Day
Super Bowl NYC Tip: 'We Have Bookstores--Real Bookstores'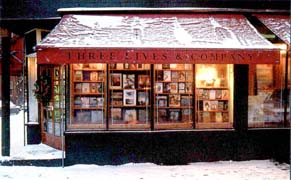 "Keep your Kindles; forget your closed-down Borders. In New York City, we have bookstores--real bookstores. We also have a wealth of authors living locally, and an equal number of avid readers eager to hear them talk about their work free-of-charge. A few reading and panel discussions are going on in New York area bookstores within days of the Big Game."


News
Amazon Sales, Profits Jump--but Below Expectations
In the fourth quarter ended December 31, net sales at Amazon rose 20.3%, to $25.59 billion, and net income rose 146.4%, to $239 million. For the full year ended December 31, net sales rose 21.9%, to $74.45 billion, and net income was $274 million, compared to a net loss of $39 million in 2012.

Because quarterly earnings were lower than analysts' average estimates (51 cents a share rather than 66 cents a share), because of lower predictions for first-quarter 2014 results and because the company's sales growth rate slipped, Amazon stock fell in after hours trading--as much as 12%--but then settled at $389 a share, down 4.7%.

North American sales in the quarter grew 26%, to $15.3 billion, compared to 31% in the third quarter, while international sales grew 13%, to $10.3 billion, in the quarter, compared to 15% in the third quarter.

The company said that in first-quarter 2014, it expects net sales to be between $18.2 billion and $19.9 billion, up 13%-24%, over the first quarter of 2013--but averaging below analysts' forecasts. Amazon also predicted its quarterly operating results will be somewhere between a $200 million loss and a $200 million gain, compared to a gain of $181 million in the first quarter of 2013.

Colin Gillis, a BGC Partners analyst, told the Wall Street Journal that Amazon has "gotten a lot of hall passes on profitability; maybe that run is over. They're selling widgets and they're doing it basically at cost; you've got to sell a lot of widgets if you're not making money on them."

The Journal commented: "Investors' faith in Amazon has relied in part on consistent sale gains fueling the company's lavish spending on warehouse construction and secretive internal projects that it has indicated will yield bigger returns in the future."

In a conference call with analysts, the company said it is considering raising the price of Amazon Prime by $20-$40 a year from its current price of $79. The company cited higher costs for the two-day shipping program, which offers added features like streaming video.


ABA Names Board Candidates

The American Booksellers Association board has nominated three candidates to stand for election to three-year terms (2014-2017) on the board, Bookselling This Week reported. Nominees for the upcoming elections are John Evans of DIESEL, A Bookstore, with locations in Brentwood, Larkspur, Malibu and Oakland, Calif.; Jamie Fiocco of Flyleaf Books, Chapel Hill, N.C.; and Matthew Norcross of McLean & Eakin Booksellers, Petoskey, Mich.

Evans and Norcross are approaching the end of their first three-year terms as directors and both are eligible for a second three-year term. Ken White of San Francisco's Books Inc. is coming to the end of his second two-year term and is not eligible to seek re-election.

Steve Bercu of BookPeople, Austin, Tex.; and Betsy Burton of the King's English Bookshop, Salt Lake City, Utah, will begin their second year as ABA president and v-p/secretary, respectively.


Blue Manatee Children's Bookstore Robbed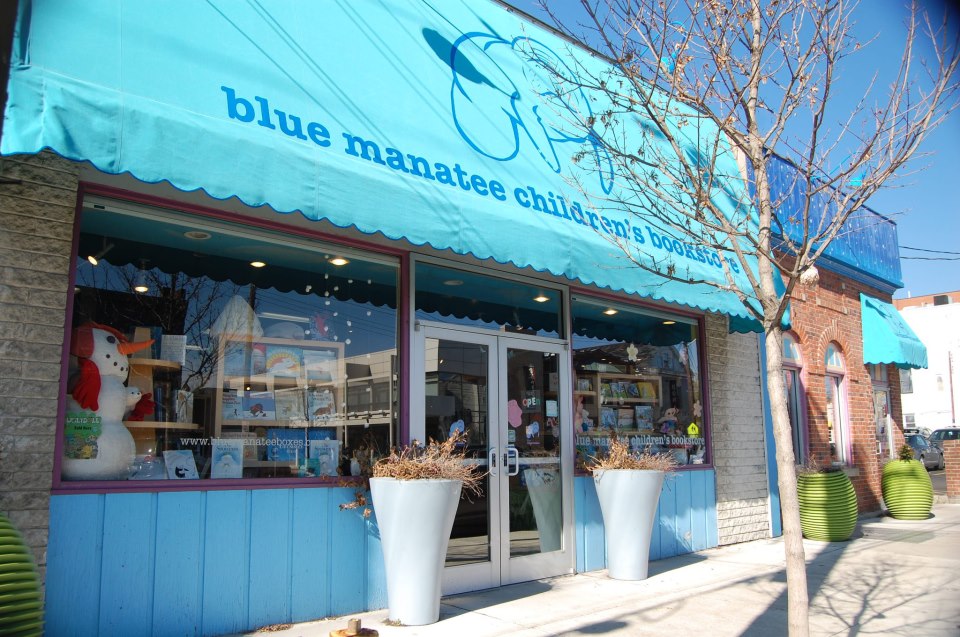 Blue Manatee Children's Bookstore and Café, Cincinnati, Ohio, was robbed at gunpoint yesterday afternoon. WXIX-19 reported city police were searching for a man who "entered the store armed with a handgun and demanded cash. Authorities say that the suspect got away with an undisclosed amount of currency."

Last night, Blue Manatee posted on Facebook: "Hi everyone. You may have heard that we were robbed today. We are thankful that no children were in the bookstore at the time and that all of our employees are OK. We are a little shaken up, but grateful that no one was harmed."

"It was very bizarre," store manager Sharon Hill told Cincinnati.com. "A man came in and asked for change for the bus, which (our cafe worker) gave him, and then we walked back to the back of the cafe and then back to the front and then he pulled a gun."


Writer's Block Book Shop Opening in Las Vegas
The Writer's Block Book Shop, Las Vegas, Nev., will open by early March downtown "in a spot once occupied by a tattoo parlor adjacent to the Griffin bar," the Sun reported. The new indie is operated by Scott Seeley, former director of a free writing program for kids in New York City. He said the location is temporary, since the bookshop is moving later this year to the old Alicia Motel.

Seeley and Drew Cohen currently have an Espresso Book Machine in the newly opened Inspire News Café at the corner of Fremont and Las Vegas Boulevard in what used to be a 7-Eleven, the Sun wrote.


BAM Store in Roseville, Mich., to Close
The Books-A-Million store in Roseville, Mich., will close February 15. The Detroit Free Press reported that store merchandise will be transferred to other locations and approximately nine workers are losing their jobs. Assistant manager Sarah Randall said it was unclear whether low sales or leasing issues had lead to the decision, but this was the only one of four Michigan BAM stores expected to close.


WI9: Booksellers Offer Tips for Publicizing Events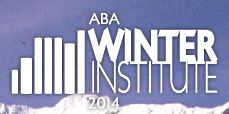 During the panel on "How to Publicize Your Killer Events" at Winter Institute 9 last week, three booksellers--Diane Capriola of Little Shop of Stories in Decatur, Ga., Cindy Dach of Changing Hands Bookstore in Tempe, Ariz., and Michele Filgate of Community Bookstore in Brooklyn, N.Y.--offered tips on the best ways to market author and store events. John Evans, the owner of DIESEL (with four locations in California), moderated the discussion.
Partnerships with print media can be beneficial, even if they don't directly translate to sales. Dach discussed her store's longstanding partnership with the Arizona Republic, the largest newspaper in the state. Once each month, Changing Hands designs and produces a feature called "Republic Recommends," which highlights selected books. Dach noted that despite the paper's high readership, the feature did not necessarily move the books in question. "So the sales are going elsewhere," Dach surmised. "But it gets our name in the biggest newspaper in Arizona.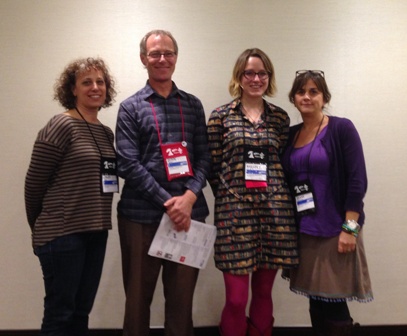 From left: Cindy Dach, John Evans, Michele Filgate, Diane Capriola
Among other benefits, off-site events allow otherwise small stores to host huge authors and, especially, the huge crowds that they draw. Filgate brought up Community Bookstore's Brooklyn by the Book reading series, a partnership with Congregation Beth Elohim and the Brooklyn Public Library. Through the off-site series, Community Bookstore has hosted such authors as Donna Tartt and Malcolm Gladwell, drawing crowds in the hundreds. "It was crucial to put ourselves out there," explained Filgate. "We need to make sure that the Barnes & Noble down the street doesn't get these partnerships instead."
The panelists were in agreement on the importance of having employees publicize events. Dach noted that "if [employees] can handsell a book, they should be able to handsell an event," and Filgate stressed having booksellers promote events on their own Twitter and Facebook pages.
Capriola described a sense of "getting lost" on Facebook, to which the other panelists agreed. The panelists suggested that depending on a store's target audience, and whether there was someone on staff willing to take the reins, branching out to other social networks such as Instagram, Tumblr or Pinterest may be effective.
When asked what author could do to help publicize events, Filgate immediately answered that authors should put events up on their website. It was incredibly frustrating, Filgate said, to see author websites that haven't been updated in months or even years. Dach related that when they do promote their own events, authors can be extremely helpful. "If an event was surprising, that author did something," declared Dach.
The panelists had varying criteria for what constituted a "killer event." For Capriola, it was whether the kids had a fun, memorable time. If you run a fun event, she explained, parents will tell other parents about how well you entertained their kid. For Dach, a killer event was one during which Changing Hands sold a lot of books. "For adults, we've been really pushing bookselling," she said. Filgate answered that a killer event can be a more intimate one, so long as it generates discussion and people are talking about the event afterward.
Asked to name best practices for planning and publicizing events, Filgate praised a website called splashthat.com, which can be used to handle RSVPs and event tickets. Dach emphasized the need to keep event calendars completely up to date, so the staff can use that information. Capriola discussed her store's city-wide reading initiative called On the Same Page; community involvement, she suggested, was the best kind of publicity. --Alex Mutter


Notes
Image of the Day: FoxTale Book Shoppe: 'Best of Atlanta'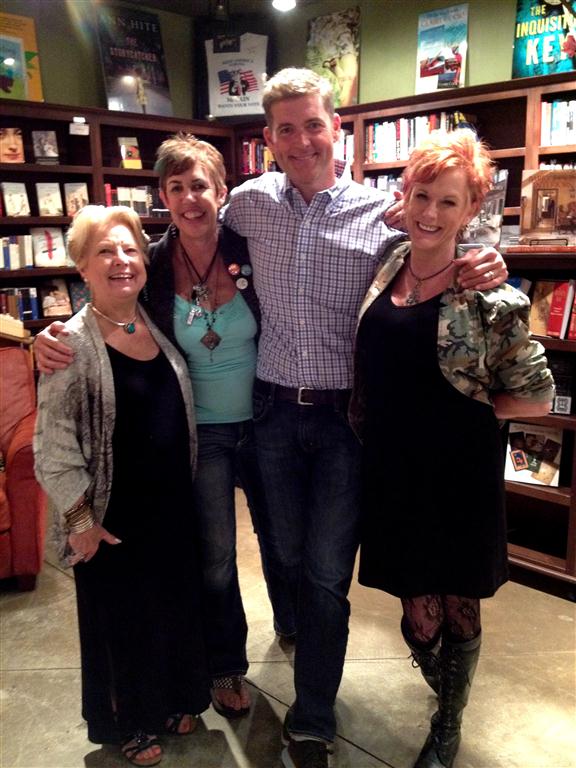 Cookbook author Jamie Deen with (l.-r.) Fox Tale owners Jackie Tanase, Ellen Ward and Karen Schwettman.
FoxTale Book Shoppe, Woodstock, Ga., was named Best Bookstore in this year's "Best of Atlanta" issue of Atlanta magazine. "We couldn't be more excited to be named the Best Bookstore in Atlanta," said co-owner Ellen Ward, who founded the bookstore in 2007 with Karen Schwettman and Jackie Tanase. "We owe so much to our wonderful customers, authors and the entire community. We work hard to bring so many talented authors to the Atlanta area and give them the southern hospitality they deserve."


Lemony Snicket Prize for Noble Librarians Faced with Adversity
Earlier this week, at ALA Midwinter in Philadelphia, the American Library Association Council approved the new Lemony Snicket Prize for Noble Librarians Faced with Adversity.
The award will be presented annually at the ALA conference to a librarian who "has faced adversity with integrity and dignity intact." Lemony Snicket claims that the $3,000 prize will be given from his "disreputable gains, along with an odd, symbolic object from his private stash, as well as a certificate, which may or may not be suitable for framing."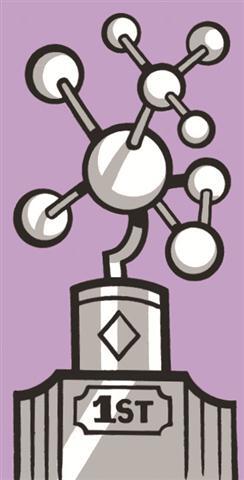 According to Snicket, it is his hope that "the Snicket Prize will remind readers everywhere of the joyous importance of librarians and the trouble that is all too frequently unleashed upon them." The award jury will consist of a chair and four members--at least one member from any of the youth divisions (ALSC, AASL, YALSA) and at least one member from the Intellectual Freedom Committee or the Intellectual Freedom Round Table.
The deadline to nominate a librarian is May 1, 2014. In subsequent years, the deadline will be December 1. The application must include a narrative describing the adverse incident the librarian faced and a description of their response, result and resources utilized; name and contact information; name and contact information of the nominator. For more information about the award, including how to nominate candidates, visit www.ala.org/awardsgrants/lemony-snicket.
Daniel Handler, standing in for Lemony Snicket, first proclaimed his admiration for librarians in a song with Maira Kalman that includes the refrain, "Libraries are our friends,/ We should take care of them/ Because without libraries we'd be d-u-m." About his sponsorship of the award, Snicket said, "This seems like a better way to channel money to librarians than my previous strategy, which was incurring exorbitant late fees."


Pennie Picks The Good Luck of Right Now
Pennie Clark Ianniciello, Costco's book buyer, has chosen The Good Luck of Right Now by Matthew Quick (Harper, $25.99, 9780062285539) as her pick of the month for January. In Costco Connection, which goes to many of the warehouse club's members, she wrote: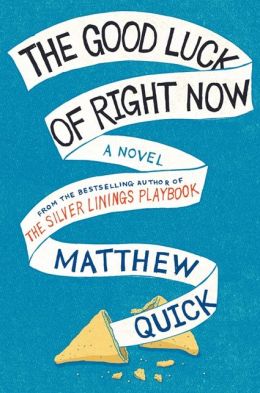 "I was completely charmed by Matthew Quick's The Silver Linings Playbook. But it was the book that had me singing the author's praises; I've not seen the big-screen adaptation.

"Still swooning from the memory of that book, you can imagine how eager I was to get my hands on a copy of this month's buyer's pick, Quick's The Good Luck of Right Now.

"Batholomew Neil has lived every one of his 38 years with his mother. When she dies, he has to figure out how to live alone. He finds he isn't really alone, as a priest, a 'Girlbrarian,' her brother and the spirit of Richard Gere help him create a family of his own.

"Quick's depictions of relationships are so real and, ultimately, hopeful and inspiring that I hope everyone will thank their lucky stars for a book like this one."


Book Trailer of the Day: Unleashing the Second American Century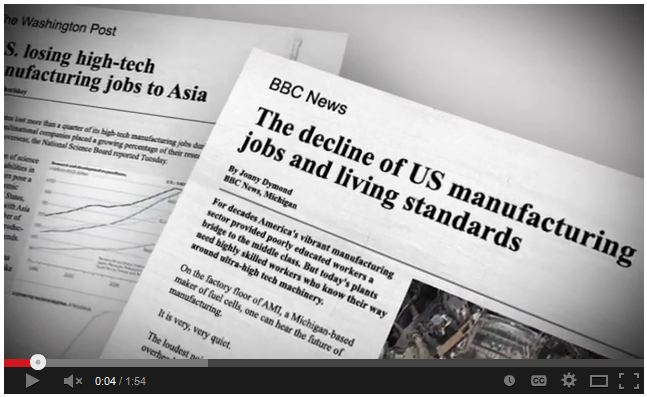 Unleashing the Second American Century: Four Forces for Economic Dominance by Joel Kurtzman (PublicAffairs).


Media and Movies
Media Heat: Susan Reyburn on NPR's On Point
Today on NPR's On Point: Susan Reyburn, author of Football Nation: Four Hundred Years of America's Game (Abrams, $30, 9780810997622).
---
Sunday on MSNBC's Melissa Harris Perry: Janet Mock, author of Redefining Realness: My Path to Womanhood, Identity, Love & So Much More (Atria, $24.99, 9781476709123).


TV: Game of Thrones Fourth Season Images
HBO unveiled several new images from the fourth season of Game of Thrones. Indiewire noted: "Behold, all your faves: Emilia Clarke, Peter Dinklage, Kit Harington, Natalie Dormer, Nikolaj Coster-Waldau and more. What clues to they give? Probably not much, but the season is dripping with promise with Mance Ryder wildings coming from the North, Daenerys Targaryen's growing power while in exile, the impending marriage of Joffrey and Margaery and so much more. And remember, the show is no longer following George R.R. Martin's books by the letter, so even for the diehards, there will be surprises." Game of Thrones returns April 6.


Books & Authors
Awards: BSFA Shortlist
Finalists have been announced for the British Science Fiction Association awards. Winners will be revealed April 20 at a ceremony held during the Satellite4 Eastercon convention in Glasgow, Scotland. The complete
BSFA awards shortlist can be found here
.


IndieBound: Other Indie Favorites
From last week's Indie bestseller lists, available at IndieBound.org, here are the recommended titles, which are also Indie Next Great Reads:

Hardcovers
The Ascendent: A Thriller by Drew Chapman (Simon & Schuster, $25, 9781476725888). "A ruthless entity has declared war on America, not through military attacks or terrorist activities but by targeting our economy. Two hundred billion dollars in U.S. Treasury bonds are sold off, precious natural resources are destroyed, our power grid is sabotaged, and the real estate market is gutted when property is sold for cutthroat prices. Only one man, Garret Reilly, a trading prodigy who has an uncanny ability to recognize patterns, has a sense of what is being perpetrated and who is behind it. Chapman has created a brilliant, gripping thriller that is all the more frightening in its distinct possibility!" --Jerry Brown, the Bookstore, Radcliff, Ky.

The Trip to Echo Spring: On Writers and Drinking by Olivia Laing (Picador, $26, 9781250039569). "The Trip to Echo Spring is the ideal blend of memoir, literary criticism, and travelogue. Fans of Joan Didion, Susan Sontag, and Geoff Dyer will soon list Olivia Laing as one of their favorite writers. Laing never glamorizes alcoholism; instead, she lifts the romantic veil off the stories we know about some of the most famous drunken scribes and shows just how devastating--but alluring--alcohol can be." --Michele Filgate, Community Bookstore, Brooklyn, N.Y.

Paperback
The Colour of Milk: A Novel by Neil Leyshon (Ecco, $14.99, 9780062192066). "Heartbreaking, breathtaking, and very human, The Colour of Milk reads less like historical fiction and more like a memoir. Mary is a hardworking but willful farm girl in rural England until her abusive father 'sells' her to the local vicar as a servant. Her new position brings her opportunities for education and wider knowledge than she ever had before, but there are consequences. This gripping story of power, family, and self-determination will pull you right in and stay with you for a long time." --Caitlin Caulfield, Odyssey Bookshop, South Hadley, Mass.

For Teen Readers
The Extra by Kathryn Lasky (Candlewick Press, $16.99, 9780763639723). "This important historical novel tells the little-known story of the fate of the Gypsies during the Holocaust. It is told through the eyes of a courageous girl chosen to be an extra in the propaganda films made by Hitler's filmmaker, Leni Riefenstahl. As seen through the eyes of this 16-year-old, the frightening horrors of the Holocaust come to life in a new way. An informative book for all ages, and a great new resource for educators." --Isabel Berg, Gibson's Bookstore, Concord, N.H.

[Many thanks to IndieBound and the ABA!]


Book Brahmin: Valerie Martin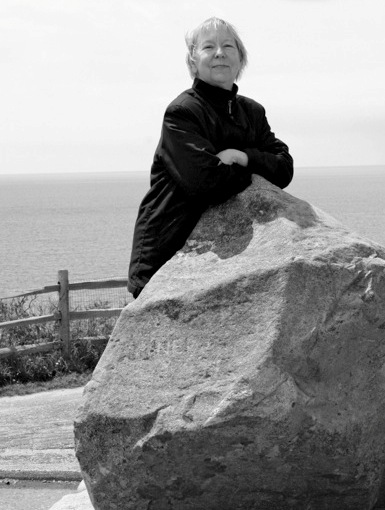 photo: Fred Bergon
Valerie Martin is the author of 10 novels, three collections of short fiction, a biography of St. Francis of Assisi and co-author (with her niece Lisa Martin) of a new middle-grade series, beginning with Anton and Cecil: Cats at Sea. She received the Kafka Award for her novel Mary Reilly and Britain's Orange Prize for Property. Her new novel, The Ghost of the Mary Celeste (Nan Talese/Doubleday, January 28, 2014), concerns the discovery of the American ship the Mary Celeste, which was found in 1872 adrift off the coast of the Azores without a crew. In Martin's novel, this "ghost" ship is by turns a provocative mystery, an inspiration to creativity for the young doctor Arthur Conan Doyle and a tale of a seafaring family's suffering and loss.
On your nightstand now:
I've just finished The Infatuations by Javier Marías, a truly strange and wonderful novel. Next is The Friendly Brook and Other Stories by Rudyard Kipling, Donna Tartt's The Goldfinch, How We Hope by Adrienne Martin and a short novel, Burning Secret by Stefan Zweig. By the time I finish these, Yasmina Reza's novel Happy Are the Happy will be out and I'll add that to the stack.
Favorite book when you were a child:
I read and re-read two 19th-century classics narrated by animals: Black Beauty by Anna Sewell and Beautiful Joe by Marshall Saunders. Both were written by women who wanted to call attention to animal abuse, and they were instrumental in raising social consciousness in their era, but the horse (Black Beauty) and the dog (Joe) are such observant and gifted storytellers that the agenda is never overbearing. Had I read only these books I might have been a happier child, but unfortunately I ruined my chances for that with my passion for brutal and morally reprehensible fairy tales.
Your top five authors:
Hmmm. Only five? Gustave Flaubert, Anton Chekhov, Henry James, Edith Wharton and Elizabeth Taylor. Except for the last, these are obvious choices. Elizabeth Taylor was a terrific British novelist who died in 1975 and should be better known but for some reason isn't.
Book you've faked reading:
I would never fake reading a book. There could be a test! I will confess to having occasionally skimmed a book by a fellow writer on a literary panel, but only if sorely pressed for time.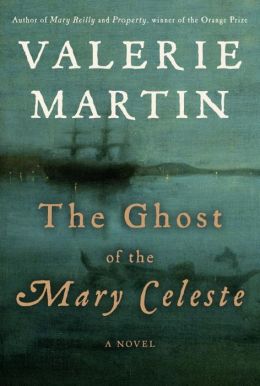 Book you're an evangelist for:
I've been telling everyone I know to read John Banville's The Untouchable for years. Recently I noticed that I've purchased several copies of Karen Joy Fowler's We Are All Completely Beside Ourselves to give as presents. I found this novel funny, beautiful, moving, and--like the beloved books of my childhood--concerned with man's inhumanity to animals. So I come full circle.
Book you've bought for the cover:
I just bought Henri: le Chat Noir by the angst-ridden cat who starred in a popular video on YouTube some time ago. I picked it up because in the cover photo Henri is clearly in an advanced state of ennui and I recognized him as a fellow existentialist. How exciting that he's written a book!
Book that changed your life:
Anton Chekhov's short novel The Duel, which I read in Rome in 1993, not only changed my life, it changed my writing. Pre-Chekhov, my characters were a passive, gloomy lot, nonconfrontational and occasionally self-destructive. Post-Chekhov, they began standing up for themselves, making commitments to wild courses of action and entering forcefully into arguments regardless of the consequences. I'm happier, they're more interesting, and it's all thanks to Chekhov.
Favorite line from a book:
There are many, but here's a new favorite from The Infatuations by Javier Marías:
"Unlikely truths are useful and life is full of them, far more than the very worst of novels, no novel would ever dare give houseroom to the infinite number of chances and coincidences that can occur in a single lifetime, let alone all those that have already occurred and continue to occur. It's quite shameful the way reality imposes no limits on itself."
This quote explains why every writer snorts when someone says: "You can't make this stuff up."
Book you most want to read again for the first time:
Long ago, when I was in the last month of pregnancy, I spent a few days lying in a hammock and reading Junichiro Tanizaki's monumental family saga The Makioka Sisters. Someday I'd like to do that again--excluding the pregnancy part, but definitely including the hammock.


Book Review
Review: Gentlemen Prefer Blondes
Gentlemen Prefer Blondes by Anita Loos (Liveright, $13.95 trade paper, 9780871403179, February 10, 2014)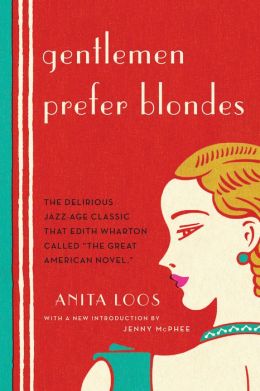 Anita Loos's Gentlemen Prefer Blondes began, she claimed, as a brief sketch on a train in response to the inordinate attention a blonde sitting nearby was given by a male passenger while Loos was all but ignored. From that fleeting scene came the quintessential gold digger's bible. As Loos's heroine, Lorelei Lee of Little Rock, advises, "Kissing your hand may make you feel very good but a diamond bracelet lasts forever." The story has enjoyed many incarnations, chief among them the 1953 movie starring Marilyn Monroe as Lorelei and Jane Russell as her sidekick, Dorothy Shaw. First published by Liveright in 1925--and now brought back into print by the same house--the novel will find a new audience to delight, amaze and amuse.
Lorelei and Dorothy, lounge singers, are in pursuit of "education," to be provided by Daddy #1, Gus Eisman, king of the button business. He puts the girls on a ship, crossing the Atlantic for Paris, London and the "Central of Europe." The men they meet aboard and ashore are all dazzled and can't wait to be taken advantage of. Lorelei, always one to hedge her bets, extorts jewelry and furs where she can, believing that having only one provider would be a mistake.
One of the most enjoyable aspects of the book is Loos's language. In her diary, Lorelei refers to herself as "A girl like I," mangles her spelling and grammar, makes incorrect multilingual puns and, in general, creates a language all her own. Her take on what she sees is unusual: "The Eyefull Tower is devine!"
One of Lorelei's serious suitors is Mr. Spoffard, a "Prespyterian" who took Dorothy and Lorelei to see all the kunst in Munich. As he tells her, "I seemed to remind him quite a lot of a girl who got quite a write-up in the Bible who was called Magdellen. So then he said that he used to be a member of the choir himself, so who was he to cast the first rock." Lorelei's eventual meeting with Mr. Spoffard's mother is a classic scene--one among many.
Lorelei is a combination of insouciance, innocence and street savvy that is irresistible. She has Piggie, one of her suitors, send her a dozen orchids every day, reasoning thus: "I always think that spending money is only just a habit and if you get a gentleman started on buying one dozen orchids at a time he really gets very good habits." Pure Lorelei. --Valerie Ryan
Shelf Talker: A thoroughgoing romp through the Jazz Age led by Lorelei Lee, a little girl from Little Rock with a voice all her own.


New York Minute
Robert Gray: College Bookstores--Amazon's 'Shot Across the Bow'
Earlier this week, the University of California, Davis, revealed that it had been partnering with Amazon since last fall on a pilot program through which the online retailer pays the school 2% of net purchases made by UC Davis Amazon Student members, or by users who enter Amazon through a storefront on the home page of the university's store.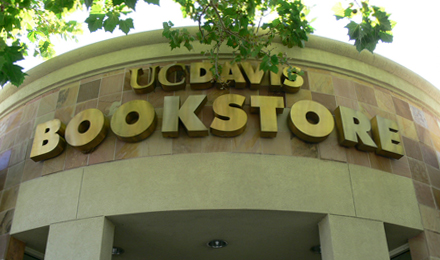 "Whether deals like this harm UC Davis Stores sales is an open question and, now, an ongoing experiment," a Forbes article headlined "Amazon Attacking Barnes & Noble On Campus?" noted. "Less immediately clear is if such a deal will put a dent in one of Barnes & Noble's healthiest businesses. In 2013, the college bookstore segment showed modest 1.1% growth while both the company's other divisions shrank."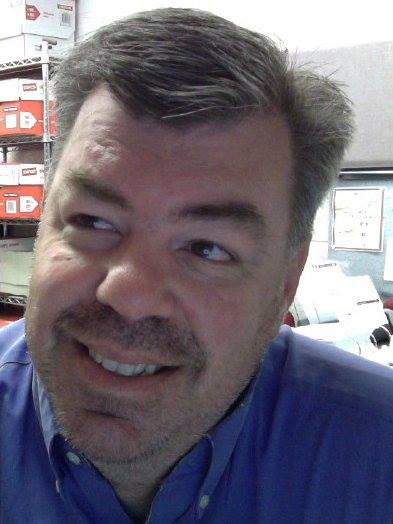 Goodman
Concerns over B&N's fiscal health aside, the future of independent college bookstores also comes into play here. A link to the Forbes piece was sent to me by Drew Goodman, former trade book sales manager at the University of Utah Campus Store and currently a speaker, consultant and writer at Building Better Ideas. He described the UC Davis/Amazon deal as "a proverbial shot across the bow of independent college stores."

I asked him to expand a bit on his initial reaction. Goodman said he has no doubts that Amazon's incursion into the college bookstore market is a negative development. He recalled that he lost his bookselling job last April "in part due to the online competition from retail sites, particularly Amazon. I think there are those in the college store industry who continue to innovate and resist giving in to Amazon. They are trying their best to create new ways of serving the students, staff and faculties at their schools that Amazon just can't do without a physical presence. They are going to see Amazon/UC Davis partnership as a deal with the devil.

"Other stores, such as the one I worked for, started giving in. We set up associate seller accounts to try and redirect students to purchase from Amazon, but through the bookstore links. As long as we got the sales percentage from Amazon, we felt that it was better than nothing. Problem is, what you end up training your students to do is just go to Amazon in the first place."

The UC Davis/Amazon partnership, however, "is a whole new animal, and could really end up being a case of the rabbit tugging on the bear's tail," Goodman observed. "It may look good initially, but again, you're just giving away your sales for a 2% take."

He also cited a prior situation that occurred when he worked for Borders Books, which partnered with Amazon in 2001 to run its website and took a percentage cut of sales: "The problem was, it began to funnel too many sales to Amazon. Why go to Borders.com when you could just go to Amazon in the first place? By the time Borders had their 'Oh, sh*t' moment about the whole thing, it was too late. They never recovered enough to really put together a competitive website. They had trained their own customers to go to Amazon--end of story."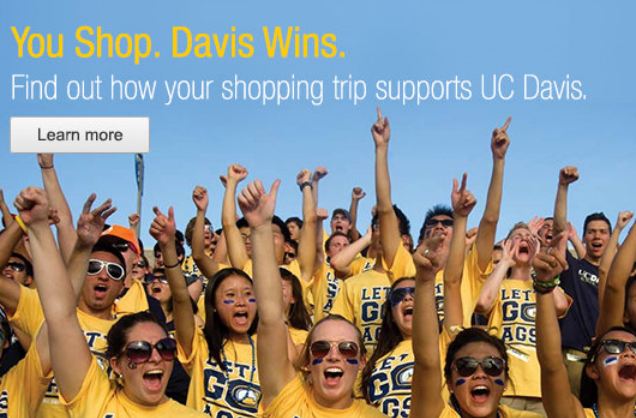 A primary concern for Goodman is that "in taking the leap on this deal," UC Davis could set a precedent, particularly for bookstores that "have gotten lazy about competing, relying on the students needing to come to them for their books and supplies, and not doing anything to push back against sales being taken by Amazon. Those stores who are already in precarious positions may just throw up their hands and give in to Amazon. Others may be pulled in by the siren song that Amazon is singing, only to find their physical stores drifting too close to and crashing on the rocks.

"Amazon never does anything unless it benefits Amazon," he added, noting that another article he read "had said that the reason UC Davis was partnering with Amazon was because they were one of the most successful college stores when it came to the associate program. That says to me they have already been handing a ton of their business over to Amazon. My suspicion is that Amazon wants this 'partnership' so that they can get a top to bottom, deep dive on the data for a college store, and once they have that data and no longer need a partner, they'll curb-stomp UC Davis, just like they've done so often to others."

Goodman also predicted that Amazon "will not stop with just one store, and by the time stores that are participating find out what kind of raw deal they may be getting it will be too late, leaving the entire college stores industry just that much weaker." --Robert Gray, contributing editor