Shelf Awareness for Friday, April 25, 2014

News
Amazon First Quarter: Sales, Expenses Rise 23%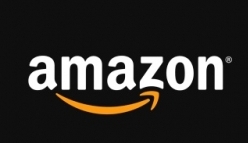 Net sales at Amazon in the first quarter ended March 31 rose 23%, to $19.7 billion, and net income rose 31.7%, to $108 million. Revenues rose higher than analysts' expectations and net income was just a penny a share below expectations. The New York Times noted that earnings expectations had been lowered by more than half after last quarter's rocky results. Amazon stock rose 3.9%, to $337.15 a share.

Among highlights, sales in North America rose 26%, and in a conference call, CFO Tom Szkutak mentioned this when asked about the effect of sales tax collection in many states on Amazon sales, implying that there had been little or no effect.

International sales, which account for 40% of Amazon's overall sales, grew at a slower rate than North America, up 18%. Reuters noted that Amazon is "investing heavily in new markets abroad, particularly China, where it faces tough competition with Chinese e-commerce company Alibaba."

Operating expenses rose 23% and operating margins were near 1%. Reuters noted that Amazon is "spending big on a range of projects, including developing its own original shows and video games, as its core retail business comes under pressure."
Forrester Research analyst Sucharita Mulpuru commented: "They continue to struggle with the level of profitability they should be seeing, but how can you do better when you're 'investing' for the future?"

One unusual note from the secretive company: Amazon said that it "now offers U.S. fulfillment center tours open to the public. Visit amazon.com/fctours for information on available tour locations, dates and times."

Our favorite over-the-top and meaningless comment typical of Amazon's quarterly reports: yesterday, CEO Jeff Bezos was quoted as saying, "We get our energy from inventing on behalf of customers, and 2014 is off to a kinetic start."


Quercus CEO Smith to Leave After Hodder Acquisition
Quercus CEO Mark Smith will leave the company following its sale to Hodder & Stoughton, the Bookseller reported, adding that Hodder said yesterday "all the conditions of its offer to buy Quercus have been met." The proposed acquisition was announced in March, with Quercus becoming a separate division of Hachette UK under the management of Jamie Hodder-Williams. Smith has "agreed to remain a consultant to help with the transition."

Hodder-Williams commented: "I have long admired the exceptional authors at Quercus and its imprints, and the talented team who have created many bestsellers and prize-winners in a relatively short time, and I know my colleagues share my excitement at the potential within the business. Hachette has great resources that can support the creativity and energy within Quercus, and I am greatly looking forward to working with them to help their authors to reach more readers all over the world."


Two Buyers for Israel's Steimatzky Bookstore Chain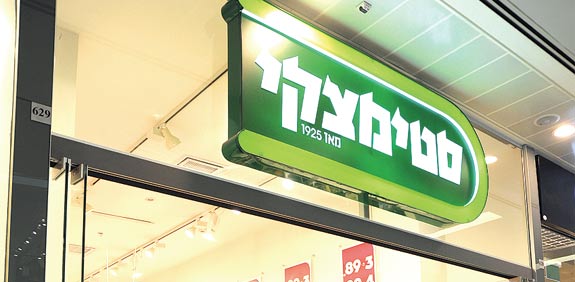 The Kravitz office supply and stationery chain has joined Keter Publishing in talks to buy the Steimatzky bookstore chain, with each taking a 50% stake in Israel's largest bookseller, Haaretz reported. Steimatzky's owner, Markstone Capital Group, announced this week it had reached an agreement in principle to sell the chain to Arledan Investments, Keter's parent company, subject to due diligence and antitrust approval.

The Jerusalem Post noted that the "fate of the financially fraught book retailer, which alongside its fiercest competitor Tzomet Sfarim controls the vast majority of the country's book market, has been in question in recent weeks." Arledan CEO Tzali Reshef called the acquisition "a strategic step," and said he "believes in Steimatzky and its employees, and will continue to develop the chain."


WBN Police Blotter: Alexie Book Distributed Without Incident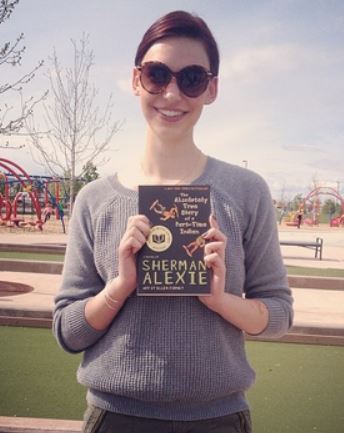 Brady Kissel (photo by Undiscovered Books)
On World Book Night, Brady Kissel, a Junior Mountain View High school student, went to Kleiner Park in Meridian, Idaho, to distribute copies of Sherman Alexie's The Absolutely True Diary of a Part-Time Indian by Sherman Alexie, KBOI-2 reported, noting that she passed out her books to teenagers for about an hour until Meridian police showed up, saying they had been called by someone concerned about teenagers picking up a copy of the book without having a parent's permission.

The local school board removed Alexie's novel earlier this year from 10th-grade curriculum following complaints by some parents. Subsequently, hundreds of students signed a petition to have the book returned, and a drive was organized to buy a copy for each of the 350 students who protested the ban. The organizers partnered with the Rediscovered Books in Boise to purchase copies, with plans to distribute on World Book Night.

Meanwhile, back at the scene of the WBN incident-in-progress, KBOI-2 reported that "the police asked Kissel about passing out the book. They said they found nothing wrong with what was going on in the park." Case closed. Kissel said they had 350 books to give away at the park, along with 350 donated by publisher Little, Brown Books for Young Readers. Another book giveaway is planned for next week.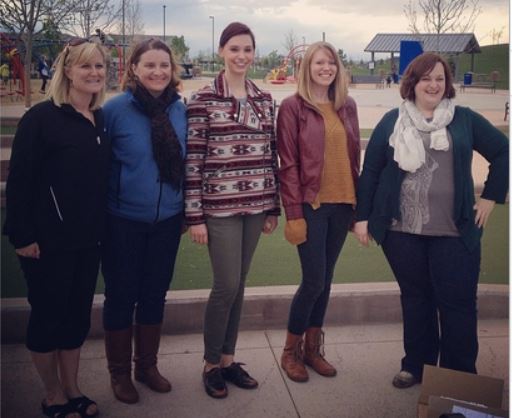 Rediscovered Books posted photos from the Kleiner Park giveaway on Instagram, noting: "Group shot at the end of a successful day. We gave away over 225 our of 350 books. Thanks so much to everyone who came out to support us and get your books, and thanks to those who came to ask questions. We love you, Meridian! READ FREELY!"

On Facebook last night, Rediscovered Books wrote: "Update: we're down to less than 20 copies of Absolutely True Diary of a Part-Time Indian to give away today. Those copies will be given out to students only. 350 copies, generously donated by Sherman Alexie's publisher, are estimated to arrive on Monday of next week and will first go to local librarians and teachers who are in need of classroom sets and extra copies for school libraries. After that, the remaining copies will be given away to the public."


China: Premier Lauds '24-Hour Bookstore'; Indies Struggle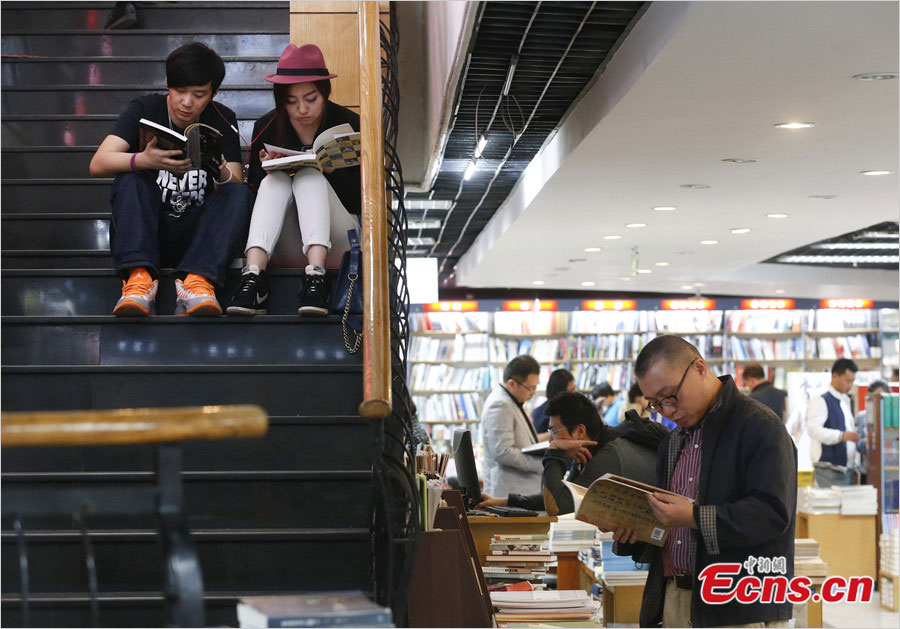 On World Book Day, Chinese Premier Li Keqiang sent a letter to the staff of Sanlian Taofen Bookstore, Beijing's first 24-hour bookshop, praising its "very innovative" idea "to light up the night for booklovers," Guangming Online reported.

"Reading is important not only for individuals, a country's reading habits will exert lasting impacts on the morale of society," he wrote. "I hope you could make the 24-hour bookstore a spiritual landmark of the city, encourage people to read books in the peace and quiet of night, inspire love for books in society, and let more people draw strength from knowledge."

---

While a decline in the number of people buying books across China "has led to more closures of traditional brick and mortar bookstores," China Central Television reported that "one independent bookstore in Tianjin has not only survived over the past 15 years, it's actually seeing brisk business, thanks to the help of its loyal, avid readers."

"The charm of my book store centers on a life style," said Bian Hong, owner of Tianze Bookstore. "The expectation of finding a new book or meeting a new author. Or finding someone who's just like you."

The bookshop "would have gone out of business a long time ago, if it wasn't for the help of her loyal members, and getting discounted rental space," CCTV noted.

"Including the lay-out plan and interior decoration, members helped a lot. I don't feel alone in the shop because the contributions of members is everywhere in this space." Bian said.


Time 100's 'Most Influential' Book People
Time magazine released its annual list of the "100 Most Influential People in the World," and while the book world was considerably less than dominant, the seven bookish people showcased more than tripled last year's total :

Donna Tartt: "While we've been carrying on with our lives, Donna has given herself over to the lives of her characters. If she took a break in the past 12 years, I don't remember it," Ann Patchett wrote.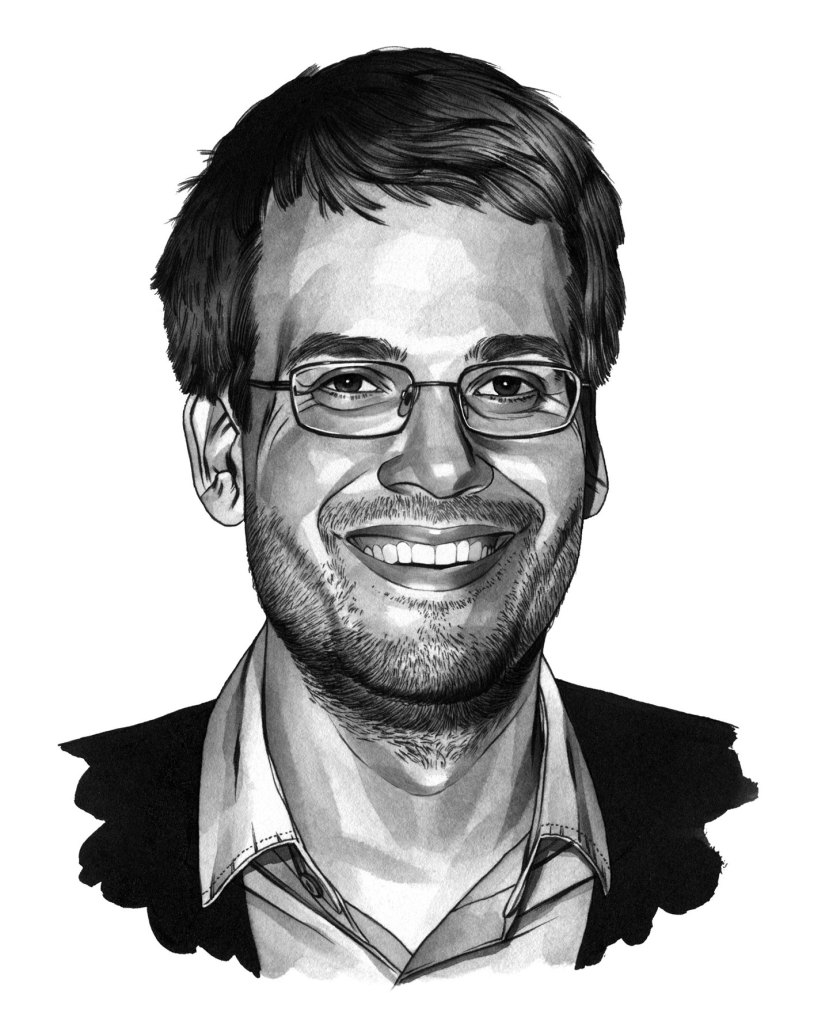 Illustration: Michael Hoeweler/TIME
John Green: "He treats every human he meets as their own planet, rather than simply one of his moons. He sees people with curiosity, compassion, grace and excitement," Shailene Woodley wrote.

Arundhati Roy: "In an age of intellectual logrolling and mass-manufactured infotainment, she continues to offer bracing ways of seeing, thinking and feeling," Pankaj Mishra wrote.

Binyavanga Wainaina: "The best-known Kenyan writer of his generation, he felt an obligation to chip away at the shame that made people like his friend die in silence,'" Chimamanda Ngozi Adichie wrote.

Barbara Taylor Brown: "An acclaimed Episcopal preacher and best-selling author, Taylor lives quietly on her farm in northern Georgia, writing spiritual nonfiction that rivals the poetic power of C.S. Lewis and Frederick Buechner," Elizabeth Dias wrote.

Alice Waters: "She proved the power of a chef, showing an entire generation that one passionate person can reshape the eating habits of a nation," Ruth Reichl wrote.

Jeff Bezos: "Nobody else reinvests almost every cent of profit in growth, as Bezos still does. Amazon is immensely valuable today, and almost all of its value comes from the future," Peter Thiel wrote.


Obituary Note: Richard Hoggart
Richard Hoggart, "a pioneering British cultural historian who was most widely known outside academia as the star witness for Lady Chatterley's Lover in a 1960 trial that ended British censorship of that novel," died on April 10, the New York Times reported. He was 95. In the Guardian, D.J. Taylor wrote that Hoggart, whose books included the landmark The Uses of Literacy: Aspects of Working Class Life, with Special Reference to Publications and Entertainments, "was responsible for wheeling into view an entire world, not to mention a world view, that had hitherto existed more or less beyond literature. I admired him without reservation and am desolate to find him gone."


Notes
WBN U.K. & Ireland: Fully Booked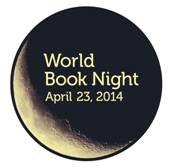 Yesterday's issue focused on WBN U.S., but there was plenty of action across the Atlantic as well. Here are just a few highlights from World Book Night U.K. & Ireland:

---

Southbank Literature: "Getting ready to kick off #letterslive as part of #WorldBookNight, hearing 'the best examples of letter form.' " And yesterday: "For anyone who missed our #WorldBookNight #LettersLive last night, a great piece on its brilliance from @StareAtBooks."

---

The Reading Agency: "Givers, receivers, libraries, book shops and arts centres have been sharing their World Book Night stories. Givers all over the UK got in touch to tell us what they were giving on World Book Night."

---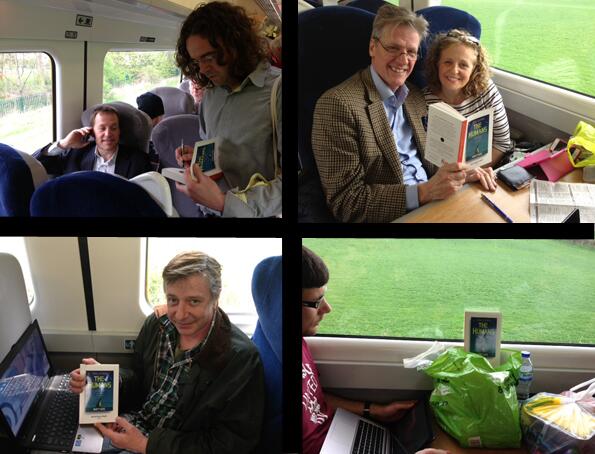 Canongate Books: "Filling the Edi to London train w/ copies of #TheHumans and a little #WBN2014 spirit. Happy giving to you!"

---
Gullivers Bookshop in Dorset shared images from "a lovely gathering of booklovers, World Book Night 2014 givers, avid readers, those just getting started & passers by!"

---

Reading For London: ".@LondonLoveiosa [London Chapter of The Harry Potter Alliance] are very popular at Paddington station!... They believe that they've already given out 100 books in under an hour to lots of commuters."

---

Grimm & Co .: "A Grimm, brolly wielding volunteer makes 2 Rotherham builders very happy with a @WorldBookNight @matthaig1 The Humans pic.twitter.com/ulAVcNaPHR

---

Edinburgh Libraries: "Our very own World Book night giver-outer Annie Bell in action at the Out of the Blue Drill Hall."

---

English PEN: "Any @WorldBookNight givers with leftover books? Please consider sending them to writers at risk around the world... http://www.englishpen.org/remember-writers-at-risk-this-world-book-night/ …"

---

World Book Night UK: "Thank you to everyone who made #WorldBookNight 2014 such a huge, lovely success. We'll be sharing pictures & stories over the coming days!"


Billy Collins Named Editor of Miller Williams Poetry Series
Former Poet Laureate of the United States Billy Collins has been named editor of the Miller Williams Poetry Series, published by the University of Arkansas Press. As editor, Collins will be ultimately responsible for the books published through the series and for choosing the winner of the annual $5,000 Miller Williams Poetry Prize. Collins's relationship with the the press began in 1988 with the release of his first collection, The Apple That Astonished Paris.


Brooklyn Indie Booksellers Talk... Brooklyn Indies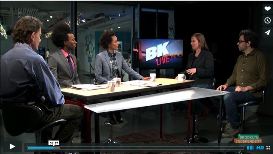 Brooklyn Independent Media spoke with Jessica Stockton Bagnulo of Greenlight Bookstore, Ezra Goldstein of Park Slope Community Bookstore and Adam Tobin of Unnameable Books about the independent bookselling scene in the borough.


Book Trailer of the Day: Graduates in Wonderland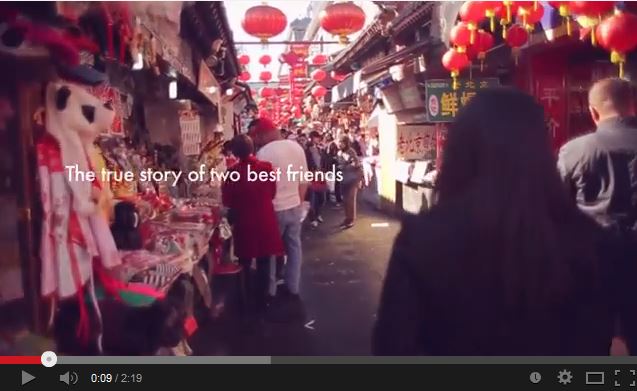 Graduates in Wonderland: The International Misadventures of Two (Almost) Adults by Jessica Pan and Rachel Kapelke-Dale (Gotham Books).


Media and Movies
Media Heat: Marie Howe & Richard Blanco on Fresh Air
Today on Fresh Air, poets Marie Howe and Richard Blanco talk about and read from their works.
---
Tomorrow on CBS's Early Show: Norman Van Aken, author of No Experience Necessary: The Culinary Odyssey of Chef Norman Van Aken (Taylor Trade Publishing/Rowman & Littlefield, $24.95, 9781589799141).

---

Tomorrow on NPR's Weekend Edition: James Klise, author of The Art of Secrets (Algonquin Young Readers, $16.95, 9781616201951).

---

Sunday on CBS Sunday Morning: Sam Parnia, co-author of Erasing Death: The Science That Is Rewriting the Boundaries Between Life and Death (HarperOne, $14.99, 9780062080615).

---

Sunday on NPR's Weekend All Things Considered: Ron Capps, author of Seriously Not All Right: Five Wars in Ten Years, A Memoir (Schaffner Press, $25, 9781936182589).


Third Hobbit Movie Gets New Title
The third Hobbit film has been retitled The Hobbit: The Battle of the Five Armies because "There and Back Again sounded too casual and leisurely," Indiewire reported, adding that "Into the Fire, a recent rumored title because Warner Bros. had registered the domain name, will probably just be used for a video game version." The Hobbit: The Battle of the Five Armies is set to open December 17.

"Our journey to make the Hobbit Trilogy has been in some ways like Bilbo's own, with hidden paths revealing their secrets to us as we've gone along," Jackson wrote. "There and Back Again felt like the right name for the second of a two film telling of the quest to reclaim Erebor, when Bilbo's arrival there, and departure, were both contained within the second film. But with three movies, it suddenly felt misplaced--after all, Bilbo has already arrived 'there' in the Desolation of Smaug."


Books & Authors
Awards: Cervantes Winner; Triangle Winners; Orwell Shortlist
Mexican writer and journalist Elena Poniatowska received the Cervantes Prize, "the most important award for literature in the Spanish language," becoming only the fourth woman to be given the award in its almost four-decades-long history, BBC News reported. King Juan Carlos of Spain made the presentation.

Poniatowska, whose writings often explore the social injustice of her home country, began her speech by remembering Gabriel Garcia Marquez, who died last week, observing that with One Hundred Years of Solitude, "he gave Latin America wings." She also acknowledged the award's namesake: "I'm a writer who can't talk of windmills because they don't exist anymore, so I speak about those humble wanderers who with their pack, their pick and spade make their own luck and trust in an impulsive writer to recall what they have told her."
---
The 26th annual Triangle Awards, honoring the best lesbian, gay, bisexual and transgender fiction, nonfiction and poetry published in 2013, were presented last night. Winners, including a debut YA novel by Sara Farizan that won in two categories, were:

The Ferro-Grumley Award for LGBT Fiction: If You Could Be Mine by Sara Farizan (Algonquin Young Readers)
The Edmund White Award for Debut Fiction: If You Could Be Mine by Sara Farizan (Algonquin Young Readers)
The Judy Grahn Award for Lesbian Nonfiction: Passionate Commitments: The Lives of Anna Rochester and Grace Hutchins by Julia M. Allen (SUNY Press)
The Randy Shilts Award for Gay Nonfiction: White Girls by Hilton Als (McSweeney's)
The Thom Gunn Award for Gay Poetry: All the Heat We Could Carry by Charlie Bondhus (Main Street Rag)
The Audre Lorde Award for Lesbian Poetry: Enchantée by Angie Estes (Oberlin College Press)
The Bill Whitehead Award for Lifetime Achievement: playwright María Irene Fornés
Special Leadership Award: Sinister Wisdom magazine, which last year began publishing books in partnership with A Midsummer Night's Press, including the Sapphic Classics reprint editions of iconic works of lesbian poetry
---

A shortlist of six books has been announced for the £3,000 (about US$5,039) Orwell Prize, which recognizes work that comes closest to George Orwell's ambition "to make political writing into an art." The winner will be named May 21. This year's shortlisted titles are:

Coolie Woman by Gaiutra Bahadur
The Tragedy of Liberation by Frank Dikötter
The World's Most Dangerous Place by James Fergusson
The British Dream by David Goodhart
This Boy by Alan Johnson
Margaret Thatcher: The Authorized Biography by Charles Moore


IndieBound: Other Indie Favorites
From last week's Indie bestseller lists, available at IndieBound.org, here are the recommended titles, which are also Indie Next Great Reads:

Hardcovers
Mimi Malloy, at Last!: A Novel by Julia MacDonnell (Picador, $25, 9781250041548). "In this family drama, MacDonnell does a fine job of conjuring up the Irish Catholic diaspora and its ramifications that play out well into the last part of the 20th century. Mimi lives on her own in Boston but not without her nosy daughters coming around all the time. Mimi is having flashbacks to her youth and through conversations with her sisters, she remembers the dark secret that has been hanging over the family for years. Unforgettable!" --Valerie Koehler, Blue Willow Bookshop, Houston, Tex.

The Plover: A Novel by Brian Doyle (Thomas Dunne Books, $24.99, 9781250034779). "A solitary sea journey for an epically disillusioned man named Declan O'Donnell evolves into a rousing adventure tale in Doyle's The Plover. O'Donnell's small boat becomes the refuge of a number of unexpected--and largely unwelcome--passengers, all of them anxious to leave their former lives bobbing in the ship's wake. Lyrical and literate, this novel is as much a love story dedicated to the sea as it is an exciting and ultimately moving human drama." --Alden Graves, Northshire Bookstore, Manchester Center, Vt.

Paperback
My Wish List: A Novel by Gregoire Delacourt (Penguin, $15, 9780143124658). "This story traces the path Jocelyne's life takes after she is the unexpected winner of a very large lottery prize. The title refers to the lists that Jocelyne begins to compose--lists of what she can do with the money--and their content is as telling as the fact that Jocelyne has kept the news of her win to herself, not even telling her husband or cashing the check. Delacourt's descriptions of Jocelyne's fabric shop in a small town in France are so beguiling that it doesn't take long for the reader to want Jocelyne's life to remain unchanged, but the lottery win has set things in motion, and the results are unexpected. A lovely gem of a book." --Jenny Lyons, Vero Beach Book Center, Vero Beach, Fla.

For Ages 9 to 12
West of the Moon by Margi Preus (Amulet, $16.95, 9781419708961). "From the very first sentence, Preus draws the reader into her story, both through her lyrical language and the suspense she creates when 13-year-old Astri is sold to a cruel goat farmer and forced to work for him. Tension builds as Astri longs to escape, reunite with her little sister, and follow their father to America. Set in 19th century Norway, the book skillfully weaves Norwegian folk tales, mystery, and Preus' own family history into one satisfying tale." --Carla Ketner, Chapters Books & Gifts, Seward, Neb.

[Many thanks to IndieBound and the ABA!]


Book Brahmin: Justin Go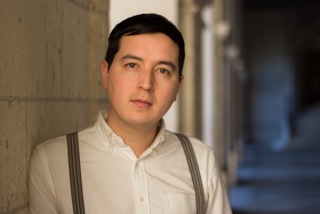 photo: Marlene Dunlevy
Justin Go attended the University of California at Berkeley, where he graduated with a B.A. in history and art history. He also holds an M.A. in English from University College London. He has lived in Tokyo, Paris, London, New York City and Berlin. His debut novel is The Steady Running of the Hour (Simon & Schuster, April 15, 2014), about a young man's quest to inherit a fortune from the 1920s.
On your nightstand now:
Robert Byron's The Road to Oxiana, Beryl Markham's West with the Night, Karl Ove Knausgaard's My Struggle, Ford Madox Ford's The Good Soldier, Donna Tartt's The Goldfinch and Margaret MacMillan's The War That Ended Peace. My nightstand generally looks like the leaning tower of Pisa. There are just too many good books.
Favorite book when you were a child:
Hatchet by Gary Paulsen. How I loved that book.
Your top five authors:
Ernest Hemingway, Virginia Woolf, George Orwell, Antoine de Saint-Exupéry and Shakespeare.
Book you've faked reading:
Ulysses by James Joyce. I faked reading it in college, then read parts of it and faked it again, so now I have no idea whether I've read it or not. Just don't hook me up to a polygraph.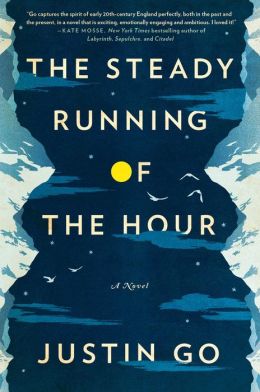 Book you're an evangelist for:
Any of George Orwell's nonfiction. Homage to Catalonia, Down and Out and Paris in London, The Road to Wigan Pier.... He has such an honest voice, and the most distinctive crystal-clear prose, that it's a joy to read anything he wrote. You grow to feel that you really know him.
Book you've bought for the cover:
The 1930 edition of Herman Melville's Moby-Dick, with its breathtaking illustrations by Rockwell Kent. If I could bring Rockwell Kent back to life and get him to illustrate my book, my life would be complete.
Book that changed your life:
Henry David Thoreau's Walden. I read it when I was a teenager, and it's stayed with me ever since. Thoreau taught me the value of thinking independently and the virtues of solitude and simplicity. Walden made me want to go after what I really believed in, no matter how crazy that seemed to other people.
Favorite line from a book:
"In those mirrors, the minds of men, in those pools of uneasy water, in which cloud forever and shadows form, dreams persisted; and it was impossible to resist the strange intimation which every gull, flower, tree, man and woman, and the white earth itself seemed to declare (but if you questioned at once to withdraw) that good triumph, happiness prevails, order rules, or to resist the extra ordinary stimulus to range hither and thither in search of some absolute good, some crystal of intensity remote from the known pleasures and familiar virtues, something alien to the processes of domestic life, single, hard, bright, like a diamond in the sand which would render the possessor secure." --Virginia Woolf, To the Lighthouse
Book you most want to read again for the first time:
A Farewell to Arms by Ernest Hemingway. The second half of that book is pure genius storytelling. You have a love affair but also the most taut and powerful action scenes imaginable. And it has the best ending I've ever read in a novel. There is no way to describe it except that it feels perfectly true and real. They say Hemingway rewrote the ending 47 times. I'd do a thousand rewrites if I could get a chapter half that good.
Why we should read:
To remember what makes us human.


Book Review
Review: The Boy in His Winter
The Boy in His Winter by Norman Lock (Bellevue Literary Press, $14.95 trade paper, 9781934137765, May 13, 2014)
"Listen. Every author wants to write at least one time-travel novel," says an aging Huck Finn, the narrator of Norman Lock's remarkable A Boy in His Winter. It is 2077, and Finn is now a retired yacht salesman named Albert Barthelmy. He is recounting his boyhood on the Mississippi, where he floated through time and history, perpetually 13, until Hurricane Katrina washed him ashore, thrusting him back into time.
In the story as Albert tells it, the raft itself is the time machine for two mythic literary characters whose adventures are nothing less than the story of America itself. Huck and Jim step off the raft for brief periods but always return; Jim wants to wait until the human race has improved before leaving the raft permanently. Tom Sawyer makes an appearance as a Confederate solder and later as an old man whose sole possession is a copy of H.G. Wells's The Time Machine, borrowed from the Baton Rouge Public Library and never returned. The pair floats past Lincoln's assassination, the Industrial Revolution and on through the Jim Crow South and the birth of jazz. Huck loves Jim and resents him in equal measure, and never more so than when Henry, a black jazz musician, joins them and becomes Jim's close confidant. The tragic consequences of Huck's resentment haunt him for the rest of his life.
And the story of that life is as full as the adventures that launched it. After Katrina, Huck is rescued by a group of drug smugglers, lands in a juvenile detention center, and later marries an African-American children's book illustrator before a late-life stint impersonating Mark Twain at the Hannibal River Amusement Park.
The span of his life may be epic but Albert is more interested in his story's odd synchronicities and its truth than in its facts. He argues with Mark Twain's one-dimensional representation of his character in Twain's bid for an entertaining story; his is a loftier goal: "I'll try to study cruelty (I regret my own) and render it in more familiar terms," he says.
The Boy in His Winter is extraordinary. Lock (Love Among the Particles) writes some of the most deceptively beautiful sentences in contemporary fiction. Beneath their clarity are layers of cultural and literary references, profound questions about loyalty, race, the possibility of social progress, and the nature of truth and story. They merge with an iconic American character, tall tales intact, to create something entirely new--an American fable of ideas. --Jeanette Zwart
Shelf Talker: With time travel and literary references, Adventures of Huckleberry Finn is re-created into a stunning fable that celebrates and critiques our cultural preoccupations.


Deeper Understanding
Robert Gray: All the World Book Night's a Stage
"Well, God give them wisdom that have it; and those/ that are fools, let them use their talents," Feste says in Twelfth Night. He is, I confess, a role model, though I've generally found more practical applications in my life for foolery than wisdom. That said, a belated Happy Birthday wish goes out to William Shakespeare, who turned an ever-wise and ever-foolish 450 years old Wednesday.

Although World Book Night was originally scheduled on April 23 precisely because it is the Bard's birthday, so much WBN news is being made that Will sometimes gets lost in the wings. So it seems only fair to give him--yes, I'm going to say it--his hour upon the stage.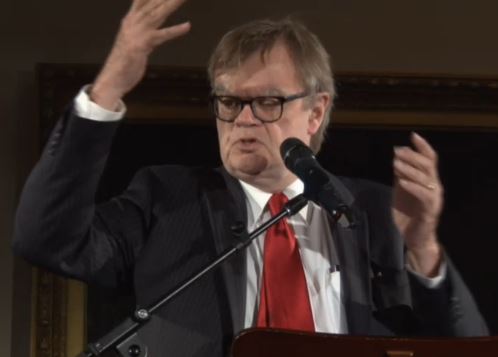 Garrison Keillor at the World Book Night kick-off at the New York Public Library.
As Garrison Keillor, author and proprietor of Common Good Books, St. Paul, Minn., observed on the Writer's Almanac this week, Shakespeare "created some of the most unforgettable characters ever written for the stage, and was a master of the language of various social classes. According to the Oxford English Dictionary, he coined 3,000 new words, and he has contributed more phrases and sayings to the English language than any other individual."

Or, as @MelvilleHouse nicely summed it up: "How to celebrate Shakespeare's birthday? Perhaps by living our entire lives within the language he more or less created. Thanks, buddy."

Shakespeare was, as might be expected for a birthday boy, more ubiquitous than usual during this year's World Book Night festivities. Those attending the WBN launch event at Skylight Books in Los Angeles Tuesday night were among the first to receive a free copy of Dover's Shakespeare's Complete Sonnets in a special WBN edition. On Wednesday, Weller Book Works, Salt Lake City, Utah, proclaimed: "Today's #WBN2014 (World Book Night), #Shakespeare450th, & the anniversary of Sam Weller's birth. There's no better day to read a book!" Books Inc. in Alameda, Calif., agreed: "World Book Night? Shakespeare's 450th bday? Booksellers at Books Inc. Alameda? Yes, yes, and yes. Come down and join the fun!"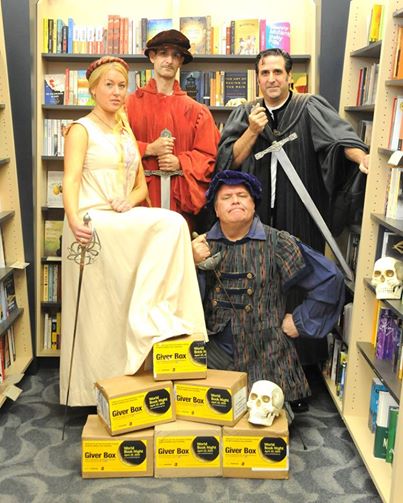 Books Inc. in Alameda, Calif., brought the Bard into Book Night. The players: (l.-r.) Adrienne Reiter, Tom Galleguillos, Nick Petrulakis; (kneeling) Gene Kahane.
In Louisville, Ky., Carmichael's Bookstore welcomed "our friends at Kentucky Shakespeare for an early celebration of World Book Night," with performers reading sonnets and "even grac[ing] us with a performance or two in honor of the Bard."

The California Shakespeare Ensemble in Pasadena, Calif., "which has been partnering with Pasadena LEARNS to 'facilitate' the John Muir High School after school Drama Club," worked on Shakespeare's Sonnets Wednesday with students as part of their WBN celebration, Hometown Pasadena reported.

Innisfree Poetry Bookstore Cafe, Boulder, Colo., featured members of the Shakespeare Oratorio Society presenting " 'Venus and Mars,' an exploration of the complicated and ever-changing relationships between women and men as seen in Shakepeare's plays."

I stopped by Northshire Bookstore, Saratoga Springs, N.Y., Wednesday night for their "William Shakespeare Birthday Celebration for World Book Night," featuring Skidmore College students and actors from Saratoga Shakespeare reading sonnets. The audience received copies the WBN Dover edition to keep and share. Even the Bard himself, looking surprisingly spry for a 450-year-old, was in attendance.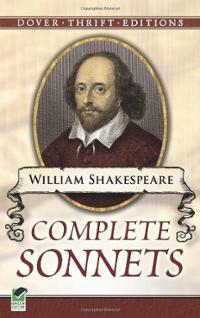 In New York City, copies of the Complete Sonnets were placed on theater seats during Wednesday's performances of Rodgers + Hammerstein's Cinderella, Matilda the Musical, Newsies and The Lion King. Broadway World noted that "curtain speeches and letters in the books will encourage audience members to give their book to someone who may not be a regular reader."

In addition, the Broadway League is teaming with WBN U.S. to distribute free copies of sonnets at national Family First Nights events for students and families, Kids' Night on Broadway programs throughout the country, and to students participating in the Broadway League's high school internship program.

"We are thrilled to be partnering with the Broadway League and all the great work they do," said WBN U.S. executive director Carl Lennertz. "Obviously, we share a love for the words and work of William Shakespeare, and the Broadway League is committed to increasing awareness of the arts as we are of reading, so this is a wonderfully natural fit. Theater and books bring joy and light into many lives."

I've had the good fortune to see a few magnificent productions in recent years, including Shakespeare's Globe and Mark Rylance's Measure for Measure at St. Ann's Warehouse in Brooklyn (2005), as well as Twelfth Night and Richard III last fall at the Belasco Theatre; and the Royal Shakespeare Company's As You Like It in a stunning replica of its Stratford-upon-Avon Theatre, constructed within the Park Avenue Armory (2011).

What I also love, however, is the way Shakespeare's words feel so at home wherever they are spoken, even when we don't know we're speaking them: "a fool's paradise," "dead as a doornail," "come what may," "forever and a day," "love is blind," "night owl," "wild goose chase," "into thin air."

Sustaining this tradition, World Book Night has become great international street theater for book and word people. Shakespeare would approve. In fact, at the WBN kickoff celebration in New York City Tuesday, he was even seen wearing a book giver badge. Happy birthday, Will, and many happy returns to the stage. --Robert Gray, contributing editor