Shelf Awareness for Thursday, June 19, 2014

News
Amazon Fire Phone's 'Built-in Showrooming Tool'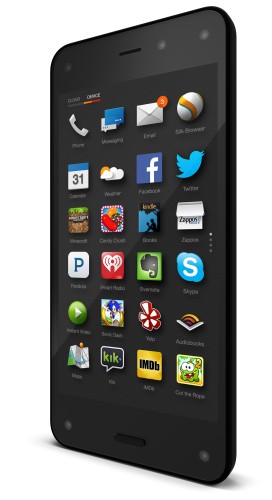 Yesterday, Amazon unveiled its Fire Phone, placing special emphasis on the smartphone's "Firefly" technology, which "recognizes things in the real world--Web and e-mail addresses, phone numbers, QR and bar codes, movies, music, and millions of products, and lets you take action in seconds--all with the simple press of the Firefly button." Pre-orders are being taken for the Fire Phone, which ships July 25 and is available exclusively on AT&T's network. With a two-year contract, the 32GB version retails for $199.99 (or $649 unlocked) and the 64GB for $299.99 ($749 unlocked).

Business Insider called the Fire Phone a "showrooming nightmare," noting that it "makes Amazon an even bigger threat to brick-and-mortar retailers thanks to a feature called Firefly," which allows customers to "scan items in-person and encourages you to buy them on Amazon instead. In other words, Fire has a built-in showrooming tool."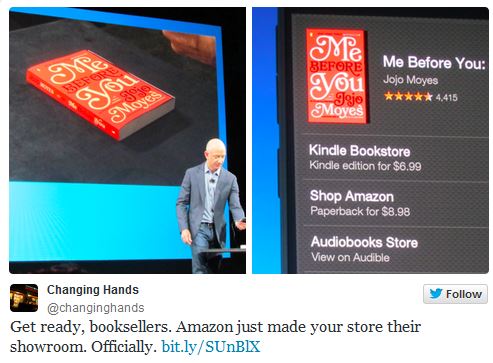 Gizmodo observed that Firefly "turns the Fire Phone into a sort of universal object scanner that'll recognize books, DVDs, or jars of Nutella, and help you buy them--from Amazon."

On Twitter, Skylight Books, Los Angeles, Calif, commented: "Amazon's phone allows our store to now be their storefront. :( "point the phone at anything and buy it on the spot."

"Amazon launches a shopping machine and calls it a phone" was the headline of a Quartz piece that noted "Bezos has already made one thing clear: This is a shopping device."

Rebecca Lieb, an analyst with the Altimeter Group, told the New York Times that Firefly "is potentially a real threat to bricks and mortar retailers. Scan a product or listen to music, and you're delivered straight to the page on Amazon on which you can purchase it. Impulse shopping just went to a new level."

There are, however, doubters. "Not everyone thinks ecommerce is enough of a differentiator to make the Fire Phone a success, or that Amazon is doing its shareholders a favor by diving deeper into the hyper-competitive world of consumer hardware," the Verge wrote. Forrester analyst Sucharita Mulpuru commented: "It's cart before the horse to think it will change retail. The phone needs to gain adoption first. I don't think the phone is exciting enough to attract early adopters and not priced low enough to get the late adopters either."

And from Forbes: "Maybe Amazon can fight Apple, Google, Netflix, Microsoft, Rackspace, Instacart, eBay, Pandora and Samsung all at once, while simultaneously battling publishers like Hachette over e-book pricing. But Bezos can't be great at doing all of this simultaneously. And make no mistake, he's involved in everything important at Amazon."

"Will you get one?" Engadget asked its tech-oriented readers. At press time, the poll responses were: "Absolutely" (15%), "No way" (53%), and "Maybe. Let me think. (32%).


For Sale: Tell Me a Story Bookstore in Enfield, Conn.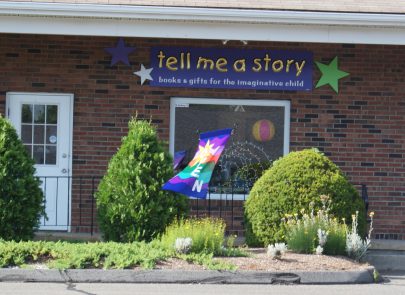 Christie Michaud, owner of Tell Me a Story children's bookstore, Enfield, Conn., has "come to a crossroads" after a year and a half in business. On the store's Facebook page, she wrote that despite the joy of bookselling, "as small business will, it has been a very costly endeavor for me.... Considering the draw on financial resources and time with my family, as well as my projections for the future, I have decided that either selling or closing is the right choice for me."

Noting that she still believes "thoroughly in the potential of my little shop and the benefit it could be to this community," she expressed hope that, "maybe under someone else's guidance, this will eventually come to fruition." Michaud's current plan is to list the business for sale: "I will be going away with my family and be closed from June 29 until July 10. If I have not had any luck finding a buyer by then, I will reduce prices for clearance and close my doors on July 31."


Mountain Fold Books in Colorado Springs to Open in August
Mountain Fold Books, the Colorado Springs nonprofit bookshop founded by visual artist Marina Eckler and University of Colorado at Colorado Springs student Jonathan Fey, will open in August. The Gazette reported that what began as a conversation last year at a poetry reading is now "a brick-and-mortar space waiting to be filled with books, art and the people who just can't trade inked pages and the smell of a newly cracked binding for a Kindle."

"We're focusing on books that are either works of art themselves or topical," Eckler said. "The type of works that don't easily translate to an online medium." Of the approaching deadline, she added: "I'm not scared, but the to-do lists are self-proliferating at this point."


Waterstones Launching a 'Quintessentially Local Bookshop'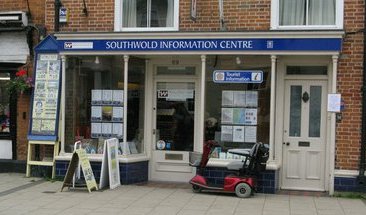 The tourist office will become Southwold Bookshop.
Waterstones plans to open a new store in Southwold, Suffolk, July 18, but in "a striking departure," the 900-square-foot branch will be called the Southwold Bookshop, to reflect the company's vision that, as Waterstones managing director James Daunt said, the smaller location will be "a quintessentially local bookshop." The Bookseller reported that this is the first time Waterstones "has opened a store bearing the name of a town, in the spirit of an independent bookshop. The move reveals the company is willing to experiment with different store formats and facias to diversify in a challenging climate."

Daunt observed that "you can't pour all the normal Waterstones sections into a shop of this size but must, as most independents have to do, juggle and prioritize to make an interesting shop." As to whether this move represents a trend, he said "the answer is yes in as much as if this is a success we are bound to do more. However, we would expect most shops to be of a size where the fuller offer means the Waterstones name fits." He also noted there may be more new Waterstones bookstores in the works: "We are getting there. We think there are a lot of opportunities for us to open stores. There will be more in the pipeline."


Children's Book Art Auctions at BEA a 'Great Success'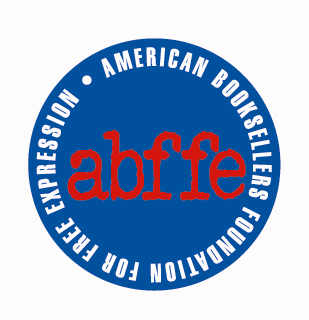 The two auctions of children's book art held in conjunction with this year's BookExpo America were deemed "a great success" by the American Booksellers Foundation for Free Expression, which reported that the sale of 150 pieces by leading artists and illustrators raised $56,000 to defend the free speech rights of young readers.

The BEA auction, co-sponsored by ABFFE and the ABC Children's Group of the American Booksellers Association, was hosted by Jarrett J. Krosoczkaheld at the Javits Center, with an online auction conducted the following week. Shannon Hale and Michael Buckley organized a variety show.

"We had a lot of fun, and the art was superb," said ABFFE president Chris Finan. "We are tremendously grateful to Jarrett, Shannon and Michael and to the artists and bidders who made the auction such a big success."


Kobo Kids' Store Now Available in U.K.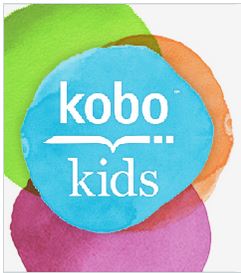 Kobo has opened its Kids' Store in the U.K., offering nearly 100,000 titles available on Kobo devices, as well as with the company's free reading apps built for the most tablets and smartphones.

"As a parent and booklover, I am constantly looking for ways to keep my kids reading within a fun, safe environment as I do my part to try to grow the next generation of readers," said Michael Tamblyn, Kobo president and CCO, adding: "Our mission is to get more people reading more often, and we truly believe U.K. parents and children will love having an e-book experience just for them."


Notes
Image of the Day: Posthumous Book Launch at Tattered Cover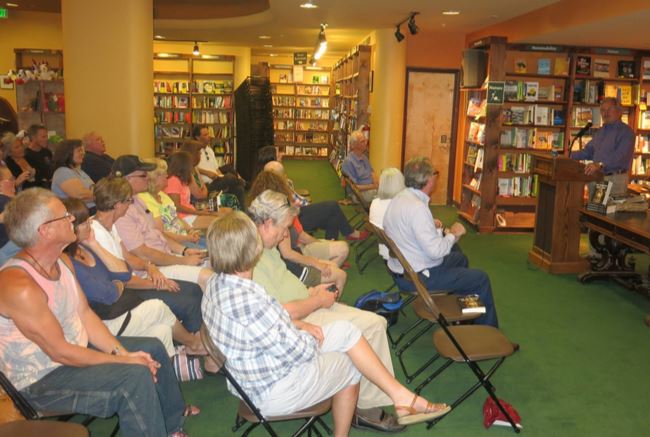 During a launch event at Denver's Tattered Cover Bookstore last Saturday, Mike Keefe, retired political cartoonist and Pulitzer Prize winner, presented The Enlisted Men's Club, the first of a series of novels based on the late Gary Reilly's experiences as a military policeman during the Vietnam War. When prolific author Reilly died in 2011, his manuscripts, including the Asphalt Warrior series, were left to friends Keefe and former journalist Mark Stevens, who co-founded Running Meter Press (now an imprint of Big Earth Publishing). Reilly's novel Doctor Lovebeads was a genre fiction finalist for this year's Colorado Book Awards. A video of the reading is available here.


How an Indie 'Stocks Its Shelves (Algorithm-Free)'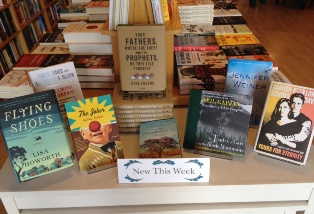 On its Musing blog, Parnassus Books, Nashville, Tenn., shared a little inside info regarding "how this indie bookstore stocks its shelves (algorithm-free)." Noting that "while we love the 'big books'--follow-ups by bestselling authors, hotly anticipated fiction and nonfiction--we also like to highlight great writing, fun reading and fresh voices that you may not already know about. Here's how we find out what's out there and decide what to order."

The list includes publisher's reps ("some of the best buddies a bookstore can have"), conferences ("like finding that one other person at a cocktail party who likes to talk about books, except the WHOLE party is that person"), author queries ("we've found some great local and independent authors this way"), customers ("On the red carpet, celebrities get asked, 'Who are you wearing?' In our store, you'll be asked, 'Who are you reading?' "), staff ("probably goes without saying, but the people who work here love to read, too"), journals/magazines/reviews, etc. ("we hop online and read about what other book-lovers are writing about"), and mail from editors, publishers, authors, etc. ("Sometimes we get just a wee bit behind on reading the ARCs that come in, but if we all pitch in, we can keep this stack on Niki's desk from tipping over and burying her in a book avalanche.").

Parnassus noted the one word that sums up all of these book sources is "relationships. But if we really wanted to get sentimental about it, we might even say love. The conversations and connections that form among booksellers, customers, authors, and publishing folks--people who love books--are what lead to the choices you have before you when you browse these shelves. Every single one of these books is here for a reason: Someone, somewhere, picked it out. So if you want to step out of your algorithm, step through our door. You're here for a reason, too."


Cool Idea of the Day: Bookstore, Restaurant Feed Readers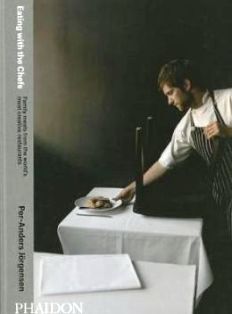 "In some of the finest restaurants across the world, kitchen and front of house staff gather to share food and conversation before the doors open to the general public," Ann Arbor News noted in its feature on a bookish culinary collaboration last night between Literati Bookstore and Vellum Restaurant.

Customers who purchased a copy of Eating with the Chefs by photographer and editor Per-Anders Jörgensen at Literati were invited "to partake in Vellum's pre-service family meal," during which Roumanis gave a talk about "the tradition of the family meal and the differences between what restaurant chefs cook for each other and what they cook for the public."

"Before we had opened our bookstore, Peter invited us to join them at Vellum for a family meal," said Hilary Lowe, co-owner of Literati with Michael Gustafson. "So we got to do that over a year ago, and it was such a cool experience to see how they get together to share a meal before they open to the public. It's a much more relaxed atmosphere. I think it will be great for the public to see how that all works. See what they all prepare for each other."


NYC's Bonnie Slotnick Cookbooks: 'Feed Your Mind & Body'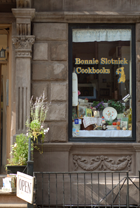 Sunday's "Neighborhood Joint" feature in the New York Times explored Bonnie Slotnick Cookbooks, noting that her "350-square-foot shop, like a library in a remote mountain village, has an influence that belies its size."

"As the daylight dimmed, the bells chimed with more visitors. Upon their departure, Ms. Slotnick handed each a list of independent bookstores and an illustrated guide showing unique shops and galleries in Greenwich Village," the Times wrote.


Book Trailer of the Day: Animal Madness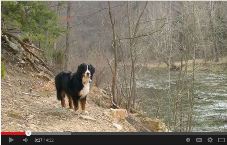 Animal Madness: How Anxious Dogs, Compulsive Parrots, and Elephants in Recovery Help Us Understand Ourselves by Laurel Braitman (Simon & Schuster).


Media and Movies
Media Heat: Swoosie Kurtz on CBS's The Talk
Tomorrow morning on Imus in the Morning: David Boies, co-author of Redeeming the Dream: The Case for Marriage Equality (Viking, $28.95, 9780670015962). He will also appear on Fox Radio's Alan Colmes Show.

---

Tomorrow on CBS's The Talk: Swoosie Kurtz, co-author of Part Swan, Part Goose: An Uncommon Memoir of Womanhood, Work, and Family (Perigee, $25, 9780399168505).


Movies: The Great Gilly Hopkins; American Pastoral
"Look, you can't just film The Great Gilly Hopkins out in the open in New York City without people snapping a few pictures--and maybe even getting a little misty over those pictures," Word & Film observed in noting the Daily Mail's images of the film's stars Sophie Nelisse and Kathy Bates on the set of the film based on Katherine Paterson's book.

---

Ewan McGregor will play the lead role in director Phillip Noyce's (The Giver) adaptation of Philip Roth's novel American Pastoral, Indiewire reported.


This Weekend on Book TV: Literary St. Louis
Book TV airs on C-Span 2 this weekend from 8 a.m. Saturday to 8 a.m. Monday and focuses on political and historical books as well as the book industry. The following are highlights for this coming weekend. For more information, go to Book TV's website.

Saturday, June 21
12 p.m. Book TV interviews authors and visits literary sites in St. Louis, Mo. (Re-airs Sunday at 10:45 a.m.)

4 p.m. Ben Carson, co-author of One Nation: What We Can All Do to Save America's Future (Sentinel, $25.95, 9781595231123). (Re-airs Monday at 2 a.m.)

7 p.m. Jeffrey Sammons, author of Harlem's Rattlers and the Great War: The Undaunted 369th Regiment and the African American Quest for Equality (University Press of Kansas, $34.95, 9780700619573). (Re-airs Monday at 6:15 a.m.)

8:45 p.m. Serhii Plokhy, author of The Last Empire: The Final Days of the Soviet Union (Basic Books, $32, 9780465056965).

10 p.m. Rick Santorum, author of Blue Collar Conservatives: Recommitting to an America That Works (Regnery, $27.99, 9781621572398). (Re-airs Sunday at 9 p.m. and Monday at 12 a.m. and 3 a.m.)

11 p.m. Ron Capps, author of Seriously Not All Right: Five Wars in Ten Years (Schaffner Press, $25, 9781936182589).


Sunday, June 22
1 p.m. Jacqueline Maria Hagan, author of Migration Miracle: Faith, Hope, and Meaning on the Undocumented Journey (Harvard University Press, $18.95, 9780674066144). (Re-airs Monday at 1 a.m.)

1:30 p.m. Charles Kurzman, author of The Missing Martyrs: Why There Are So Few Muslim Terrorists (Oxford University Press, $24.95, 9780199766871). (Re-airs Monday at 1:30 a.m.)

5:30 p.m. Craig Nelson, author of The Age of Radiance: The Epic Rise and Dramatic Fall of the Atomic Era (Scribner, $29.99, 9781451660432).

6:45 p.m. Rep. James Clyburn, author of Blessed Experiences: Genuinely Southern, Proudly Black (University of South Carolina Press, $34.95, 9781611173376).

7:45 p.m. Kristie Macrakis, author of Prisoners, Lovers, and Spies: The Story of Invisible Ink from Herodotus to al-Qaeda (Yale University Press, $27.50, 9780300179255).

10 p.m. The 2014 Helen Bernstein Book Award for Excellence in Journalism: a panel on long-form journalism followed by the award ceremony.


Books & Authors
PEN Literary Shortlists; PEN/Bellwether Winner
Shortlists have been announced for the 2014 PEN Literary Awards, which include the PEN/Robert W. Bingham Prize ($25,000), PEN/Diamonstein-Spielvogel Award for the Art of the Essay ($10,000), PEN/E.O. Wilson Literary Science Writing Award ($10,000), PEN Open Book Award ($5,000), PEN/Jacqueline Bograd Weld Award for Biography ($5,000), PEN/ESPN Award for Literary Sports Writing ($5,000), PEN/Steven Kroll Award for Picture Book Writing ($5,000), PEN Award for Poetry in Translation ($3,000) and PEN Translation Prize ($3,000). Winners will named July 30. You can view a complete list of judges and shortlisted titles here.

During the announcement event Tuesday night, PEN also named Ron Childress winner of the biannual $25,000 PEN/Bellwether Prize for Socially Engaged Fiction for his unpublished novel And West Is West. "Tying together America's financial system and military operations through characters in a novel is such a bold move," said Barbara Kingsolver, who founded the prize in 2000. "This writer can write, these characters are real, the story is crackerjack." Childress also receives a publishing contract from Algonquin Books, which will publish And West Is West in the fall of 2015.


Attainment: New Titles Out Next Week
Selected new titles appearing next Tuesday, June 24

Invisible Hardcover by James Patterson and David Ellis (Little, Brown, $28, 9780316405348) follows an ex-FBI researcher obsessed with a pattern of unsolved murders. (June 23)

WARP Book 2: The Hangman's Revolution by Eoin Colfer (Disney-Hyperion, $17.99, 9781423161639) continues the children's sci-fi WARP series.

The Stories We Tell: A Novel by Patti Callahan Henry (St. Martin's Press, $25.99, 9781250040312) follows a Georgia couple with family problems.

Unfriending My Ex: And Other Things I'll Never Do by Kim Stolz (Scribner, $24, 9781476761787) is a memoir of social media use.

Deep: Freediving, Renegade Science, and What the Ocean Tells Us about Ourselves by James Nestor (Eamon Dolan/Houghton Mifflin Harcourt, $27, 9780547985527) explores the ocean through the discipline of freediving.

Now in paperback:

The Secret Diary of Lizzie Bennet: A Novel by Bernie Su and Kate Rorick (Touchstone, $15, 9781476763163).

Em and the Big Hoom: A Novel by Jerry Pinto (Penguin, $16, 9780143124764).


Book Review
Review: The Confessions of Frances Godwin
The Confessions of Frances Godwin by Robert Hellenga (Bloomsbury, $26 hardcover, 9781620405499, July 8, 2014)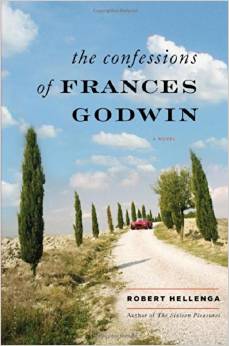 The Confessions of Frances Godwin is told in the end-of-life recollections of widow and retired high-school Latin teacher Frances Godwin. She narrates her story in a no-nonsense, practical Midwest voice, yet faced with death and loss, she mostly wants to understand the spiritual value of her life. Despite growing up in a strong Polish Catholic farm family in Galesburg, Ill., under a matriarch who believed that homemade pierogi and a full church confession to "clean out your attic" were central to living a good life, Frances strayed from the church and fell in love with her Shakespeare professor, Paul. While attending a postgraduate Latin seminar in Rome, she met up with him and soon became pregnant with their daughter, Stella--all before Paul divorced his wife and finally married Frances. Paul's good humor and easy camaraderie with her uncles win over her suspicious mother, but Frances never quite shakes the nagging guilt over her adultery and out-of-wedlock pregnancy. When a grown Stella takes up with Jimmy, a thuggish ex-con Italian Catholic from a Milwaukee produce-distribution family, and Paul develops rapidly advancing lung cancer, Frances finds herself racking up more sins, guilt and remorse to protect her family ("I had crossed a line.... No going back. Not that there's ever any going back.... Actually, there was a way to go back. I knew the drill: contrition, confession, satisfaction. But I was in no mood to turn around").
Like his previous novels The Fall of a Sparrow and The Sixteen Pleasures, Robert Hellenga's new novel is based in the heart of the Midwest with significant interludes in the ancient cities of Italy. Both Classics scholars, Paul and Frances warm to the cadences of Romeo and Juliet in Verona, trade lines from Catullus and Shakespeare over Paul's special Parmesan lamb chops and an aged Barolo, track the constellations with a home telescope, and enjoy Chopin's études that Frances plays on their old Blüthner grand piano. Yet this is also a thoroughly Midwestern novel, with all its hog slaughtering, school plays, train whistles and truck stops. Hellenga neatly balances the pallet trucks of the wholesale produce business with the idiosyncrasies of translating the ribald poetry of Catullus. He even throws in an imagined dialogue between Frances and an irreverent God ("I have a lot of things to do. Do you have any idea how many galaxies there are, just in the visible universe?") and somehow makes it work.
The complex but homespun Frances, who genuinely wants to understand her life and live her last years well, carries the work. She sees clearly and speaks plainly when she finally confesses again after 43 years: "We're all stardust. But that's not enough. Not for me, anyway." Although the story ranges wide, The Confessions of Frances Godwin is firmly rooted in the culture and values of Hellenga's perfectly rendered Midwest. --Bruce Jacobs, founding partner, Watermark Books & Cafe, Wichita, Kansas
Robert Hellenga's Midwestern widow looks back on a life of good intentions and disappointments with open eyes and hope for redemption.