Tuesday, April 9, 2013: Maximum Shelf: The World's Strongest Librarian

The World's Strongest Librarian: A Memoir of Tourette's, Faith, Strength, and the Power of Family
by Josh Hanagarne
Josh Hanagarne, blogger at The World's Strongest Librarian, "might be the only person whose first three-hundred-pound bench press was accompanied by the Recorded Books production of Don Quixote." This is just one of his remarkable singularities. A gentle giant who tears phone books for fun, at 6'7" he tends to catch the eye at the Salt Lake City Public Library, even when his Tourette Syndrome is not acting up. His memoir explores these contradictions and oddities, and his remarkable journey from idyllic childhood to painfully jerky young adulthood to a contented family and work life.
Hanagarne had a happy childhood, beloved by his mother, an incorrigible prankster and devout Mormon, and his devoted, irreverent bear of a father. He grew up in libraries, a passionate bookworm disturbed only by the tics that began in first grade but would go undiagnosed until high school (although his father suspected Tourette's from the beginning). By young adulthood, they were not only embarrassing but violent and debilitating. He would eventually suffer a hernia from the force of his involuntary shouting tics, and his larger movements resulted in injury to himself and chaos in his immediate surroundings. After high school he spent years trying numerous cures, in and out of college, working various jobs and struggling with depression. Lifting weights at the gym stilled the tics somewhat, and for a while he got regular Botox injections in his vocal cords to quiet the shouts and whoops. During that time he met and married a lovely Mormon folklorist named Janette. For the first eight months of marriage, he couldn't speak to her above a whisper.
Although deeply in love, the atmosphere of Josh and Janette's story early in their marriage remains clouded. For years they try to get pregnant. Janette suffers two miscarriages and they are harshly rejected by the Mormon Church as adoptive parents. Josh continues to tussle with Tourette's. For a short time, he finds a position as assistant special educator quite satisfying, not least because his tics become unremarkable in a room full of special needs. But he soon leaves that job, because he seeks challenge: crucially, he aspires to overcome Tourette's, to beat his tics into submission. Pondering what might present the greatest challenge to a man who can't keep quiet, Josh is drawn to the quietest place he knows, a place that has always offered succor and delight. He gets a job as a clerk in the library and begins a master's program in library science. And a key piece of marital bliss is finally achieved when Janette delivers a healthy baby boy named Max.
Josh continues to battle Tourette's in the gym, discovers kettlebell lifting along the way, and makes a new friend in Adam Glass, a former Air Force tech sergeant and strongman: he bends wrenches and horseshoes and tears decks of cards and phone books. Josh's story takes an inspiring turn as the twitchy librarian and the foul-mouthed strongman gradually develop a friendship; as Adam helps Josh build strength, together they also begin to understand and subdue the tics. He finds Adam a little strange, and the explanation for his social awkwardness is also what makes him the perfect mentor for overcoming Tourette's: Adam is autistic.
The adult Josh Hanagarne who relates his story is content and stable, happily married, thrilled to be a father to four-year-old Max, and working full-time at the Salt Lake City Public Library. As he relates his stranger-than-fiction story, he intersperses present-day anecdotes from a workplace that he wryly notes is rife with strange and occasionally smelly patrons and events. He muses eloquently and powerfully about the role of libraries in society, and their future possibilities. Throughout his life and this book, Josh struggles with his Mormon faith, as he sets off on the expected mission and faces myriad challenges in school, work, marriage and parenthood. In telling a story about family, church and Tourette Syndrome, he always circles back to libraries and to books, in many charming literary references. And always central to Josh's story is his love of family. From his loving parents and exceptionally close siblings through the clear delight Josh finds in marriage and fatherhood, he stresses the inestimable gift of a loving family.
Josh's memoir is thoughtful, heartfelt, often hilarious-- and unsparingly honest. He is not proud of every moment in his own past, but he shares nonetheless. The image of the man today who wrote this book and who works in a large branch of a public library in a large city is that of a serious yet funny, mature, loving family man, and this image is only partly at odds with the earlier, less secure young man we come to know in these pages. The younger Josh was unsure and unstable, and the author is more comfortable in his own skin. But both have tics, and stories to tell. --Julia Jenkins
Gotham Books, $26, hardcover, 9781592407873, May 2, 2013
Josh Hanagarne: The World's Strongest Librarian Writes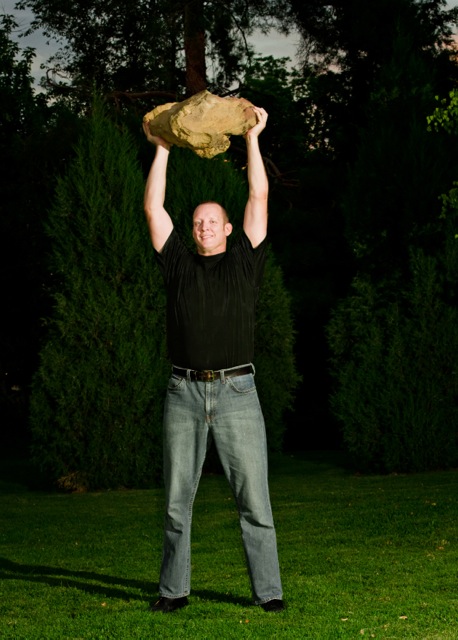 photo: Suzy Steed/A Moment's Reflection Photography
Josh Hanagarne is from Moab, Utah, and lives with his wife, Janette, and son, Max, in Salt Lake City, where he works at the beautiful main branch of the SLC Public Library. His memoir,
The World's Strongest Librarian
, touches on the bizarrely various pieces of his life: his struggles with Tourette Syndrome; his journey to becoming a husband and a father; his love affair with books and libraries that would eventually lead to a career; an obsession with the gym that became a penchant for tearing phone books and full decks of cards; and a less-than-smooth lifelong relationship with the Mormon Church, where he still finds family and friends but less faith than he once held.
Your book includes a lot of personal and painful history that belongs not only to you but to your wife and family as well. What was the process for sharing those personal details?
It was hard. During the first draft I didn't think too much about how people were going to react. When I started going through on the second draft, I started showing things to Janette or to my mom and asking, is this accurate? Is this something you're okay with having in here? Sometimes it was, sometimes it wasn't. Whenever anybody was mildly uncomfortable with something, I just took it out--nothing of real consequence. I guess when you write a memoir, you choose which periods of your life you're going to represent, and then you choose which episodes best represent those periods. If you're a normal person, sometimes that means you'll look good and sometimes it means you'll look bad. So that wasn't fun, but it was honest, I think, without being tedious and self-flagellating.
I've always used humor kind of in self-defense, because I knew if I could make people laugh I could make them focus on something other than my tics. I think this book is kind of sad, and I think a lot of humor is rooted in something sad. I believe Kurt Vonnegut and Mark Twain both talked towards the ends of their lives about having various forms of irony fatigue, because humor was mainly a self-defensive tool for them. I think in any book where you get to pick and choose what you put in, the sadder stuff's going to get sadder, and the funny stuff's probably going to get funnier.
You've included Dewey classification numbers under each chapter heading. Do you think this resonates with the general population, or mostly just librarians?
I don't know. I think most people, even if they don't get it, will probably be intrigued. Some people have pointed out that they don't all work out exactly the way capital-"L" Librarians think they should, to which I will just say, the numbers do exactly what I want them to do. I think it's eye-catching. I didn't necessarily think of it as being gimmicky, because it really does tie in thematically with each chapter. What I really like about it is that you can kind of see what's coming and yet sometimes not have any clue how one thing will lead to the next.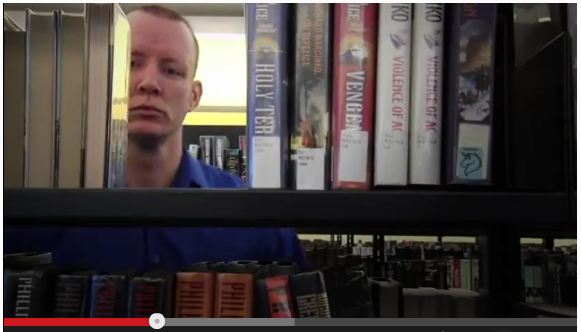 Tell us about the process of writing this book: When did you write? Were you still working at the library?
This is probably going to disappoint a lot of aspiring writers who put off writing until they have hours of free time every day, but I don't think I ever sat down and wrote for more than 15 minutes at a time. I just can't; the tics won't let me. I wrote whenever I could. I'd guess I rarely wrote more than half an hour total in a day. I do write really fast. I found out that, at least now, I'm the sort of writer who has to make a gigantic mess and then clean it up, because if I start trying to anticipate all the editorial questions on the fly, I just freeze up and I don't get anything done. So I wrote a lot more to get to this book than I probably could have, if I were another writer. I wrote the first draft totally on my own and then I sent it to my editor, and things had just been going so well that I kind of assumed, yeah, my first draft is surely anyone else's fourth or fifth. Then my editor sent it back and said, you've got to get rid of 120 pages. We can't even talk yet. Fix this. Which was a great lesson to learn, and not an easy one. But editing was really kind of fun, because Megan [Newman] is really the right editor for me. I think it took three total drafts between us, but about eight on my part. I learned that it takes a hideous amount of work to appear spontaneous. But it was a lot of fun. The shortest way to answer your question is: I wrote every day, I only wrote for a few minutes at a time, and I just kept going. A big part of it is being willing to show up.
Was the writing process cathartic for you?
If this book hadn't come about, I think I'd probably still be going through the motions in church, trying not to make waves. The ideas I've gotten from church have everything to do with my relationship to my body, and the explanations I thought I owed for my life. In writing the book, I realized, I'm actually going to have to deal with this. So I got into the sticky situation of writing a book about how much I love my family and yet gently distancing myself from the church, knowing that that would be painful for my family. That was the biggest catharsis: realizing that I was going to have to deal with that shift in faith. Spending so much time thinking about that, and trying to word it correctly, is what taught me what I actually do think about it all.
Would you say that you had a message or even a cause to communicate with this book, related to Tourette's, or libraries, or anything else?
I'm not much of a crusader. But when I go speak to groups of people with disabilities, or their parents, or special educators, the reaction I get is so humbling and overwhelming. If people I speak to are actually getting out of this story what they tell me they are, I knew I really needed to do this book as well as I can. So that it can go be me in all the places I can't be. There's definitely no downside to spreading the word about Tourette's. This story seems to inspire some people without me ever needing to claim I can inspire anyone. As far as libraries, obviously this whole book is my love letter to books and libraries. That's not necessarily what I intended, but for me to write about myself honestly, that's the only thing that could have happened.
What do you most want people to know about you that's not in your book?
To entertain my son occasionally in the morning when I put my pants on, I will hold them up at about waist height and I will try to jump into my pants. So I jump all the way up in the air and tuck my knees in and if I do it right, my feet come through the pants and I'm dressed. And if it goes wrong it goes really badly wrong. And about one of every 10 times I can put my pants on this way. Once in a while. You know, one out of 10 might be optimistic. --Julia Jenkins