Shelf Awareness for Readers for Friday, June 15, 2012

Book Candy
Writers' Retreats; Gigantic Bookshelf; Filmed Short Stories
After searching the world's literary "nooks and crannies," the Huffington Post found several "famous writers' retreats: the rooms where classics were created."

---
A Brazilian apartment "defined by a gigantic bookshelf" was showcased by Apartment Therapy, which noted that the dwelling's "defining feature is the expansive, wrap-around bookshelving, holding everything but the kitchen sink."

---

Pop quiz: The Guardian asked, "How much poetry do you know by heart?"

---

Flavorwire discovered "10 wonderful short films based on famous short stories."
Great Reads
Now in Paper: June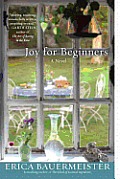 Joy for Beginners by Erica Bauermeister (Berkley, $15)
Gathering to celebrate their friend Kate's triumph over cancer, six women each agree to take on a life challenge--chosen by Kate. In return, she agrees to go whitewater rafting with her daughter, though the idea has always terrified her. Although Kate was the one fighting a deadly disease, her friends have their own demons to conquer--and each woman's test fits her perfectly, drawing out long-buried reserves of adventure, creativity, bravery and love.
Moondogs by Alexander Yates (Anchor, $15.95)
Benicio Bridgewater wants to repair his relationship with his absentee father; he agrees to come to Manila so they can spend some quality time together. But the father never shows--he's been kidnapped by a dimwitted cab driver, assisted by his even-less-clever brother and a retired cockfighting rooster. Then there's Efrem Khalid Bakkar, a solider with supernaturally accurate aim who's been recruited into an elite squad of equally magical commandos. Add realistic emotional crises into a jam-packed novel of quirkiness for a crazy ride.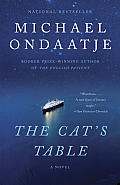 The Cat's Table by Michael Ondaatje (Vintage International, $15)
This is a masterfully told literary voyage into the memories of family, friends, strangers, all living together in a great writer's imagination. Ondaatje's 11-year-old narrator, Michael, is sailing from Sri Lanka to England, where he will join his divorced mother. He begins his great adventure aboard the Oronsay, where he meets the quiet and thoughtful Ramadhin and the exuberant Cassius, a past schoolmate. Like Chaucer, Ondaatje tells tales about people brought together on a trip (who they are, what secrets they keep), the children thus learning about adults and life "simply by being in their midst."
The Fatal Touch by Conor Fitzgerald (Bloomsbury USA, $16)
This second intricate and rip-roaring Commissario Alec Blume novel is an intricate, satisfying crime novel set in Rome, with a quirky, engaging detective training a new assistant, Caterina, in the ways of homicide investigation, starting with the death of an Irish art forger with a fondness for drink. As with Donna Leon's Commissario Brunetti series, set in Venice, the pleasures of this novel go beyond the usual police procedural into the fascinating nuances of contemporary Roman life.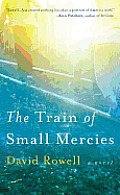 The Train of Small Mercies by David Rowell (Berkley, $15)
David Rowell's first novel unfolds on June 8, 1968, the day of Senator Bobby Kennedy's funeral, focusing on the passage of his funeral train as seen by six unrelated, "ordinary people," each of whom is fighting a personal inner battle as well as expecting or dreading the passing of the train through their lives. Each character is aware that seeing the Kennedy train pass is a group event; none of them experiences that moment physically alone. Yet all six find that they are isolated within their own minds in a way that merely gathering in a crowd cannot remedy. The Train of Small Mercies captures the individual yet quintessentially human experience of grief.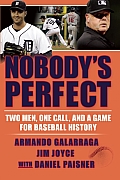 Nobody's Perfect: Two Men, One Call, and a Game for Baseball History by Armando Galarraga and Jim Joyce with Daniel Paisner (Grove Press, $15)
On June 2, 2010, Detroit Tigers pitcher Armando Galarraga was pitching a perfect game until the top of the 9th, when Cleveland rookie Jason Donald hit and raced for first. Galarraga tagged him out, but Donald was called safe by umpire Jim Joyce. As both men tell their stories, we get a thrilling, emotionally complex revisit to that legendary game, complete with the satisfying back story of the careers (and psychologies) of the pitcher and the umpire who shared a first-base call that made history.
Machiavelli: A Biography by Miles J. Unger (Simon & Schuster, $16)
Niccolò Machiavelli became a world-famous author, founder of modern political science and was vilified by the Catholic Church as the finger of Satan--not bad for an underpaid government clerk in Renaissance Florence. Achieving such notoriety is no mean feat, and Miles Unger chronicles the twists and turns of Machiavelli's life with flair. As Machiavelli treads his path, we feel we are back in Renaissance Florence amid all its intrigue and tumult.
The Writer's Life
Robert Goolrick: Going Home
After a decades-long advertising career and a memoir (The End of the World as We Know It), Robert Goolrick leaped into fiction in 2010 with A Reliable Wife, the tale of a mysterious mail-order frontier bride. His second novel, Heading Out to Wonderful (Algonquin), opens with another stranger with a secret, a man who arrives in the tiny town of Brownsburg, Va., in 1948 with a suitcase full of money. [See our review below.]
Your first novel, A Reliable Wife, was a pretty big success. Did you struggle with Heading out to Wonderful?
I think you hope always that you'll write a better book, so of course the pressure increases on yourself then. But I think it's purely internal pressure. I didn't feel any pressure from the external world. You just hope to write the best book you can. And you hope that your second novel is better than your first novel. That's about it.
But also, in this case, it was difficult because it's a true story. I wanted to tell the story honestly and honor the people whose story it was, because I knew some of them. So it was very important to me to get it right in that respect.
Why relocate them the events to Virginia?
The actual story took place in Greece, and I set it in Virginia because I grew up there and because I wanted to go back and write sort of a love letter to my childhood and to the countryside in which I grew up. So the town of Brownsburg--there's a real town of Brownsburg, although it's greatly fictionalized in the book--and that whole countryside that's in the book is very familiar to me, the people and the music, and all of that. It's very beautiful, and it's very much a part of my character.
So I moved out of New York and moved back there in order to be closer to the source of the material, at least as I was writing about it.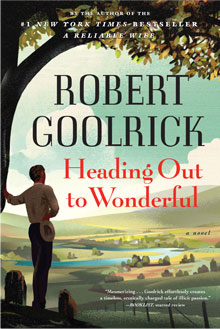 Are you planning to stay?
For the moment. Well, I thought I was going to leave New York for a year, but that was three years ago, so it looks like I'm going to be here for a while.
Your first book, a memoir, The End of the World as We Know It, dealt with the subject of your childhood, then A Reliable Wife was set elsewhere. What was it like coming back to that place?
Well, there was a lot of culture shock involved, leaving New York and getting used to rural life again. And the first year was horribly lonely, and I had nothing but me and my work, because when you're a writer, you don't go out to work. So it's very hard to meet people.
But now I have great friends and I have a wonderful life. I find there comes a point in your life where, as wonderful as New York is, you just don't need it any more for a while.
I also realized there was going to be sort of a fuss made about A Reliable Wife, and I didn't want to be one of those people in New York who just spend their entire lives going to literary cocktail parties. I wanted to focus on the work. I'm not young, and so it's very important to me to focus more on the work than on being the author of the work.
Tell us a little about your next novel.
It takes place in 1969, and it's about something that's always fascinated me. In 1969, I was 21 years old, and two remarkable things happened that summer--the worst thing that happened to my generation and the brightest thing that happened to my generation. And those are that on August 15 of that summer, the Manson murders happened. And four days later, the festival of Woodstock began. So it's sort of about the convergence of those two events in the culture. --Kelly Faircloth, freelance writer
Literary Lists
Father's Day Recos; Summer Reads; 'Badass' Cormac McCarthy
Happy Father's Day! Flavorwire recommended "books to give every kind of Dad on Father's Day," with options "for adventurers and film geeks, science fiction lovers and history buffs, and every kind of dear old dad in between."

---

NPR's On Point show offered suggestions for "great summer reads" from host Tom Ashbrook and guests Jessilynn Norcross, co-owner of the McLean & Eakin Booksellers, Petoskey, Mich.; Maggie Galehouse, book critic for the Houston Chronicle; and David Ulin, book critic for the Los Angeles Times.

---

Inspired by the recent news that a movie version of Guinness World Records is in the works, the Huffington Post suggested "9 other reference books we'd like to see adapted."

---
He "dislikes semi-colons and exclamation points." Thought Catalog listed "10 reasons why Cormac McCarthy is a badass."
Book Brahmin
Book Brahmin: Peter Farris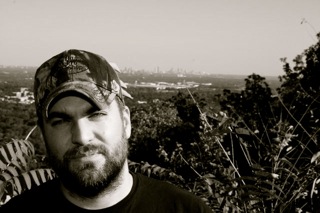 Peter Farris is a graduate of Yale University and lives in Cobb County, Ga. His first novel, the Southern noir thriller Last Call for the Living, is just out from Forge Books.
On your nightstand now:
A holstered Springfield XD 9mm, an alarm clock and a cat that goes by the name of Icky.
On the floor of your office now:
The To-Be-Read stacks are making it hard to walk in here. From where I'm sitting I can see UpGunned by David J. Schow--a superhumanly good postmodern gun porn satire with a wink and a nod to Donald Westlake's Parker series. One of the best novels I've read this year. I can also see nature writer/TV show host Steven Rinella's American Buffalo: In Search of a Lost Icon; the Dorothy Allison memoir, Two or Three Things I Know for Sure; A Single Shot by Matthew F. Jones; The Damage Done by Hilary Davidson; The Night Train by Clyde Edgerton; Into the Web by Thomas H. Cook; and Satan Is Real: The Ballad of the Louvin Brothers by Charlie Louvin with Benjamin Whitmer... which my old man finally returned to me.
Favorite book when you were a child:
Has to be a tie between I Am Legend by Richard Matheson and The Call of the Wild by Jack London. Although I can remember being real young and thinking it didn't get any better than Nancy McArthur's The Plant That Ate Dirty Socks.
Your top five authors:
Flannery O'Connor, Harry Crews, Larry Brown, Cormac McCarthy and Jack London.
Top five authors you'd want to get drunk with:
James Crumley, Joseph Wambaugh, Eudora Welty, Barry Hannah and William Gay.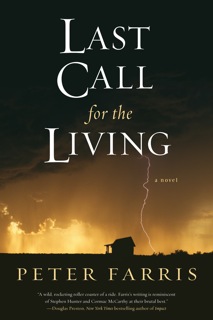 Book you've faked reading:
The Bible.
Book you're an evangelist for:
I consider At the End of the Road by Grant Jerkins not only a fantastic literary thriller but one of the finest novels ever set in the state of Georgia. Thanks, praise and a strychnine toast should also go to John Rector, Frank Bill, Duane Swierczynski, Tom Franklin and Ron Rash for delivering truly inspired fiction upon us over the past few years.
Book you've bought for the cover:
Back in my thrash metal skater punk middle school days, I asked my Dad to get me Brian Lumley's Necroscope because the cover said: "You will like this." And I absolutely did.
Book that changed your life:
Without a doubt: Joe by Larry Brown. That novel showed me the possibilities. If I can write publishable fiction half as good as Joe, I'll be one satisfied author.
Favorite line from a book:
"I can understand why people jump off bridges."--from Facing the Music by Larry Brown.
Book you most want to read again for the first time:
Feast of Snakes by Harry Crews had about the same impact on me that Joe did. My paperback copy is underlined all to hell. I just flipped to the last page and saw this marked: "He fell into the boiling snakes, went under and came up, like a swimmer breaking water. For the briefest instant, he gained his feet. Snakes hung from his face." I don't think there are words to describe how I felt when I finished Feast of Snakes, other than the despair of knowing there is absolutely no way you can write something as good. But you've got to try anyway.
Book Review
Fiction

Capital
by John Lanchester

Master and God
by Lindsey Davis
Unsaid
by Neil Abramson
Heading Out to Wonderful
by Robert Goolrick
The Watch
by Joydeep Roy-Bhattacharya
An Unmarked Grave
by Charles Todd
Mystery & Thriller
The Skeleton Box: A Starvation Lake Mystery
by Bryan Gruley
The Namesake
by Conor Fitzgerald
Food & Wine
People's Pops: 55 Recipes for Ice Pops, Shave Ice, and Boozy Pops from Brooklyn's Coolest Pop Shop
by Joel Horowitz , David Carrell , Nathalie Jordi
Current Events & Issues
Victory: The Triumphant Gay Revolution
by Linda Hirshman
Children's & Young Adult

Bink & Gollie: Two for One
by Kate DiCamillo , Alison McGhee , illus. by Tony Fucile
A Midsummer's Nightmare
by Kody Keplinger
Monument 14
by Emmy Laybourne
--- SPECIAL ADVERTORIAL OFFERINGS ---

The Neptune Challenge


by Polly Holyoke


Dear Reader,

When the sea has become humankind's last hope, a group of teens fights to survive beneath the waves. I've always LOVED reading stories about quiet kids who become heroes. So In The Neptune Challenge, I continue the story of Nere Hanson, a shy girl who is brave, can talk to dolphins, and definitely gets to save the day!

If you like stories about courage, friendship and adventure, you'll love The Neptune Challenge.

Visit www.pollyholyoke.com to enter to win a signed copy AND a dolphin necklace/bookmark.

Polly Holyoke

THE NEPTUNE PROJECT
Texas Bluebonnet Award 2014-15 Master List
Maryland Black-eyed Susan Book Award Nominee
Bank Street's 2014 List of Best Children's Books





PUBLISHER: Disney/Hyperion

PUB DATE:
May 19, 2015

AGE RANGE: 10-14

GRADES: 4-8

TYPE OF BOOK: Middle-grade fiction

ISBN-13:
978-1484713457

PRICE: $16.99
Alchemy's Daughter


by Mary A. Osborne


Dear Reader,

In medieval San Gimignano, seventeen-year-old Santina apprentices to Trotula, the village midwife. Some say she is victim of the midwife's spell, but Santina is determined to follow in Trotula's footsteps even as calamities strike. Kirkus says, "…this well-researched story incorporates historical information about medieval alchemy, midwifery, and the conflict between science and superstition..."

Email me at mary@maryaosborne.com for a chance to win a signed copy of the Alchemy's Daughter.

Warmly,

Mary A. Osborne
maryaosborne.com





PUBLISHER: Lake Street Press

PUB DATE:
May 15, 2015

AGE RANGE: 14 to adult

GRADES: 9 to 12

TYPE OF BOOK: YA historical novel

ISBN-13:
978-1-936181-17-9

PRICE: $16.95
Wet Hen: A Short Vowel Adventure


by Molly Coxe


Dear Reader,

Thank you for your enthusiasm for the first two Short Vowel Adventures, Rat Attack, and Princess Pig. Here's Wet Hen, a sweet spring story featuring the "short o" sound, endless rain (Think Noah's Ark starring a broody Hen and her best friend, Ben, a cheerful fieldmouse), rainbow-colored eggs, and (after 21 days afloat in the tiny hen house) baby chicks (also in rainbow colors)!

Email me at bravemouse1@gmail.com to enter to win a signed copy.

Happy Spring,
Molly Coxe





PUBLISHER: BraveMouse Books

PUB DATE:
Available now

AGE RANGE: 5 - 7

ISBN-13:
ISBN 9781940947303

PRICE: $3.99