Shelf Awareness for Readers for Friday, July 20, 2012

Book Candy
250,000-Book Maze; Jane Austen Gems; Old Book Smell Defined
What do you get when you bring 250,000 books to the London 2012 Festival? My Modern Met reported that aMAZEme, "a gargantuan maze," is being created with walls "expected to be 13 feet high and the labyrinth will ultimately be over 5,000 square feet." The installation will be on view at Southbank Centre London from July 31 to August 26.

---

Jane Austen update: The author's much-publicized turquoise ring was sold at auction in London to an anonymous bidder for £150,000 (US$234,668), more than five times the estimate, the Telegraph reported.

For those of us who can't afford her jewelry, however, BBC Worldwide's entertainment division and Legacy Games have come up with a new Facebook game called Jane Austen's Rogues and Romances, in which players are challenged "to find the two members of Austen's most famous couple--Mr. Darcy and Elizabeth Bennet from Pride and Prejudice--and convince them to return to their newlywed life," Page Views wrote.

---

"Reading a book is a process," Cassidy Tucker advises in her video primer on finding just the right book reading position.

---

What exactly is "old book smell? Mental Floss noted that a team of scientists defined it as a "combination of grassy notes with a tang of acids and a hint of vanilla over an underlying mustiness."
The Writer's Life
Lydia Netzer: Getting to the 'Clicking' Point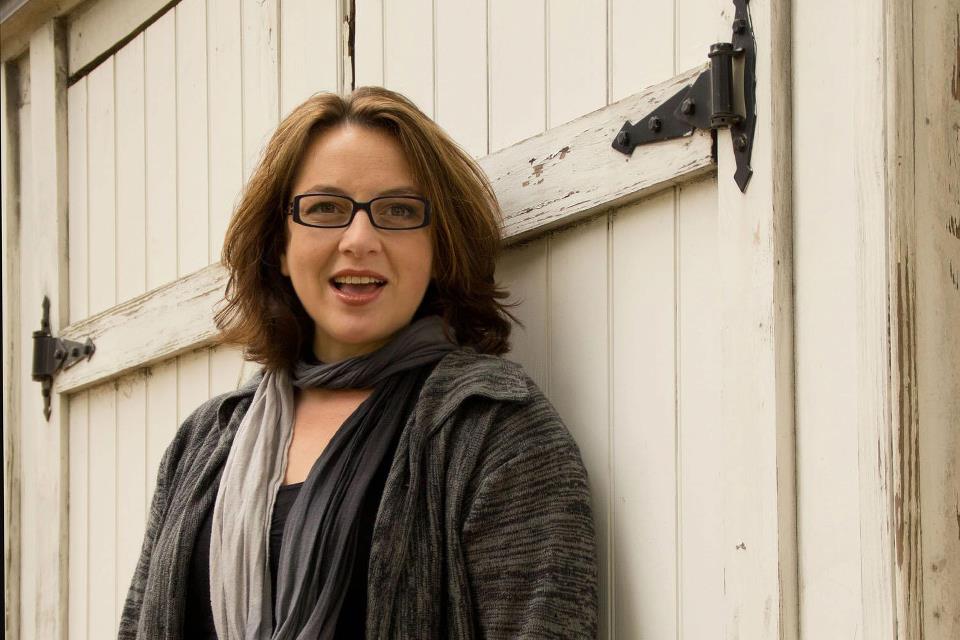 Lydia Netzer's debut novel, Shine Shine Shine, introduces Maxon and Sunny, an improbable but charming pair that our May 23 Maximum Shelf review called "the most easy-to-root-for couple this side of the Sea of Tranquility."
"Through domestic squabbles, grief and meteor strikes, Shine Shine Shine remains an upbeat affirmation of life and self-discovery. Cleverly mixing mathematical equations with human relationships until the two seem inextricable, Netzer's logical yet whimsical voice combines with light touches of science fiction in a refreshingly original novel that will leave readers thinking about their own best selves."
Netzer took some time from her book promotion--Shine Shine Shine was released by St. Martin's on July 17--to be interviewed by her friend, author Sara Gruen (Water for Elephants; Ape House).
SG: Lydia, I know you have been working on this novel for 10 years, and I know that it's seen many drafts. After being engrossed in this book for so long and changing so many things about it, how did you know when you were done?
LN: It's hard to feel done. Even when I read the book now, I feel the urge to tweak it or mess with it a little--change the wording or the order. I have ideas float through my head and I think, wow, I want to put that in the novel, but of course I can't. I'm sure that's pretty common!
SG: Right, but of course at some point you have to say--it's finished.
LN: I think it was easier to know for sure when I wasn't done. I definitely knew, with earlier drafts, that I was not doing it right. And then when I got to this final draft, the one I wrote mostly in 2010, I felt like I had put enough internal tumblers into place that the lock was going to click.
SG: What was the hardest moment you experienced, in getting to that "clicking" point?
LN: There were two dark moments that stick out. The first one happened a long time ago. I have a very dear friend who is also a writer, Susannah Breslin. She read an early draft of the book for me, and it was a mess. You know a good friend is one who will tell you, "This isn't working." Well, that's what she said. And when I said, "What should I change?" she said, "Don't change it. Start over from the beginning. Open a new document, and get rid of all of this." Of course the thought of starting over after writing 30,000 words was malodorous, and I was irritated. I'm a homeschooling mom. Every one of those words represented time I'd taken away from my kids, or my husband, or sweet, beautiful sleep. I pouted for about three months. But she was right, and I'm grateful she had the stones to break it down for me like that. The experience of throwing out that much work changed my understanding of writing forever.
The other hard thing was writing the scene where Sunny takes her mother off life support. This scene is similar to what I went through with my mother in 2004. I knew then that I wanted to write about it, eventually, but it took me five years to get enough emotional distance to do it without going insane. And I still went insane. I had started over (again) on the book and was writing in a mad binge, a thousand words at a time and day after day. Almost like I had to get up some inertia in order to get through it. I got to that scene at about 15,000 words, and wrote it almost with my eyes shut because I could hardly stand to look at the words appearing on the page. After that scene, my binge collapsed and I left the novel alone for three months.
SG: Because you were just wrung out?
LN: Yes, not to be all "I'm a delicate flower" about it, but after that chapter I was spent. Whatever I have, I had used it all up. Trying to continue that book without a breather would have been awful. I think taking breaks in a novel can be very productive. During that time you're thinking, organizing things in your brain, letting ideas form, and you're recovering from your last push. And you're working on other projects, which you'll need to break from so you can return to this one.
SG: You mentioned Susannah's editing help. What advice from other writers as helped you in this process?
LN: One of my teachers in graduate school that I am very fond of is Cris Mazza. She used to say that reading my fiction was like climbing up the face of a cliff, and that some of my paragraphs felt like falling backward off that cliff. Of course, these were usually my favorite paragraphs. I have learned, though, that pushing my reader backwards off a cliff is not something that I should be doing. I've learned to temper those departures, ground them, make them more accessible.
There's one paragraph in the book that starts like "It is dark inside the body. The things that go on there cannot be seen." This was definitely a falling-backwards-off-a-cliff paragraph, and it's actually one of the only bits that survived the very first draft. It's the oldest piece of writing in the book, but it's been edited and contextualized until now I hope that if you're still falling backward, at least you feel you have a parachute.
Another bit of wisdom that I love came from a graduate school prof that Joshilyn Jackson and I shared: Michael Anania. He told us never to be afraid to be friends with writers, that success in writing did not come in lightning strikes, where one member of a group of friends would be elevated and chosen, and the rest would be passed over. He said that success often comes in clusters, where friends help each other and the high tide raises all the boats. I'm so lucky to have writing friends like Joshilyn and Susannah, you and Karen Abbott, and so many more. Your editing note fixed my timeline. Joshilyn's determination got me an agent. Karen's enthusiasm, Susannah's focus--I could go on and on. Everyone has been so wonderful to me and I'm so grateful for the friends, old and new, who have made this book happen.
Inklings
Betsy Woodman: A Dreamscape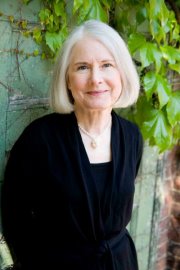 Betsy Woodman is the author of Jana Bibi's Excellent Fortunes (Holt Paperbacks), the first in a series about a Scottish woman (and her parrot) who inherits her grandfather's house in an Indian hill station.
A reviewer called Jana Bibi's Excellent Fortunes a "dreamscape," and I like that word a lot. The story is set half a century ago, in a fictional Himalayan hill station, or seasonal resort. As an American child in India, I loved vacations in real hill stations. After the heat of the plains, it was a treat to put on a sweater and to sleep beneath blankets. The views were long and the air was fragrant--of eucalyptus in south India, of pine up north. Being in such places frees the imagination, and, decades later, setting Jana Bibi in a far-off world let me escape mundane realities. I found myself imagining something more whimsical.
Nonetheless, the book harks back to some real-life features of mid-20th-century India, notably, the state of communications. In 1961, although the postal service was great, the phone system was another matter. India had seven phone lines per 100,000 people, and an international call had to be booked 12 hours in advance.
In contrast, in May 2012, there were more than 929 million mobile phone subscribers in India, with more being added at a dizzying pace. Most people can connect, and lives are immeasurably better for it.
In the Jana Bibi world, people work hard to communicate. They send notes to each other by runner and wait for the reply. To make a phone call, they stand in line at the Post, Telegraph, and Telephone Office. They get important messages through letters, some forwarded several times.
There are no electronic screens, TVs, or computers in their lives. They learn about the outside world by newspaper or word of mouth. Radios blare, but other noise is made by humans, animals or the rain on metal roofs. These are some elements of the "dreamscape." Come enter into it with me. --Betsy Woodman
Literary Lists
Best YA Series; Homes in Literature; Travel Coffee Table Books
Inspired by the death of Encyclopedia Brown creator Donald J. Sobol, Flavorwire showcased "10 of the greatest YA series of all time."

---

Stuart Evers, author of If This Is Home, chose his top 10 homes in literature, noting that he "decided to restrict it to traditional homes in novels--i.e. buildings in which fictional characters live."
---
Displaying travel-themed coffee table books "is a great way to showcase your love of exotic cultures and unquenchable thirst for beautiful sights," Apartment Therapy observed in featuring "10 inspiring travel coffee table books."

---

"Sometimes a book is better than sleep. Here are five recommendations for reads that will keep you up late," NPR's Rosie Friedman noted in "Staying Up Late: 5 Picks for the Ravenous Reader."
Book Review
Fiction

Chapman's Odyssey
by Paul Bailey
Tigers in Red Weather
by Liza Klaussmann
Homesick
by Roshi Fernando
The Red Chamber
by Pauline A. Chen
Mystery & Thriller
Behold a Pale Horse
by Peter Tremayne
Science Fiction & Fantasy
Year Zero
by Rob Reid
Biography & Memoir

Soundings: The Story of the Remarkable Woman Who Mapped the Ocean Floor
by Hali Felt
Mule: My Dangerous Life as a Drug Smuggler Turned DEA Informant
by C.A. Heifner with Adam Rocke
Fire in the Belly: The Life and Times of David Wojnarowicz
by Cynthia Carr
Sports
Bluegrass Baseball: A Year in the Minor League Life
by Katya Cengel
Children's & Young Adult

The Land of Stories: The Wishing Spell
by Chris Colfer
Insignia
by S.J. Kincaid
Invincible Microbe: Tuberculosis and the Never-Ending Search for a Cure
by Alison Blank , Jim Murphy
--- SPECIAL ADVERTORIAL OFFERINGS ---

The Neptune Challenge


by Polly Holyoke


Dear Reader,

When the sea has become humankind's last hope, a group of teens fights to survive beneath the waves. I've always LOVED reading stories about quiet kids who become heroes. So In The Neptune Challenge, I continue the story of Nere Hanson, a shy girl who is brave, can talk to dolphins, and definitely gets to save the day!

If you like stories about courage, friendship and adventure, you'll love The Neptune Challenge.

Visit www.pollyholyoke.com to enter to win a signed copy AND a dolphin necklace/bookmark.

Polly Holyoke

THE NEPTUNE PROJECT
Texas Bluebonnet Award 2014-15 Master List
Maryland Black-eyed Susan Book Award Nominee
Bank Street's 2014 List of Best Children's Books





PUBLISHER: Disney/Hyperion

PUB DATE:
May 19, 2015

AGE RANGE: 10-14

GRADES: 4-8

TYPE OF BOOK: Middle-grade fiction

ISBN-13:
978-1484713457

PRICE: $16.99
Alchemy's Daughter


by Mary A. Osborne


Dear Reader,

In medieval San Gimignano, seventeen-year-old Santina apprentices to Trotula, the village midwife. Some say she is victim of the midwife's spell, but Santina is determined to follow in Trotula's footsteps even as calamities strike. Kirkus says, "…this well-researched story incorporates historical information about medieval alchemy, midwifery, and the conflict between science and superstition..."

Email me at mary@maryaosborne.com for a chance to win a signed copy of the Alchemy's Daughter.

Warmly,

Mary A. Osborne
maryaosborne.com





PUBLISHER: Lake Street Press

PUB DATE:
May 15, 2015

AGE RANGE: 14 to adult

GRADES: 9 to 12

TYPE OF BOOK: YA historical novel

ISBN-13:
978-1-936181-17-9

PRICE: $16.95
Wet Hen: A Short Vowel Adventure


by Molly Coxe


Dear Reader,

Thank you for your enthusiasm for the first two Short Vowel Adventures, Rat Attack, and Princess Pig. Here's Wet Hen, a sweet spring story featuring the "short o" sound, endless rain (Think Noah's Ark starring a broody Hen and her best friend, Ben, a cheerful fieldmouse), rainbow-colored eggs, and (after 21 days afloat in the tiny hen house) baby chicks (also in rainbow colors)!

Email me at bravemouse1@gmail.com to enter to win a signed copy.

Happy Spring,
Molly Coxe





PUBLISHER: BraveMouse Books

PUB DATE:
Available now

AGE RANGE: 5 - 7

ISBN-13:
ISBN 9781940947303

PRICE: $3.99