Shelf Awareness for Readers for Tuesday, August 28, 2012

Book Candy
Authors' Life Philosophies; Classic Covers; Reading Habits
"Life philosophies of famous authors." Buzzfeed highlighted the work of Evan Robertson, who "has taken his love of literature and simple yet engaging art and turned it into a group of posters featuring the words of famous authors."

---
After noting that they "try not to judge books by their covers--both proverbially and literally," Flavorwire highlighted the "first edition covers of 25 classic books."

---

Design Milk noted that Marica Vizzuso, designer of bookshelf tower and divider B-OK, wondered why "you place books in a conventional way when you can have both an amusing and aesthetically interesting alternative?"

---

"Who's reading what?" Mashable featured an infographic highlighting e-book data compiled by HipType, which "studied the DNA of a successful book as well as the reading habits of men and women, and found that women are 50% more likely to finish a book than men."
The Writer's Life
Ivan Doig: Montana, Apple Trees and a Typewriter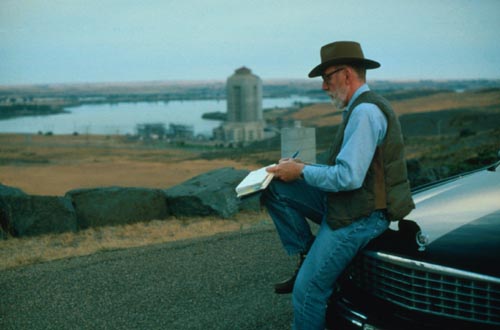 Although Ivan Doig has lived in Seattle for a very long time, he maintains that Montana is still the home of a piece of his soul. The vividness of his early life there has been forever imprinted on him, even though he left at age 23. He has been back several times through the years, usually on work and research related trips. Readers who have never been to Montana will certainly gain a real sense of it in Doig's writing; those who have will feel at home on the page. As Doig spins out his yarns, the stories take precedence and the landscape becomes important background.
In English Creek, Bucking the Sun and Eleventh Man, we met Tom Harry, the bartender with the black pompadour. In The Bartender's Tale (see our review below), he is the eponymous bartender, father of Rusty ("an accident between the sheets") and owner of the Medicine Lodge bar. Tom has brought six-year-old Rusty home to Gros Ventre from his sister's house in Arizona, where he was left when Tom's wife walked out. The real story begins the summer of 1960, when Rusty is 12.
How did you fit yourself so completely into the mind of a 12-year-old boy?
I wasn't much older than Rusty-- a freshman in high school--when I was living along the Rocky Mountain front, north of Great Falls, running sheep on a ranch, living with a family who ran a cafe much like the one in the book. That community of Dupuyer--close in feeling and geography to the setting in the book-- was part school, part ranch family and part town. Those memories are still available to me today. It was a strange mix of old timers, cafe folks and ranchers. One of the guys was an old trapper who made his living trapping in the Rockies.
Talk about your day, writing and not writing.
I get up before dawn, following the rancher's life, start writing by six, then Carol (my wife) and I take a walk around 7 a.m. We walk for 45 minutes and I count on a word or an idea coming to me as we climb a big hill toward home. Something that will relate to, expand on or improve what I've started that day. I look over all parts of speech, starts of paragraphs, chapter beginnings, trying to hear the characters' voices and the rest of the story. Then I sit down and write until lunch. I produce roughly two triple-spaced pages of typescript a day--400 to 500 words. And, yes, I work on a Royal manual typewriter, something I have hidden occasionally, lest I be taken for a Luddite. (I sent an article about that off to my editor in New York just this morning.) I also use a computer and a yellow pad, especially when I am roughing out dialogue. I am an equal opportunity writer, making good use of all implements available.
Fourteen years ago, when Carol retired, we bought this big house on a bluff. She runs the house, fields e-mails and is still my first reader. She is my amanuensis par excellence. It is a lot of house, a lot of property and a lot of gardening and yard work. That takes up much of our time. We have a vegetable garden, fruit, apple trees. I learned grafting because our apple trees produced inedible and unidentifiable fruit. I grafted on four edible species. Much improved.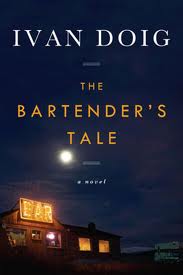 Did you always know that this was what you would do?
It struck me early on that the life of the lesser sharecropper was a fight against heavy weather odds. My Dad urged me to get an education, not to do outside work. He joined forces with my grandmother after my mother's death; he as a general ranch hand and she as a cook, so we all knew the stories of the sheepherders who work, come to town, get drunk, go out and work again. I got a Bachelor's degree in Journalism and then a Master's degree and have written ever since.
One of the irresistible parts of The Bartender's Tale is the schtick that Rusty and his friend Zoe do: "bits" that they concoct out of thin air, dialogue made up out of whole cloth. Where did this theater knowledge come from?
Well, I hung out with some theater types in college, and Book-It Repertory Theatre in Seattle did Prairie Nocturne, which brought us in touch with more theater folks. It is an interest of ours.
As a writer of realism, you seldom use symbolism, yet right at the beginning of the book is the marvelous symbol of Igdrasil, the Norse Tree of Life. Where did that come from?
It came immediately to mind because it gives the feel of the country filled with giant cottonwoods around Choteau--Gros Ventre in the book. A 99-year-old friend of ours told me the story of Igdrasil more than 20 years ago. Carol took her a copy of the book just today.
Can't let you off the hook about some offhand references to Charlie Russell and fly fishing--two Montana icons that you seem not to take too seriously.
We fished to eat; lots of worms and chicken guts in the mix, not much romance. Indeed, Charlie Russell is the iconic Montana painter.
What's next?
Next up is a sequel to Work Song, set in Butte in 1921. If all is in proper alignment, it could be out next year. --Valerie Ryan, Cannon Beach Book Company, Ore.
Inklings
What Is Wrong with Writers?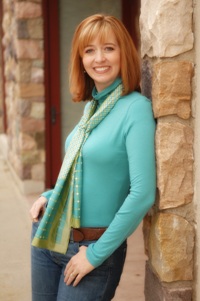 Shannon Hale received a Newbery Honor citation for Princess Academy, which introduced Miri and her classmates. Since then, she's written the graphic novel Rapunzel's Revenge with her husband, Dean Hale, illustrated by Nathan Hale (no relation), and its companion, Calamity Jack, as well as Austenland for adults. Her new book is Princess Academy: Palace of Stone.
What is wrong with writers that we're motivated by difficulty? Offer us a gentle meadow of a story and we shrug it off. Present a sticky swamp during hurricane season, and we're first in line.
In 2004, after finishing my middle grade novel Princess Academy, I considered writing a sequel. The characters and world had become like a second home, and I was excited to revisit once I'd finished two other books that were more shouty in my head.
And then Princess Academy won an award. Aided by the shiny silver sticker on its cover, the book reached more people than I could ever have hoped for. My inbox stacked up with e-mails detailing what readers imagined would happen next. I realized that Princess Academy didn't belong to me anymore. It belonged to its readers. They were already continuing Miri's story, and I was hesitant to interfere.
Several years and books later, I was still thinking about Miri. A new layer of her story popped into my head--not a happy ending, not an exciting climax, but a tricky complication. And like that, my resolve weakened. I'd been longing to return to Danland, and I needed to see how on earth Miri was going to get out of the mess I was itching to create for her.
I'd like to say I wrote Palace of Stone for the kids who requested it. Apparently I'm far too selfish. I wanted What Happens Next for me. And my internal reader--that demanding being who I write everything for--is finally content. For now. Because while writing the second book, a third story began taking shape in my head. It's napping now. Perhaps another terrifically complicated, swampy hurricane of an idea will wake it up. --Shannon Hale
Literary Lists
Demand for Old Sex; Lincoln's Poetry; Apocalypse Books Now
Sex by Madonna tops a list of the top 100 most sought after out-of-print books in 2012 as compiled by Bookfinder.com.

---
Poets.org offers a list of Abraham Lincoln's favorite poetry, many of which "were included in his intimate correspondence, memorized in private, or even recited on cue."
---

There is no cause for alarm... at this time. The Huffington Post featured the "best (or worst) of apocalyptic books."

---

Buzzfeed imagined "10 Penguin Classics you won't ever see."
Book Review
Fiction

One Last Thing Before I Go
by Jonathan Tropper
The Twelve Rooms of the Nile
by Enid Shomer
The Bartender's Tale
by Ivan Doig
Hostage
by Elie Wiesel , trans. by Catherine Temerson
Mystery & Thriller
The Survivor
by Gregg Hurwitz
Coorparoo Blues & The Irish Fandango
by G.S. Manson
The Double Game
by Dan Fesperman
Biography & Memoir
Ghost Dances
by Josh Garrett-Davis
History
The Graves Are Walking: The Great Famine and the Saga of the Irish People
by John Kelly
Children's & Young Adult

Olivia and the Fairy Princesses
by Ian Falconer
The Raft
by S.A. Bodeen
Audio

Memoirs of an Imaginary Friend
by Matthew Dicks; narrated by Matthew Brown
SOLITUDE CREEK
by Jeffery Deaver
ISBN-13 978-1455517152
Grand Central Publishing
5/12/2015
#4 in the Kathryn Dance Series


an exclusive interview with
NYT bestselling author Jeffery Deaver
SOLITUDE CREEK is the fourth in the Kathryn Dance series, following the amazing, XO. What's in store for Dance this time around?
Oh, mayhem, chaos, and terror, of course! In this novel, Kathryn gets busted down to "buck private" for making a serious mistake during an interrogation; she's relegated to civil work for the CBI, like checking health certificates and bottle deposit receipts. But you can't keep a strong woman down and she secretly runs an investigation on a villain obsessed with turning people's panic into a weapon.
THE BIG THRILL caught up with Deaver to talk about mayhem, chaos, and of course, SOLITUDE CREEK. Read about it here.

ALSO FEATURED ON THE
the big THRILL…
RUINS OF WAR by JOHN A. CONNELL: It took a decade, four defunct novels, and countless rejections before Connell landed a publishing deal. But the hard work and determination paid off. His novel, RUINS OF WAR—a unique, historical thriller set in postwar Germany—is already garnering national acclaim. And Connell, well, he's considered a debut-to-watch. Read about him in THE BIG THRILL.
THE TAPESTRY by NANCY BILYEAU: As a trained Journalist, whose editorial credentials include Rolling Stone and Entertainment Weekly, Nancy Bilyeau understands the value—and importance—of a well-researched novel. Particularly in the case of her Tudor-inspired thrillers. For THE TAPESTRY, the third book in her bestselling Joanna Stafford series, Bilyeau pits her protagonist against none other than King Henry VIII. Check it out in THE BIG THRILL.
THE SHADOW CARTEL by LAYTON GREEN: International man of action, Dominic Grey, has fought cults and criminals all over the globe. In his next escapade, he takes on THE SHADOW CARTEL. We recently sat down with Dominic's creator, Layton Green, and asked the world-traveler-turned-bestseller about his journey to the top of the bestseller list and where he plans to go from here. Catch the whole interview in THE BIG THRILL.
STONE COLD DEAD by JAMES ZISKIN: A taut tale of mystery and suspense that is at once a reminder of how a sleuth got the job done in the era before CSI and an antidote to nostalgia, James Ziskin's STONE COLD DEAD is just too cool to miss. Read all about it in THE BIG THRILL.
DYING BRAND by WENDY TYSON: In the third installment of Wendy Tyson's Allison Campbell mysteries, Campbell ends up investigating the brutal murder of her former boyfriend. As her hunt for truth reveals each secret, Campbell's past and present collide, in a mystery that is not just deadly, but the most personal yet. Get the full scoop on DYING BRAND in THE BIG THRILL.