Shelf Awareness for Readers for Friday, August 31, 2012
Bookselling News
Happy 100th, Jorge Amado!
In honor of the centennial of the birth of the late Brazilian novelist Jorge Amado, Penguin Classics has published two of his masterworks, The Double Death of Quincas Water-Bray and The Discovery of America by the Turks, both in new translations by renowned translator Gregory Rabassa. On their own and as an introduction to one of Brazil's most famous writers, we highly recommend these titles. (See our reviews below.)
For fans in the New York City area, a 100th birthday celebration is being held Thursday, September 17, at the Queen Sofia Spanish Institute, featuring Rabassa and author Rivka Galchen in a discussion and reading. Parabéns!
Book Candy
Radcliffe and Rowling; Reader Types; Mary Shelley's Relevance
Just a couple of muggles hanging out. Daniel Radcliffe chats with J.K. Rowling in a clip from Warner Bros.' Harry Potter Wizard's Collection set (Sept. 7 release). "Rowling discusses always knowing that the final battle would take place at Hogwarts," Entertainment Weekly noted, adding that viewers can also "find out the George Eliot significance behind Lily's name."

---

Are you a Hate Reader, Chronological Reader, Book-Buster, Delayed Onset Reader, Bookophile, Anti-Reader, Cross-Under, Multi-Tasker or Sleepy Bedtime Reader? The Atlantic Wire explored these variations on a bookish theme in an article headlined "What Kind of Book Reader Are You? A Diagnostics Guide."

---

"Mary Shelley has some serious staying power," Flavorwire observed in its look at some "19th century writers who are even more relevant today."

---

An array of "colorful, uber creative and adorable reading nooks these youngsters are lucky enough to read in" were showcased in Retreat by Random House's "Best Book Nooks for Kids."
Great Reads
Further Reading: Fresh Takes on Fashion
As summer winds down, you may be tired of the same old shorts and T-shirts, yet not quite ready to switch to your fall wardrobe. To help ease the transition, we suggest a bit of stylish reading.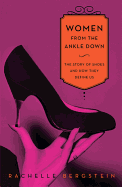 In Women from the Ankle Down, shoe maven Rachelle Bergstein presents an upbeat sartorial history of the last century, from how Salvatore Ferragamo launched his career to the obsession with Manolos caused by Carrie Bradshaw. Bergstein has done her research: each chapter places a shoe style (or several) in the context of its historical moment. Politics, pop culture and industry history all figure in this timeline of shoes, deftly intertwined with the history of femininity in the U.S.
Elizabeth Cline, author of Overdressed, widens the lens as she traces the rapid rise of "fast fashion" chains, which sell billions of pieces of shoddy, mostly foreign-made clothing to Americans every year. Concerned about the environmental, ethical and stylistic impact of such companies, Cline visits factories at home and abroad, talks to industry insiders, and visits thrift stores and donation centers. She also takes a hard look at her own closet, vowing to shop less and shop more sustainably in the future. Cline provides tips for seeking out ethically sourced clothing and urges readers to appreciate, and care for, the clothes they already own.
Once you've edited your closet and resolved to curb your shopping á la Cline, style blogger Jessica Quirk explains how to stir up outfits from existing ingredients (i.e., clothes) in What I Wore, a spinoff from her Tumblr blog of the same name. Season by season, Quirk builds a wardrobe of mixable basics, adds layers and accessories, and puts a fresh spin on classic styles. While much of her advice is basic, her "fashion cookbook" helps readers view their closets with a fresh eye. --Katie Noah Gibson, blogger at Cakes, Tea and Dreams
Inklings
Hidden Things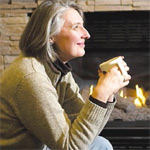 Louise Penny is the author of eight Chief Inspector Armand Gamache mysteries, the latest being The Beautiful Mystery (Minotaur). She lives outside a small village south of Montreal, surrounded by maple woods, mountains and dogs.
As I approached writing The Beautiful Mystery, I was aware that there are a number of things that link my books--and it's not the recurring characters, nor is it the location of Three Pines. What really runs through my books are themes of belonging, of community, of duality.
Three Pines, the fictional village where many of the books are set, is intentionally idyllic. A place of great peace, of tranquility, of quietude. With good people struggling to lead good lives. But behind the bright façade lies darkness as deep as you'll find in any inner city. Happy smiles hide hideous thoughts. Kind words mask rancid feelings. And while The Beautiful Mystery is the first of the Gamache novels to be set completely away from Three Pines, it brings with it those same themes--of community and belonging, duality, things hidden behind a calm and quiet exterior.
This book is set in a remote monastery in Quebec, where two dozen monks lead lives of contemplation, in a great silence broken only by their Gregorian chants.
When their monastery falls into disrepair, these gentle monks decide to make a modest recording of the chants to sell to their family and friends. But when their chants go viral, the world comes calling. And a monk is murdered.
Chief Inspector Gamache and Inspector Beauvoir, of the Sûreté du Québec, become the first men who are not monks to enter the monastery in 400 years. There they find deeply devoted men. But are they devoted to God, or to music so powerful it has become known as "the beautiful mystery"? Gamache must investigate the murder, the 'beautiful mystery,' and a community of monks trained to hide their thoughts, their feelings, their words.
The Beautiful Mystery is about conflict in a peaceful setting, about cracks in a community, about voices and silence. It's about the worldly and the Divine. It's about friendship and murder. It's about kneeling down and standing up. It's about the duality we all carry, whether in a tiny Quebec village, or a remote monastery hidden in the wilderness. --Louise Perry
Book Review
Fiction

The Double Death of Quincas Water-Bray
by Jorge Amado , trans. by Gregory Rabassa
The Discovery of America by the Turks
by Jorge Amado , trans. by Gregory Rabassa
Nine Months
by Paula Bomer
Kept in the Dark
by Penny Hancock
Return to Willow Lake
by Susan Wiggs
Mystery & Thriller

Simple
by Kathleen George
Biography & Memoir
Bringing in Finn: An Extraordinary Surrogacy Story
by Sara Connell
The Distance Between Us: A Memoir
by Reyna Grande
Current Events & Issues
Tweet Land of Liberty: Irreverent Rhymes from the Political Circus
by Elinor Lipman
"They're Bankrupting Us!": And 20 Other Myths About Unions
by Bill Fletcher Jr.
Children's & Young Adult

The Frank Show
by David Mackintosh
The Sinister Sweetness of Splendid Academy
by Nikki Loftin
Tiger Lily
by Jodi Lynn Anderson
SOLITUDE CREEK
by Jeffery Deaver
ISBN-13 978-1455517152
Grand Central Publishing
5/12/2015
#4 in the Kathryn Dance Series


an exclusive interview with
NYT bestselling author Jeffery Deaver
SOLITUDE CREEK is the fourth in the Kathryn Dance series, following the amazing, XO. What's in store for Dance this time around?
Oh, mayhem, chaos, and terror, of course! In this novel, Kathryn gets busted down to "buck private" for making a serious mistake during an interrogation; she's relegated to civil work for the CBI, like checking health certificates and bottle deposit receipts. But you can't keep a strong woman down and she secretly runs an investigation on a villain obsessed with turning people's panic into a weapon.
THE BIG THRILL caught up with Deaver to talk about mayhem, chaos, and of course, SOLITUDE CREEK. Read about it here.

ALSO FEATURED ON THE
the big THRILL…
RUINS OF WAR by JOHN A. CONNELL: It took a decade, four defunct novels, and countless rejections before Connell landed a publishing deal. But the hard work and determination paid off. His novel, RUINS OF WAR—a unique, historical thriller set in postwar Germany—is already garnering national acclaim. And Connell, well, he's considered a debut-to-watch. Read about him in THE BIG THRILL.
THE TAPESTRY by NANCY BILYEAU: As a trained Journalist, whose editorial credentials include Rolling Stone and Entertainment Weekly, Nancy Bilyeau understands the value—and importance—of a well-researched novel. Particularly in the case of her Tudor-inspired thrillers. For THE TAPESTRY, the third book in her bestselling Joanna Stafford series, Bilyeau pits her protagonist against none other than King Henry VIII. Check it out in THE BIG THRILL.
THE SHADOW CARTEL by LAYTON GREEN: International man of action, Dominic Grey, has fought cults and criminals all over the globe. In his next escapade, he takes on THE SHADOW CARTEL. We recently sat down with Dominic's creator, Layton Green, and asked the world-traveler-turned-bestseller about his journey to the top of the bestseller list and where he plans to go from here. Catch the whole interview in THE BIG THRILL.
STONE COLD DEAD by JAMES ZISKIN: A taut tale of mystery and suspense that is at once a reminder of how a sleuth got the job done in the era before CSI and an antidote to nostalgia, James Ziskin's STONE COLD DEAD is just too cool to miss. Read all about it in THE BIG THRILL.
DYING BRAND by WENDY TYSON: In the third installment of Wendy Tyson's Allison Campbell mysteries, Campbell ends up investigating the brutal murder of her former boyfriend. As her hunt for truth reveals each secret, Campbell's past and present collide, in a mystery that is not just deadly, but the most personal yet. Get the full scoop on DYING BRAND in THE BIG THRILL.