Shelf Awareness for Readers for Friday, October 5, 2012
Book Candy
Game of Thrones High Tops; Hemingway's Ballantine Boost
Swordplay sneakers. Fashionably Geek suggested you "support your favorite house with these Game of Thrones Converse High Tops."

---

For R.L. Stine, it's the em-dash; for NPR book critic Maureen Corrigan, it's the semicolon. The Atlantic Wire highlighted "writers' favorite punctuation marks."

---

"How Ernest Hemingway probably got free beer for life." Buzzfeed featured a 1951 magazine advertisement with a letter Papa wrote from Cuba to Ballantine Beer.

---

Vertigo-inducing library. Pay a quick, if dizzying, visit to architect Tadao Ando's Shiba Ryotaro Memorial Museum in Osaka, Japan.
The Writer's Life
Dennis Lehane: Writing the Gangster Novel, Organically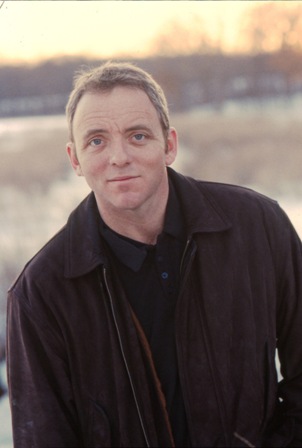 Dennis Lehane has come a long way from the poor, struggling writer who first made a name for himself in 1994 with his debut novel, A Drink Before the War. The possibility that his Shamus Award–winning debut novel might forever label him a genre writer didn't faze Lehane. Instead he celebrated "the greatest accident of [his] life."
That genre label hasn't stuck to Lehane, though. With the publication of Mystic River (and its subsequent movie), Lehane broke through to a wider audience. In a 2001 interview in January magazine, he acknowledged, "The mystery/crime genre has been in a sort of renaissance for about 15 years that's really, finally hitting serious steam. People are standing up and going: Some of these people are really writing good books."
Now, more than a decade later, with the publication of Live by Night (see our review below), the follow-up to his epic novel The Given Day, Lehane said, "If there's any stigma left, I don't hear about it, probably because I don't really roll in circles where, if I did, I'd have to pretend I gave a sh**. There are so many more important things to worry about than how you're perceived by strangers."
Labels or not, Lehane continues to maintain a strong crime element in his writing. "I think the crime novel is where the social novel went (and maybe it's always resided there in some respects). We write about the have-nots and the marginalized, the corrupted dreamers who'd be happy to sell out if only someone would care enough to ask them. If you want to know where America was in the '90s or the aughts, you either listen to hip hop or read crime fiction."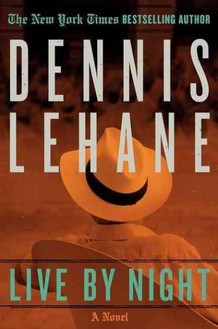 Social issues abound in Lehane's newest novel. Despite its 1920s setting, the themes of Live by Night are timely. As Lehane points out, "The only difference is that in 1928 we were less stratified and the gulf between the haves and the have-nots wasn't nearly as egregious. Otherwise, same forces at work, same irreconcilable dilemmas, same exploitations of populist rage, same hypocrisy masquerading as moralism, same gutless 'leadership' whoring themselves to the robber barons."
Live by Night is the second book in what will be a trilogy. That wasn't Lehane's plan when he set out to write The Given Day, however. "The Given Day was so large-scale I didn't want to even think of something else while I was writing it. Even so, I've always wanted to write a gangster novel, so during the four years I spent on The Given Day, in the farthest rear corners of my mind, I kept liking Joe as a gangster. His emotional and psychological bio felt apt. So when I finished that book, I thought, 'So what happens to Joe?' "
The answer to that question became Live by Night. Lehane follows Joe through the Roaring Twenties, running rum, becoming a gangster, falling in love. And a Fitzgeraldesque aura permeates the story. Was it intentional? "Fitzgerald casts his shadow over just about every American novel that came after him. When it comes to a novel set in the mid-'20s, he looms so large that if I'd considered him I would have been paralyzed."
Also notable in Live by Night is a likeness between Joe and Lehane himself, "Joe and I probably share a lot of the same chips on our shoulders. He's also not as smart as he thinks he is, and neither am I most days. And then, yeah, there are maybe pieces of both of us that simply don't know how to fit. I didn't carve out the path I did as a writer because I was trying to rebel. I wasn't trying to stick it to the literary fiction establishment by writing elegant pulp, if you will, and I wasn't trying to stick it to the mystery fiction establishment when I rejected genre constraints. I was just writing a novel as organically as I could. There was never a plan besides that. If I was any good at belonging to clubs or toeing lines, I wouldn't have become a writer in the first place. I'm a square peg and the world's a round hole. And I'm cool with that because I have no idea how to be anything else."
One defining characteristic of Dennis Lehane's novels is his Boston setting. Each of his books has exhibited Lehane's particular view of the city he loves. But in a geographical twist, Live by Night takes Lehane and Joe Coughlin out of Boston and to Ybor City, Fla. The loss of a story element that has consistently worked for a writer might create challenges for some, but Lehane seems to easily slide into this new setting. "I live part of the year in St. Petersburg, went to college there, and have misspent several nights of my life just across the bay in Ybor City. I love urban landscapes, particularly when they're near water, and Ybor fits that bill. Plus, the history of it is filled with revolutionaries and music and gangsters and sultry women and long, electric nights; in its heyday, it was essentially Casablanca in West Central Florida. Once I hipped to that idea, the whole book opened up for me."
In fact, Live by Night seems to be a book just demanding to be written. In earlier interviews, Lehane noted that A Drink Before the War went through about a dozen drafts before it was ready for publication. But with Live by Night, he said, "I knew every move to make without knowing how I knew." Is it a growth process? Has the revision process diminished with time and experience? "Every book's different. I wish I had the process nailed by now, but I'm not even close. Live by Night went through a few drafts but nothing extreme. It came out pretty easily and remained that way through the edits. By contrast, the book I'm writing now, which follows Joe Coughlin during the 1940s, has been a brutal writing experience. There's no rhyme or reason to it that I can find."
While the question of whether Lehane finds a rhyme or reason to the process of writing is still unknown, he's obviously found a rhyme and reason to the outcome. Live By Night is a stunning gangster novel and at its core a love story; the movie rights have already been snatched up by Warner Brothers. And if that's not enough for one year, Lehane is also launching a HarperCollins imprint bearing his name. It begins with Attica Locke's The Cutting Season. Anyone else out there flying under the radar we should watch out for? Lehane suggests "James Carlos Blake." Great, someone to check out right after reading Live by Night. --Jen Forbus of Jen's Book Thoughts
Inklings
An Author Embraces Hollywood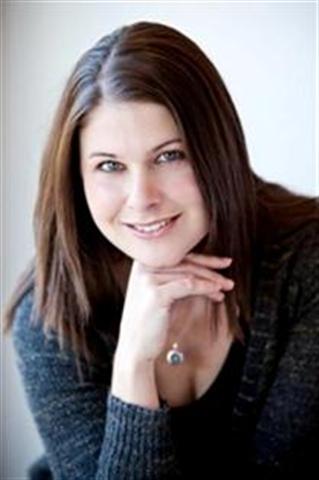 Before Jessica Shirvington made her authorial debut with Embrace and its sequel Entice (published this month by Sourcebooks), she founded and ran Stella Imports, a coffee distribution company in London, and managed restaurants in Sydney, Australia. She lives in Sydney with her husband, FOXTEL presenter and former Olympic sprinter Matt Shirvington, and their two daughters.
On my very first day in the U.S., as I was about to embark on the book tour for Entice, I received a phone call from my publisher: the CW Network, Steven Spielberg's Amblin Entertainment and CBS Television Studios had taken the option on my Embrace series, and are in development stages for a new television series! Cue much whooping and cheering! And I happened to be in Los Angeles, of all places, when the news hit! What a fabulous way to start the tour!
Many people have asked me how I feel about seeing the Embrace series make the leap to the screen and if I'm nervous about the adaptation not being what I expect. My answer to this is--I don't have any expectation of how it should translate to the screen. So I find that I am not really nervous at all.
I love seeing unique interpretations of stories. I love Romeo and Juliet, but as a movie, my favorite adaptation is Baz Luhrmann's movie with Leonardo DiCaprio and Claire Danes. He made the story his own. As viewers, we were able to put our trust in him and let the story unravel as if it were completely new.
There is no doubt that the writers working on Embrace will have to look at the novels in ways I've never considered. For one, my books are written in the first person, from Violet's point of view, so I'll be really interested to see how the minor characters develop and the stories that will stem from them.
I'm sure, if it all continues to move forward, there will be much learning ahead, but honestly, the excitement of one day seeing Violet, Lincoln and Phoenix come to life on the screen outweighs any nervousness (by a lot!). --Jessica Shirvington
Literary Lists
Author-Illustrators; Poets on Poetry; Top Apocalypse Books
In honor of this year's 75th anniversary of the publication of J.R.R. Tolkien's The Hobbit, Flavorwire showcased "10 literary authors who illustrated their own work."

---
A list of the "50 greatest quotes about poetry from poets" was offered by the Huffington Post.

---
Anthony Horowitz, author of the Power of Five series, chose his "top 10 apocalypse books" for the Guardian.

---

Contending that "your favorite authors are frauds," Mental Floss showcased "6 famous ghostwriters."
Book Review
Fiction
Live by Night
by Dennis Lehane
The Weight of Temptation
by Ana Maria Shua , trans. by Andrea G. Labinger
What the Zhang Boys Know
by Clifford Garstang
Toby's Room
by Pat Barker
The Ruins of Lace
by Iris Anthony
Escape Velocity: A Charles Portis Miscellany
by Charles Portis; Jay Jennings, editor
Mystery & Thriller
Talking to the Dead
by Harry Bingham
Food & Wine

Consider the Fork: A History of How We Cook and Eat
by Bee Wilson
Science

Spillover: Animal Infections and the next Human Pandemic
by David Quammen
Children's & Young Adult

In a Glass Grimmly
by Adam Gidwitz
The Diviners
by Libba Bray
The Lost Girl
by Sangu Mandanna
Performing Arts
Ride, Boldly Ride: The Evolution of the American Western
by Mary Lea Bandy , Kevin Stoehr; foreword by Clint Eastwood
SOLITUDE CREEK
by Jeffery Deaver
ISBN-13 978-1455517152
Grand Central Publishing
5/12/2015
#4 in the Kathryn Dance Series


an exclusive interview with
NYT bestselling author Jeffery Deaver
SOLITUDE CREEK is the fourth in the Kathryn Dance series, following the amazing, XO. What's in store for Dance this time around?
Oh, mayhem, chaos, and terror, of course! In this novel, Kathryn gets busted down to "buck private" for making a serious mistake during an interrogation; she's relegated to civil work for the CBI, like checking health certificates and bottle deposit receipts. But you can't keep a strong woman down and she secretly runs an investigation on a villain obsessed with turning people's panic into a weapon.
THE BIG THRILL caught up with Deaver to talk about mayhem, chaos, and of course, SOLITUDE CREEK. Read about it here.

ALSO FEATURED ON THE
the big THRILL…
RUINS OF WAR by JOHN A. CONNELL: It took a decade, four defunct novels, and countless rejections before Connell landed a publishing deal. But the hard work and determination paid off. His novel, RUINS OF WAR—a unique, historical thriller set in postwar Germany—is already garnering national acclaim. And Connell, well, he's considered a debut-to-watch. Read about him in THE BIG THRILL.
THE TAPESTRY by NANCY BILYEAU: As a trained Journalist, whose editorial credentials include Rolling Stone and Entertainment Weekly, Nancy Bilyeau understands the value—and importance—of a well-researched novel. Particularly in the case of her Tudor-inspired thrillers. For THE TAPESTRY, the third book in her bestselling Joanna Stafford series, Bilyeau pits her protagonist against none other than King Henry VIII. Check it out in THE BIG THRILL.
THE SHADOW CARTEL by LAYTON GREEN: International man of action, Dominic Grey, has fought cults and criminals all over the globe. In his next escapade, he takes on THE SHADOW CARTEL. We recently sat down with Dominic's creator, Layton Green, and asked the world-traveler-turned-bestseller about his journey to the top of the bestseller list and where he plans to go from here. Catch the whole interview in THE BIG THRILL.
STONE COLD DEAD by JAMES ZISKIN: A taut tale of mystery and suspense that is at once a reminder of how a sleuth got the job done in the era before CSI and an antidote to nostalgia, James Ziskin's STONE COLD DEAD is just too cool to miss. Read all about it in THE BIG THRILL.
DYING BRAND by WENDY TYSON: In the third installment of Wendy Tyson's Allison Campbell mysteries, Campbell ends up investigating the brutal murder of her former boyfriend. As her hunt for truth reveals each secret, Campbell's past and present collide, in a mystery that is not just deadly, but the most personal yet. Get the full scoop on DYING BRAND in THE BIG THRILL.