Shelf Awareness for Readers for Friday, October 12, 2012
Book Candy
Hobbit Coins; Little Women Texts OMG; Axe Bookshelves
New Zealand Post is issuing The Hobbit coins as official legal tender in anticipation of next month's premiere of Peter Jackson's film adaptation of the Tolkien classic. In addition, the city of Wellington "will actually call itself 'The Middle of Middle-earth' during the week of the premiere, a change that will be evident on postmarked letters and even the masthead of the city's main newspaper," International Business Times reported.

---

LOL Louisa May! The Hairpin imagined "texts from Little Women."

---

"Mr. Scott Fitzgerald deserves a good shaking." Flavorwire offered "15 scathing early reviews of classic novels."

---

With this set of Axe Bookshelves, the "good news is that you won't need a hammer and nails to hang this bookcase. Just aim and swing vigorously," Neatorama wrote.
The Writer's Life
Bronwen Hruska: An Epidemic of Over-medicated Children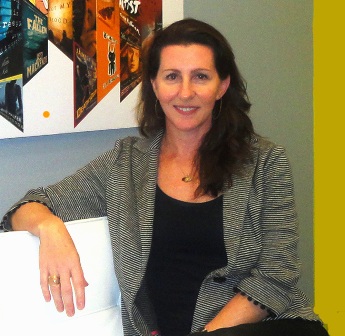 When Bronwen Hruska's eldest son was in third grade, a teacher at his private school in Manhattan recommended medication to help him settle down in class. The question was: Did he really need it? "Will did not bounce off walls," Hruska recalled in an op-ed piece published in the New York Times this summer. "He was an eight-year-old boy with normal eight-year-old boy energy." For his school, however, that represented not just a mild discipline problem, but a potential blow to its test scores.
Hruska and her ex-husband began giving their son a generic form of Ritalin on school days, although their son put an end to it a year later after telling them what he'd learned about the potential side effects. She couldn't shake her frustration with the experience, and began channeling that energy into a novel that uses thriller-like pacing to turn one family's crisis into an indictment of the succeed-at-any-cost culture that's grown up around private education. "These characters are not me or my son or my ex-husband," Hruska said of the family at the center of her debut novel, Accelerated (just published by Pegasus Books), but the initial stages of the story are "verbatim from my own experience." ("Thankfully," she added, "not the later parts.")
She signed up for a creative writing class that demanded students bring a full plot synopsis to the first session as a spur to get started; when the class ended three months later, she had the first few chapters down and was ready to spend the next nine months completing an initial draft. "I worked as a screenwriter for seven years, so I had mapped it out as a screenplay," she said of the storyline, which she eventually began whittling down to a more novelistic level. "It was really... bad," she confessed, "but I started to rewrite, and then I was invited into a master class workshop led by the novelist Jennifer Belle. That's when the draft really started to shape up."
Then, in 2008, Hruska's mother, Soho Press co-founder Laura Hruska, invited her daughter into the business with the aim of taking it over after her death (which came two years later). "Working at a publishing company was never something I saw myself doing," she recalled, but "I owed it to myself, and to her, to try... and the more I learned about it the more I started to like it--now I absolutely love being able to bring these amazing books into the world, and continue what my mother started."
Meanwhile, over the course of several years, Hruska continued to refine the manuscript of Accelerated whenever she could find a few moments--tightening the plot further, sharpening the dialogue, and removing the perspective of a sympathetic teacher to tell the story entirely through the eyes of the father being pressured to accept the school's description of his young son as a problem child in need of medical treatment. (She chose a male protagonist in order to emphasize his outsider status among the other private school parents; "It's really a culture of women," she said.)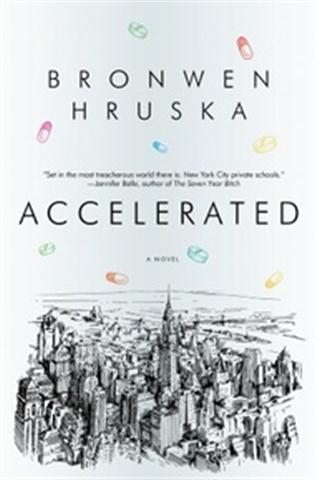 Once the novel was completed, Hruska admitted, "I didn't actually know how to go about getting an agent, which is kind of ridiculous." She knew agents, of course, but she didn't want to show the book to anyone that she was already working with regularly as a publisher, fearing the potential awkwardness if they weren't impressed. Eventually, one of Soho's editors, Juliet Grames, put her in touch with Stephanie Abou, who loved the novel and began submitting it to editors.
"A lot of people passed on the book," Hruska recalled, but her new role at Soho softened the blow of the rejections. "As a publisher," she explained, "you really have to fall in love with a book. You can't feel casual about a book that you want to publish." Eventually, it was accepted by Pegasus Books, another indie publisher located not so far from Soho's offices. "But I'd never met them before," Hruska said with a laugh. "I finally met them in Frankfurt, two weeks after they'd already bought my book."
She's thrilled with how they've been treating her as an author, including their willingness to listen to marketing suggestions based on things she's learned trying to sell Soho titles. "There are many e-mails I don't send because I don't want to be 'that author,' " she said, "but at the same time, I've only ever felt open arms from them.... I really do feel like we have a nice partnership."
As for her sons? Will, whose misdiagnosis inspired Accelerated, is now an honors student in high school. Her younger son is enrolled in a different school, where they haven't outright recommended medicating him but have encouraged Hruska to have him evaluated. "So I see the patterns emerging again," she said, "and I'm keeping an eye on the situation." If her novel encourages other parents to push back at schools trying to steer their children into treatment, she said, all the better. "I wanted to look at how hard it is for parents to make these kinds of decisions," she reflected. "It's not something they talk about much amongst themselves." Hruska's op-ed piece already set that conversation in motion; Accelerated is likely to take it even further. --Ron Hogan, founder of Beatrice.com
Inklings
An Object Lesson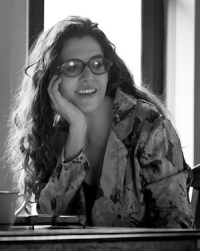 Sadie Stein is deputy editor of the Paris Review. Object Lessons: The Paris Review Presents the Art of the Short Story was just published by Picador.
The anthology Object Lessons is at first glance straightforward: Lorin Stein and I went to 20 masters of the short story and asked each one to choose his or her favorite from the Paris Review's 60-year archive. Then each person wrote an introduction explaining what he or she learned from the story. From the beginning, it seemed like a sure-fire concept--a great collection of stories, curated by some of our favorite working writers.
True, but the process ended up being so much more than I had anticipated: it was a window not just into what makes a memorable story, but how writers relate to literature, and to each other.
While some of the most famous stories from the archive were chosen quickly, so were lesser-known treasures that the authors remembered from their original publication. It was exciting to know that the pieces had made such impressions on writers who would go on to great careers of their own. But the process became even more pleasurable once we started tracking down the authors whose work had been selected. They were uniformly delighted, often touched. I can't pretend the morass of securing permissions was all fun--many of the Review's early records are, to put it mildly, sketchy, as often based on gentleman's agreements as paper contracts.
Some of it was drudgery--but, as one agent put it, as she graciously gave us permission to publish a story by her late client: "This will keep his work alive and available to a new generation." If the anthology taught me nothing else, it showed the power of veteran writers to inspire new ones, and--equally--how much their appreciation and gratitude repay the debt, as the years go by. Talk about an object lesson.
Literary Lists
Top YA Film Adaptations; Ezra Pound's Six Types of Writers
Flavorwire screened "10 YA novel to film adaptations that kept their edge."

---
Feeling a little down? The "best science fiction and fantasy novels to cheer you the frak up" were recommended by io9.

---
Ezra Pound created a list of the "6 types of writers and two rules for forming an opinion," which Brain Pickings described as a "taxonomy of scribe sensibilities, with some advice on how to make up your mind."

---
Caspar Henderson, author of The Book of Barely Imagined Beings, chose his "top 10 natural histories" for the Guardian.
Book Review
Fiction

The Lighthouse Road
by Peter Geye
Little Star
by John Ajvide Lindqvist , trans. by Marlaine Delargy
Blasphemy: New and Selected Stories
by Sherman Alexie
Miss Dreamsville and the Collier County Women's Literary Society
by Amy Hill Hearth
In Need of a Good Wife
by Kelly O'Connor McNees
The Heart Broke In
by James Meek
Mystery & Thriller
Mad River
by John Sandford
The Vanishing Point
by Val McDermid
Science Fiction & Fantasy
Three Parts Dead
by Max Gladstone
Graphic Books

Sailor Twain: Or: The Mermaid in the Hudson
by Mark Siegel
Children's & Young Adult

This Is Not My Hat
by Jon Klassen , illus. by Jon Klassen
Nightsong
by Ari Berk , illus. by Loren Long
Shadows
by Ilsa J. Bick
SOLITUDE CREEK
by Jeffery Deaver
ISBN-13 978-1455517152
Grand Central Publishing
5/12/2015
#4 in the Kathryn Dance Series


an exclusive interview with
NYT bestselling author Jeffery Deaver
SOLITUDE CREEK is the fourth in the Kathryn Dance series, following the amazing, XO. What's in store for Dance this time around?
Oh, mayhem, chaos, and terror, of course! In this novel, Kathryn gets busted down to "buck private" for making a serious mistake during an interrogation; she's relegated to civil work for the CBI, like checking health certificates and bottle deposit receipts. But you can't keep a strong woman down and she secretly runs an investigation on a villain obsessed with turning people's panic into a weapon.
THE BIG THRILL caught up with Deaver to talk about mayhem, chaos, and of course, SOLITUDE CREEK. Read about it here.

ALSO FEATURED ON THE
the big THRILL…
RUINS OF WAR by JOHN A. CONNELL: It took a decade, four defunct novels, and countless rejections before Connell landed a publishing deal. But the hard work and determination paid off. His novel, RUINS OF WAR—a unique, historical thriller set in postwar Germany—is already garnering national acclaim. And Connell, well, he's considered a debut-to-watch. Read about him in THE BIG THRILL.
THE TAPESTRY by NANCY BILYEAU: As a trained Journalist, whose editorial credentials include Rolling Stone and Entertainment Weekly, Nancy Bilyeau understands the value—and importance—of a well-researched novel. Particularly in the case of her Tudor-inspired thrillers. For THE TAPESTRY, the third book in her bestselling Joanna Stafford series, Bilyeau pits her protagonist against none other than King Henry VIII. Check it out in THE BIG THRILL.
THE SHADOW CARTEL by LAYTON GREEN: International man of action, Dominic Grey, has fought cults and criminals all over the globe. In his next escapade, he takes on THE SHADOW CARTEL. We recently sat down with Dominic's creator, Layton Green, and asked the world-traveler-turned-bestseller about his journey to the top of the bestseller list and where he plans to go from here. Catch the whole interview in THE BIG THRILL.
STONE COLD DEAD by JAMES ZISKIN: A taut tale of mystery and suspense that is at once a reminder of how a sleuth got the job done in the era before CSI and an antidote to nostalgia, James Ziskin's STONE COLD DEAD is just too cool to miss. Read all about it in THE BIG THRILL.
DYING BRAND by WENDY TYSON: In the third installment of Wendy Tyson's Allison Campbell mysteries, Campbell ends up investigating the brutal murder of her former boyfriend. As her hunt for truth reveals each secret, Campbell's past and present collide, in a mystery that is not just deadly, but the most personal yet. Get the full scoop on DYING BRAND in THE BIG THRILL.