Shelf Awareness for Readers for Tuesday, October 30, 2012

Book Candy
Writer Costume Ideas; Gollum Sculpture in New Zealand
For its "Ghost of Authors Past" slide show, the Huffington Post offered grim sartorial advice on how to "dress as 13 famous (but dead) writers this Halloween."

---

Scary in its own right is the giant Gollum sculpture on display at Wellington Airport, which celebrates Peter Jackson's soon-to-be-released movie The Hobbit: An Unexpected Journey by welcoming visitors to "the middle of Middle-earth" in New Zealand, the Guardian noted.

---

"I wanted to discover if other people would enjoy as much as I do seeing books displayed without any other object to distract attention from them," said designer Paul Cocksedge, whose Invisible Bookend was featured by Geeky Gadgets.

---

Do people secretly judge each other based on the contents of their bookshelves? The Digital Reader reported that the answer is yes, according to a recent art exhibit in New York City shows that "invites viewers to answer a series of questions by shelving black and red books on one of seven shelves."
The Writer's Life
Steven Barthelme: The World as He Sees It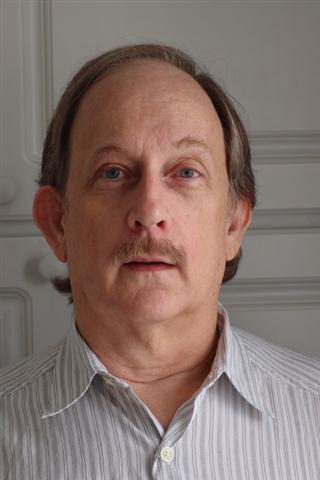 Steven Barthelme was born in 1947 in Houston, Tex., the son of the celebrated architect Donald Barthelme Sr. He is the author of the story collection And He Tells the Little Horse the Whole Story and the co-author, with his brother Frederick, of Double Down: Reflections on Gambling and Loss. He is the director of the Center for Writers at the University of Southern Mississippi, where he also teaches English. His writing has appeared in the New York Times Magazine, the Los Angeles Times, the Washington Post and McSweeney's, among others. Hush Hush, Barthelme's new story collection, was just published by Melville House.
You have had a long and illustrious career as a short story writer. What is it about the short story that draws you, as a medium?
"Illustrious" is putting it a little grandly. I don't know what has drawn me to short stories, besides failed novels. Novels take a long time. I once read some writer saying that to write fiction you had to think you were the smartest person in the room while you were writing. It's hard to believe that for more than 10 minutes at a time, hard to believe at all past a certain age. Around 19, I'd guess. Of course, I've always lived in small rooms--that helps.
In your stories you frequently shed light on aspects of America that are often either ignored or romanticized by other literary writers--in settings that are neither urban sprawl nor suburbia, neither glamorous nor overtly repressive. Was this your goal, articulated more overtly in the satirical "The New South: Writing the Newsweek Short Story"?
Very young, I discovered that the world I saw didn't look like the one portrayed in magazines. The high seriousness and culture criticism bothered me, all that throat-clearing and frowning. I tried to describe what I saw. But trying to write anything true was difficult without some sort of corrupting self-awareness or junk heroics leaking in. When I read Jean Rhys's early novels, I thought, Christ, this is it--everyone else is lying, insufferably artificial. Hemingway, a great writer by any standard, looked like a fake.
What motivated you to write such a satire?
There's a lot about journalism in there. The fiction I most dislike is false in the same way, as if you're going to capture the culture by reporting some suburban [or ghetto] family's life story. In the suburb where I grew up, every house was full of strange folks, no two alike. Scott Fitzgerald says somewhere, "Set out to create an individual and you find you've created a type; set out to create a type, and you find that you've created--nothing." The story's statements are all misrepresentations which are being continuously turned over, as practically everything in it is stated then revised, qualified, denied, discredited. I'd like to write a novel that way.
In your stories there is often an element of breaking away from the entrenched social order--sometimes through the literal breakage of objects, such as in "Hush Hush" and "Vexed." In "Interview," Quinn breaks from the life of comfortable materialism as a lawyer. Does this seemingly recurrent theme have personal significance for you?
It must. It's really a rejection of success. Imagined success--I was a success of a kind in high school but since then success has been thin on the ground. So I may write about people rejecting success, but I have no idea if that actually works, makes for joy.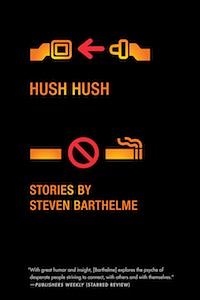 In "Claire," "In the Rain" and "Ask Again Later," a cat seems to act as the symbolic alter ego of the protagonist--lost, injured, in need of care--while the protagonist himself has trouble expressing emotion. What do you think it is about animals that makes them an effective symbol for repressed emotion?
Well, maybe. I don't know that they are symbols of repressed emotion. One's relations with other species are surely limited, but also kind of pure. I love animals, always have, all kinds. I love skinks. But especially cats. Limited, I understand them and they understand me. They're not people. I'm not sure it amounts to any more than that.
In "Hush Hush" the protagonist breaks one of the most universally enforced taboos, along with much of his bright new home furnishings. Did this frank story of incest lead to any controversy when it was first published in Boulevard?
Of course, I wondered if it might, but it didn't.
In "Claire," "Interview" and "Hush Hush," money becomes a source of discontent for the character, with financial success corresponding to feelings of malaise. Do you think contemporary American society places too much emphasis on the attainment of money as a goal for life?
Money is not these folks' main problem. Money is a side issue. It is true that the deals they've made to make a living, in two of those stories, have led to a kind of falseness. Fraudulence is their main problem. Tilden, in "Hush Hush," is supposed to be in a different bind.
Society is complicated, bewildering. I'm uncomfortable talking about it. Seems to me there's almost nothing one can say about it in a general way that is worth paying attention to. My fellow professors don't share this view, nor do many writers.
On money, I can tell you that walking around a casino with $4,000 in hundreds folded up in your shirt pocket is a buzz, and you should give money to guys on street corners. Past that, Mae West said 80 years ago, "I've been rich and I've been poor, and let me tell you, honey, rich is better."
"Heaven" is a devastating satire of a self-important artist. A contrasting parallel is "Acquaintance," where Quinn comes face to face with the writer he could have been, and finds that it's someone very ordinary like himself. Both stories, in different ways, seem like attempts to demystify the popular idea that artists exist in a world apart.
Well read on your part. I was raised in the religion of art so maybe I'm a little sensitive there. I like some stories, poems, paintings, jokes, but I kinda hate art, or the religion anyway, so I'm a little schizophrenic. I like Dave Hickey's take on all this, and if I really understood what he's saying all the time, which I don't, I think that could resolve my problem.
Quinn is supposed to love the guy he finds as the "writer he could've been," Ethan, and the reader is supposed to love him, too. He's ordinary only in the sense that Jesus was ordinary. He's a good soul, and all the light that's falling is falling on his idealism, his love of the girl, his admiration for the dead mentor. Or at least that was how it was supposed to work. --Ilana Teitelbaum, book reviewer at the Huffington Post
Inklings
Dirty Dancing in Jane Austen's Novels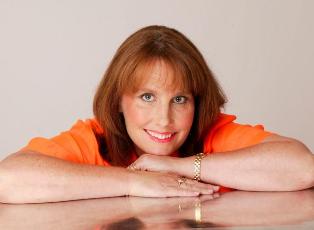 Susannah Fullerton is president of the Jane Austen Society of Australia. Her book A Dance with Jane Austen: How a Novelist and Her Characters Went to the Ball, was just published. She is also the co-editor of Jane Austen--Antipodean Views and the author of Jane Austen and Crime.
"Mommy Porn" is the latest craze in the book world, with erotic shades of grey getting readers very excited. But Jane Austen did all that 200 years ago--and she did it so much better! She gave her readers not 50, but hundreds of shades of emotion and sexual attraction. She created Mr. Darcy, the world's sexiest hero in fiction. And she handled the theme of desire between men and women with infinitely more subtlety and power.
It is in the ballroom that Jane Austen shows most clearly the excitements and satisfactions of sexual attraction. Dances in her novels provide enticing opportunities for men and women to touch and move together, away from chaperones. Dances involved exciting glimpses of ankles and cleavages, arms pressed around a waist, eyes gazing into eyes--not as explicit as bedroom scenes of today, but far more memorable and fascinating.
Many of Jane Austen's heroines meet their future husbands at dances. Where would Pride and Prejudice be had Darcy not spurned Elizabeth as a dance partner, only to later gaze at her with lust and longing. Catherine of Northanger Abbey takes one look at Henry Tilney and cannot wait to be led by him into the dance (and into marriage and into the bedroom). There are the men who strut the room seeking out Georgian eye-candy, there are the Lydia Bennets who fall into the arms and beds of any man who wants them, and there are the plain girls who cannot seem to entice any man at all.
Jane Austen so vividly depicts the sexiness of dancing and the mating game, and she does it with elegance, understanding, feminism, and with a use of language that will make her novels adored around the world long after "Mommy Porn" has died away.
Literary Lists
Trick or Read; Otto Penzler's Fave Ghost Stories; Twisted Couples
If you believe "one of the great treasures of the Halloween season is the excuse to curl up with a big, terrifying tome," then Flavorwire's "10 terrifying new reads for Halloween 2012" may be just the list for you.

---

Mystery legend Otto Penzler, founder of the Mysterious Press and New York City's Mysterious Bookshop, recommended "14 scariest ghost stories" for the Huffington Post, which also unearthed a selection of "books that will scare the s*** out of you."

---

Mental floss found "11 book sequels you probably didn't know existed."

---

The recent Broadway revival of Edward Albee's Who's Afraid of Virginia Woolf? inspired Flavorwire to reveal "the 10 most twisted couples in literature."
Book Review
Fiction

The Stockholm Octavo
by Karen Engelmann
The Twelve
by Justin Cronin
Wild Girls
by Mary Stewart Atwell
Sharp and Dangerous Virtues
by Martha Moody
Block 11
by Piero Degli Antoni , trans. by Erin Waggener
Science Fiction & Fantasy
Bowl of Heaven
by Larry Niven , Gregory Benford
Biography & Memoir
Distilled Spirits: Getting High, Then Sober, with a Famous Writer, a Forgotten Philosopher, and a Hopeless Drunk
by Don Lattin
Driving the Saudis: A Chauffeur's Tale of the World's Richest Princesses (plus their servants, nannies, and one royal hairdresser)
by Jayne Amelia Larson
History
Shakespeare's Tremor and Orwell's Cough: The Medical Lives of Famous Writers
by John J. Ross
Science

Medusa's Gaze and Vampire's Bite: The Science of Monsters
by Matt Kaplan
Children's & Young Adult

Ten Good and Bad Things About My Life (So Far)
by Ann M. Martin
Iron Hearted Violet
by Kelly Barnhill , illus. by Iacopo Bruno
--- SPECIAL ADVERTORIAL OFFERINGS ---

The Neptune Challenge


by Polly Holyoke


Dear Reader,

When the sea has become humankind's last hope, a group of teens fights to survive beneath the waves. I've always LOVED reading stories about quiet kids who become heroes. So In The Neptune Challenge, I continue the story of Nere Hanson, a shy girl who is brave, can talk to dolphins, and definitely gets to save the day!

If you like stories about courage, friendship and adventure, you'll love The Neptune Challenge.

Visit www.pollyholyoke.com to enter to win a signed copy AND a dolphin necklace/bookmark.

Polly Holyoke

THE NEPTUNE PROJECT
Texas Bluebonnet Award 2014-15 Master List
Maryland Black-eyed Susan Book Award Nominee
Bank Street's 2014 List of Best Children's Books





PUBLISHER: Disney/Hyperion

PUB DATE:
May 19, 2015

AGE RANGE: 10-14

GRADES: 4-8

TYPE OF BOOK: Middle-grade fiction

ISBN-13:
978-1484713457

PRICE: $16.99
Alchemy's Daughter


by Mary A. Osborne


Dear Reader,

In medieval San Gimignano, seventeen-year-old Santina apprentices to Trotula, the village midwife. Some say she is victim of the midwife's spell, but Santina is determined to follow in Trotula's footsteps even as calamities strike. Kirkus says, "…this well-researched story incorporates historical information about medieval alchemy, midwifery, and the conflict between science and superstition..."

Email me at mary@maryaosborne.com for a chance to win a signed copy of the Alchemy's Daughter.

Warmly,

Mary A. Osborne
maryaosborne.com





PUBLISHER: Lake Street Press

PUB DATE:
May 15, 2015

AGE RANGE: 14 to adult

GRADES: 9 to 12

TYPE OF BOOK: YA historical novel

ISBN-13:
978-1-936181-17-9

PRICE: $16.95
Wet Hen: A Short Vowel Adventure


by Molly Coxe


Dear Reader,

Thank you for your enthusiasm for the first two Short Vowel Adventures, Rat Attack, and Princess Pig. Here's Wet Hen, a sweet spring story featuring the "short o" sound, endless rain (Think Noah's Ark starring a broody Hen and her best friend, Ben, a cheerful fieldmouse), rainbow-colored eggs, and (after 21 days afloat in the tiny hen house) baby chicks (also in rainbow colors)!

Email me at bravemouse1@gmail.com to enter to win a signed copy.

Happy Spring,
Molly Coxe





PUBLISHER: BraveMouse Books

PUB DATE:
Available now

AGE RANGE: 5 - 7

ISBN-13:
ISBN 9781940947303

PRICE: $3.99