Shelf Awareness for Readers for Friday, November 2, 2012
Book Candy
Hobbit Airline Safety Video; Knuckle Literary Tatts
An airline safety announcement you'll pay attention to. Air New Zealand partnered with WETA Workshop on a brand new Hobbit inspired Safety Video, featuring a cameo appearance by Peter Jackson.

---

In her Huffington Post essay "When Bad Books Happen to Good People," Allison Hill, president and COO of Vroman's Bookstore, Pasadena, Calif., and Book Soup, Los Angeles, considers the three "truly bad" books she has read in her 20 years of bookselling and 40 years of reading.
---
Punch out illiteracy. Boing Boing shared "a great, pro-literacy set of knuckle-tatts" spotted at a Toronto restaurant.

---

"Word Portraits": Check out Artist John Sokol's works, including "James Joyce as Ulysses," "Borges as 'The Secret Miracle' and 'Eudora Welty as 'Powerhouse' "
Great Reads
Further Reading: Soccer
Baseball has been the subject of many great books. Although some are more about race, ethnic assimilation or the American Dream, most are fundamentally about the game itself--players, teams, strategies, stats and stadiums. The promise of spring, the smell of the grass, the boys of summer.
Soccer is the world's sport, and perhaps because the world is a bit more complicated, books about soccer can be much darker.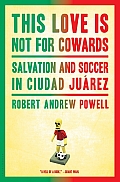 Juárez is the most murderous city in the world, a strategically placed entry point into the United States (across the Rio Grande from El Paso, Tex.), plagued by warring drug cartels and corrupt police and officials. Some 10 people are murdered daily in restaurants, in convenience stores, on the street. In This Love Is Not for Cowards: Salvation and Soccer in Ciudad Juárez (Bloomsbury USA), American journalist Robert Andrew Powell follows the Indios of Ciudad Juárez futbol club during their lackluster 2009 season as they fall from the Mexican premier league to relegation. The team's supporters, El Kartel, follow them loyally and with passion. The Indios provide hope and a thin possibility of redemption for the citizens of Juárez. In this very dangerous and frightening city, there's the belief that people can be bigger than the violence and brutality, and can be bound together by a sport.
During their occupation of the Netherlands in World War II, the Nazis insisted that the country's soccer clubs expel their Jewish players. In Ajax, the Dutch, the War (Nation Books), Simon Kuper writes that the Dutch, often touted as heroes of the resistance, were perhaps too easily persuaded to accede to the Nazis' directive. Some Jewish players ended up in death camps. Some Ajax club members hid Jews during the war, while others were not nearly as altruistic. Some Dutch resisted, some collaborated. It was very gray in the land of orange.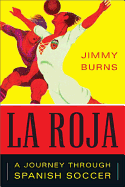 Saying that La Roja, the Spanish national team, is currently the best soccer team in the world is just stating fact. How they got there, from a handful of ex-pat Brits teaching the game to a community of Basques, is the stuff of La Roja: A Journey Through Spanish Soccer by Jimmy Burns (Nation Books). The team's history is loaded with politics. When Franco took power, he grabbed control of all football institutions, using them as propaganda tools to unite Spain. Those who supported his regime were rewarded, and those who didn't were marginalized. Franco embraced "La Furia," an aggressive style of play that reflected his concepts of conquest and militarism. The pitch became a battlefield, and the players soldiers. How Spain rebooted its team under a more intricate style of play after Franco's death and how it reexamined its identity and in turn was reshaped by the team La Roja is the heart of this fine book. --George Carroll, independent publishers' representative (and Shelf soccer editor)
Literary Lists
Marilyn Monroe's Books; Great SFF Films; Bookish Songwriters
"Marilyn Monroe's books: 13 titles that were on her shelf" were featured by the Huffington Post.

---
"We've all been exposed to the classic anthologies--your Nortons, your Oxfords, your Best American series," Flavorwire noted to introduce its picks for "10 essential alternative anthologies for the modern reader."

---

Wired magazine recommended "10 books that became great sci-fi and fantasy films."

---
Flavorwire showcased "10 of music's most literature-obsessed songwriters.... musicians who have shown a certain bookish tendency throughout their careers."
Book Review
Fiction
The Middlesteins
by Jami Attenberg
Mystery & Thriller

The Old Gray Wolf
by James Doss
Food & Wine

Thanksgiving: How to Cook It Well
by Sam Sifton , illus. by Sarah C. Rutherford
Biography & Memoir
Thornton Wilder: A Life
by Penelope Niven
One for the Books
by Joe Queenan
The Richard Burton Diaries
by Chris Williams, editor
Makeup to Breakup: My Life In and Out of KISS
by Peter Criss
Now All Roads Lead to France: A Life of Edward Thomas
by Matthew Hollis
Children's & Young Adult

Ask the Passengers
by A.S. King
Beta
by Rachel Cohn
Each Kindness
by Jacqueline Woodson , illus. by E B Lewis
Pets
The Divinity of Dogs: True Stories of Miracles Inspired by Man's Best Friend
by Jennifer Skiff
Rabid: Are You Crazy About Your Dog or Just Crazy?
by Pamela Redmond Satran
SOLITUDE CREEK
by Jeffery Deaver
ISBN-13 978-1455517152
Grand Central Publishing
5/12/2015
#4 in the Kathryn Dance Series


an exclusive interview with
NYT bestselling author Jeffery Deaver
SOLITUDE CREEK is the fourth in the Kathryn Dance series, following the amazing, XO. What's in store for Dance this time around?
Oh, mayhem, chaos, and terror, of course! In this novel, Kathryn gets busted down to "buck private" for making a serious mistake during an interrogation; she's relegated to civil work for the CBI, like checking health certificates and bottle deposit receipts. But you can't keep a strong woman down and she secretly runs an investigation on a villain obsessed with turning people's panic into a weapon.
THE BIG THRILL caught up with Deaver to talk about mayhem, chaos, and of course, SOLITUDE CREEK. Read about it here.

ALSO FEATURED ON THE
the big THRILL…
RUINS OF WAR by JOHN A. CONNELL: It took a decade, four defunct novels, and countless rejections before Connell landed a publishing deal. But the hard work and determination paid off. His novel, RUINS OF WAR—a unique, historical thriller set in postwar Germany—is already garnering national acclaim. And Connell, well, he's considered a debut-to-watch. Read about him in THE BIG THRILL.
THE TAPESTRY by NANCY BILYEAU: As a trained Journalist, whose editorial credentials include Rolling Stone and Entertainment Weekly, Nancy Bilyeau understands the value—and importance—of a well-researched novel. Particularly in the case of her Tudor-inspired thrillers. For THE TAPESTRY, the third book in her bestselling Joanna Stafford series, Bilyeau pits her protagonist against none other than King Henry VIII. Check it out in THE BIG THRILL.
THE SHADOW CARTEL by LAYTON GREEN: International man of action, Dominic Grey, has fought cults and criminals all over the globe. In his next escapade, he takes on THE SHADOW CARTEL. We recently sat down with Dominic's creator, Layton Green, and asked the world-traveler-turned-bestseller about his journey to the top of the bestseller list and where he plans to go from here. Catch the whole interview in THE BIG THRILL.
STONE COLD DEAD by JAMES ZISKIN: A taut tale of mystery and suspense that is at once a reminder of how a sleuth got the job done in the era before CSI and an antidote to nostalgia, James Ziskin's STONE COLD DEAD is just too cool to miss. Read all about it in THE BIG THRILL.
DYING BRAND by WENDY TYSON: In the third installment of Wendy Tyson's Allison Campbell mysteries, Campbell ends up investigating the brutal murder of her former boyfriend. As her hunt for truth reveals each secret, Campbell's past and present collide, in a mystery that is not just deadly, but the most personal yet. Get the full scoop on DYING BRAND in THE BIG THRILL.