Shelf Awareness for Readers for Tuesday, November 6, 2012
Book Candy
Fifty Shades of Chicken Trailer; Authors' First Author Photos
Things are getting all hot and bothered in the kitchen in this book trailer for the book Fifty Shades of Chicken by F.L. Fowler (Clarkson Potter, November 13). Entertainment Weekly asked: "Does that make you feel all hot and buttered, erm, bothered just listening to it?"

---

Write first, then smile. Flavorwire found "12 famous authors' very first author photos."

---

Tatts of the day. Neatorama found "10 beautiful tattoos inspired by Watership Down."

---

Everything About Secret Bookcase Doors Tumblr that "does exactly what it says on the tin. This is pure awesome," Boing Boing wrote.
A Reader's Life
Iron Shelf: CookFight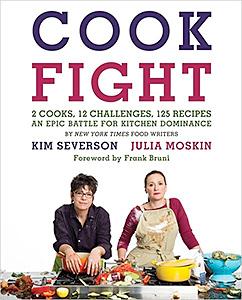 New York Times food writers Julia Moskin and Kim Severson were friends, working wives and, obviously, food-obsessed. One day former New York Times restaurant critic Frank Bruni challenged them to a duel--not with him, but with each other--and turned them into kitchen rivals. The dare: with just $50 each, they were to prepare a full meal for six, which he would then judge. They evidently had a great time, because it turned into a yearlong kitchen "war"--and led to CookFight: 2 Cooks, 12 Challenges, 125 Recipes, An Epic Battle for Kitchen Dominance by Julia Moskin and Kim Severson (Ecco, $29.99).
We decided on an easier challenge: arm seven reviewers with the book, and find out what they thought. They decided to concentrate on desserts and, really, there was little competition because they all produced winning food. As one reviewer stated, "The banter of the cooks' 'fights' is as entertaining as the years' worth of creative, easy-to-follow recipes are delicious. I'd invite Julia and Kim to my kitchen any time." Another reviewer said, "Moskin and Severson may be competing against one another, but the results of their challenges--witty prose and an arsenal of delicious recipes--make their readers the real winners."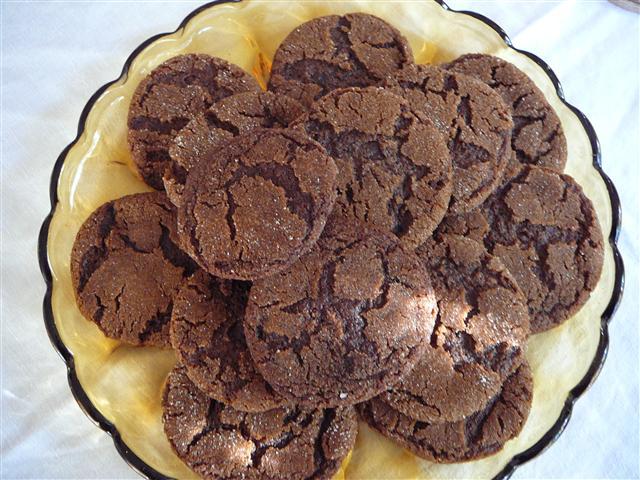 The memoir angle grabbed Cheryl Krocker when she found Julia Moskin's Bacon-Fat Gingersnaps, cookies that were a tradition in Coshocton, Ohio, in Amish country, close to where Cheryl was born. "Bacon fat? A classic 'waste-not-want not' ingredient among the thrifty farm families of the heartland. Yummy, a taste of home!" But Cheryl is in California now, without her mom's bacon grease can. So she asked a Texas-born friend: "Can I borrow a cup of bacon fat?" (she bakes bacon on a rack, then strains the fat and refrigerates it) and was offered a choice: maple-cured or regular. "Grease procured, the rest was a snap: Moskin offers clear, specific ingredient lists and directions. Forming balls of chilled dough was easy, and the gingersnaps baked into perfectly shaped crispy-chewy rounds. None of the tasters recoiled in horror when they learned the secret ingredient. 'I thought it tasted smoky,' one said. 'An aroma like a warm hug' and 'creamy,' others thought."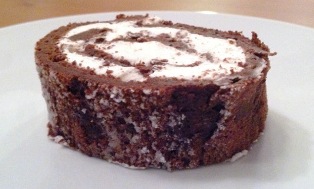 Jessica Howard chose to make "the scrumptious Chocolate Log." Considering that the ingredients consist largely of heavy cream and dark chocolate, she was sure she had a winner on her hands. "My trusty stand mixer and I got to work: whipping egg whites, beating cream, and stirring in oodles of melted chocolate. After the cake baked, sweetened whipped cream was spread thickly across it. Now came the tricky part: rolling up the log, jelly-roll style. I am a novice roller, and it started cracking at first, much to my alarm. The title of CookFight Champion was at stake! But things came together; the log was rolled, and set to chill." Jessica could not wait for the requisite few hours' cooling time, so cut into it after only 45 minutes. The verdict? "Heavenly chocolate perfection. And it's grain free--which is nice for the gluten-free among us."
A fair amount of dirty dishes were created while making Julia Moskin's Chocolate Chiffon Cake, but Lee Cart said it was worth it: "The fluffy, airy, reddish-brown chocolaty goodness would be a perfect ending to a light afternoon tea of cucumber sandwiches, buttered scones, and pots of black tea. Not being super-rich in chocolate flavor or density makes this dessert ideal for those who want to indulge in chocolate cake without any of the guilt found in darker, more concentrated layer cakes. Confectioner's sugar sprinkled on top of a single layer offers a touch of sweetness; a drizzle of raspberry jam or chocolate syrup would add a little more zing and moistness to this semi-dry dessert." She noted that one difference between this cake and many other recipes is the lack of butter, cream or milk in the ingredients. Vegetable oil, cocoa, water and eggs provide the necessary moisture, making this cake great for those who are lactose-intolerant. And, "If you can refrain from indulging, this cake holds up to the taste test even after two days have passed--but it will be hard to make it last that long."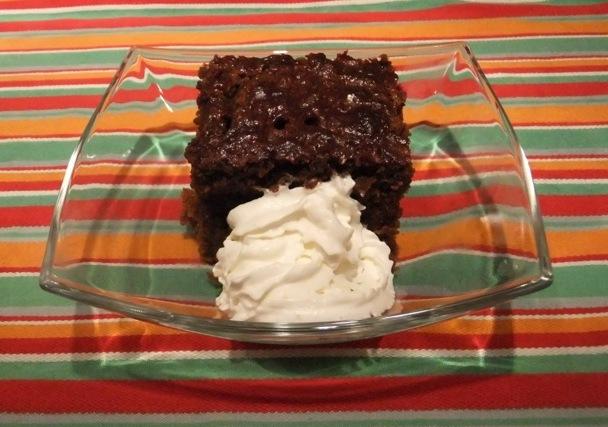 Roni Devlin is a sucker for soft, chewy molasses cookies, so when she found the recipe for Dark Molasses Gingerbread, she was ready. Found in the section of the book called "The Budget Challenge," the gingerbread followed Kim Severson's economically savvy meal of tacos de carnitas with homemade tortillas, fresh salsa and poblano-cabbage slaw. "Though I'd never considered gingerbread as a complement to a Mexican meal before, the pairing is actually brilliant. And the cake was delicious: rich without being too dense, perfectly spiced, and just slightly decadent when eaten alongside whipped cream and dulce de leche." (Slightly decadent?)
Katie Noah Gibson, amid a sea of sweets in the "Bake-Off Challenge" chapter, chose a fun, tart autumnal twist on upside-down cake: Julia's Cranberry Right Side Up Cake. "Because the recipe comes from Nantucket, only fresh cranberries will do. Mix them with walnuts, brown sugar and orange zest and press them into the bottom of a cake pan, then whip up a creamy batter involving flour, sugar, butter and (surprise!) sour cream. Pour the batter over the cranberries, slide into the oven and watch anxiously lest it overflow its smallish pan in the ensuing hour. The bottom of the cake will remain golden, with a few cranberries poking through. But when you take it out of the oven and flip it, you get a surprise: a rich, caramelized brown top studded with rich red berries and crunchy walnuts. It's the perfect layer of tart and crunch to balance the sweet base. This was a hit at an October church potluck, with yellow leaves outside the windows and the tang of fall in the air."
Kim Severson's Peach Cake from the July chapter's "Picnic Challenge" is perfect take-along dessert fare, according to Jaclyn Fulwood: simple, filling and easily portable. "We tested the recipe when our local farmer's market offered peaches at the height of golden, juicy perfection." Severson's recipe calls for all the common ingredients a baker would expect to pair with peaches, notably brown sugar and vanilla. However, "it's the addition of lime zest that gives the cake its je ne sais quoi, a tiny bite of exotic citrus to set off the dripping sweetness of the peaches. Between the inclusion of sour cream and the juices released by the baking fruit, the cake comes out with a moist, dense texture similar to that of a pudding." Should you--no, when you--make this delicious cake, a word of advice: "Have patience when spreading the batter around the peach slices, as its thickness makes the job go slowly. We also found that cutting the peaches into eighths creates a sliced-side-up effect like that of the cake pictured in the book, while using quarters as advised in the recipe may leave skin showing instead. Either way, the finished cake is delicious whether eaten on a picnic or a comfy couch."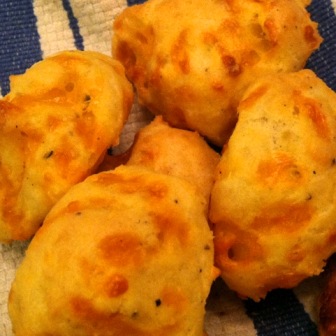 Kerry McHugh broke ranks in favor of a non-sweet entry: cheese gougères. "According to CookFight, traditional French cheese gougères (a wonderfully fancy way to say "puffs") are made with Gruyère cheese, but it turns out these soft puff pastries are just as impressive made with cheddar cheese--yes, even the pre-shredded cheese at your local grocery store. The beauty of cheese gougères is their simplicity. They contain only eight ingredients--one of which is water, so who counts that?--and the rest are general kitchen staples. The preparation is remarkably simple: the ingredients are combined, slowly, over heat--the hardest part of the entire recipe is continuing to stir after your arm gets tired--and then spooned onto a baking sheet. The more ambitious among you may choose to pipe them with a pastry bag neatly onto baking sheets, but now you're just showing off. After 25 minutes in the oven, your tired arm is rewarded with light, fluffy, cheesy and delightfully impressive puffed pastry bites. Make sure to eat them while they are still warm, as egg-based pastry doughs aren't nearly as good cold and don't keep well. Luckily, if you are making these for a party or event, they can be held in a warm oven for up to an hour--or, as I was forced to discover, reheated in a slightly warmed toaster oven if your guests show up later, earlier or drunker than expected."
The winners in the first Iron Shelf? All the reviewers, and everyone who purchases CookFight. --Marilyn Dahl, book review editor, Shelf Awareness
The Writer's Life
Book Brahmin: Peter Joseph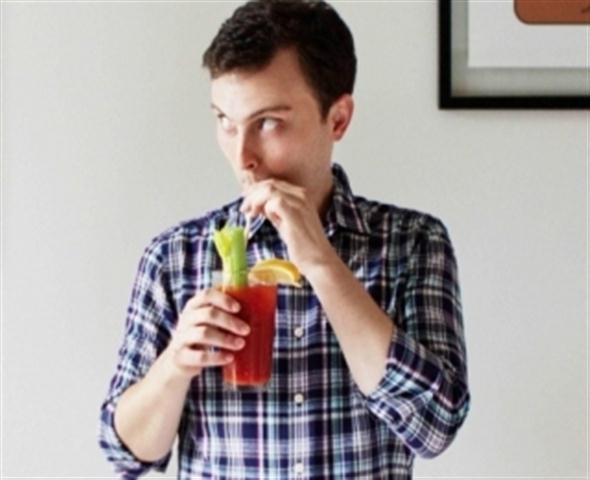 Peter Joseph is the author of the recipe guide Boozy Brunch: The Quintessential Guide to Daytime Drinking, just published by Taylor Trade. He has written about cocktails and pop culture for Flavorwire, Lost magazine and Pop Matters. A senior editor at Thomas Dunne Books, he lives in Brooklyn, N.Y.
On your nightstand now:
Magic Hours by Tom Bissell, Tubes by Andrew Blum, Savages by Don Winslow and a teetering stack of Atlantic, Imbibe, New York, New Yorker, One Story and Time Out New York. A slightly dated American Heritage dictionary--its back cover boasts "new entries for such terms as barrio, E-mail, fiber optics, T-cell, and wetland"--remains a permanent fixture. Most recently I had to look up "hegira," thanks to Bissell.
Favorite book when you were a child:
I loved Roald Dahl's books, but I read C.S. Lewis's The Voyage of the Dawn Treader more times than any other book. It seemed barely related to the other Narnia novels and more just a good sea adventure, along the lines of Heyerdahl or, well, Homer.
Your top five authors:
I don't really have "top" authors--there are just so many good books--but some of my long-time favorites include Douglas Adams, Billy Collins, Lorrie Moore, Mary Roach and Kurt Vonnegut. These days I've been talking a lot about China Mieville and Bissell. And David Wondrich holds the position of best cocktail writer working today, though really he could probably write about anything and stand out.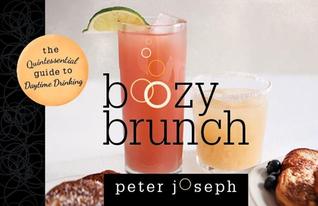 Book you've faked reading:
In high school I faked reading J.B. by Archibald MacLeish and then mispronounced "Job" (rhyming it with "lob" instead of "lobe") when asked to read in class. It might not seem like a big thing, but at a Catholic high school my classmates noticed. I'd like to think I learned something from that embarrassment and made sure to actually do the work in the years following.
For those of us working in publishing, it's too easy to talk about books of which you've read reviews, commentary and sales copy but never actually picked up the work itself. That's a trap I try to avoid, with occasional success.
Book you're an evangelist for:
For years I gave people copies of Mary Roach's Stiff and Robert Sullivan's Rats as examples of good, popular nonfiction writing. More recently I've been telling people to read Some We Love, Some We Hate, Some We Eat: Why It's So Hard to Think Straight About Animals by Hal Herzog. Whether you're vegetarian and fretting about going vegan or you're a carnivore considering getting on the tofu wagon, this book examines a lot of the inconsistencies and contradictions that come with our relationships with animals. (There's also a memorable explanation of why the popularity of both the Beatles and Golden Retrievers can be chalked up to random drift.)
Book you've bought for the cover:
While living on an editorial assistant's salary, I bought complete sets of Georges Simenon and Leonardo Sciascia from New York Review Books. It was a very expensive impulse purchase, to say the least, but I love NYRB's packaging--I wish more publishers could follow such a simple, uniform style.
Book that changed your life:
Finding Douglas Adam's Hitchhiker's Guide to the Galaxy series in my middle school library--a private Catholic school library presided over by a nun, no less--probably affected my worldview more than anything else.
Favorite line from a book:
Not a line, but a scene from Winner of the National Book Award by Jincy Willett. It's a passionate rant about the "sensual experience of reading" and the memories of those moments. She captured that nostalgia for specific times in a reading life--the book read under the covers, or at the beach, or late one night in a 24-hour diner--that most of us possess.
Book you most want to read again for the first time:
It's impossible, but I often wish I could read the books that I've edited as a reader. Instead, whenever I look at them I can remember all the revisions, cuts, and additions that have happened along the way to publication. So my experience reading them will always be different from that of someone with looking at them with fresh eyes.
The best book to read that combines publishing and cocktail history:
Not a large category, I admit, but if you want to read about the publishing world during Prohibition, then find yourself a copy of Firebrand: The Life of Horace Liveright by Tom Dardis. He's a much livelier character than the more often remembered "editor of genius" Max Perkins. Liveright was a bon vivant who established his publishing house on a street notorious for its speakeasies, which should tell you something about his behavior. His life story is a good counterpoint to his former partner Bennett Cerf's tale of success in At Random, and should be read by every young person in publishing as a caution against over-imbibing and selling off the rights to your backlist.
Literary Lists
Books for Watching Elections; Authors to Stop Categorizing
What to read while you're waiting for the returns to come in: NPR suggested "6 book stories that'll cast the election in new light."

---

Citing Ursula K. Le Guin as one of the writers "who have found themselves neatly boxed and categorized by the collective consciousness," Flavorwire recommended "10 great authors we should all stop pigeonholing."

---

Ronald Frame, author of Havisham, shared his "top 10 reimagined classics" in the Guardian.

---

For NPR's Three Books Series, Amy Wilson, author of When Did I Get Like This?, offered a trio of "books with (in)credible narrators."
Book Review
Fiction

Astray
by Emma Donoghue
Lucky Bunny
by Jill Dawson
The Confidant
by Hélène Grémillon , trans. by Alison Anderson
Mama Leone
by Miljenko Jergovic , trans. by David Williams
Biography & Memoir

Bruce
by Peter Ames Carlin
Elsewhere: A Memoir
by Richard Russo
Philosophy
Travels with Epicurus: A Journey to a Greek Island in Search of a Fulfilled Life
by Daniel Klein
Children's & Young Adult

Little White Duck: A Childhood in China
by Na Liu , illus. by Andrés Vera Martínez
The Girl Who Fell Beneath Fairyland and Led the Revels There
by Catherynne M. Valente , illus. by Ana Juan
Performing Arts
Rockin' a Hard Place: Flats, Sharps & Other Notes from a Misfit Club Owner
by John Jeter
Poetry
Writers Writing Dying
by C.K. Williams
Maybe the Saddest Thing: Poems
by Marcus Wicker
SOLITUDE CREEK
by Jeffery Deaver
ISBN-13 978-1455517152
Grand Central Publishing
5/12/2015
#4 in the Kathryn Dance Series


an exclusive interview with
NYT bestselling author Jeffery Deaver
SOLITUDE CREEK is the fourth in the Kathryn Dance series, following the amazing, XO. What's in store for Dance this time around?
Oh, mayhem, chaos, and terror, of course! In this novel, Kathryn gets busted down to "buck private" for making a serious mistake during an interrogation; she's relegated to civil work for the CBI, like checking health certificates and bottle deposit receipts. But you can't keep a strong woman down and she secretly runs an investigation on a villain obsessed with turning people's panic into a weapon.
THE BIG THRILL caught up with Deaver to talk about mayhem, chaos, and of course, SOLITUDE CREEK. Read about it here.

ALSO FEATURED ON THE
the big THRILL…
RUINS OF WAR by JOHN A. CONNELL: It took a decade, four defunct novels, and countless rejections before Connell landed a publishing deal. But the hard work and determination paid off. His novel, RUINS OF WAR—a unique, historical thriller set in postwar Germany—is already garnering national acclaim. And Connell, well, he's considered a debut-to-watch. Read about him in THE BIG THRILL.
THE TAPESTRY by NANCY BILYEAU: As a trained Journalist, whose editorial credentials include Rolling Stone and Entertainment Weekly, Nancy Bilyeau understands the value—and importance—of a well-researched novel. Particularly in the case of her Tudor-inspired thrillers. For THE TAPESTRY, the third book in her bestselling Joanna Stafford series, Bilyeau pits her protagonist against none other than King Henry VIII. Check it out in THE BIG THRILL.
THE SHADOW CARTEL by LAYTON GREEN: International man of action, Dominic Grey, has fought cults and criminals all over the globe. In his next escapade, he takes on THE SHADOW CARTEL. We recently sat down with Dominic's creator, Layton Green, and asked the world-traveler-turned-bestseller about his journey to the top of the bestseller list and where he plans to go from here. Catch the whole interview in THE BIG THRILL.
STONE COLD DEAD by JAMES ZISKIN: A taut tale of mystery and suspense that is at once a reminder of how a sleuth got the job done in the era before CSI and an antidote to nostalgia, James Ziskin's STONE COLD DEAD is just too cool to miss. Read all about it in THE BIG THRILL.
DYING BRAND by WENDY TYSON: In the third installment of Wendy Tyson's Allison Campbell mysteries, Campbell ends up investigating the brutal murder of her former boyfriend. As her hunt for truth reveals each secret, Campbell's past and present collide, in a mystery that is not just deadly, but the most personal yet. Get the full scoop on DYING BRAND in THE BIG THRILL.