Shelf Awareness for Readers for Tuesday, March 12, 2013

Book Candy
George R.R. Martin Recommends; Literary Cakes
George R.R. Martin knows fans are waiting impatiently for the next entry in his A Song of Ice and Fire series. To keep them occupied while he writes, on his blog he offers 32 recommendations, which Huffington Post Books has assembled into a slide show.
---
Wordlovers will deliciate in this list of "20 obsolete English words that should make a comeback."
---
Mental Floss discovered "7 book dedications that basically say "Screw You.' "

---
Nicholas Royle, whose seventh book is titled First Novel, chose his "top 10 first novels" for the Guardian, noting: "What makes first novels special has something to do with the relationship between reader and writer. Often, a first novel may not actually be a first novel."

---
Flavorwire served up "30 gorgeous and delicious literary cakes."
The Writer's Life
Brian Switek: His Beloved Dinosaurs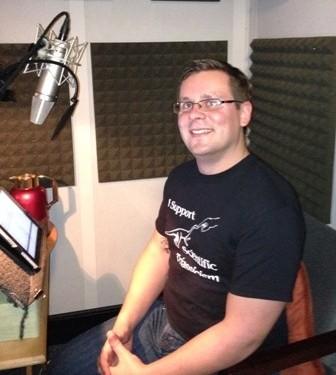 On a sunny afternoon in February, Brian Switek sits in a closet-sized room in midtown Manhattan, reading aloud from his forthcoming book, My Beloved Brontosaurus (co-published by Scientific American and Farrar, Straus & Giroux in April). It's the second day of recording, and he's just getting to the bit where he discusses theories about what killed off the dinosaurs. In the adjacent room, watching Switek through a window, audiobook producer Bob Van Kolken monitors his progress, as engineer Iris McElroy occasionally asks him to repeat a line more slowly.
"Brian's doing great for a first time reader," Van Kolken said, and McElroy concurred, noting that Switek's background as a science journalist specializing in dinosaur studies makes him an ideal reader for the book. "If we were using an actor," she noted, "we'd probably be spending another two days looking up pronunciations of all these names."
During a break in the proceedings, Switek steps out into the production room. He admitted that he didn't think he was going to be asked to do his own audiobook, and he's happily surprised by the opportunity. "But if it wasn't me," he joked, "I'd want it to be Samuel L. Jackson."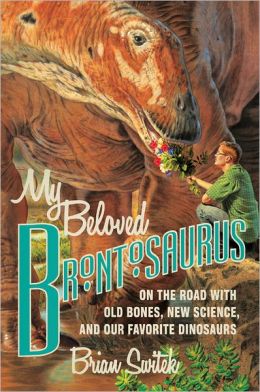 Another facet of My Beloved Brontosaurus that virtually requires Switek in the recording booth is its highly personal perspective--dinosaurs have been a lifelong passion for him. "My mother tells me that I loved trucks and elephants before moving on to dinosaurs," he recalled in an e-mail shortly after the recording session, "but the dinosaur phase kicked in relatively early.... I already adored dinosaurs during my first visit to the American Museum of Natural History, when I was about five years old, but that day trip amplified their prehistoric inspiration. I've been chasing them ever since, in one way or another."
That pursuit has led to a career as a freelance science writer and blogger for National Geographic, focused on paleontology and natural history. He spent about a year working on My Beloved Brontosaurus, with a good portion of the summer devoted to field research, including a two-week visit to fossil sites and museums in Utah, Montana and Wyoming. He's especially fond of Dinosaur National Monument; his first trips there were a contributing factor to his decision to live in the West. "It's a stunning park," Switek said. "There's the famous quarry wall, studded with bones of Jurassic dinosaurs, but the national park also contains vast exposures of other time periods, covering over 300 million years of history! You can stand in some spots and look back in time, watching ancient seas come in and out, only to be replaced by a succession of sandy deserts, floodplains and swamps."
This isn't just ancient history for Switek. He takes particular relish in discussing the recent scientific proposition that birds aren't just descended from the dinosaurs--they're dinosaurs that have survived into the present era. "Many of the features we associate with birds evolved among non-avian dinosaurs first," he explained, citing protofeathers and fuzz-like body coverings as examples that can also teach us about early dinosaur biology. "But it's still hard to think of a pigeon, penguin or hummingbird as a dinosaur," he conceded. "A chickadee is not an Apatosaurus. Still, when you get down into bone and other tissues, such disparate creatures share a lot in common. And it's pretty wonderful to realize that dinosaurs truly did escape extinction and are thriving among us today."
Back in the studio, I commented on the pillow that Switek was clutching around his midsection while he was sitting in the recording booth. "We started doing that the first day," he said, explaining that he was so eager to start recording that he skipped breakfast that morning. Eventually, his stomach grumbling got so loud it was being picked up on the microphone. And though he remembered to eat breakfast this morning, he said, he found the setup so comfortable he kept on doing it. "Plus, it keeps my arms occupied," he said, smiling. --Ron Hogan, founder of Beatrice.com
Book Review
Fiction

Cities of Refuge
by Michael Helm
The Chalice
by Nancy Bilyeau
The End of the Point
by Elizabeth Graver
Food & Wine
The Perfect Meal: In Search of the Lost Tastes of France
by John Baxter
The Little Paris Kitchen: 120 Simple but Classic French Recipes
by Rachel Khoo
Pati's Mexican Table: The Secrets of Real Mexican Home Cooking
by Pati Jinich
Biography & Memoir
Her: A Memoir
by Christa Parravani
The Black Russian
by Vladimir Alexandrov
History
Eighty Days: Nellie Bly and Elizabeth Bisland's History-Making Race Around the World
by Matthew Goodman
Current Events & Issues

The Secretary: A Journey with Hillary Clinton from Beirut to the Heart of American Power
by Kim Ghattas
Children's & Young Adult

Panic
by Sharon M. Draper
Also Known As
by Robin Benway
--- SPECIAL ADVERTORIAL OFFERINGS ---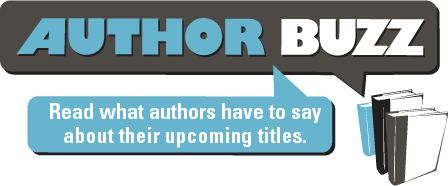 Dear Reader,

I'm thrilled to present THE MAPMAKER'S CHILDREN, a historical-contemporary hybrid novel with a literary mystery twist! Set in West Virginia over 150 years apart, Sarah Brown, the daughter of abolitionist John Brown, and Eden Anderson, a modern-day woman struggling with infertility: two fates woven together when dark secrets are unearthed. History and destiny are interconnected in a riveting story map. Fans of Charles Frazier, New York Times bestselling author of National Book Award winner COLD MOUNTAIN, will delight in this untold adventure in the Civil War south. "THE MAPMAKER'S CHILDREN is marked by rich, closely observed storytelling full of warmth and heart," said Frazier. New York Times bestselling author Laura Moriarty (THE CHAPERONE) agreed: "…defining moments of bravery and resilience echo across generations for a truly satisfying story." As a thank you for your amazing support of this new release, I'm giving away 5 THE MAPMAKER'S CHILDREN copies. To win, "Like" my Facebook Fan Page and send me a message there.

https://www.facebook.com/AuthorSarahMcCoy.FanPage

Yours truly,
Sarah McCoy
http://www.sarahmccoy.com




Publisher: Crown/Penguin Random House

Pub Date: 05/05/2015

ISBN: 978-0385348904

List Price: $25.00
Dear Reader,

I spent many years seeing men lack interest in what it meant to be a man of God. The Bible, they thought, was boring. I realized no one had written about the gritty battles of the Bible, the epic adventures of the warriors that God used to do great things. Shadow of the Mountain: Exodus is the first book in a series recounting the life of Caleb from the Old Testament, from his early days as a mercenary in Egypt to the battle for the Promised Land. If you'd like a chance to win one of five copies, email my publicist at agreen@bethanyhouse.com.

Cliff Graham
http://cliffgraham.com/




Publisher: Bethany House Publishers

Pub Date: 05/05/2015

ISBN: 9780764214752

List Price: $15.99
Dear Reader,

I'm thrilled to bring you Ming Tea Murder, the 16th book in my New York Times bestselling Tea Shop Mysteries. This is a book you can identify with – from my entrepreneurial main character, Theodosia, to the cozy environs of her tea shop. With pacing that moves like a thriller, highly relevant story lines, and a carefully crafted sense of place, many readers tell me that reading a Tea Shop Mystery is like taking a vacation in Charleston. And they're just as enthusiastic about the tea lore and recipes. Please give this mystery your careful consideration – I think you'll love it!

Laura Childs
www.laurachilds.com




Publisher: Berkley Prime Crime

Pub Date: 05/05/2015

ISBN: 978-0-425-28164-2

List Price: $25.95
Dear Reader,

My new book 'The Seven Sisters' is the first of a seven book series based loosely on the mythical stories of the star cluster. All the modern-day sisters have been adopted from around the globe by a mysterious billionaire. When he dies they are left clues to their real heritage. This is Maia's story and follows her journey back to the Bel Epoque of the 1920's, in Rio and Paris. Not only does she discover her past, but in the process, herself too. I only hope you enjoy it as much as I loved writing it.

I'm giving away five books. Write to me – Lucinda@lucindariley.co.uk - to win!

And please visit www.thesevensistersseries.com




Publisher: Atria Books

Pub Date: 05/05/2015

ISBN: 9781476759906

List Price: $24.99