Shelf Awareness for Readers for Friday, June 7, 2013

Book Candy
Beach Reading; Gorgeous Home Libraries
'Tis the season... for beach reads. The summer book frenzy has begun with a "Summer Reading Guide" in the Los Angeles Times, the Guardian's "best books for summer" and Flavorwire's "20 highbrow books to read on the beach."

---

Speaking of getting away from it all, bestselling author Alexander McCall Smith "paid just under £300,000 [about US$460,335] for the Cairns of Coll in the Hebrides, which can only be reached by boat in good weather," the Telegraph reported.

---

Open Culture offered readers a chance to hear A.A. Milne reading a chapter from Winnie-the-Pooh in a rare 1929 recording.

---
Flavorwire shared "10 fantastic photos for book lovers from the Library of Congress."

---
You may have already seen HBO's Behind the Candelabra, based on Scott Thorson's book, but are you ready for Liberace Cooks!, the famed pianist's 1970 cookbook?

---

Operating on the theory that "a gorgeous home library would turn anyone into a bookworm," the Huffington Post featured "seven spaces whose owners didn't skimp on this home feature."
The Writer's Life
Travis McDade: The Intersection of Literature and Larceny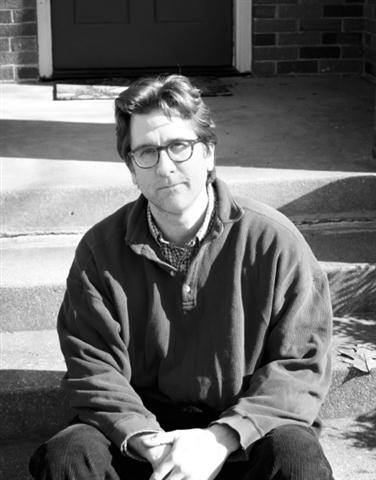 Less than a century ago, Manhattan's Fourth Avenue was a highly concentrated cluster of used bookstores--and, to maintain the high volume of business, some of their proprietors were willing to overlook a valuable book's sketchy pedigree. Some thieves came to specialize in looting libraries across America of the rarest items in their collections. Travis McDade, who holds dual advanced degrees in law and library science, brings this intersection of literature and larceny to life in Thieves of Book Row (Oxford University Press); he also tells the story of how the New York Public Library and other institutions fought back... even when they had less than complete support from the criminal justice system.
When did you decide to make book theft--or, more precisely, theft of any printed cultural resources--your area of expertise?
I never really made a decision. It just dawned on me, at some point, that I knew more about this subject than anyone else did. I had been writing a blog, the original intent of which was classically optimistic: I thought my legions of readers would like to be kept up to date on the subject of my first book. My "legions of readers" somehow never materialized, so the blog became, instead, a way for me to write about unfolding criminal prosecutions of guys who stole from libraries and archives--at first, for my own edification, and later, for a small group of dedicated readers.
It was a great education, not least because I pretty quickly discovered that almost no one else was writing anything insightful or original on the subject of book crime. Federal sentencing, in particular, was turning into the most exciting development in a century, and no one at all was talking about it. So I started talking about it.
When you began teaching "Crime and Punishment" in the University of Illinois library science program in 2008, did you see it as a recurring class?
No. I had some trepidation about the class.... I knew there was enough material to fill the time, but enough different material? I didn't want the students thinking, "Here we go, another prosecutor's Sentencing Memorandum for someone who stole from the National Archives."
Of course, I ended up having the opposite problem, especially because we read a lot of secondary sources, too. Each semester I find myself leaving out things I'd like to include. This April, for instance, I read in Tablet magazine Lisa Leff's terrific article on the complicated story of archives thief Zosa Szajkowski. I immediately cancelled the next week's reading, teamed up Leff's piece with another World War II-era article, and we talked about those instead.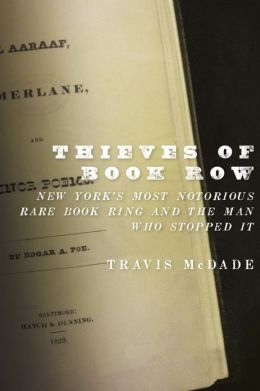 How did Thieves of Book Row emerge out of the research for your previous work, The Book Thief?
Actually, ToBR came from another book--a book I never wrote. About the time I started teaching the class, I decided to write a comprehensive account of American book crime, soup to nuts. One of the stories I came across was that of Harry Gold. My information consisted basically of a few New York Times stories and a New York appellate court decision. I wrote a few hundred words for what I thought would be a chapter in this larger book, and didn't think anything else of it. Then, about six months later, I was on a rickety ladder in an old, going-out-of-business used book store, perusing the high shelf of the "books about books" section, when I spotted Keyes Metcalf's memoir. I had quoted him, as a Harvard librarian, in my first book, so I knew the name. But I had no idea he worked at the New York Public Library--I especially did not know he worked there until 1937. I thought, "I wonder if he wrote about the Harry Gold theft...."
Sure enough, there were a few pages on the subject. All of the sudden I had enough for an interesting article. After more research, I had enough for a very long interesting article. After more research, some East Coast travels and a few years of work, I had a 90,000-word book.
The New York Public Library and its anti-theft efforts are a key part of this story. How much time did you spend on site for your research?
Not enough! I made two trips to New York for research and to do site visits. Fourth Avenue is almost unrecognizable compared to what it was as Book Row. A few of the buildings remain, but not in anywhere near the same state as they were in the 1930s. The New York Public Library, on the other hand, is magnificently the same. It's like a Civil War battlefield in that respect: you're standing in the same place, seeing the same things.
Including the escape route any would-be thief would have to attempt?
Oh yes. Because it is basically the same, I walked the route many times--with one notable exception. The place where the rare book collection was then housed--and so where the escape started--is now in an area gated from public access. Worse yet, the only thing in that hallway open to the public is a women's restroom. So, for obvious reasons, I didn't want to hang around there with a note pad and camera. For even more obvious reasons, I did not want to go past the gate and get caught trespassing on library property. So I eventually convinced a nice lady who worked there to walk me over and let me have a look at the staff-only area. --Ron Hogan
Book Review
Fiction

Crazy Rich Asians
by Kevin Kwan
You Are One of Them
by Elliott Holt
Looking for Me
by Beth Hoffman
Mystery & Thriller
The Shanghai Factor
by Charles McCarry
A Serpent's Tooth
by Craig Johnson
A Conspiracy of Faith
by Jussi Adler-Olsen , trans. by Martin Aitken
The Broken Places
by Ace Atkins
Science Fiction & Fantasy
Ghost Spin
by Chris Moriarty
Biography & Memoir

Nine Years Under: Coming of Age in an Inner-City Funeral Home
by Sheri Booker
Fairyland: A Memoir of My Father
by Alysia Abbott
Children's & Young Adult

The Thing About Luck
by Cynthia Kadohata , illus. by Julia Kuo
Wild Awake
by Hilary T. Smith
Kelsey Green, Reading Queen
by Claudia Mills , illus. by Rob Shepperson
--- SPECIAL ADVERTORIAL OFFERINGS ---

The Neptune Challenge


by Polly Holyoke


Dear Reader,

When the sea has become humankind's last hope, a group of teens fights to survive beneath the waves. I've always LOVED reading stories about quiet kids who become heroes. So In The Neptune Challenge, I continue the story of Nere Hanson, a shy girl who is brave, can talk to dolphins, and definitely gets to save the day!

If you like stories about courage, friendship and adventure, you'll love The Neptune Challenge.

Visit www.pollyholyoke.com to enter to win a signed copy AND a dolphin necklace/bookmark.

Polly Holyoke

THE NEPTUNE PROJECT
Texas Bluebonnet Award 2014-15 Master List
Maryland Black-eyed Susan Book Award Nominee
Bank Street's 2014 List of Best Children's Books





PUBLISHER: Disney/Hyperion

PUB DATE:
May 19, 2015

AGE RANGE: 10-14

GRADES: 4-8

TYPE OF BOOK: Middle-grade fiction

ISBN-13:
978-1484713457

PRICE: $16.99
Alchemy's Daughter


by Mary A. Osborne


Dear Reader,

In medieval San Gimignano, seventeen-year-old Santina apprentices to Trotula, the village midwife. Some say she is victim of the midwife's spell, but Santina is determined to follow in Trotula's footsteps even as calamities strike. Kirkus says, "…this well-researched story incorporates historical information about medieval alchemy, midwifery, and the conflict between science and superstition..."

Email me at mary@maryaosborne.com for a chance to win a signed copy of the Alchemy's Daughter.

Warmly,

Mary A. Osborne
maryaosborne.com





PUBLISHER: Lake Street Press

PUB DATE:
May 15, 2015

AGE RANGE: 14 to adult

GRADES: 9 to 12

TYPE OF BOOK: YA historical novel

ISBN-13:
978-1-936181-17-9

PRICE: $16.95
Wet Hen: A Short Vowel Adventure


by Molly Coxe


Dear Reader,

Thank you for your enthusiasm for the first two Short Vowel Adventures, Rat Attack, and Princess Pig. Here's Wet Hen, a sweet spring story featuring the "short o" sound, endless rain (Think Noah's Ark starring a broody Hen and her best friend, Ben, a cheerful fieldmouse), rainbow-colored eggs, and (after 21 days afloat in the tiny hen house) baby chicks (also in rainbow colors)!

Email me at bravemouse1@gmail.com to enter to win a signed copy.

Happy Spring,
Molly Coxe





PUBLISHER: BraveMouse Books

PUB DATE:
Available now

AGE RANGE: 5 - 7

ISBN-13:
ISBN 9781940947303

PRICE: $3.99