Shelf Awareness for Readers for Friday, January 3, 2014
Book Candy
Literary Libations, Best Translated Novels
"As we welcome 2014 on to our calendars, test your knowledge of some bookish beginnings," the Guardian noted.

---

If your New Year's hangover is no longer an issue, you might want to check out Flavorwire's look at "literary libations from famous books."

---
"In Search of Identity: Three of 2013's Best Translated Novels" were chosen by Juan Vidal for NPR Books.

---
"As readers, we all have our own visions of what classic books would look like in real life," the Huffington Post noted in showcasing "9 layouts of famous houses from classic literature."

---
"A Harry Potter fan has created a Ministry of Magic website that looks just like the real U.K. government site," Buzzfeed reported.

---

A picture is worth a thousand wordsmiths? Brain Pickings showcased "famous authors' hand-drawn self-portraits and reflections on the divide between the private person and the writerly persona."
Great Reads
What We're Reading: Soccer
Every publisher who has a book with the words "Brazil" or "World Cup" in the title believes, or will try to convince us, that their book is the must-read soccer book of 2014. Here are four books, none particularly on the World Cup, that deserve mention--a good start for the summer games.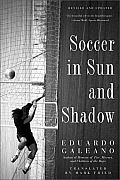 The best soccer book ever written just got better. Nation Books has published an updated version of Eduardo Galeano's Soccer in Sun and Shadow ($16.99, trade paper) that now includes his writing on the 2006 and 2010 World Cups. The book is a series of vignettes, a chain of stories, that cover the history of the sport through players, coaches, matches and goals. Those stories are framed by current events, politics, globalization, racism and commercialism. Galeano has said he wrote the book to enable "fans of reading to lose their fear of soccer and fans of soccer to lose their fear of books."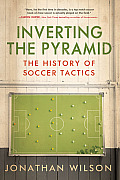 To understand Inverting The Pyramid: The History of Soccer Tactics by Jonathan Wilson (Nation Books, $18.99, paperback), you do need to know soccer. Actually, you have to be a bit of a soccer geek to work your way through these 400-plus pages of the history of soccer tactics. You might have heard of the 4-4-2 formation, but the 4-6-0 or the 1-3-3-3? Makes the mind twitch. The book, originally published in the U.K., has been updated and adapted for the U.S. market.
The oddest new book might be Those Feet: A Sensual History of English Soccer by David Winner (Overlook, $15.95, paperback), on how the English style of football, with deep roots in Victorian values and sexual anxiety, has created a modern neurosis for British football. For example, in the mid-19th century, John Charles Thring was influential in developing codes of football. His brother Edward Thring was important in Victorian education and obsessed with stamping out masturbation, which connects with William Acton's concept of "spermatic economy" in developing strong, focused young footballers. I guess that's about all I want to say about that.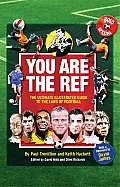 The most fun of the recent crop of titles is You Are the Ref: The Ultimate Illustrated Guide to the Laws of Football by Paul Trevillion and Keith Hackett, with a foreword by Howard Webb (Overlook, $15.95, paperback), probably the most recognizable referee in the sport. A cousin to the Guardian comic strip that poses a match situation on Friday, with official answers on Mondays, the book is a collection of guidelines and advice, rules and scenarios for referees. There are the 6Cs of refereeing, which remind me of the 5D's of Dodgeball (stupid movie reference). My favorite section is on how to detect simulation--diving to the ground and feigning injury to draw a foul. If you want to see examples of flagrant diving, go to YouTube and search Arjen Robben or Cristiano Ronaldo.
Since the United States was plopped into the Group of Death (I mean, seriously--Ghana, Germany and Portugal?) the chances that we'll get out of the group stage are not pretty. But our shot to advance in the World Cup of World Literature (working title) is wide open. More information on this Global Literature Mega-Spectacular Event, hosted by Chad Post and your humble soccer editor, will follow soon at Three Percent. --George Carroll, independent publishers' representative (and Shelf Awareness soccer editor)
Book Review
Fiction

The Yellow Eyes of Crocodiles
by Katherine Pancol , trans. by William Rodarmor , Helen Dickinson
Somewhere in France
by Jennifer Robson
Mystery & Thriller

Rosarito Beach
by M.A. Lawson
The Midas Murders
by Pieter Aspe , trans. by Brian Doyle
Dead Man's Fancy
by Keith McCafferty
Food & Wine
The Wildlife-Friendly Vegetable Gardener: How to Grow Food in Harmony with Nature
by Tammi Hartung
Biography & Memoir
The Trip to Echo Spring: On Writers and Drinking
by Olivia Laing
Health & Medicine
A Big Fat Crisis: The Hidden Forces Behind the Obesity Epidemic--and How We Can End It
by Deborah A. Cohen
The Detox Prescription: Supercharge Your Health, Strip Away Pounds, and Eliminate the Toxins Within
by Woodson Merrell , Mary Beth Augustine , Hillari Dowdle
Children's & Young Adult

We Shall Overcome: The Story of a Song
by Debbie Levy , illus. by Vanessa Brantley-Newton
Princess Penelope and the Runaway Kitten
by Alison Murray
Roomies
by Tara Altebrando , Sara Zarr
SOLITUDE CREEK
by Jeffery Deaver
ISBN-13 978-1455517152
Grand Central Publishing
5/12/2015
#4 in the Kathryn Dance Series


an exclusive interview with
NYT bestselling author Jeffery Deaver
SOLITUDE CREEK is the fourth in the Kathryn Dance series, following the amazing, XO. What's in store for Dance this time around?
Oh, mayhem, chaos, and terror, of course! In this novel, Kathryn gets busted down to "buck private" for making a serious mistake during an interrogation; she's relegated to civil work for the CBI, like checking health certificates and bottle deposit receipts. But you can't keep a strong woman down and she secretly runs an investigation on a villain obsessed with turning people's panic into a weapon.
THE BIG THRILL caught up with Deaver to talk about mayhem, chaos, and of course, SOLITUDE CREEK. Read about it here.

ALSO FEATURED ON THE
the big THRILL…
RUINS OF WAR by JOHN A. CONNELL: It took a decade, four defunct novels, and countless rejections before Connell landed a publishing deal. But the hard work and determination paid off. His novel, RUINS OF WAR—a unique, historical thriller set in postwar Germany—is already garnering national acclaim. And Connell, well, he's considered a debut-to-watch. Read about him in THE BIG THRILL.
THE TAPESTRY by NANCY BILYEAU: As a trained Journalist, whose editorial credentials include Rolling Stone and Entertainment Weekly, Nancy Bilyeau understands the value—and importance—of a well-researched novel. Particularly in the case of her Tudor-inspired thrillers. For THE TAPESTRY, the third book in her bestselling Joanna Stafford series, Bilyeau pits her protagonist against none other than King Henry VIII. Check it out in THE BIG THRILL.
THE SHADOW CARTEL by LAYTON GREEN: International man of action, Dominic Grey, has fought cults and criminals all over the globe. In his next escapade, he takes on THE SHADOW CARTEL. We recently sat down with Dominic's creator, Layton Green, and asked the world-traveler-turned-bestseller about his journey to the top of the bestseller list and where he plans to go from here. Catch the whole interview in THE BIG THRILL.
STONE COLD DEAD by JAMES ZISKIN: A taut tale of mystery and suspense that is at once a reminder of how a sleuth got the job done in the era before CSI and an antidote to nostalgia, James Ziskin's STONE COLD DEAD is just too cool to miss. Read all about it in THE BIG THRILL.
DYING BRAND by WENDY TYSON: In the third installment of Wendy Tyson's Allison Campbell mysteries, Campbell ends up investigating the brutal murder of her former boyfriend. As her hunt for truth reveals each secret, Campbell's past and present collide, in a mystery that is not just deadly, but the most personal yet. Get the full scoop on DYING BRAND in THE BIG THRILL.