Shelf Awareness for Readers for Friday, February 7, 2014
Book Candy
Armchair Travel; Book Restaurants That Became Real
Take a trip cross country without leaving your chair. Vroman's Bookstore, Pasadena, Calif., offers a Read-Your-Way-Across-the-USA list, with two book recommendations per state (and a few extra for California).

---

Bon Appétit served up "10 restaurants from books and movies that became real," including the Lodge in Forks, a Twilight-inspired restaurant in Forks, Wash.

---
NPR Books suggested "8 picture books that make us wish we were kids again."

---

The New York Public Library compiled a list of the "top 25 books that changed history."
---
To celebrate the centenary of William Burroughs's birth, the Guardian posed a quiz to find out "if you're on the Beat or out to Naked Lunch."

---
"Nail artist Just_Alexiz basically carries your childhood around wherever she goes," Buzzfeed noted in showcasing "15 works of nail art inspired by your favorite children's books."
The Writer's Life
Bich Minh Nguyen: Searching for The Little House on the Prairie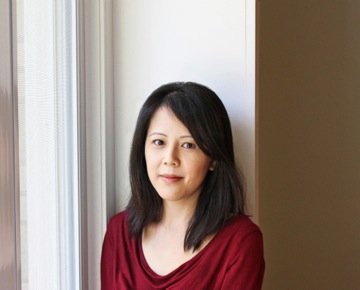 photo: Porter Shreve
Bich Minh Nguyen is the author of the 2007 PEN/Jerard Award-winning memoir-in-essays Stealing Buddha's Dinner, and the 2009 American Book Award-winning novel Short Girls. She received an MFA in creative writing from the University of Michigan and has taught fiction and creative nonfiction at Purdue University and the University of San Francisco. In her new novel, Pioneer Girl (reviewed below), Nguyen explores a Vietnamese American's search for identity through the life of one of America's most beloved children's writers.
You are obviously a big fan of Laura Ingalls Wilder and the story of the pioneers. What drew your interest to Wilder and her daughter, Rose Wilder Lane?
I grew up reading the Little House on the Prairie books, as probably most girls do in the United States and around the world. They're also books that are often given to immigrants as an introduction to American history.
It never struck me as strange when I was growing up that a Vietnamese American girl would identify so strongly with Laura Ingalls Wilder. I can identify with her sense of home, of searching for home and wanting a place to call her own, while at the same time wanting adventure. And she had a fine sense of self. I admired her a lot.
Later on when I read the books from an adult perspective, it occurred to me that there were subconscious reasons why I was so interested in the whole Little House story arc. It is a story of migration and immigration within the United States. I had come to this country as an immigrant, so there was a parallel experience in searching for a new place to settle.
In Pioneer Girl, Rose's search for identity parallels Lee Lien's own search. How much of that is your own personal journey growing up in the Midwest?
When I learned that Rose had collaborated so much on the books that some people refer to her as the co-writer or ghostwriter, I was amazed that there was this secret history behind the books. I started doing a lot of research--reading the biographies and visiting the various home sites, [reading] the Rose Wilder Lane papers--and I could see what the whole story was. There is this whole other world behind the world of these books, and I guess I've always been interested in the story behind the story.
Rose and her mother had a great relationship in that they loved each other fiercely, but at the same time, there was a great deal of tumult. Rose felt very trapped by her parents, by the farm and by the Midwestern environment in which she was raised. At the same time, she very much thought of it as her territory. I think I can understand those feelings, which are contradictory feelings of wanting to be in a place, craving a place, yet at the same time longing to be somewhere else. I feel that is part of an essential Midwestern identity--feeling like you need to grow like a plant, but also wondering what else is out there.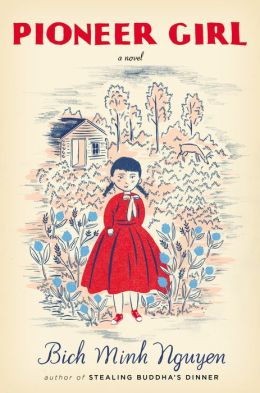 How does Lee's relationship with her family mirror the relationships within your own family?
Almost all the novel is fiction--I didn't grow up in a restaurant family, and my own family dynamic is pretty different. The similarity exists in the generational divide that occurs between the first generation and the second. I was actually born in Vietnam, but I came over when I was eight months old and don't have any memory of Vietnam. I'm sort of what they call the "one-and-a-half" generation. My parents have this understandable need and desire to hang onto their roots and what they know about their origin. The second generation wants to move forward in a way that often feels like it's erasing the past. What happens as a result is a lot of conflict and struggle toward forging a new identity. In that part, Lee and I have something in common, in figuring where we can belong.
Food has been a central theme in your works of fiction, particularly where it defines a character's journey, and you capture the experience of growing up in a restaurant, though it's not your background.
It is a topic that I have been interested in since I could remember reading, and probably what drew me to the Little House books. They were chock full of food as necessity for survival and luxury. I did a lot of research about restaurant life and what it means to run those kinds of Asian buffets. Of course for research purposes, I did go and eat at quite a few. I can't say they were great culinary experiences, but it was illuminating to think about how Asian identity gets played out in various American landscapes. There is this Asian American identity that Asian Americans have, and restaurants are an example. Then there is this Asian American identity that gets put on for the sake of the customer. I was really interested in that. I feel like this is another case of a story behind a story.
A lot of insight about Rose's relationship with her mother and "facts" emerge in Pioneer Girl. How much is reality?
When I went to the archives at the Herbert Hoover Library in Iowa, I read letters that Rose and Laura wrote to each other over many years as they were writing the Little House books, and a lot of the journal entries that Rose kept. I was struck by the feelings of resentment and anger that came out in her private journals and diaries. Sometimes that spilled over in her negotiations with Laura and over how certain scenes in the book would be constructed.
I wanted to leave it ambiguous in Pioneer Girl in that maybe it was something Lee wanted to believe. I think there is haziness between what is real and what is meant, and what we want to be real and what we want people to think about our past. For me, the Little House books really capture that sense of reality and idealized history. I think many people read those books as literal truth when they are very much constructed works of literature.
You focus on the gold pin as the unifying theme that draws the different generations together. What made this artifact stand out for you?
I actually asked myself that, and I don't really have a good answer as to why it's the gold pin above all the other pieces of jewelry that appear in the books. The pin makes sense because it was perfect in both narrative and craft. The pin was something that Laura and Rose could have worn in public and while traveling, as opposed to a trinket that they wouldn't necessarily carry with them. The pin itself is symbolic in that it's etched with this fading picture which is the core idea of the scenes.
Is the westward expansion your favorite period in American history?
I do have a great interest in westward expansion--the great railroads and pioneering and all that geography--because there are fascinating behind-the-scenes political elements that include immigration and race. And in the people behind the scenes, like in the building of the transcontinental railroads. They were right on the cusp of so much discovery and specialization, especially in the railroads, and progress--the big idea that's always there, this big turning point in American history.
Tell us about upcoming projects. Will you continue to explore the era of the pioneer?
I love writing historical fiction, so possibly. I am really interested in the building of the transcontinental railroad, with the immigrant experience at the core of that. My next book is actually nonfiction and is the sequel to Stealing Buddha's Dinner. --Nancy Powell, freelance writer and technical consultant
Book Review
Fiction

Karate Chop
by Dorthe Nors , trans. by Martin Aitken
The Free
by Willy Vlautin
The Sun and Other Stars
by Brigid Pasulka
The Book of Jonah
by Joshua Max Feldman
The Devil I Know
by Claire Kilroy
Pioneer Girl
by Bich Minh Nguyen
Mystery & Thriller
The Deepest Secret
by Carla Buckley
Romance

My Sweetest Escape
by Chelsea M. Cameron
Biography & Memoir
Louis Armstrong, Master of Modernism
by Thomas Brothers
Religion
City of God: Faith in the Streets
by Sara Miles
Children's & Young Adult

Nest
by Jorey Hurley
Ignite Me
by Tahereh Mafi
Extraordinary Jane
by Hannah E. Harrison
SOLITUDE CREEK
by Jeffery Deaver
ISBN-13 978-1455517152
Grand Central Publishing
5/12/2015
#4 in the Kathryn Dance Series


an exclusive interview with
NYT bestselling author Jeffery Deaver
SOLITUDE CREEK is the fourth in the Kathryn Dance series, following the amazing, XO. What's in store for Dance this time around?
Oh, mayhem, chaos, and terror, of course! In this novel, Kathryn gets busted down to "buck private" for making a serious mistake during an interrogation; she's relegated to civil work for the CBI, like checking health certificates and bottle deposit receipts. But you can't keep a strong woman down and she secretly runs an investigation on a villain obsessed with turning people's panic into a weapon.
THE BIG THRILL caught up with Deaver to talk about mayhem, chaos, and of course, SOLITUDE CREEK. Read about it here.

ALSO FEATURED ON THE
the big THRILL…
RUINS OF WAR by JOHN A. CONNELL: It took a decade, four defunct novels, and countless rejections before Connell landed a publishing deal. But the hard work and determination paid off. His novel, RUINS OF WAR—a unique, historical thriller set in postwar Germany—is already garnering national acclaim. And Connell, well, he's considered a debut-to-watch. Read about him in THE BIG THRILL.
THE TAPESTRY by NANCY BILYEAU: As a trained Journalist, whose editorial credentials include Rolling Stone and Entertainment Weekly, Nancy Bilyeau understands the value—and importance—of a well-researched novel. Particularly in the case of her Tudor-inspired thrillers. For THE TAPESTRY, the third book in her bestselling Joanna Stafford series, Bilyeau pits her protagonist against none other than King Henry VIII. Check it out in THE BIG THRILL.
THE SHADOW CARTEL by LAYTON GREEN: International man of action, Dominic Grey, has fought cults and criminals all over the globe. In his next escapade, he takes on THE SHADOW CARTEL. We recently sat down with Dominic's creator, Layton Green, and asked the world-traveler-turned-bestseller about his journey to the top of the bestseller list and where he plans to go from here. Catch the whole interview in THE BIG THRILL.
STONE COLD DEAD by JAMES ZISKIN: A taut tale of mystery and suspense that is at once a reminder of how a sleuth got the job done in the era before CSI and an antidote to nostalgia, James Ziskin's STONE COLD DEAD is just too cool to miss. Read all about it in THE BIG THRILL.
DYING BRAND by WENDY TYSON: In the third installment of Wendy Tyson's Allison Campbell mysteries, Campbell ends up investigating the brutal murder of her former boyfriend. As her hunt for truth reveals each secret, Campbell's past and present collide, in a mystery that is not just deadly, but the most personal yet. Get the full scoop on DYING BRAND in THE BIG THRILL.