Shelf Awareness for Readers for Tuesday, April 10, 2012

Book Candy
Book Designs; Katniss Barbie; Portlandia Reading Match
Flavorwire showcased "10 crazy and unusual book designs," noting that "we mostly think all books are little objets d'art, but these go above and beyond the normal standards, each one an innovative and interesting piece of design as well as a functioning book."

---

In creating the Biblioteca bookcase, Umbra and designer Matt Carr "weren't afraid to challenge their customers and mass-produce a bookcase that looks as though it stepped straight out of Wonderland," Booklicious observed.

---

Barbie as tribute. For Hunger Games fans, a Katniss Barbie Doll is now available that "looks a lot like Jennifer Lawrence. A pretty quick turnaround from movie to toy stores," Buzzfeed reported.

---

Competitive reading. From the TV series Portlandia, two readers square off in a "Did You Read?" death match.
A Reader's Life
Reading Ritual
In February, we asked readers what they liked to eat and drink while they read. Alice Sather responded with a poem, so in honor of both National Poetry Month and the pleasures of reading:
Reading Itself Might Be a Ritual
Tall-backed chair by the fire
in the sun-room, plants lining the sunny side
two dogs asleep
warming feet,
tea to my right--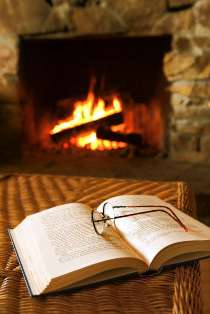 unless it is a very small glass
of deep red wine--
and bowl of
nuts or
crackers
or piece of dark chocolate
raisins and figs
apple slices,
not all and not too much.
Or the rocker in the living room
feet up on the stool covered with a
unicorn needlepointed by
my mother while my father
was in World War
Two--it still serves well these
many wars later--tea still
to my right--unless it is the wine--
with bowl of nuts,
or fruit, or crackers,
or that piece of dark chocolate,
unless I am lucky and have a
marzipan confection.
The Writer's Life
Ally Carter: Why Teens Can Relate to Spies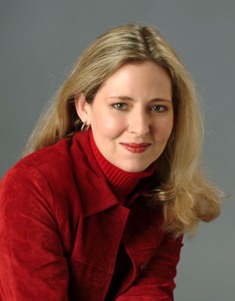 Out of Sight, Out of Time (Disney/Hyperion), marks author Ally Carter's fifth (and penultimate) novel in her Gallagher Girls series, set at a boarding school where young women train to be spies. The first book, I'd Tell You I Love You, but Then I'd Have to Kill You in 2006, was published in 2006, and the series now has more than 1.8 million copies in print. Out of Sight finds heroine Cameron Morgan coming to in a convent in the Alps, with no memory of her kidnapping by the Circle of Cavan, the terrorist organization from which she'd been trying to protect her friends and family. We talked with the author about what it's like watching Cammie mature, and what teens and spies share in common.
How did you get the idea for Gallagher Academy?
I was watching an episode of Alias on TV one night, and I had the sound on mute. I thought I was seeing a flashback of when they were at a boarding school studying to be spies. I misunderstood what I was seeing, but I thought, "I need to write that book."
For Cammie, spying is a family business. Her mother is headmistress at Gallagher Academy, her father is kidnapped for his work as a spy--even her aunt is a Secret Service agent. How did that aspect enter the story?
I do tend to write about girls in family businesses. Heist Society features a girl raised in a family of con men and art thieves. I myself was raised on a cattle farm in Oklahoma. I was used to being the only girl at the table from a very young age. You've got a job, and you've got to carry your weight in this business. It's no surprise to me that I come back to that theme.
Did you map out the entire series ahead of time?
I knew I wanted to do a series when I wrote I Love You.... I thought I might initially do three books. Then, in writing that first book, I realized it would likely only cover one semester. So from that point on, I knew I was going to do six books, but I didn't know exactly what would happen in each and every book.
You lay out several mysteries that grow more complicated as the series continues. With the unfolding of those mysteries we also get a sense of the complexities of growing up.
I knew that Cammie's missing father would be the biggest overarching question. Some of the more specific things, like the Circle of Cavan coming after her, didn't come up until the third book. I've been lucky. I'm not the kind of person who can plot out six books at a time. Each took many, many drafts to get that one book just right.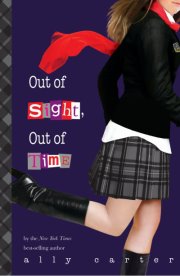 Yet each book could also stand alone. Is it difficult to figure out how much back story to include?
It's a goal always that readers could pick up any of the books and not feel lost. You want to make sure you don't overwrite for those who know the books. The things that Cammie's still wondering about are, hopefully, the things readers also review for themselves. I think that's an advantage of first-person narration. Readers always ask, "Why don't you tell us what happened to her dad?" But your readers can never know things that your character doesn't know.
There's a quote from Cammie in this book that seems applicable to the entire series: "As a spy, sometimes the biggest lies we tell are to ourselves."
Cammie's kidnapping put her career on fast-forward. At 17, she has dealt with things most operatives wouldn't deal with until age 30. But I also think it's something teens can relate to. Teens lie all the time: "I don't care what they think of me," and "I'm okay if he doesn't like me back." It's part of life. They try to alter or soften so many of the blows they're dealt.
The Gallagher Girls series came of age as Americans were coming to grips with terror on our own shores. Did that influence the books' development at all?
I was very aware of what was going on in the world, but I didn't want the books to be overly political or time-sensitive. At its core, reading is escapism. I wanted to make sure it dealt with the classic struggle of good versus evil, but I didn't want that evil to be too specific.
And as your books demonstrate, the greatest evil is betrayal by those you thought you could trust.
Teenage girls are acutely aware of that kind of betrayal. --Jennifer M. Brown, children's editor, Shelf Awareness
Inklings
What the Neighbors Must Think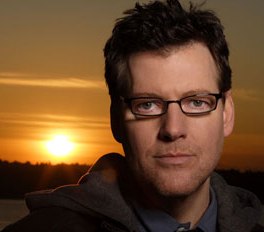 I often wonder what my neighbors think of me.
This week, I'll be at two local bookstores, signing my new thriller, Terrified. Because I'm shameless when it comes to self-promotion, I posted a book cover and an announcement about the events on the lobby bulletin board in my condominium.
It's a small building with 19 units, and I'm one of the "old timers." I keep all the unit keys in case someone gets locked out. I bought my apartment back in 1995 with movie option money from my book Only Son. The movie never got made, but I got a nice place from the deal (thank you, Tom Hanks and David Seltzer).
On the bulletin board by the mailboxes there are coupons, bus schedules, minutes from the last condo meeting, a photo of a former occupant's new baby—and now, my announcement with Terrified's creepy book cover. It shows a bloody sneaker left behind in some dark woods, and has the tag-line: "The More You Know, the More You Fear!"
Probably not what you want to see right by that picture of Melissa's new baby, but I think my neighbors are used to it... almost.
"Thanks a lot, Kevin," Karen, across the hall, recently told me. She was reading my thriller Vicious. "I got to the part where the killer drags the woman into the bushes at Volunteer Park. That's right where I jog every night! Now I have to find a new route."
Another neighbor isn't happy with me for killing a character in the restroom of a nearby movie theater in Final Breath. "I can't go to the movies there any more without thinking of that scene," he told me.
For me, every local haunt or landmark has the potential for a creepy scene.
A young couple recently moved into the building. The wife started reading Disturbed. I asked her husband how she liked the book. "She's finding it really scary," he said. "The other night, while reading it in bed, she whispered to me, 'I can't believe Kevin wrote this... and he has our keys!' "
So--I wonder what my neighbors will think of me after they read my latest. "The more you know, the more you fear!"
I guess I really don't want to know. --Kevin O'Brien
Kevin O'Brien is the author of, most recently, Terrified (Pinnacle)
Literary Lists
Poems; Bug Books; Movies Based on Books; Literary Feuds
Remember, it's National Poetry Month. Flavorwire suggested "10 great poems you can memorize today."

---
To celebrate the arrival of spring, Wired featured "3 picture books for bug lovers."
---

Word & Film unmasked some "covert adaptations: 7 movies you didn't know were based on books."

---

Canadian writer Michael Crummey picked his top 10 literary feuds for the Guardian, noting that feuding, "like love, it makes for compelling reading--you might as well try to look away from a traffic accident."
Book Review
Fiction

Miss Fuller
by April Bernard
The Beginner's Goodbye
by Anne Tyler
Sacre Bleu
by Christopher Moore
The Coldest Night
by Robert Olmstead
The Wedding Beat
by Devan Sipher
Biography & Memoir
Rurally Screwed: My Life Off the Grid with the Cowboy I Love
by Jessie Knadler
Dreaming in French: The Paris Years of Jacqueline Bouvier Kennedy, Susan Sontag, and Angela Davis
by Alice Kaplan
Current Events & Issues
Heart of Dankness: Underground Botanists, Outlaw Farmers, and the Race for the Cannabis Cup
by Mark Haskell Smith
Health & Medicine
Sex Made Easy
by Debby Herbenick
Children's & Young Adult
In the Sea
by David Elliott , illus. by Holly Meade
Bug Off! Creepy, Crawly Poems
by Jane Yolen, photos by Jason Stemple
Poetry
June Fourth Elegies: Poems
by Liu Xiaobo , trans. by Jeffrey Yang
--- SPECIAL ADVERTORIAL OFFERINGS ---

The School for Good and Evil


by Soman Chainani


Dear Reader:

On May 14, the doors open to THE SCHOOL FOR GOOD AND EVIL, the first in a trilogy that will soon be a series of movies too!

For centuries, the legendary School for Good and Evil has trained legendary heroes and villains. But when princess-wannabe Sophie is dumped in the School for Evil and witchy loner Agatha is thrust in the School for Good, clearly it's a mistake. Or is it?

E-mail me at somanschainani@gmail.com to enter to win a signed copy. And play the 'Are You Good or Evil?' quiz online at www.schoolforgoodandevil.com to see which school is yours!

Cheers,
Soman Chainani

www.facebook.com/TheSchoolforGoodandEvil





HARPERCOLLINS CHILDREN'S

MAY 14, 2013

8 & UP

MIDDLE-GRADE FICTION

ISBN: 9780062104892

PRICE: $16.99
Soulfire


by Mona Ombogo


Dear Reader…

People who read get the best out of the world. We can be in a countless places at once. We visit worlds that don't exist on our plane. We make friends and enemies. We laugh, cry, we live.

Soulfire is a fantasy novel about a young prince, learning to go beyond his boundaries, when his world of metal and stone is invaded by love and magic. Take this adventure; explore an ancient world through young eyes.

Enter to win a copy of Soulfire via my website www.monaombogo.com. Or simply write me at mo@monaombogo.com or masopwe@yahoo.com and tell me three things that you love the most about fantasy.

Here is to sharing the worlds we love…

Xo… Mona.





NETHERWORLD BOOKS

DECEMBER 2012

AGES 15 - 25

YA FANTASY

ISBN: 9781909224285

PRICE: $13.89