Shelf Awareness for Readers for Friday, June 1, 2012
Book Candy
Hunger Games Thirst Quenchers; Kids' Cakes; Bookcase
"May the drinks be ever in your favor." For just the right liquid refreshment on those torrid days when you find yourself fighting for your life, Buzzfeed suggested a few "Hunger Games Inspired Cocktails."

---
Mental Floss featured "11 cakes based on kids' books, movies and TV shows."
---

"Quite the Nietzschean bummer" is how Boing Boing described an animated Russian version of Winnie the Pooh from 1972, featuring a title character who "is an annoying, aggressive hedgehog of a bear; Eeyore seems to be paraphrasing Nietzsche."

---

Lady Chatterley's literary mixtape includes, oddly enough, Madonna's "Like a Virgin" as one of the tunes Flavorwire thinks she would "have her affairs and find a little ecstasy to."
---
Bookcase of the day: Design website Dornob featured Cassina's Pagina bookcase, which looks "very much like pages from a book, particularly when you put the pair of symmetrical sides next to one another."
Great Reads
Further Reading: Revisiting Jane Eyre
"Reader, I married him." One of the best-known lines in classic English literature elicits contented sighs from readers who remember watching Jane Eyre fall in love with Mr. Rochester. But for those who haven't picked up Charlotte Bronte's masterpiece in a few years, other details may have grown fuzzy with time. The cruelty of young Jane's relatives, the damp misery and the unexpected transformation of Lowood School into her first home, the growth of Jane's confidence and her discovery of friends who become family all prove equally fascinating when reread. Jane, as she admits, is small, plain and poor, but her spunk, intellect and unimpeachable sense of self captivate Mr. Rochester and have won admiration from generations of readers.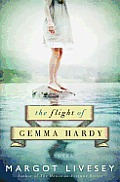 Drawing on her own experiences in Scottish boarding schools, bestselling author Margot Livesey (The House on Fortune Street) provides both a retelling and a variation of Jane Eyre in The Flight of Gemma Hardy. Set in Scotland during the 1960s, Gemma's story begins by paralleling Jane's in many ways: both are orphans sent to boarding school, overworked and unloved. However, both Gemma and the story come into their own when she leaves her au pair job on the Orkney Islands and sets off for Iceland to discover the name and the family she has never known.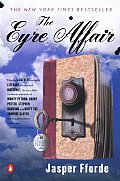 For an utterly-wacky-yet-literary twist on Jane's story, look no farther than The Eyre Affair, the first book featuring Jasper Fforde's ffearless literary detective, Thursday Next. Fforde sets his story in a 1980s alterna-Britain, where the Crimean War has dragged on for more than a century and dodo birds (such as Thursday's beloved Pickwick) are common household pets. When Jane Eyre is kidnapped from her own tale, Thursday must learn to "bookjump" into multiple narratives to find her, and then jump back into Jane Eyre to orchestrate the fateful meeting between Jane and Rochester in the lane near Thornfield. Denizens of Thursday's world are shocked--and readers will breathe a sigh of relief--to see the happy ending restored. Although Bronte's story is the true gem, Livesey's homage and Fforde's hilarious new angle will delight and entertain. --Katie Noah Gibson, blogger at Cakes, Tea and Dreams
The Writer's Life
Rupinder Gill: On the Outside Looking Indian
In her new memoir, On the Outside Looking Indian, readers learn that while most of Rupinder Gill's friends were enjoying the experiences of childhood and adolescence, Gill was at home, watching television. Being the second daughter in a traditional Indian home didn't allow for many freedoms. "I was raised to be realistic. Indian women aren't dreamers," she explained.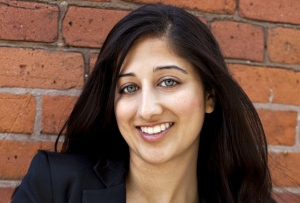 And yet, Gill did dream. She compiled a list of things she wasn't allowed to experience in her childhood: taking swimming lessons, owning a dog, going to camp. And she decided at 30 that she was going to experience those things. So what made Gill different from her elder sister who was also "raised to be realistic" and desired to do exactly as her parents expected of her?
"I feel badly for eldest children because they have no example of how to navigate parental rules, whereas any subsequent child can look at to their older sibling and learn how to manipulate the system. But then, in fairness, eldest children never have to wear hand-me-down corduroys, so everyone wins in some aspect," Gill said. "My sister actually did a bunch of lessons herself as an adult, including horseback riding, so whereas I may be able to swim two strokes, she'll be the one saving us if our family is attacked in a wild-west saloon. Also, she's the one who got a dog, who we now consider our family dog because he has enough energy to exhaust seven people. So we've all created our ideal childhoods as adults in our own way, but I did it in the most extreme form."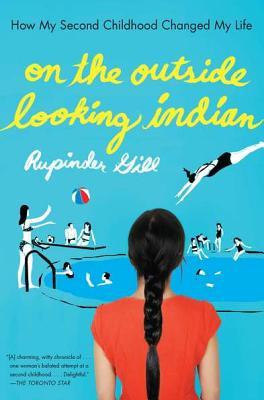 On the Outside Looking Indian takes readers through Gill's experiences with her first list. Still, she said, "I have a revolving, evolving and ever-growing list of goals. I honestly feel like I'm just at the start of the journey. There are so many more things I want to do and see and experience. I hope to write another book in the next couple of years, continue on in TV (as a writer), get back to running, knock at least one spot off my Dream Travel List and if I'm really ambitious, finally organize my stacks and stacks of books."
Gill's stacks and stacks of books don't come up much in her memoir. Instead, she focuses on the hours and hours of television she watched with her sisters. In fact, the chapter titles are all plays on '80s television shows and movies: "Dog Meets World," "Tennis the Menace," "Trying-to-stop Growing Pains." But writing and reading were in fact a large part of Gill's life. Like many aspiring writers, she was taught to believe it wouldn't provide an adequate income, and she shouldn't consider it a serious option for her future.
"I always enjoyed writing but it was usually just a part of extra-curricular activities. I wrote plays we performed in high school or joke speeches or articles for the school paper--I never thought of that as a career possibility. People always knew me as someone who enjoyed writing and humor but I never aspired to make a life of it, mostly because I wasn't interested in living in a cardboard box crying over the sentence structure of the perfect Mitt Romney joke." (She still hasn't cracked it, but believes "it may involve comparisons between his name and articles of clothing. Not sure how to play up jokes on his first name, though.")
Gill's jokes did pay off for her early in life, though. "If I recall correctly, they used to have a contest on Letterman where you submitted something to a Top Ten list subject and I think mine was 'Top Ten Things Heard Inside the Matrix.' I believe my entry was something like 'I know you are The One, I just can't ever remember if you were Bill or Ted.' " And it won her a David Letterman T-shirt! Her television viewing paid off as well. These days, in addition to her memoir writing, she's writing for TV. Both allow Gill to weave in her whip-smart sense of humor, but does she have a preference?
"I love going back and forth between writing TV and writing books," she said. "TV is a collaborative environment where you can bounce ideas off of other people and debate important topics like which Perfect Strangers episode is the best and which Kardashian sister is the worst. It's a great opportunity to fine-tune your writing, but books give you the freedom of being in charge of the story to a greater extent. They both have their challenges and rewards, but I'd love to continue in both realms for as long as humanly possible, and if the robots take over in the foreseeable future, for as long as bionic humanly possible."
And having just wrapped This Hour Has 22 Minutes, the Canadian TV comedy show she's been writing, Gill is indeed at work on the next book.
"My show wrapped up April 2, and now I'm in the U.S. for the summer to work on book two and judge the women tanning in bikinis in Central Park. I'm not above citizen-arresting any women who look like models. I'm also working on pitching some other TV show ideas. It's been a great and interesting ride thus far, and although it used to be frightening, I now relish the fact that I don't know the final destination. It's freeing to give up control and just do what you love and hope for the best. I feel very lucky for all that has happened for me in the past few years and look forward to seeing what's next."
The immediate future involves what Gill calls "a prequel and sequel" to On the Outside Looking Indian. She said that it can "best be described as a work memoir. It details all of the fantastic jobs I've had to get me to this point, including telemarketing, temping and a summer of building tires in a factory after my first year of college."
Shortlisted for the Stephen Leacock Memorial Medal for Humour Writing, the rights to On the Outside Looking Indian have been optioned to be developed into a Canadian sitcom. For now, readers can enjoy On the Outside Looking Indian as a paperback original from Riverhead Books. It might, however, need a caution notice: "May inspire readers to pursue a second childhood and change their lives." --Jen Forbus of Jen's Book Thoughts
See Rupinder Gill's video here.
Inklings
I'm a Journalist?
"I'm not a journalist."
For several years, this was my mantra. I'd been contracted to write a nonfiction book about the world's most polluted places, and it was freaking me out. Not only was it my first book; it was my first paid writing of any kind. As it sank in just how unprepared I was, I became immobilized with insecurity and neurosis.
And I mean immobilized. Sometimes I was so afraid I couldn't move my arms. More than anything, I was intimidated by the challenge of having to transform myself, overnight, into an expert on everything from nuclear meltdowns to Amazonian deforestation. It seemed insurmountable.
How to deal with such journalistic insecurity? Tell yourself you're not a journalist. A curious person? Sure. A writer? Maybe. A journalist? No, thanks.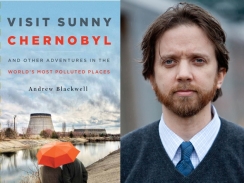 It worked. Freed from the responsibility of striving for the investigative depth of a good newspaper, or aping the finely turned prose style of the New Yorker, I could get down to work. If I didn't know something, I could just say so. If I got bored, I could tell jokes. I could even make scenes up out of whole cloth. I'm not a journalist! Whee!
Then something changed. My ears would perk up every time I heard someone else claim they weren't a journalist--and I didn't like what I heard. There was John D'Agata arguing that, as an essayist and not a reporter, he didn't need to satisfy his fact checker. And then, of course, there was Mike Daisey, telling us that "what I do is not journalism," and that it didn't matter that he had fabricated entire interviews for his nonfiction theater piece about Apple's labor practices.
What was that instinctive revulsion I felt? My rejection of journalism, I realized, had been more about shedding a cold, dispassionate tone--not about giving up on the truth, in its most prosaic sense. The book I eventually wrote veers into silliness as often as possible, but its flights of fancy are plainly obvious for what they are. Meanwhile, I wrote with an obsessive need to get my facts right, to back up every contention with research, to quote interviews accurately and fairly, or not at all.
There was no escape: it was journalism, plain and simple. Without the least irony, I felt bound by a contract--and I don't mean the book deal. It doesn't matter if you think you're operating under "the rules of theater," as Daisey claimed. What matters is whether you're willing to mislead your readers. And that's true whether or not you're a journalist. --Andrew Blackwell, author of Visit Sunny Chernobyl: And Other Adventures in the World's Most Polluted Places (Rodale Books). See our review below.
Literary Lists
SF For Non-fans; New Mysteries; Terrifying French Kids' Books
Flavorwire recommended "10 great science fiction books for people who don't read sci-fi."

---

NPR's Maureen Corrigan touted "5 new mysteries [that]return to the scene of the crime," noting that they "are written by veterans of the form" and "all are standouts, either because of their distinctive literary delights or because of ingenious variations on familiar plots and characters."

---

Acknowledging that "this kind of thing often rests on chance, fashion and unforeseeable future circumstance," Flavorwire created a list of "contemporary authors we think we'll still be reading in 100 years."

---

A slide show of "terrifying French children's books" was presented by the Guardian's Jenny Colgan , who observed: "I don't know why so many French children's books are so bafflingly, needlessly frightening."
Book Review
Fiction

Falling into Grace
by Michelle Stimpson
The Secrets of Mary Bowser
by Lois Leveen
A Lady Cyclist's Guide to Kashgar
by Suzanne Joinson
The Jane Austen Marriage Manual
by Kim Izzo
Mystery & Thriller
Last Call for the Living
by Peter Farris
Biography & Memoir
Dream New Dreams
by Jai Pausch
Political Science

Our Divided Political Heart
by E.J. Dionne
Sports
La Roja: How Soccer Conquered Spain and How Spanish Soccer Conquered the World
by Jimmy Burns
Travel Literature
Visit Sunny Chernobyl: And Other Adventures in the World's Most Polluted Places
by Andrew Blackwell
Children's & Young Adult

Three Times Lucky
by Sheila Turnage
Of Poseidon
by Anna Banks
The Whispering House
by Rebecca Wade
Pets
Cats Behaving Badly: Why Cats Do the Naughty Things They Do
by Celia Haddon
SOLITUDE CREEK
by Jeffery Deaver
ISBN-13 978-1455517152
Grand Central Publishing
5/12/2015
#4 in the Kathryn Dance Series


an exclusive interview with
NYT bestselling author Jeffery Deaver
SOLITUDE CREEK is the fourth in the Kathryn Dance series, following the amazing, XO. What's in store for Dance this time around?
Oh, mayhem, chaos, and terror, of course! In this novel, Kathryn gets busted down to "buck private" for making a serious mistake during an interrogation; she's relegated to civil work for the CBI, like checking health certificates and bottle deposit receipts. But you can't keep a strong woman down and she secretly runs an investigation on a villain obsessed with turning people's panic into a weapon.
THE BIG THRILL caught up with Deaver to talk about mayhem, chaos, and of course, SOLITUDE CREEK. Read about it here.

ALSO FEATURED ON THE
the big THRILL…
RUINS OF WAR by JOHN A. CONNELL: It took a decade, four defunct novels, and countless rejections before Connell landed a publishing deal. But the hard work and determination paid off. His novel, RUINS OF WAR—a unique, historical thriller set in postwar Germany—is already garnering national acclaim. And Connell, well, he's considered a debut-to-watch. Read about him in THE BIG THRILL.
THE TAPESTRY by NANCY BILYEAU: As a trained Journalist, whose editorial credentials include Rolling Stone and Entertainment Weekly, Nancy Bilyeau understands the value—and importance—of a well-researched novel. Particularly in the case of her Tudor-inspired thrillers. For THE TAPESTRY, the third book in her bestselling Joanna Stafford series, Bilyeau pits her protagonist against none other than King Henry VIII. Check it out in THE BIG THRILL.
THE SHADOW CARTEL by LAYTON GREEN: International man of action, Dominic Grey, has fought cults and criminals all over the globe. In his next escapade, he takes on THE SHADOW CARTEL. We recently sat down with Dominic's creator, Layton Green, and asked the world-traveler-turned-bestseller about his journey to the top of the bestseller list and where he plans to go from here. Catch the whole interview in THE BIG THRILL.
STONE COLD DEAD by JAMES ZISKIN: A taut tale of mystery and suspense that is at once a reminder of how a sleuth got the job done in the era before CSI and an antidote to nostalgia, James Ziskin's STONE COLD DEAD is just too cool to miss. Read all about it in THE BIG THRILL.
DYING BRAND by WENDY TYSON: In the third installment of Wendy Tyson's Allison Campbell mysteries, Campbell ends up investigating the brutal murder of her former boyfriend. As her hunt for truth reveals each secret, Campbell's past and present collide, in a mystery that is not just deadly, but the most personal yet. Get the full scoop on DYING BRAND in THE BIG THRILL.