Notes: Stephen Covey's E-Exclusive with Amazon
In an exclusive deal, Stephen Covey and RosettaBooks are selling e-versions of longtime bestsellers The 7 Habits of Highly Effective People and Principle-Centered Leadership exclusively on Amazon and are offering the e-editions of several new books there as well. The New York Times called this a move that "promises to raise the already high anxiety level among publishers about the economics of digital publishing and could offer authors a way to earn more profits from their works than they do under the traditional system."

These are the first e-versions of the titles, which have been published by Simon & Schuster, and are being offered by Amazon for $7.99 each. Amazon called Covey "the 13th bestselling author of all time on Amazon.com."

RosettaBooks CEO Arthur Klebanoff told the Times that Covey will receive more than half of the net proceeds of the books. This higher royalty rate and Amazon's "plans to heavily promote the e-book editions" were cited by Sean Covey, son of Stephen Covey and chief innovation office at Franklin Covey, as the main reasons for entering the deal.

Earlier this year Franklin Covey published Predictable Results in Unpredictable Times, co-written by Stephen Covey and available in e-book form only on Amazon. In the near future, the company is also publishing Great Work, Great Career, also co-written by Stephen Covey, which will be available in e-format only on Amazon.
---

In its online competition with Amazon and other e-tailers, Wal-Mart is seeking to use its network of stores to offer quick and free delivery of orders, the Wall Street Journal reported. The experiments include pick-up desks at the front of some stores as well as Internet purchase drive-through windows at a few stores near Chicago. The company said that 40% of online orders are picked up in its stores.

The Journal noted that Amazon has taken steps to speed delivery times. "In October, it began offering same-day delivery in seven U.S. cities, at an extra cost to shoppers. By working with carriers and improving its own internal systems, Amazon this fall started offering second-day deliveries on Saturdays--shaving two days off some orders."
---
Left Bank Books, New York City, which lost its lease and was on the way to closing, will likely stay alive and move to another location, the New York Times reported.

Owner Kim Herzinger told the paper that he plans to sign a five-year lease "in the coming weeks" on a larger space a few blocks away in the West Village.

The store has its roots in Bookleaves, which opened in 1992. In 2005, Herzinger bought the store and "refocused the business around the sale of rare, signed and first-edition books, modeled after his favorite shops in London."
---
Congratulations to Charis Books, Atlanta, Ga., which recently celebrated its 35th birthday. Besides a party, events included a concert and discussion featuring Alice Walker, Pearl Cleage and the Indigo Girls and a conversation between Beverly Guy-Sheftall and Gloria Steinem. The store wrote in its e-mail to customers, "We are so grateful to all of you for the love and birthday wishes you gave us over the last month. Many of you were physically present at all of our 35th Birthday events, and we were very honored to celebrate with you! Many more of you were not able to be in the room with us at the celebratory events, but sent love and wishes, and for the last month we have been reveling in that birthday wish energy--thank you. It is because of (and for) all of you that we have existed for 35 years, and counting! We know that without the love, support, donations, volunteer time, and interest that all of you have shown us, we would never have been able to make it this far. So we thank you most sincerely for being part of the Charis community. We hope you know that our birthday is your birthday. Happy 35th!"

Incidentally Southern Spaces has a history of the store, with pictures taken at various times during the past 35 years.

---

"Bookstores have always mattered to me," wrote Charles McNair in a Paste magazine essay supporting A Cappella Books, Atlanta, Ga., and indies everywhere. "I love visiting them, no matter the city or neighborhood. I love to see folks browse, check out the stacks, crack open something new and good... or old and good, for that matter. It's a social thing for me, the way a sports bar makes a frat boy feel at home, or a botanical garden inspires an orchid enthusiast. I am nourished among titles and ink and the sorts of folks who show up to worship books in their shrines."

McNair expressed concern that it is "the independent bookstores, like A Cappella, most at risk. If there were an endangered species list for American businesses, you could add the indie book store right next to the daily newspaper and the CD store. Much feels at stake when the business is a vital organ in a community, like A Cappella (and many other book stores). Traffic to Frank Reiss' store helps indirectly support Sevenanda, a nearby health-food cooperative; Charis, an alternative book store; Opal Gallery; Savage Pizza; a little community drug store, an optician, and a number of more off-beat destinations. Traffic to these businesses helps A Cappella too. It's symbiosis. But what happens when random organs of commerce in the community fail? A store here, a store there... soon you've got Flint, Michigan. Rows of Yorick's skulls (alas) stare out where vibrant businesses used to be."

His conclusion? "We owe bookstores our energy and our solidarity. That's what they've given to us."
---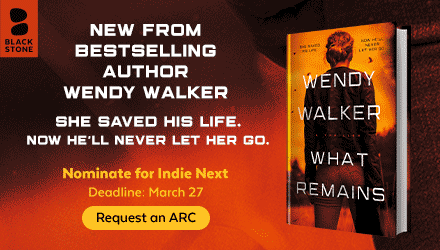 ---