'The Power of an Audience'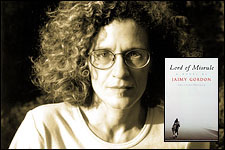 "I had to confess that I do think about an audience, and I don't think that's so bad. I'm a reader, and so I know what it's like. That power--I wanted it so badly."
--Jaimy Gordon, author of National Book Award winner
Lord of Misrule
in a
New York Times
story about her development as a writer, love of horses, whether she wants or can find a general audience and more.
---

---