'First Line Flash Mobs'
"So, let's create a few hundred Flash Mobs all over the country with people spontaneously reciting opening lines to their favorite books in a continual wave across the center of America's shopping malls. We can even put them to music and include synchronized moves. Synchronization managed to make swimming seem more entertaining and people can do this without getting wet or nose plugs.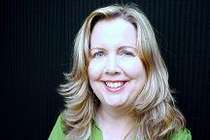 "We'll call them First Line Flash Mobs and they can be all thriller with everyone in trench coats or all romance and participants can wear feather boas or tween novels with a crowd in prom attire. The first lines don't have to come from classics or even bestsellers but from favorites. Bookstores can hand out coupons or even free books and libraries can sign up people for cards. It's an idea with legs that might lead to more great adventures both in our imagination and the local food courts."
--Columnist Martha Randolph Carr in the New Bern, N.C.
Sun Journal
.
---

---