Nancy Pearl's Revised 'Rule of 50'
"On the spur of the moment, with no particular psychological or literary theory in mind to justify it, I developed my Rule of 50: Give a book 50 pages. When you get to the bottom of Page 50, ask yourself if you're really liking the book. If you are, of course, then great, keep on reading. But if you're not, then put it down and look for another....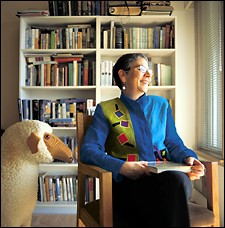 "This rule of 50 worked exceedingly well until I entered my own 50s. As I wended my way toward 60, and beyond, I could no longer avoid the realization that, while the reading time remaining in my life was growing shorter, the world of books that I wanted to read was, if anything, growing larger. In a flash of, if I do say so myself, brilliance, I realized that my Rule of 50 was incomplete. It needed an addendum. And here it is: When you are 51 years of age or older, subtract your age from 100, and the resulting number (which, of course, gets smaller every year) is the number of pages you should read before you can guiltlessly give up on a book. As the saying goes, 'Age has its privileges.' And the ultimate privilege of age, of course, is that when you turn 100, you are authorized (by the Rule of 50) to judge a book by its cover."
---

---