Borders Sales Down 17.9% Last Year; Bankrupt Chain May Close Even More Stores

Much more on Borders Group's filing for Chapter 11 bankruptcy reorganization protection, based on documents filed at bordersreorganization.com:
In the fiscal year ended January 29, net sales at Borders fell 17.9%, to $2.3 million. The net loss for the first 11 months of the fiscal year was $168.2 million, compared to a net loss for the full fiscal year ended January 30, 2010, of $109.4 million.

Only five years ago, Borders had sales of $4 billion annually--as well as 35,000 employees, about 500 superstores, 700 Waldenbooks stores and 55 Borders stores abroad.

While Borders plans to close 200 superstores in the next several weeks (see a full list go to page 16 of this filing), it may close up to 75 additional stores after that.

For our many New York-centric readers, three stores in Manhattan will be closed: 100 Broadway, in the financial district, which replaced the destroyed World Trade Center store; the store at Park Avenue and 32nd St.; and the Kip's Bay store at Second Avenue and 32nd St. The Columbus Circle and Penn Plaza locations will remain open.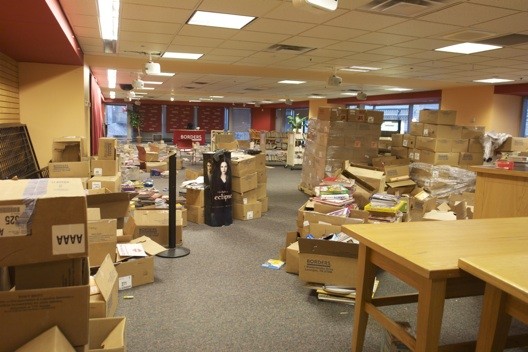 Borders's annual rent for its 639 stores and three distribution centers is $286.9 million. Most of the stores have 15- or 20-year leases with renewal options. The average time left on those leases is 5.9 years. Borders's specialty stores leases, most of which are at malls and airports, have an average unexpired lease term of one year.

Borders estimated that it loses about $2 million a week combined on the stores set for closing. At the time of the filing, Borders had "already implemented a program to close more than 260 stores." In 2009, Borders closed 219 stores, mostly Waldenbooks. Last year it closed 45 stores.

A joint ventured formed by Hilco Merchant Resources, Tiger Capital and SB Capital Group is handling the going-out-of business sales at the stores being closed. The group is guaranteeing to raise at least $131 million--and as much as $148 million and possibly more--from the sale. In order to receive higher value on the sale, Borders is selling all inventory, fixtures and equipment, rather than transferring them to other stores.

Borders owes its vendors about $303.2 million for inventory. Since it stopped paying most publishers and other suppliers in January, Borders has "generally" paid for inventory on a COD basis this year. As of the bankruptcy filing, Borders is past due $178.8 million to vendors and about $18.6 million to landlords.

Borders has about 6,100 full-time employees, 11,400 part timers and 600 "contingent employees," who work at least one shift a month, usually at special events. The average monthly gross payroll (before taxes, garnishment or other deductions) is about $26 million a month. Borders intends to continue regular benefits for employees who survive layoffs. Laid-off employees should be eligible for one week of severance for every year of service, up to 12 weeks' pay, regardless of how long they have worked for the company.

The only two shareholders with more than a 5% interest in Borders are Bill Ackman's Pershing Square Capital Management, which owns 31.3% of company stock, and chairman and CEO Bennett LeBow's LeBow Gamma, which owns 15.4%. Another 2,411 shareholders own the rest of the company.

It's striking to note that of the six people listed as senior management, the one with the longest tenure, James Frering, senior v-p, store operations, joined in August 2009 (as v-p, U.S. Paperchase operations). Everyone else joined Borders last year, including chairman LeBow and president Michael J. Edwards.

To help with the bankruptcy, Borders appointed Ken Hiltz senior v-p, restructuring.

Borders has hired as its bankruptcy lawyer David Friedman at Kasowitz, Benson, Torres & Friedman, whom the Wall Street Journal called "perhaps best known for his creditor-side work," and didn't hire "a huge firm steeped in debtor-side bankruptcy work." Why the move? The Journal cited an American Lawyer report in January on ties between Borders chairman and CEO Bennett LeBow and Marc Kasowitz of Kasowitz, Benson that go back to 1996. (LeBow's Liggett cigarette company is one of the firm's larger clients.)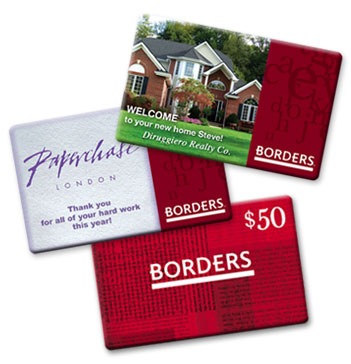 If only Borders's main business were gift cards! In an eye-opening aside, Borders noted that as of January 29, the amount outstanding on gift cards was $275,045,213. Based on past redemption rates, the company expects only $113,141,505 of that amount to be used, meaning that it would pocket $161.9 million, almost 60% of the total outstanding.--John Mutter
---

---