Digital or Print, Stories Endure
"Our view of the future is simple. Nobody knows to what extent printed books will survive the technological future into which we are all headed. But that's OK because at the Booksmith our focus has always been on the cultural experience and community which surrounds books. Whether people choose to read e-books or print books, people will always need help telling and selling their stories, people will always need help finding great stories to read, and literature lovers will always want to meet other literature lovers. Author Jonathan Franzen has said that fiction is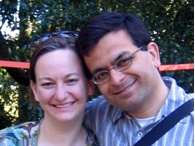 the most fundamental human art because it's about storytelling and that our reality arguably consists of the stories we tell about ourselves. And the most fundamental human art isn't going away. In fact it's going through explosive growth as more and more people become writers, and more and more books are published every year."
--From a message to customers and others from Christin Evans, Praveen Madan and the staff at the
Booksmith
, San Francisco, Calif.
---

---