Indie Bookstore: 'A Very Human Experience (Even for Our Cat)'
"Being in a bookstore is a very human experience (even for our cat). I'm lucky that I work with interesting and smart people that like to think and read and talk. Some are in bands, some are writing books, some are carving leather into sharks and bats. When I come into work I get to be around some pretty fun folks. Then there are the customers and people of Vermont Avenue. Every one a story, a possible enlightenment, a life. We have our regulars--some crazy, some brilliant, many both. The humanness of the bookstore is special. I worked in a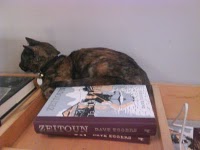 hardware store when I was in high school. You know what I used to think was so cool about working in a hardware store (besides sticking my hands in a bucket of new bolts and learning to fix a toilet)? Seeing the range of humanity in America. But the bookstore is even better--people go to a bookstore to escape, to learn, to be inspired, to explore, to be turned on, and mostly because they want to, not because the faucet leaks or a sprinkler head broke. These are the people I want to surround me!"
--Steven Salardino, manager of
Skylight Books
, Los Angeles, Calif., in the shop's March e-newsletter.
---

---