BEA Bytes and Bits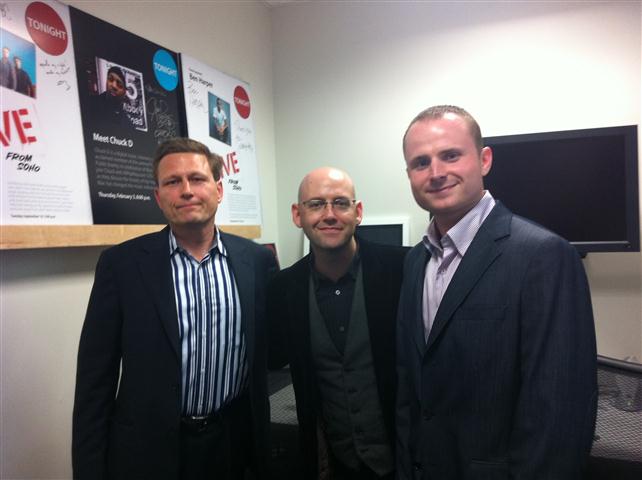 As part of New York Book Week, coinciding with BEA, authors (l.-r.) David Baldacci (The 6th Man), Brad Meltzer (The Inner Circle) and Michael Koryta (The Ridge) appeared at the Apple store in SoHo Tuesday night.
---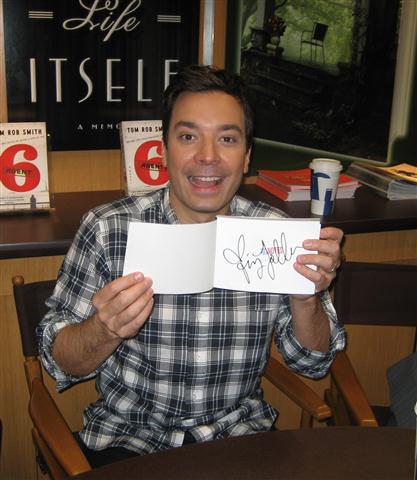 The host of Late Night with Jimmy Fallon got up pretty early in the morning to greet a long line of fans and sign copies of Thank You Notes (Grand Central), based on the popular segment on his program.
---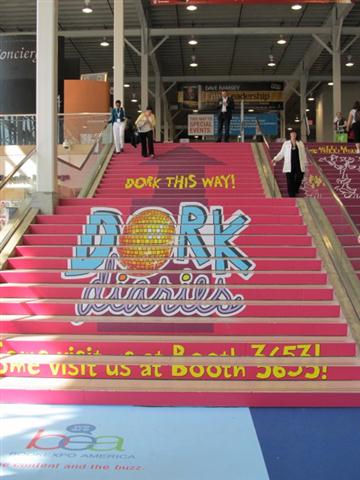 "Dork This Way!" Just in case you get lost this week searching for booth 3653, featuring Rachel Renee Russell's Dork Diaries (Aladdin), you can always follow the grand stairway to dorkdom at the Javits Center.
---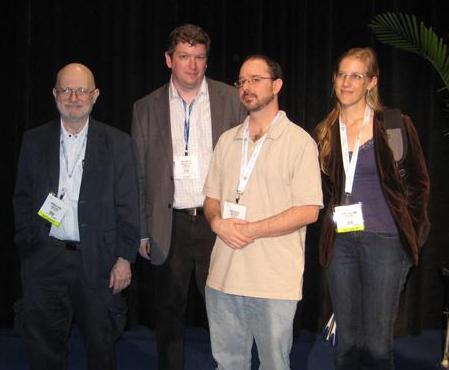 Ron Hogan (2nd from left), SF reviewer for Shelf Awareness, moderated a panel featuring Tor authors on the Midtown Stage yesterday. Vernor Vinge, whose latest book, Children of the Sky, is the long-awaited sequel to his classic Fire Upon the Deep, noted that it's particularly hard to write near-future SF, as real-life events so often overtake the imaginary ones. John Scalzi's newest book, Fuzzy Nation, reboots the 1950s work by H. Beam Piper (and even inspired a power ballad). And Vaughn talked about how she uses the short stories collected in Kitty's Greatest Hits to expand on her popular series character.
---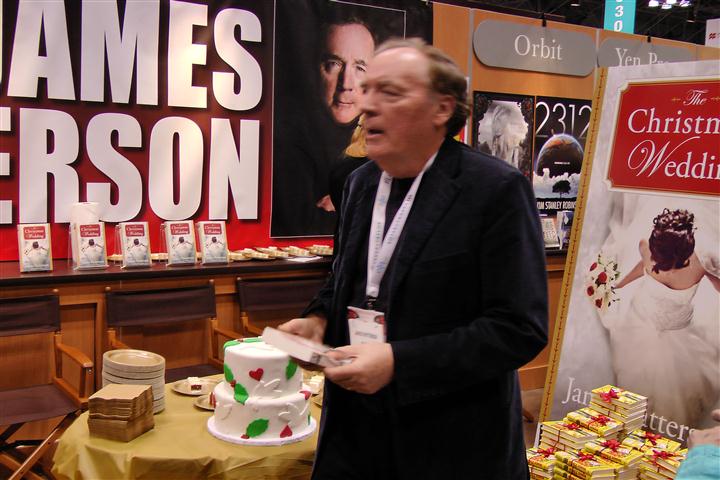 For part of yesterday afternoon, a large slice of the Little, Brown booth was dedicated to James Patterson, his forthcoming Christmas Wedding and celebratory cake.
---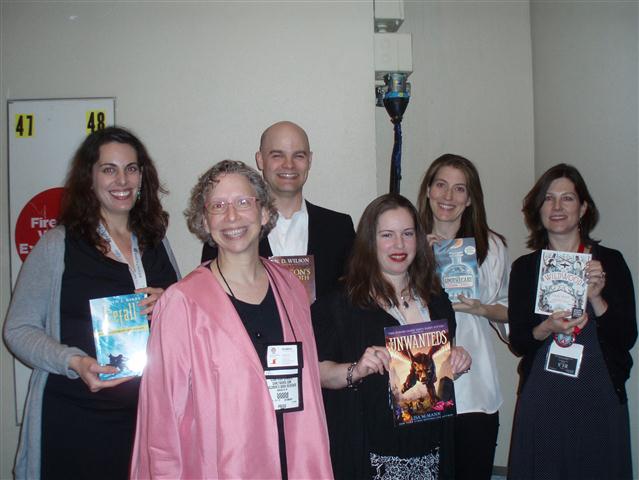 Fantasy dominated the Middle-Grade Editors' Buzz, from Lisa A. Sandell, editor of Icefall by Matthew Kirby (Scholastic); Lisa Von Drasek, moderator and librarian, Bank Street College of Education; Jim Thomas, editor of The Ashtown Burials #1: The Dragon's Tooth by N.D. Wilson (Random House); Lisa Abrams, editor of The Unwanteds by Lisa McMann, (S&S); Jennifer Besser, editor of Apothecary by Maile Meloy (Putnam/Penguin); and Donna Bray, editor of Wildwood by Colin Meloy, (Balzer + Bray/HarperCollins).
--
Sharing insights about the current state of the publishing industry (as well as a few laughs) on the show floor yesterday were Cursor'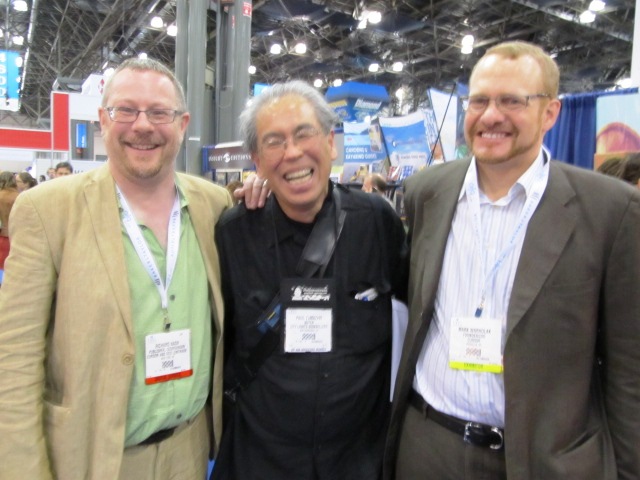 s Richard Nash and Mark Warholak, bookending Paul Yamazaki of City Lights Bookstore, San Francisco, Calif.
---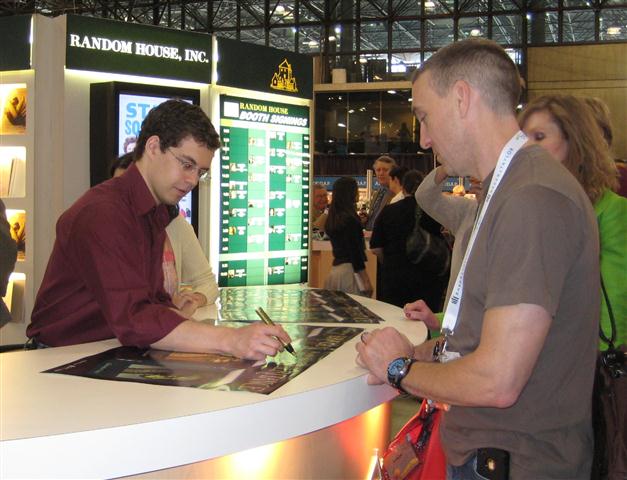 Fans were thrilled to have Christopher Paolini sign posters of Inheritance, the much-anticipated conclusion to his Inheritance Cycle, begun with Eragon.
---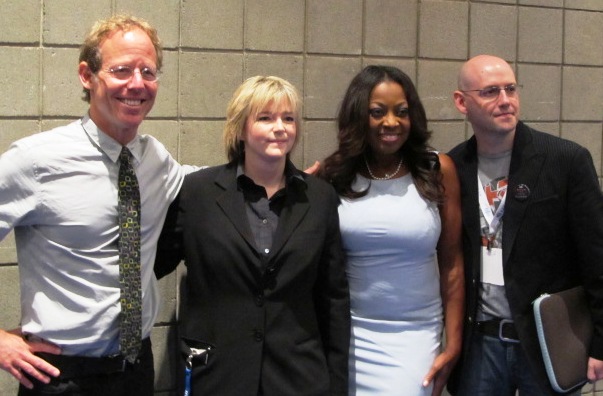 Star Jones (Satan's Sisters, Brilliance) hosted yesterday's Audiobook and Author Tea, sponsored by the Audio Publishers Association. The event featured Tony Horwitz (Midnight Rising: John Brown and the Raid that Sparked the Civil War, Macmillan Audio, October), Karin Slaughter (Fallen, AudioGO, June) and Brad Meltzer (The Inner Circle, Hachette Audio).
One of many highlights during the conversation among the four about their audiobook experiences occurred when the topic of working with narrators came up. "I have my audiobook narrator with me," said Meltzer, introducing Scott Brick, who stepped up to the podium and delivered the opening lines of The Inner Circle, after which Meltzer quipped, "Now does that make me sound tough or what?"
(Pictured l. to r.: Tony Horwitz, Karin Slaughter, Star Jones and Brad Meltzer)
---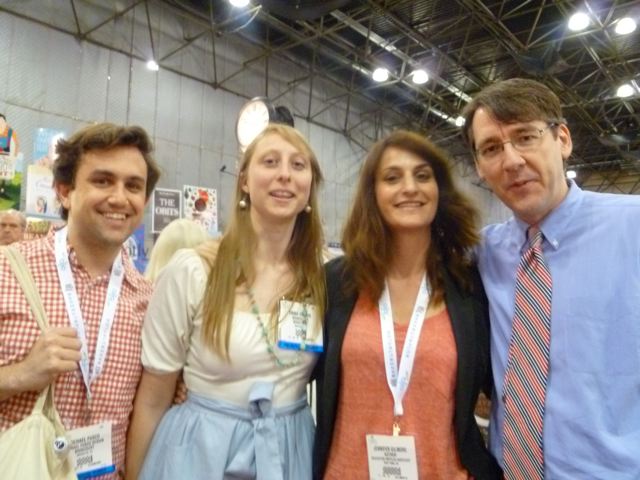 Graphic designer Michael Fusco, author Emma Straub (Other People We Married), author Jennifer Gilmore (Something Red) and Algonquin v-p of online marketing Michael Taeckens enjoying a few minutes of social time in the Algonquin Booth.
---

---