Indies Complement the 'Rich Experience of the Book'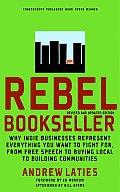 "The book is a cultural signifier that touches deep human feelings, often garnering almost mystical attachment. Books are so important and influential they are banned, censored, and burned, like witches at the stake. But they are organic objects, subject to damage and decay, and yet astonishingly durable....

"The intimacy and personality of independent bookstores provides a high-touch environment complementing the rich experience of the book--an antidote to the relentless technological acceleration in our lives; a counterbalance to the local-disconnect felt by the globally connected."

--Ed Morrow, co-founder of the Northshire Bookstore, Manchester Center, Vt., in
his introduction
to the revised, updated edition of
Rebel Bookseller: Why Indie Bookstores Represent Everything You Want to Fight for from Free Speech to Buying Local to Building Communities
(Seven Stories Press).
---

---