'It's Now. It's Us.'
"We are an industry in transformation. This is the most important thing that has happened in any of our professional careers. This is the transformation of the object and idea that we love and value, the book, with all the inherent risks and possibilities.

"It's now. It's us. It's not going to be our kids or our grandchildren.

"We're developing the systems, processes, models and relationships that will be the track of the future. And so the work we're doing today is the most important work any of us who love books have ever done. 'It's us' is all of us--every lover of literature, of the culture of books and authors and readers. Every parent, teacher, editor, publishing professional, agent, librarian, bookseller, reviewer, blogger, in short, everyone who cares about the future of books.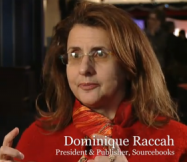 "Sometimes in the day-to-day rush it helps to remember. It's now and it's us."
— Dominique Raccah, president and CEO of Sourcebooks and chair of the Book Industry Study Group, in remarks at BISG's annual meeting on Tuesday.
---

---