National Book Awards: A Celebration of Communities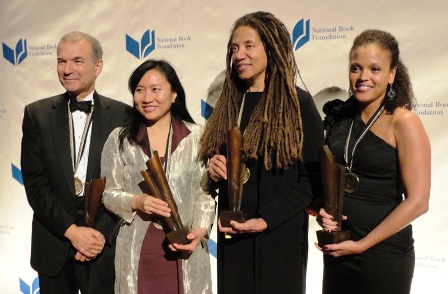 "The word national in the National Book Awards has been wonderfully represented tonight," said Nikky Finney, whose poetry collection Head Off & Split (TriQuarterley) was one of the winning titles at last night's ceremony, commenting on the diversity among this year's honorees and how they represented several of America's communities rather than just one. Receiving the award earlier in the evening, she gave an impassioned speech touching not just upon her mentors but on the turbulent history of African-American literacy, which moved master of ceremonies John Lithgow to declare, "That was the best acceptance speech for anything that I've ever heard in my life." As she accepted the fiction prize for her novel Salvage the Bones (Bloomsbury), Jesmyn Ward spoke about how she was inspired to write as a way to honor the life of a brother who died young, and how her ambitions have expanded to tell the stories of the South's poor, black, and rural disenfranchised. "This is a life's work," she said, "and I am only at the beginning."
Just before the young people's literature award was presented to Thanhha Lai for Inside Out & Back Again (Harper), there was a muted reference to the controversy surrounding the shortlist, as the jury's chair, Marc Aronson, described 2011 as "a bad year for muffled phone calls with disastrous consequences." (He didn't mention Lauren Myracle or Shine by name, but drew an extended parallel to the St. Louis Cardinals and how, like them, "although we had our little detour, we ultimately had a triumph.") Lai was still dazed by her win at the ceremony's end, noting that it was far beyond the expectations she'd had for a story she originally started telling to share with her nieces and nephews.
At the ceremony last night, Mitchell Kaplan of Books & Books received the Literarian Award for Outstanding Service to the American Literary Community, for his work in founding the Miami Book Fair International, now in its 28th year. Walter Mosley presented the award.
In his acceptance speech, Kaplan said, "I stand shoulder-to-shoulder with booksellers everywhere, who are doing the same work in their communities.... Writers are writing marvelous books. Readers want to read and find them.... We need to reassert the place of the bookseller.... Our challenge today is to figure out how to solve the complex distribution issues that have arisen in the world we live in."
This year's nonfiction prize went to Stephen Greenblatt for The Swerve: How the World Became Modern (Norton). "Who ever thought that a book about a book nerd would win a National Book Award?" quipped National Book Foundation executive director Harold Augenbraum (who also pointed out that this was the second year in a row that women writers won in three of the four categories, and comprised 12 of this year's 20 nominees). Greenblatt thanked the poet Lucretius, whose On the Nature of Things was the book discovered after a millennium's absence by Poggio Bracciolini--that 15th-century "book nerd"--helping set the Renaissance in motion. Then, reflecting that "a poem is a text written by an individual, but a book is something that's collectively done," he went on to thank the traditional assortment of publishing colleagues and family members--as Lithgow joked, "That was a damn good acceptance speech, too!" --Ron Hogan
---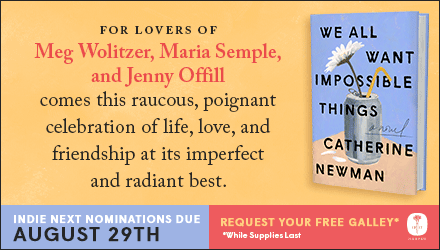 ---