Walter Dean Myers Sworn In at the Library of Congress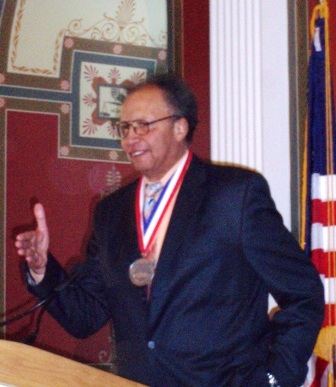 Yesterday morning, at the Thomas Jefferson Building of the Library of Congress, author Walter Dean Myers was sworn in as the National Ambassador for Young People's Literature. He is the third author to hold this position; Jon Scieszka was the first, followed by Katherine Paterson.
At his inauguration, Myers opened with a story about a conversation he had had with two men. One of the men pointed out that he had a lot in common with Myers: they both played basketball; they both played the saxophone; they grew up on the streets. Myers agreed there were some similarities, but there was one big difference: "We're in a maximum security prison," Myers pointed out, "and I'm going home." But the conversation stayed with Myers. He grew up in a foster home, he dropped out of school. It was a slippery slope. "Why didn't I go the way he went?" Myers asked himself. "Because I could read. I had the ability to take advantage of every opportunity that came my way." The prisoner could not read.
Most of Myers's accolades--two Newbery Honors, five Coretta Scott King Awards, two National Book Award finalists, the Margaret Edwards Award--were accrued for his young adult books, but Myers wants to drive home the message that parents need to read to their babies. "Read to the children at three months, six months, nine months old," he said, citing a new study showing that, when they start school at five years old, most kids are "already far behind." One of his other goals: "Reading has to become cool for boys," he said. Myers recalled placing blocks of wood under his bed's legs to raise it up and make room for all the comics kept hidden there (his mother didn't approve of comics). His platform as ambassador: "Reading is not optional." He discussed his goals at length with David Greene yesterday morning on NPR's Morning Edition. --Jennifer M. Brown
---

---