B&N Third Quarter: Sales Up 5%; Net Income Down 14.2%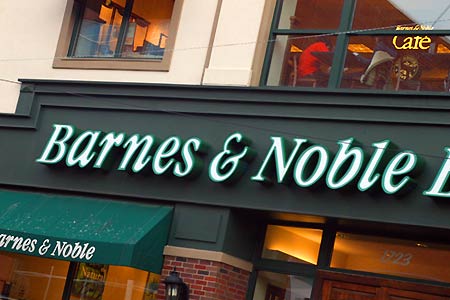 Total sales at Barnes & Noble in the third quarter ended January 28, rose 5%, to $2.4 billion, and net income was $52 million, a 14.2% drop from the net gain of $60.6 million in the same period last year.
At B&N trade stores, sales rose 2%, to $1.49 billion, and sales at stores open at least a year rose 2.8%. Store "core" sales--which excludes the sale of devices, accessories and warranties--rose 4.2%. B&N College sales fell 3%, to $525 million, "due to a shift from selling new and used textbooks to lower-priced textbook rentals." Sales at college stores open at least a year were flat. B&N.com sales rose 32%, to $420 million, mainly because of the continued growth of Nook e-readers and digital content sales, offset by a decline in sales of printed books online.
B&N CEO William Lynch commented: "In the third quarter, our traffic and sales in stores were the highest we've seen in five years. Our physical book sales at our stores increased more than 4% over last year, and our merchandising changes in our juvenile business and our toys & games department experienced double-digit revenue growth."
B&N predicted that sales for the full fiscal year will be between $7 billion and $7.2 billion. Sales at stores open at least a year should rise 1%, college store sales will be flat and sales at B&N.com should rise 40%-50%. The Nook business will likely have sales of $1.5 billion this fiscal year.
---
In related news, G Asset Management, which describes itself as "a value-oriented investment firm," has bought a 5% stake in B&N, making it the bookseller's fifth-largest investor. In a filing with the Securities and Exchange Commission quoted by Bloomberg Businessweek, G Asset president and chief investment officer Michael Glickstein said B&N is undervalued and supported the idea, first made public by the company in January, of spinning off the Nook business. This places G Asset on the side of John Malone's Liberty Media, which reportedly has pushed for the move. Liberty Media owns 16.6% of B&N and has two representatives on the board.
---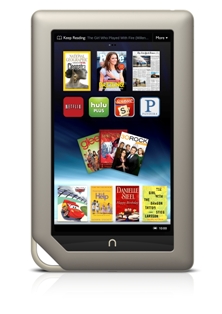 In yet more news, B&N has introduced an 8GB version of the Nook Tablet, which is selling for $199, a price competitive with Amazon's Kindle Fire. "It's a smart, if possibly-overdue move for B&N," Techcrunch said. "Amazon has already been playing up their price advantage with a national marketing campaign, and while it targets the iPad specifically, the message still applies to B&N's slightly pricier tablet."
---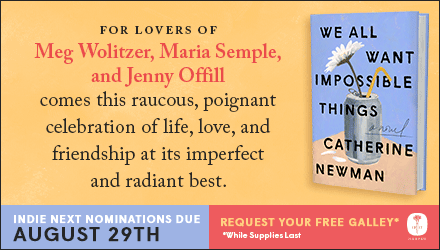 ---