Tim Waterstone: New Authors 'Need Physical Bookshops'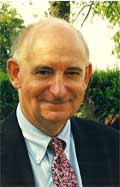 "It's actually as simple as this. New authors, building their customer base, need physical bookshops. Physical bookshops are lovely tactile, friendly, expert, welcoming places. Physical books, which can only be seen and handled in physical bookshops, are lovely, tactile things. Destroy those bookshops, and the very commercial and cultural base to the book industry is destroyed. Once and for all. Like Humpty Dumpty, it can never be put together again."
--Tim Waterstone in his
Daily Beast
post headlined "
How We Lost Bookshops Thanks to Amazon and Publishers
." Waterstone founded the eponymous British bookstore chain in 1982, sold the company to WH Smith in 1993, then bought it back in 1998 when he was chairman of HMV. He retired in 2001.
---

---