Bookstore Sales Bounce Back in October, Up 4.6%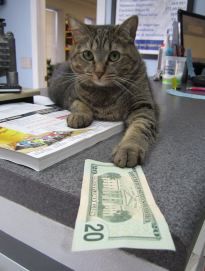 October bookstore sales rose 4.6%, to $914 million, compared to October 2011, according to preliminary estimates from the Census Bureau. For the year to date, bookstore sales have fallen 1.3%, to $12.546 billion.

In January, bookstore sales were even with the same period in the previous year, while in February and March bookstore sales dropped 4% and 3.8%, respectively, then rebounded in April by 3.8%, in May by 5.7%, in June by 3.8% and in July by 1.2%. In August, sales fell by 0.8%, the first drop in bookstore sales since March, and fell 8.3% in September (which was a boom month in bookstore sales in 2011 because of the Borders liquidation).

Total retail sales in October rose 5.2%, to $404.3 billion, compared to October 2011. For the year to date, total retail sales have risen 5.5%, to $4,004 billion.

Note: under Census Bureau definitions, bookstore sales are of new books and do not include "electronic home shopping, mail-order, or direct sale" or used book sales.
image: macsworldwide.wordpress.com
---

---