After Storm Damage, Longfellow Books Hopes to Reopen Soon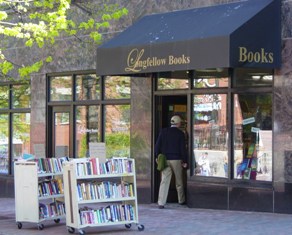 While many bookstores in the Northeast closed early and opened late after the Friday night blizzard and lost power for a time, sadly Longfellow Books, Portland, Maine, suffered disastrous water damage. As the store explained on its Facebook page, "Apparently the wind blew in a window on the second floor, which caused pipes to freeze." When the pipes burst, the sprinkler system turned on and drenched the store's books. Snow also accumulated in an office room and then began melting and dripping on books below.
Longfellow Books co-owner Chris Bowe told the Press Herald that the store hopes to reopen by Thursday night, in time for a Valentine's Day reading to benefit the campaign to free members of Pussy Riot, the feminist punk rock band whose members are in prison in Russia for staging a protest in a Moscow cathedral.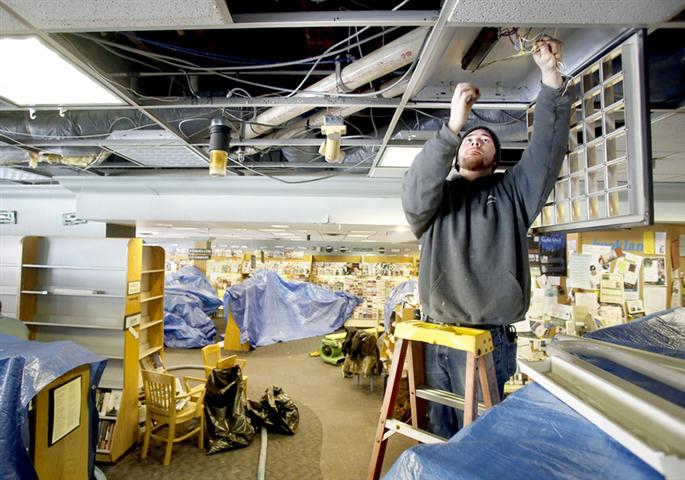 photo: Tim Greenway/Maine Sunday Telegram
Bowe estimated that 40%-50% of the store's 30,000 titles were damaged and praised firefighters for saving the rest. After answering the alarm, the firefighters took some books outside and covered others with tarps. "There were maybe 20 of them, and they were amazing," Bowe told the paper. "Instead of standing around and letting the water fall, they were carrying books to safety. It was a reverse Fahrenheit 451. I couldn't believe how fast they worked to save the books. They saved an enormous amount of stock."
Bowe said he doesn't know how much of the damage insurance will cover but is optimistic that the store can reopen this week. "Never underestimate the power of an independent bookstore," he said. "We have survived the chains. We have survived Amazon. We have survived the Kindles. The bookstore is one of those good places in the community. We will struggle, but we will get there."
Hundreds of customers and friends have already expressed their sympathy and desire to help Longfellow Books rebuild.
---

---