BEA 2013: Pictures from an Exhibition and Beyond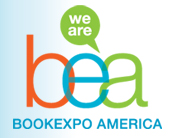 BookExpo America ended on Saturday with yet another innovation: at least 2,000 "power readers," aka consumers, roamed the halls of the slimmed down, ever more diffuse but surprisingly resilient show. The mood of many over the four days echoed Macmillan CEO John Sargent's comment at his plenary discussion on Wednesday that he is much more optimistic about the industry than a year ago. Booksellers were especially ebullient, pointing to their growing numbers, solid sales and a sense that publishers see them as important partners again.
Once again, BEA was the site to meet established and new authors, whose ranks included a cat (who was perhaps the only grumpy attendee); to learn about everything from cutting-edge digital matters to the nuts and bolts of remainder buying; and, as always, to see Dr. Ruth, who may have attended more ABAs and BEAs than anyone alive.
Our in-depth coverage of BEA will continue over the next week.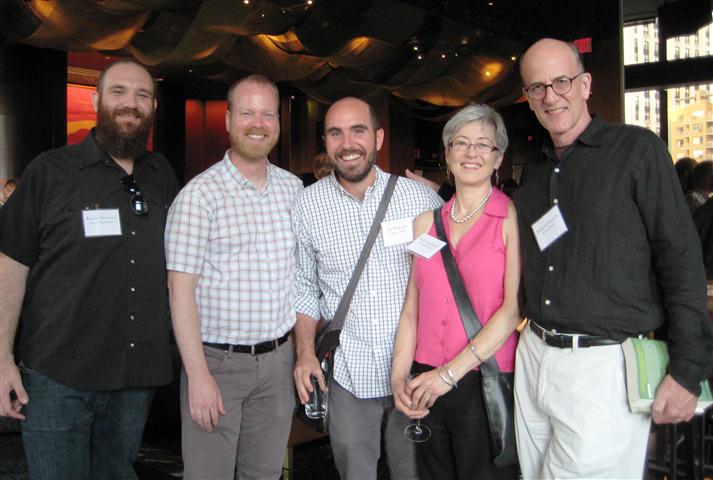 Happy booksellers at the Random House party on Friday night: Keaton Patterson and Jeremy Ellis of Brazos Bookstore in Houston; Joe Hickman, Lemuria Books, Jackson, Miss.; Kris Kleindeinst, Left Bank Books, St. Louis, Mo.; Richard Howorth, Square Books, Oxford, Miss.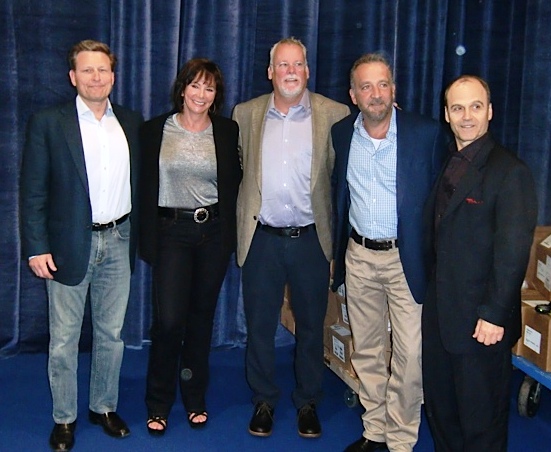 At the Inside the Mystery Writer's Studio panel, Marcia Clark (her third Rachel Knight novel, Killer Ambition, is coming from Mulholland Books June 18), confessed it was her first time as moderator. "So they started me out with the little guys," she said, introducing David Baldacci (King and Maxwell, Grand Central, Nov.), Michael Connelly (Gods of Guilt, Little, Brown, Dec.), George Pelecanos (The Double, Little, Brown, Oct.) and Scott Turow (Identical, Grand Central, Oct.).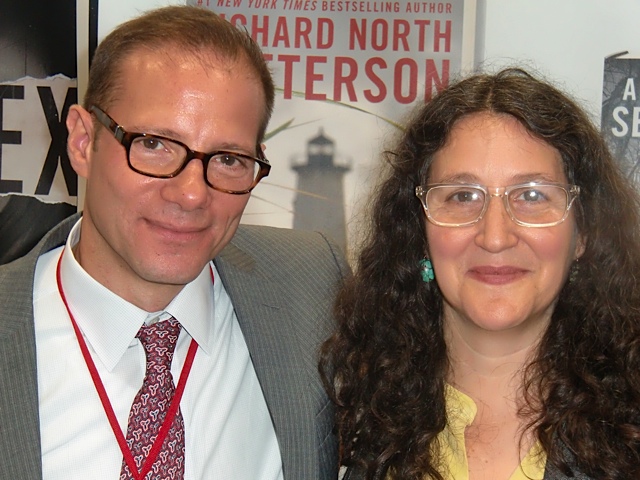 What's BEA without running into old friends (sometimes in new jobs)? Eric Price, director of sales, marketing and publicity at Quercus Publishing, and Sue Ostfield, sales and marketing director at Milkweed Editions, in the Quercus booth.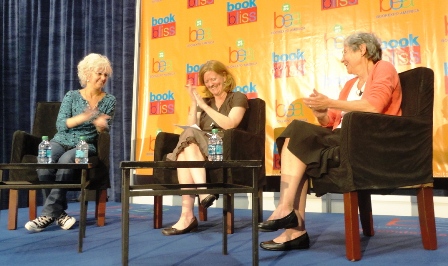 Shelf Awareness
children's editor Jennifer Brown (center) led a freewheeling discussion with Newbery Award winners Kate DiCamillo and Cynthia Voigt on BookExpo America's Uptown Stage. In addition to discussing their forthcoming children's books,
Flora & Ulysses
(Candlewick) and
Mister Max: The Book of Lost Things
(Knopf), the two authors talked about their writing lives, including their shared habit of writing in the early morning. "The voice in your head that says 'Who do you think you are? You can't do this, you don't know what you're doing....' That voice is not an early riser," DiCamillo said. "It's not there at 6:00 in the morning." Voigt's motivation was somewhat different. "I was raised with the mantra 'You can't do this,' and my response was... not accommodating," she confided, building on an earlier comment about the independent-minded protagonists in their books: "When I was growing up, the quality I call independence was called pigheadedness."
---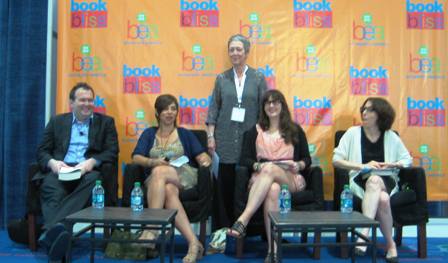 Marilyn Dahl, editor of
Shelf Awareness for Readers
(standing), talked about Great Fall Fiction with a group of editors on the Downtown Stage: FSG's Sean McDonald (who discussed
Hild
by Nicola Griffiths); Little, Brown's Judy Clain (who presented
Burial Rites
by Hanna Kent); Penguin's Alison Lorentzen (
Necessary Errors
by Caleb Crain); and Bloomsbury's Nancy Miller (
The Bone Season
by Samantha Shannon).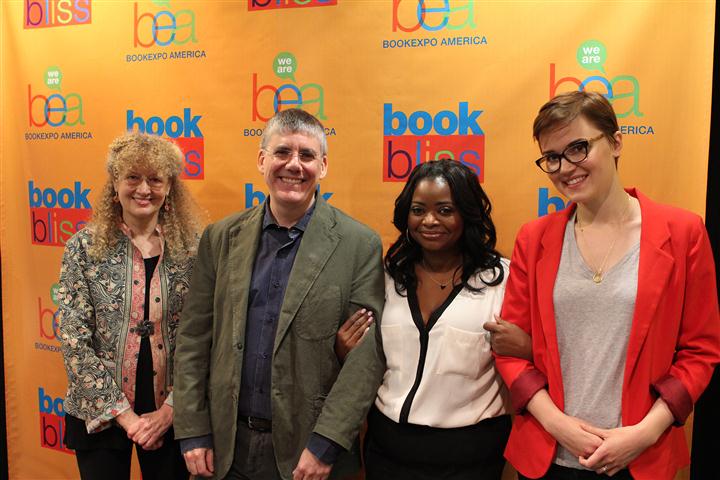 The Children's Book & Author Breakfast speakers prepare to kick off the events on Friday. L.-r.: Mary Pope Osborne (the Magic Tree House books, Random House), Rick Riordan (The House of Hades, Hyperion/Disney, Oct.); Octavia Spencer (Randi Rhodes, Ninja Detective series, S&S), who served as emcee; and Veronica Roth (Allegiant, Katherine Tegen/HarperCollins, Oct.).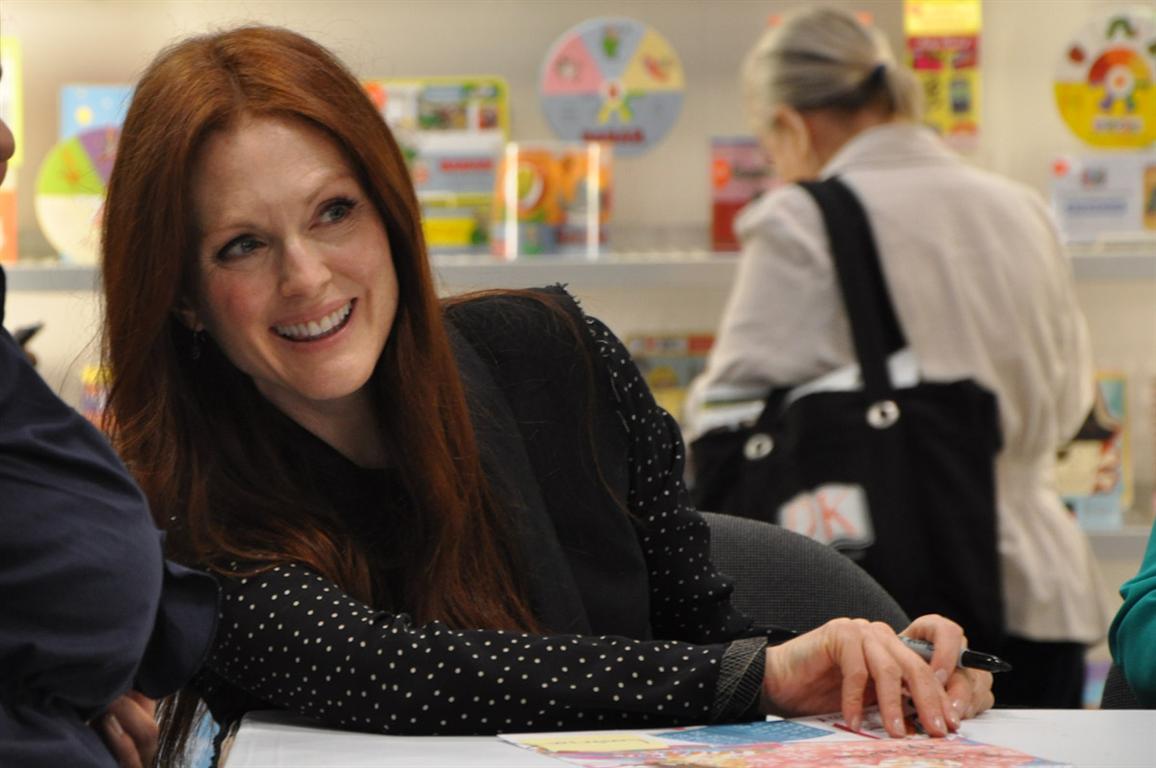 Julianne Moore signed posters in the Chronicle booth for her picture book, My Mom Is a Foreigner, but Not Me, illustrated by Meilo So, coming in August. (photo: Davida G. Brier)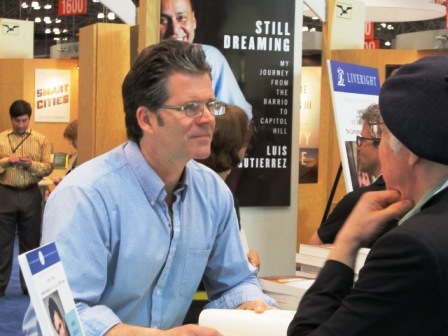 In the Norton booth, Andre Dubus III chatted with fans and signed ARCs of his upcoming novel, Dirty Love (October).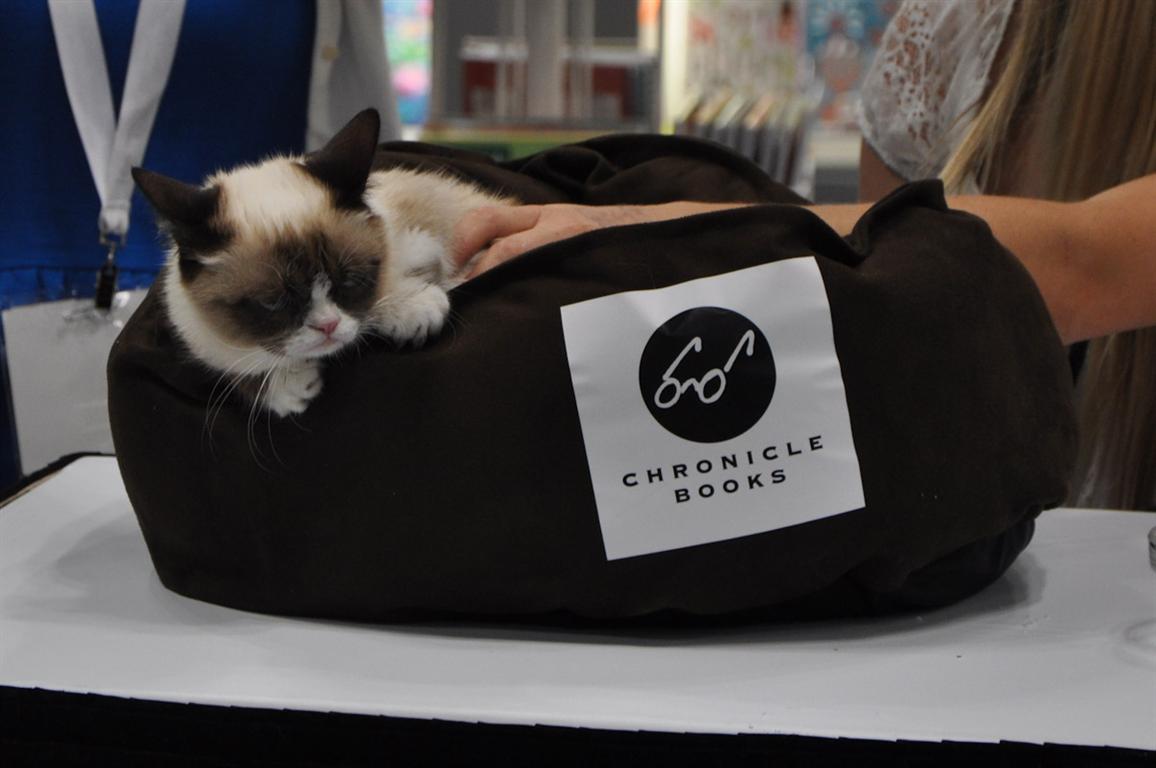 The star of BEA: Grumpy Cat, aka Tardar Sauce, the Internet sensation who is the star of Grumpy Cat: A Grumpy Book, to be grumpily published by Chronicle in October. (photo: Davida G. Brier)
---

---