Algonquin Round Table 2.0: S&S & Hotel in Partnership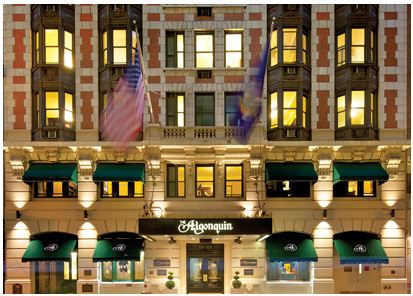 Simon & Schuster and New York City's legendary Algonquin Hotel have announced a partnership that will offer guests and New Yorkers an "enhanced visit," beginning with the new Simon & Schuster suite and a series of author events.

The Algonquin already has themed suites named after prominent Round Table legends, and guests who book the Simon & Schuster package will stay in a suite on the seventh floor with a living room, private bedroom and S&S memorabilia. A bookcase will house a permanent collection of literary classics and modern bestsellers. As part of the turndown service, guests will find on the first night of their stay an ARC from one of S&S's imprints.

"We are constantly looking for non-traditional venues that can expand the range of attendees at author events, as well as partnerships that can bring further visibility to our current publishing and company history," said Liz Perl, senior v-p, marketing, for S&S. "The Algonquin, with its longstanding and illustrious literary tradition, and its appeal to author, reader and traveler alike, is the perfect partner to further that ongoing effort."

A speaker series is also part of the partnership, with the publisher and the Algonquin planning to host ongoing author readings at the property. Chuck Klosterman, whose new book is I Wear the Black Hat: Grappling with Villains (Real and Imagined), launches the series July 8.

Gary Budge, general manager of the hotel, said the partnership with Simon & Schuster "is not only 'on brand' for us, but brings our guests a wonderful experience to enhance their time spent here."
---

---