Indigo CEO to Meet with Community over Store Closing
In an unusual appearance, Indigo CEO Heather Reisman is holding a "town hall" in the Runnymede section of Toronto to answer "questions from the community about the impending closure of Chapters Runnymede" in the Bloor West Village shopping district.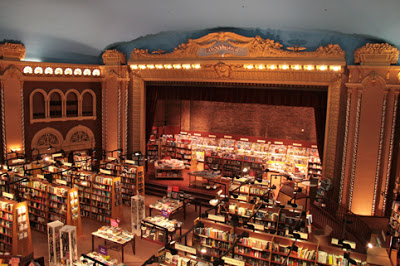 The store was not welcomed when Chapters, which since became part of Indigo, opened it in an old theater in 1998. Now many in the area are protesting the store's closing on February 16 to make way for a Shoppers Drug Mart.

O.Canada.com recounted that when the store was proposed, "more than 1,500 locals signed a petition demanding that the 1927 site of the Runnymede Theatre--which movie chain Famous Players gave up on in 1997--not be leased to a bookselling monolith.

"Toronto Mayor Mel Lastman and his eventual successor, Bloor West Village city councillor David Miller, both expressed displeasure with the deal.

"But the Ontario Municipal Board upheld a decision to rezone it for retail with the promise of renovations and restorations of the art deco theatre, which ultimately cost Chapters about $5 million in 1999."
---

---