Bookstore Opens in Furniture Store in Wheaton, Ill.
In a twist on bookstores in unusual settings, Prairie Path Books has opened in Toms-Price Home Furnishings in Wheaton, Ill. The space includes "big leather chairs and comfortable sofas, and a kitchen will allow for book discussions around cooking demonstrations," the store said.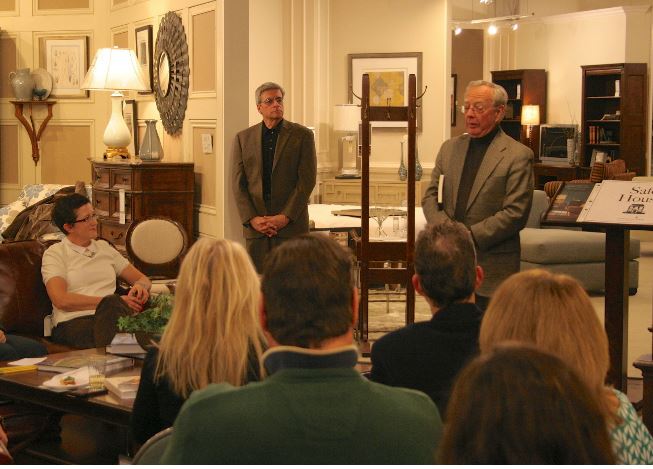 Authors Terence Faherty (standing, left) and Robert Goldsborough at a Prairie Path event at Toms-Price Home Furnishings.
Since October, owners Sandy Koropp and Heather Janiak have been hosting events in restaurants and homes at which they recommend books, mysuburbanlife.com reported. They wanted to open in their own location, but prices were too high. The pair noted that they have been providing "book-based discussions for the last decade."
"A bookstore within a furniture store is a natural fit," Koropp said. "Prairie Path Books has consistent values with Toms-Price--a focus on superior customer service and offering a quality product in which we whole-heartedly believe."
"My hope is that a bookstore will really generate more day-to-day foot traffic," Toms-Price president Scott Price said to mysuburbanlife.com. "By having them go through the store, hopefully there will be some synergies there as far as customers go." He noted that the furniture store setting provides a setting that resembles the homes where the booksellers have been holding events and called Prairie Path Books "a very hands-on, high-touch local bookstore" model.
---

---