Unpacking Party at Green Apple's Second Store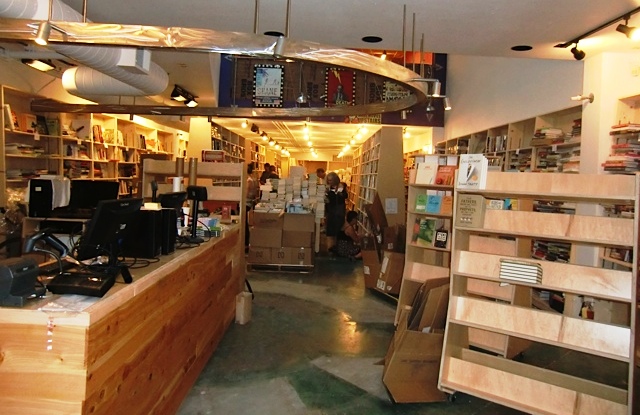 Interior of the new Green Apple Books on the Park.
To prepare its second store for its opening this week, Green Apple Books invited customers and publishing friends to help unpack over the weekend, in what turned into a three-day party. Friday evening, store manager Stephen Sparks led a brief tour of Green Apple on the Park, which is less than a block from Golden Gate Park, in the Sunset section of San Francisco. Green Apple's original store is thriving in its long-time location almost directly across the park, in the Richmond neighborhood.
The Sunset and the Richmond are both bustling neighborhoods that support a variety of local businesses that include boutiques, restaurants--and now two branches of one of the best indie bookstores in the country.
HarperCollins rep Jim Hankey brought gourmet pizza, cheeses and fruit for those helping out on Friday evening in what will be his neighborhood store. While it is not her neighborhood, Chronicle Books rep Anna-Lisa Sandstrum brought a bottle of Scotch to share with fellow book sorters and stackers (and mooching journalists).
Hankey, who has lived in the inner Sunset for 30 years, noted there hasn't been a bookstore there since the early '80s, when a local couple ran a new and used bookstore (which also housed their pet rabbit), and, before that, when Green Apple's original owner, Rich Savoy, opened a little offshoot of the store.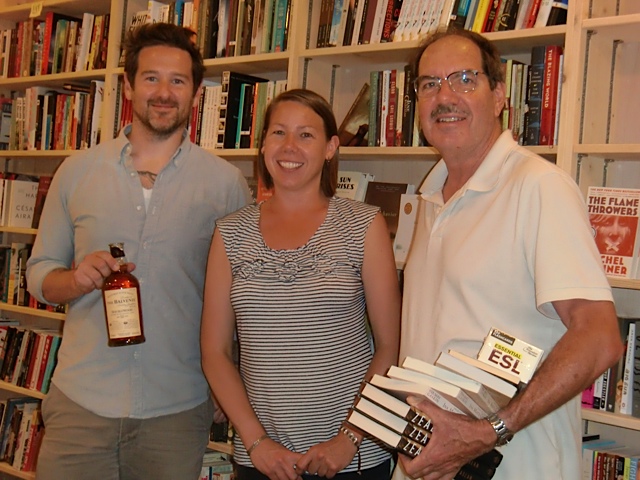 Store manager Stephen Sparks, with volunteers Anna-Lisa Sandstrum and Jim Hankey.
Sparks noted that Green Apple's new store is taking the ground floor in a space it will share with Le Video, an widely acclaimed video store that is consolidating into the upstairs space. "People walking by are so excited not only that we are moving in, but also that Le Video is still going to still be here," said Sparks.
Green Apple on the Park is about 2,500 square feet and will feature inventory that is two-thirds new and one-third used books--the opposite ratio of the much larger original store, Sparks said. Buying of used books will continue in the original store, which is also home to the Green Apple offices. Ashley Despain, Green Apple's children and young adult buyer, explained that the new store's children's corner has shelves designed for kids to climb on, which will also serve as seating for events.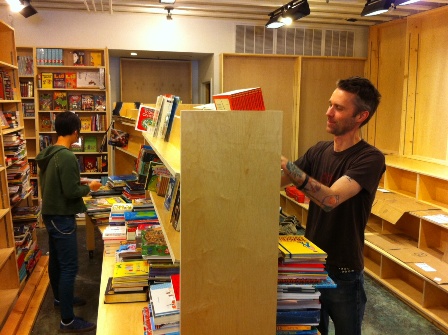 Booksellers Ashley Despain (r.) and Rosalyn Shyu arranging the kids' section.
All told, Sparks said, 30-40 volunteers helped out over the weekend, "which really speaks to the community that gathers around a bookstore. Among them were Lise Solomon, our Consortium rep; PGW rep Ty Wilson; Perseus rep Adam Schnitzer; Beverly Fisher from Ingram/IPS; and Ethan Nosowsky, editorial director at Graywolf."
Local resident Barbara Berman, poetry reviewer for the Rumpus, who plans to shop at both Green Apple locations, was eager to discuss book recommendations as she unpacked and shelved books--which is what you'd expect of a dedicated indie bookstore shopper. Sparks said he has heard people plan to come by Green Apple after they brunch. "We're going to be the brunch bookstore," he said.
Whether after brunch or for an event after work, the Sunset has clearly welcomed Green Apple Books to the 'hood. --Bridget Kinsella
---

---