James Patterson: 'If I Were Amazon's Jeff Bezos'
"But I, Jeff Bezos, also clearly see that we are going to have fewer great books and writers discovered in the coming years if there are fewer curators with the financial wherewithal to nurture them. And, no way around it, fewer publishing houses equals fewer curators. It's not a money thing, it's a diversity-of-perspective thing. One company--no matter how high-minded and cleverly structured it is--will offer fewer perspectives than many companies will.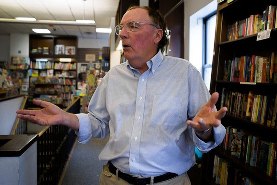 "I, Jeff Bezos, was a physics student at one point and I assure you I understand principles this basic.

"So, starting today, I am going to deal with publishers fairly and openly. No more punishing them with delayed shipments of books we could have ordered. No more taking down of buy and pre-order buttons, knowing that Amazon can withstand the revenue dip far better than they can."
---

---