Amazon: Delivery Competition; Strike; Bezos Interview

In his State of the Art column in today's New York Times entitled "Amazon Not as Unstoppable as It Might Appear," Farhad Manjoo speculates that Amazon may be increasingly vulnerable because smartphones are changing how Americans shop--and new companies are linking with bricks-and-mortar retailers to provide delivery service that is much faster than what Amazon can.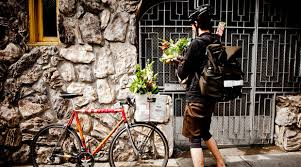 Manjoo cited the Bay Area in California as "a hotbed for some of the most innovative retailing start-ups. With Instacart, you can get groceries delivered instantly from big and small supermarkets. With Google's Express delivery service, you can get household goods from big-box stores delivered on the same day you order. The app Curbside lets users order items from Target, and have them ready when they drive up to a store. And with Postmates, it is possible to order takeout, and pretty much anything else, and have it delivered directly very quickly."
Manjoo said that his own household's expenditures with Amazon have slid by a third from their 2012 peak as a result of such services.
This is not news to Amazon. Last night the company announced that Prime Now, which provides one-hour delivery services to Prime members, has launched in "select areas of Manhattan." (A portion of Amazon's new W. 34th St. building is being used for the service.) Products available for order via mobile app include paper towels, shampoo, books, toys and batteries. Amazon intends to expand the service to other cities next year.
---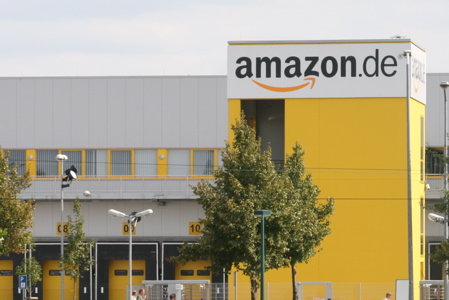 The latest strikes against Amazon warehouses in Germany have spread to six of the seven facilities and have been extended to December 20--and through December 24 at one facility--the Wall Street Journal reported. Originally the strikes were to last this past Monday through Wednesday and were planned at first for just four of the warehouses.
The union Verdi has conducted partial strikes regularly against Amazon since May 2013, but this is the largest yet. At issue is how Amazon warehouse workers are categorized for collective bargaining purposes. Amazon calls them logistics workers and says they are well paid for that job. The union says they should be considered part of the mail order and retailing sector.
---
Business Insider U.K. has the full transcript of Henry Blodgett's interview with Amazon CEO Jeff Bezos at the Business Insider Ignition conference in New York City December 2, which was widely quoted, including at Shelf Awareness. Read it and ponder.
---

---