WI10: Adieu to Asheville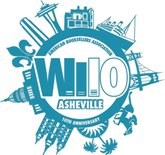 A spirited group of more than 500 independent booksellers, more than 100 authors and many publishers convened this week at the Grove Park Inn in Asheville, N.C., for the 10th ABA Winter Institute, which ended last night. As always, there's nothing so special as many of the smartest, most dedicated booksellers in the country talking shop and talking books for three concentrated days.

Speaking at the closing reception, ABA CEO Oren Teicher said, "The energy and enthusiasm has been palpable from Sunday night until now." For him, he continued, "the fact that there were many new faces here, new stores and new people from stores was so energizing. It sends a powerful message about the vitality of our business." He noted that the ABA wanted "to do something special" for the Winter Institute's 10th anniversary, and thus chose to hold the event at the historic Grove Park Inn and in Asheville, which has a strong literary tradition. Attendees commented repeatedly on the setting, which was made all the more delightful by some sunny, unseasonably warm weather.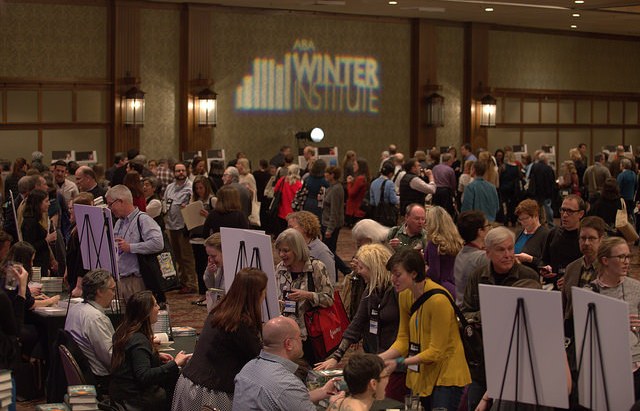 photo: Kevin Mann
Steve Bercu, president of the ABA and owner of BookPeople, Austin, Tex., said the Winter Institute's educational sessions were well attended and very well received. In addition, all the plenary speakers "were different but all were great." He also praised the interaction between booksellers and publishers, particularly at the rep pick events and the focus groups.

Highlights of the Winter Institute included a passionate address by Azar Nafisi yesterday morning (see our report below); speeches by John Green and Steve Johnson; a conversation about F. Scott Fitzgerald featuring Maureen Corrigan and Stewart O'Nan and moderated by Erik Larson; panels on a range of subjects; bookseller roundtables; bookseller-publisher focus groups; and publisher rep picks. The ABA held its first town hall at a Winter Institute, and both the general author reception and small and university press authors closing reception were packed.

As ever, there were rounds of publisher dinners at which booksellers got to spend more time with authors. Nearby downtown Asheville proved a lively place with great bars and restaurants. One of the best bookstores in the country, Malaprop's Bookstore/Café, hosted several Winter Institute-related events and welcomed booksellers who were on busmen's holidays.

The ABA honored longtime chief financial officer Eleanor Chang, who is retiring at the end of the month after 28 years with the association. Steve Bercu said Monday that Chang's "insightful management of your ABA finances and unwavering commitment to indie booksellers has played a critical role in fulfilling ABA's mission."

Once again, many in the ABA worried that the next Winter Institute would not be able to match the energy and excitement of the current one--even though the staff has always been able to put on sterling events, now for 10 years running. Many are already looking forward to Winter Institute 11, which will be held in late January next year a mile high in downtown Denver.

(Shelf Awareness coverage of Winter Institute 10 will continue over the next several weeks.)
---

---