Star Publicists Form Broadside: Expert Literary PR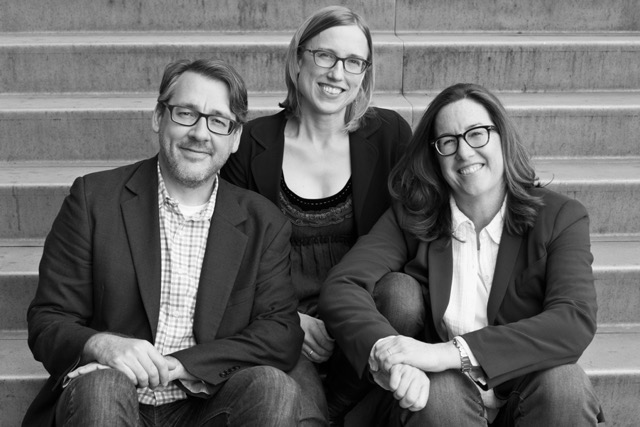 Broadside: Michael Taeckens, Whitney Peeling and Kimberly Burns
Publicists Kimberly Burns, Whitney Peeling and Michael Taeckens have formed a full-service publicity group, Broadside: Expert Literary PR, which will specialize in publicity and marketing for publisher-backed literary fiction and narrative nonfiction, as well as literary and mission-driven organizations and nonprofits.
Clients can hire one, two or all three members for a campaign--although every project benefits from Broadside's collective experience, brainstorming and network of contacts. All three Broadside partners handle publicity campaigns; Taeckens also handles all aspects of marketing, web design and social media.
"We each have a distinct style and set of interests, as well as varying areas of expertise, that complement each other in the best of ways," said Taeckens, who before starting his own company last year, was marketing director at Graywolf Press and publicity director at Algonquin Books. He also writes the "Reviewers & Critics" column for Poets & Writers.
"With the media landscape changing so quickly, it makes perfect sense for Michael, Whitney, and I to team up," said Burns, who before starting her own company in 2003, worked at Knopf, Random House, Pantheon and the Penguin Press. She also serves on the board of directors of the Housing Works Bookstore and the Happy Ending Music & Reading Series and is a consultant for Creative Capital's Literature Grantees. She began her career working at several bookstores, including A Clean Well-Lighted Place for Books in San Francisco. "All of our current and future clients will benefit from our collective experience, brainstorming, and network of contacts."
"All three of us have countless successful campaigns under our belts, and we believe collaboration always trumps competition," said Peeling, who before starting her own company in 2010, worked at Houghton Mifflin, Norton and PublicAffairs. "When we found the name Broadside--which, among other things, means the 'simultaneous firing of all guns from one side of a ship'--we knew it defined our approach."
---

---