Go Set a Watchman on Sale: 'Bought by the Bucketload'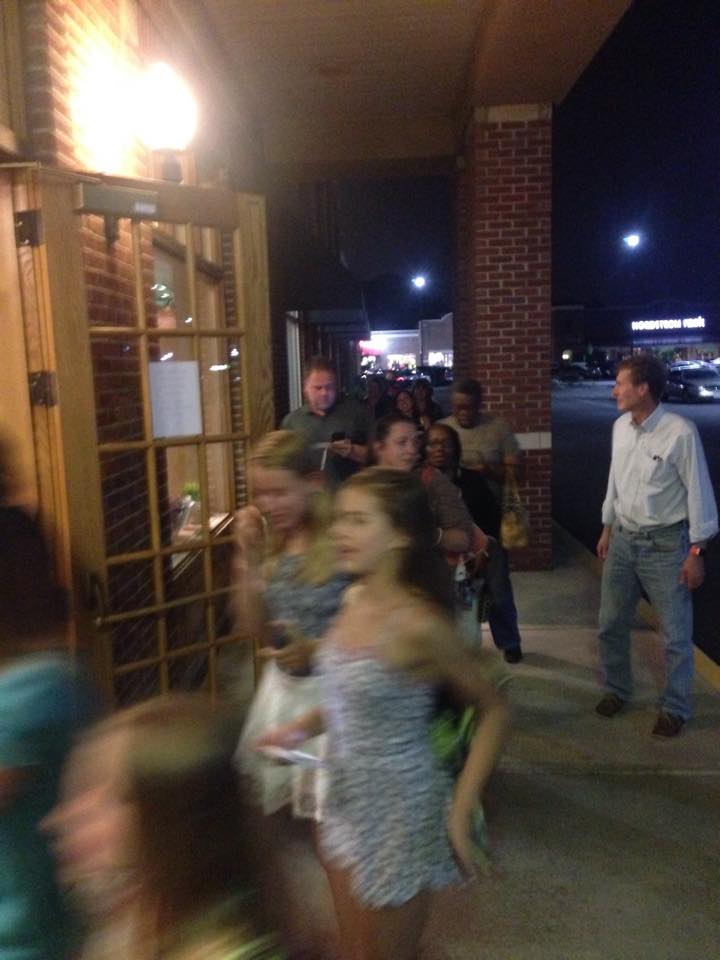 Crowd rushing in to Joseph-Beth Booksellers, Cincinnatti, Ohio, at midnight.
Go Set a Watchman by Harper Lee went on sale this morning, and many bookstores held midnight release parties with a range of events, including showings of To Kill a Mockingbird and marathon readings of that classic.

Initial reports indicated that even though some reviews have been very negative and many readers were shocked to learn that Atticus Finch, the beloved father and lawyer in To Kill a Mockingbird, is depicted as a racist in the new book, many customers are still enthusiastic about reading and buying Go Set a Watchman. It may not be the cozy, polished extension of To Kill a Mockingbird that many had hoped for or the "masterpiece" promised by the publisher, but it still features Lee's prose, many of her characters and is a key element in the author's development as a writer.

More than 200 people attended the midnight party at the Ol' Curiosities & Book Shoppe in Harper Lee's hometown of Monroeville, Ala., the AP (via U.S. News & World Report) reported. People dressed as characters from the book. The store ordered more than 10,000 copies of Go Set a Watchman.
"Several hundred" people bought copies of the book at Foyles' flagship store in London, according to the Bookseller. Foyles marketing manager Simon Heafield commented: "We had a buzzy evening with the queue starting to form at 10 p.m. We welcomed a few hundred customers who were thrilled with their purchases. We also sold out of DVD and book bundles of To Kill a Mockingbird. If this evening is anything to go by, Go Set a Watchman will live up to its billing as the publishing event of the year."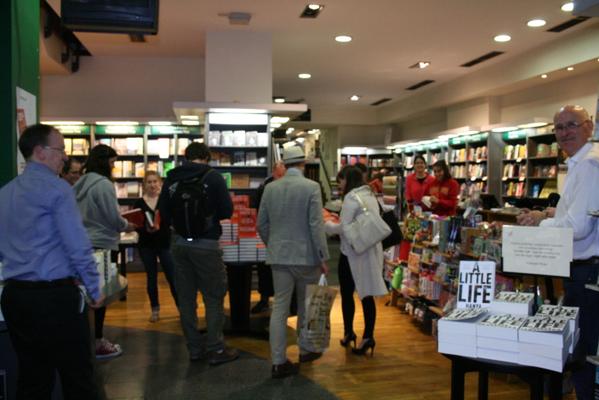 The midnight party at Hodges Figgins in Dublin.
The Wall Street Journal said that "hundreds of fans braved long 'queues' in the British capital to buy copies of the book just minutes after Big Ben struck midnight." James Daunt, managing director of Waterstones, predicted the chain will sell 20,000-30,000 copies of the book today and 100,000 this week.

The Guardian reported copies of the book being "bought by the bucketload" at the midnight party at Waterstones in Piccadilly Circus in London. At the Waterstones in Barnstaple, a store that did not hold a midnight party, 10 copies of the book sold this morning in its first hour and a half of business, the North Devon Journal reported. Seventy copies are on pre-order.

At least one U.S. retailer jumped the gun on the embargoed book. A Walmart store in West Monroe, La., put out a full display of Go Set a Watchman last Friday. Alerted by a librarian who saw the display while shopping, HarperCollins contacted Walmart, and the display was taken down, Melville House reported. Stephanie Wilkes, a YA coordinator at Ouachita Parish Public Library in Monroe, posted online that after she asked about it, "The manager shrugged and asked me what I was gonna do about it."
---

---