New from Amazon: Six-pack of $50 Tablets; 'Word Runner'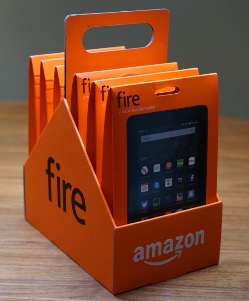 Yesterday, Amazon introduced several new devices, including a $49.99 7-inch Kindle Fire tablet that is also available, curiously enough, as a six-pack for less than $250; an 8-inch ($149.99) & 10.1-inch ($229) Kindle Fire HD tablet, and the new version of the 7-inch Fire Kids Edition ($99.99), which comes with an updated "kid-proof case" and two-year replacement guarantee.

Amazon's latest operating system, Fire OS 5 "Bellini," offers a new reading feature called "Word Runner" that uses "Dynamic Pacing," which "gradually builds to your preferred reading speed and algorithmically and automatically slows down for difficult words, punctuation and paragraph breaks."

Wired noted that with "four tablets and two set-top boxes, Amazon made a single statement: We win at entertainment.... Amazon has finally figured out exactly what the Fire devices are about. Remember that old maxim 'tablets are for consumption?' As other big companies like Apple and Microsoft have fought tooth and nail to prove they're more than just movie-watching devices, Amazon's leaning into the idea. These are devices for watching movies. And reading books, and watching TV shows, and listening to music."
---

---