James Patterson Giving $250,000 in Bookseller Bonuses
Wow. James Patterson keeps on giving--and now he's giving to individual indie bookstore employees.

The bestselling author, who has donated millions of dollars to bookstores, libraries and other organizations in the U.S., U.K., Australia and New Zealand, and more than a million books to children, is giving bonuses to booksellers of $1,000-$5,000 each, for a total of $250,000. He is partnering with the American Booksellers Association.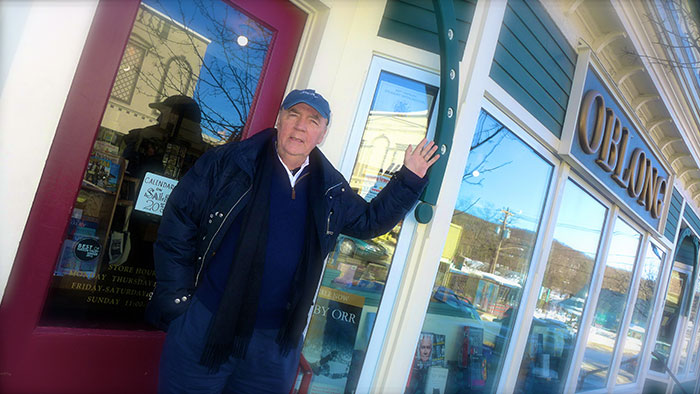 James Patterson outside Oblong Books, Millerton, N.Y., a recipient of an earlier bookstore grant.
Anyone can nominate a bookstore employee for a bonus: store owners, managers, fellow booksellers, publishing professionals and shoppers. The application, which opens today and runs until November 1, asks one question: "Why does this bookseller deserve a holiday bonus?" Patterson will personally select which bookstore employees will receive bonuses, and the full list of winners will be announced in December. For more information, go to bookweb.org/bonus and follow the hashtag #JPbonus on social media.

Patterson said he's giving out holiday bonuses because he believes that "bookstore employees are saving literature and that their work is critical for building a more literate America." He wants to encourage the work that booksellers do "to advance literacy in their communities, especially as independent bookstores--which have seen their numbers grow in recent years--continue to face considerable financial pressures."

ABA CEO Oren Teicher said, "We are extremely grateful to James Patterson, who once again has shown himself to be a singular champion for literacy and independent booksellers. His commitment and generosity continue with this latest initiative, which will ensure that a number of independent bookstore owners will be able to offer well-earned bonuses to their colleagues in the store who are working so hard to put the just the right book in the hands of readers of all ages."

Patterson added: "Every holiday season I get the chance to pick out books to give my son, Jack. I think hard about what he'll love reading--what will excite him? What will inspire him? Of course, every day booksellers ask these questions on behalf of the people in their community. And I think they should be rewarded for spreading the joy of reading. These holiday bonuses are my humble acknowledgement of the important work they do all year. Here's to you, booksellers, and to a joyful holiday season!"
---

---